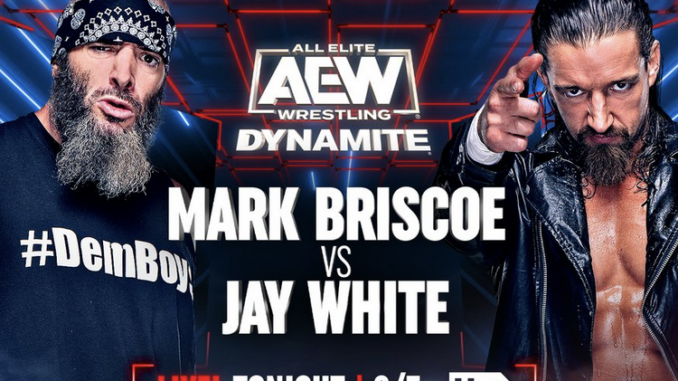 ---
SPOTLIGHTED PODCAST ALERT (YOUR ARTICLE BEGINS A FEW INCHES DOWN)...
---
Quite a card was set up for Dynamite this week and from top to bottom. I expected a good two hours of wrestling. Now, that has been the norm for Wednesday nights, for the most part, but a key to this episode had to be the tone. Would there continue to be the nonsense surrounding the World Title and "sports entertainment"-type segments throughout, or would they take a different tone and double down on some of the serious storylines that have been set up over the past month or so?
With ratings and attendance continuing to be a problem, Tony Khan can't stand pat and keep doing what he's been doing that's been making many of the weekly shows uneven. I'm hoping to write many "Hits" and fewer "Misses" this week. Let's see how they did…
---
HITS
THE COLD OPEN
It took five seconds for the show to have a different feel. First, they come right on with an announcement of a World Title match and MJF immediately calls Tony Schiavone a "fat old pr—" — And we're off!! The old MJF was back big time in that opening promo. Serious with an edge and a couple lines that made you chuckle. Not even the implausible "video chat" with Adam Cole could ruin a solid way to start the show.
MJF VS. GARCIA
That was a great old-fashioned wrestling match with a great story weaved throughout and limited nonsense. Garcia looked like a threat and the punishment to the arm was just too much to overcome in the end. HUGE bonus points for no kangaroo kick. Nice moment afterwards as MJF put over Garcia and you can see the slow face turn that hopefully is seen all the way through this time.
BACKSTAGE PROMOS
Mark Briscoe: That's what I'm talking about. Promoting the main event. Serious promo with backstory and passion.
Storm & Shida: No tomfoolery (old person word) here for the most part. A good back and forth promo that added some background information and set up the Full Gear match. Much better effort.
Omega & Jericho vs. The Young Bucks: Finally we have something interesting going on with the Bucks who, while putting on good matches, had very little substance storyline-wise for a bit. I like how Omega wasn't happy with how things were going, but got into it as it went along and calling out the Bucks as whiny children is long overdue.
Orange Cassidy: OC doesn't say much, so when he does, he gets your attention. This was yet another promo on the show that made sense, added context, and made you want to see an upcoming match.
Jon Moxley: I've said it before, he's the best promo in the business today. I'm hanging on every word: "What kind of an example am I setting for young Wheeler here, if I don't beat the everloving piss out of you… " That's gold.
STING & DARBY
A nice showcase for Sting as his career begins its final run. A treat for the fans to see him as they started a loud "We want Sting" chant mere seconds into the match. You could see Sting soak in the cheers at the end as well. He really seems to be enjoying this final ride.
Add to that a tease for a match on Collision. It's clear someone is listening to the criticism and trying to right the ship
SWERVE VS. PENTA
I believe the kids call it a "banger". Another great match on this show that got the crowd very invested. Great spots and almost everything was smooth and snug. Great job on the "breaking Penta's wrist" spot as Swerve slapped his thighs at the perfect time to make it sound like he broke it. I cringed. Hangman Page coming out with the chair afterwards was great as well. The look on his face after putting Swerve through the table looked very "Pillman"-like. And that's a good thing.
SAMOA JOE VS. KEITH LEE
More great wrestling on this show. What a fantastic big man match this was and I can't remember a better performance by Keith Lee in AEW. The fans were engaged from start to finish and many gave a standing ovation afterwards. Another great decision afterwards to have Joe relinquish the TV title as he's done everything he can do with it. This was another step to elevate the World Title and I'd say it's more important now than it's been for the past 6 months.
JAY WHITE VS. MARK BRISCOE
Great main event. Another terrific battle between two guys. I didn't expect Briscoe to have that much offense, but he deserved it. I haven't seen many of his singles matches over the years, but he can certainly go. I loved the fact that in the end, the rest of Bullet Club Gold stayed out of the finish. There were NO annoying finishes all night long. Bravo! And they weren't done either, adding another cliff-hanger to the end of the show that MOST people saw (see below).
COMMENTATOR LINE OF THE NIGHT
Taz:  "Tony, I'd like to rip your tongue right out of your face!"
---
MISS
THE OVERRUN
Yep. I thought for a second that there would be no "misses" this week. They were close. I know it did not affect everyone watching, but for the 3rd time in 4 weeks, I had to go to YouTube to see the final minutes of the show after my DVR recording stopped right after Bowens went through the glass. I have YouTube TV and they don't account for overruns and it's difficult to add time to the end of a recording. Recording the next show also is unreliable. I'd suggest either staying on time or communicating with all TV services to make sure they don't miss anything.
---
FINAL THOUGHTS
Overall, this was the best Dynamite in a long, long, long, long time. I can't predict what the ratings will be for this episode, but I pray that Tony does not overreact to it if it's low. If they continue to put on shows like this, I believe the ratings will start to rebound and, in time, they can recapture what they had built before.
---
NEW PODCAST PLUG
Finally, a little self-plug as I end the column this week. I'm excited to join Joel Dehnel (often heard as guest cohost on the Wade Keller Pro Wrestling Podcast) for a new weekly podcast. Starting this week, we are going to bring you the "All Elite Conversation Club," available as part of the PWTorch Dailycast line-up every Friday night. It should be a fun time discussing AEW from an older demographic (me!) and Joel, who is in the prime of his life and will likely tire quickly of my references from the 1980s! Send questions and comments to allelitecc@gmail.com. to help us build our new show!
---
RECOMMENDED NEXT: AEW COLLISION HITS & MISSES (11/4): The Acclaimed celebrate 69, Dalton & The Boys get an impromptu title match, Darby vs. Archer, Jake Roberts speaks, MJF plays straight man to Caster
OR CHECK THIS OUT AT PROWRESTLING.NET: Tony's Takes: Tony Khan's important announcement, how the WWE, NXT, and AEW television landscape could look one year from now, the return of TNA