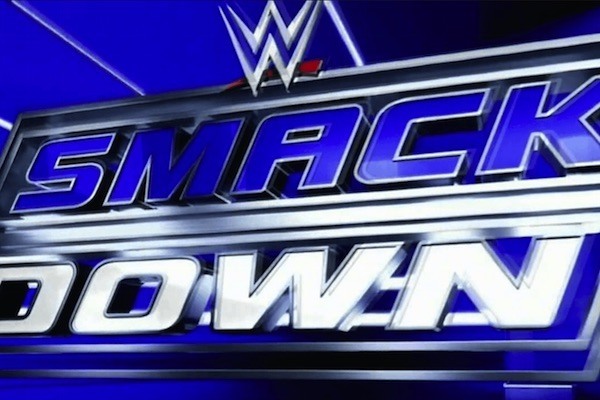 ---
SPOTLIGHTED PODCAST ALERT (YOUR ARTICLE BEGINS A FEW INCHES DOWN)...
---
The Tag Team Title #1 Contender Tournament is in full swing. On Smackdown, Golden Truth take on The Vaudevillains, and Enzo Amore & Colin Cassady face The Ascension. Miz TV kicks off the show.
WWE Smackdown review
April 14, 2016
Taped 4/12/16 in San Diego, Calif.
Aired on USA Network
By Greg Parks, PWTorch Columnist (Twitter: @gregmparks)
– Smackdown Open.
– Looked like a good house drawn in San Diego as the camera panned the crowd after opening fireworks.
– For the first time ever tonight, A.J. Styles faces Alberto Del Rio.
– Also for the first time ever, Sami Zayn challenges Chris Jericho.
– Maryse was in the ring. She spoke a bit of French while introducing her husband, and the host of Miz TV…The Miz. When Miz came out, Mauro Ranallo, Jerry "The King" Lawler, and Byron Saxton were shown on commentary. Miz introduced his guest as the only woman worthy of being called his wife, Maryse. Miz asked Maryse what it was like being married to him. Bit of a softball from the big talk-show host. She said it was "perfection." Miz called Maryse his "muse." Miz said he wanted to give Maryse the world. She said they're the real-life People Magazine and this year will be the year Miz will be named Sexiest Man Alive. They began to make out as the crowd serenaded them with jeers. Zack Ryder's music interrupted.
Ryder walked out with a mic. "Bro, that was sick," he said, saying the sight of that is making the fans ill. Miz said every woman in the arena wishes they could kiss him. Ryder asked Maryse how it feels to be married to someone that wears more makeup than her. Miz said Ryder had his moment and now it's over. Ryder said his Wrestlemania moment, in front of 100,000 people, is something Miz can't take away from him. He'll get his chance again, but he can't wait to see Cesaro take him out in the meantime. Then, right after he said that, he challenged Miz for the title right there. That was an odd follow-up to his previous "Cesaro is #1 contender" comment. The crowd was stirred up by Maryse. Miz then agreed to the match. But wait! Ryder was already scheduled for a match. And it's against Baron Corbin. Corbin made his full entrance as they cut to break before the match could begin.
[Commercial Break]
1 – ZACK RYDER vs. BARON CORBIN
Corbin took Ryder down with a shoulder tackle. He overpowered Ryder at first, clubbing Ryder in the face as Ryder tried to catapult himself back into the ring from the apron. A couple corner clotheslines by Corbin, followed by one to the back of Ryder's head. Ryder turned the tide with a missile dropkick from the second rope. Corbin avoided a Broski boot attempt. Still, Ryder grabbed him on the outside and put him back in. That was a mistake as Ryder ran right into End of Days.
WINNER: Corbin, at 3:10. Corbin is all entrance so far. He still needs to add some moves to his repertoire. Keeping him in short matches at this stage is smart.
Post-match, Corbin threw Ryder out of the ring via the top rope. Before Corbin could do any more damage, Dolph Ziggler's music hit. Corbin, in a smart move, left Ryder alone and ran right into the ring so that he could meet Ziggler. See, Ziggler running out without music may have been able to take Corbin by surprise. They had some brief physical interaction before Ziggler telegraphed a superkick and Corbin managed to sneak out of the ring before it connected.
– Renee Young was backstage with Kevin Owens. She asked Owens if he could provide any insight into what Sami Zayn may bring to his main event match against Chris Jericho. Owens complimented Young on the question but didn't actually answer it. Instead, he gave a veiled threat to Zayn. Owens told her to find Zayn and ask him if he has any insight as to what's coming in tonight's main event.
– Paige and Emma were walking in a split-screen. They're set to do battle next.
[Commercial Break]
2 – PAIGE vs. EMMA
Oof, no entrance for Paige, though her music was playing out of break. An inset interview with Emma aired during her entrance. She talked about her previous character being rejected when she first debuted, and how Becky Lynch has been accepted like she never was. "Nice girls finish last," she said. Paige put the boots to Emma in the corner to begin the match. Paige still seemed to have a good percentage of the crowd behind her. Emma aggressively cornered Paige and rammed her head repeatedly into the buckle. Chicken-wing suplex for two by Emma. Ranallo brought up the Fabulous Kangaroos and Outback Jack as other wrestlers from Australia in addition to Emma. Paige came back with a running knee to the head of Emma. Emma was perched on the top rope, where Paige looked to connect on a superplex. Emma instead pulled her down by her feet, with Paige's head bouncing off the top turnbuckle. Emma rolled her up for the pin.
WINNER: Emma, at 3:16. The new look and attitude for Emma is a 100% improvement over her previous character. Her entrance here made her seem like a star.
– The announcers sent it to New Day's big news from Raw – the Tag Team #1 Contender Tournament. Highlights of the first two tourney matches were shown. Included were the debuts of Luke Gallows and Karl Anderson. The tournament continues tonight.
– Next, Shane McMahon produces strange bedfellows in the Raw main event. We'll see that, next.
[Commercial Break]
– The exterior of the Valley View Casino Center in San Diego was shown.
– The Raw Rebound aired.
– Enzo & Big Cass (with chyron introducing them as "Enzo & Cass") came to the ring for their tournament match-up. As one would expect, Enzo did his trademark mic work. In the ring, he said if their opponents grew up where they grew up, they'd be sent to live with their auntie and uncle in Bel-Air. Enzo called Cass "The Bambino of Beat-downs." And he's "The Michael Jordan of Jargon." Enzo said the worst thing he can think of to say about The Ascension is, "they're The Ascension." Cass said we're looking at the next WWE Tag Champions. He said any team standing in their way is SAWFT. The two newcomers face The Ascension next.
[Commercial Break]
3 – ENZO AMORE & COLIN CASSADY vs. THE ASCENSION – TAG-TEAM #1 CONTENDER TOURNAMENT MATCH
Enzo did a nearly 360-degree sell off a shoulder tackle. Viktor tagged in and fell victim to a flying headscissors. He hit something else that didn't look very smooth. Cass tagged in and slammed Enzo onto Viktor. Cass tossed Enzo into Viktor in the corner. Konnor provided a distraction, allowing Viktor to knock Enzo off the apron and to the floor. The heels did some double-teaming of their own, cutting off the ring in the process. Viktor whipped Konnor into Enzo, but Enzo got a boot up. He avoided a Konnor charge, leading to the big man going shoulder-first into the ring post. Hot tag to Cass at 3:06 of the match. Bodyslam and a big elbowdrop. Corner splash, then a running boot. Pin broken up by Konnor. Enzo low-bridged Konnor out of the ring. Konnor got back onto the apron, but was sent back down by a Cass big bot. Boss Man Slam by Cass. He then launched Enzo off the top rope for a splash onto Viktor for the pin.
WINNERS: Amore and Cassady, at 4:20. Enzo and Cass bring a dose of energy to the tag division. Enzo's act feels fresh on the mic.
Replays of the match were shown.
– JoJo was backstage with A.J. Styles. She asked if A.J.'s recent run will be similar to what he does at Payback. Styles said he hasn't ever been in the ring with someone like Roman Reigns before. But Reigns has probably never been in the ring with someone like him before. Styles said when he locks his teeth into an opportunity like this, he doesn't let go. Alberto Del Rio walked up and said wherever he goes, people just want to talk about A.J. Styles. He wanted to find out if all the hype surrounding Styles is real. But standing there in front of him, he can tell that Styles doesn't belong in WWE. Styles agreed…he doesn't belong in that setting, flapping his gums. He belongs in the ring. Del Rio said Styles is out of his league. Pretty good exchange there. Del Rio in particular was solid.
[Commercial Break]
4 – A.J. STYLES vs. ALBERTO DEL RIO
Del Rio came out sans the other League of Nations members. Del Rio took Styles down and celebrated by standing on the second rope and posing. Dropkick by Styles on Del Rio. Outside the ring, Styles kneed Del Rio in the face. Del Rio went back on offense in the ring, then took the fight to Styles at ringside by throwing him into the barricade. Top-rope double axe-handle by Del Rio for two. Del Rio charged Styles in the corner. Styles moved, sending Del Rio shoulder-first into the post. Snap suplex by Styles for two. Styles jumped over Del Rio and landed on the apron, but Del Rio delivered an enzugiri. Del Rio followed with a dropkick through the ropes as they went to break at 5:16 of the match.
[Commercial Break]
Back at 7:57 with Del Rio holding Styles in a rear chin-lock. A couple of counters by each man. Styles ended up on the better end of it. Neck-breaker by Styles for two. Back-stabber by Del Rio. Pele kick caught Del Rio by surprise. Styles went to the top, but Del Rio tripped him up. Crazy inverted superplex by Del Rio out of the corner. On replay, it looks like Styles didn't get all the way over and nearly landed on his head. Del Rio hung Styles in the Tree of Woe. He looked for his finish, but took too long. Styles dodged the double stomp. Springboard by Styles missed. Styles rolled through a cross arm-breaker attempt into a side roll for the pin.
WINNER: Styles, at 13:03. Solid WWE-style match. Didn't feel like they cut loose as much as they could.
Replays were shown of the match.
– R-Truth was backstage trying to text Goldust. Goldust came up to him and said he talked to management, and the two of them will not be teaming. Truth said he knows Goldust wants to focus more on just himself. Fandango walked in and asked if everyone was ready for the debut of Gold-Dan-Go. Goldust and Fandango spent the rest of the promo shaking their hips. Goldust said they were going to cancel their match so he had to find a partner. Goldust said they were just loosening up.
– Chris Jericho takes on Sami Zayn tonight.
[Commercial Break]
5 – THE VAUDEVILLAINS vs. GOLDUST & FANDANGO – TAG-TEAM #1 CONTENDER TOURNAMENT MATCH
Aiden English attacked Goldust as soon as the bell rang. Mule kick to Goldust, right to the mid-section. Goldust powerslammed English to create separation. Simon Gotch and Fandango both tagged in. Enzugiri, then a spinning heel kick by Fandango. Goldust took out English with a clothesline over the top rope. English fought off Goldust and was able to provide a distraction back in. That led to the Whirling Dervish for the win.
WINNERS: The Vaudevillains, at 2:01. This was certainly the right result. Fandango subbing for R-Truth was an interesting development in that storyline (and I use the word "interesting" loosely).
– Chris Jericho was backstage, pacing in the interview area. He has a message for the WWE Universe, next.
[Commercial Break]
– The announcers talked about the Edge & Christian Show on WWE Network. They sent it to footage of Dean Ambrose giving the Highlight Reel a makeover on Monday night.
– JoJo was backstage with Chris Jericho. She asked about the common thread that is woven through the men Jericho has feuded with as of late. Jericho first addressed Dean Ambrose, saying he needs to show some respect to someone like him. Jericho called San Diego "a dump." It was in San Diego that he beat The Rock and Stone Cold on the same night to become World Champion. Jericho said he wanted to give the fans the Gift of Jericho, which is why he returned. He said a talent like him, like Haley's Comet, comes through every 76 years. A talent like Sami Zayn, however, comes across once or twice a week. "Zayn is going to feel the pain" tonight, he said.
– Sami Zayn came out for the main event. The match is next.
[Commercial Break]
– A vignette for Primo and Epico's new gimmick was shown.
6 – SAMI ZAYN vs. CHRIS JERICHO
Arm-drag by Zayn took Jericho down and frustrated him early on, throwing a padded chair that was positioned near the announce desk. Before Jericho could re-enter the ring, Kevin Owens walked out to his music. But as Owens got half-way down the ramp, his music turned into that of Dean Ambrose. Ambrose gave Owens a flyer for the Ambrose Asylum. He handed them out around ringside as well. They went to break at 2:11 of the match.
[Commercial Break]
Back at 5:12 with Owens and Ambrose both on commentary. Jericho dropkicked Zayn out of the ring. Ambrose noted that he wanted to have a peaceful talk show, not a talk show that ends in brawls like the others. Jericho choked Zayn in the corner with his boot, but found time to send a shout-out to Ambrose, calling him an "idiot." Ambrose said Owens acts like a "petulant child" for holding a grudge against Zayn. In the ring, Jericho dropkicked Zayn down. I look forward to babyface announcer Dean Ambrose teamed with heel announcer Kevin Owens to call Raw in 20 years. They have awesome chemistry. Zayn clotheslined Jericho down. Zayn came off the top with a cross-body for two. Double underhook into a back-breaker for two. Jericho went to the top, but Zayn caught him with a right hand to the gut. Tornado DDT by Zayn for two. Ambrose said if Zayn wins tonight he'll be the first guest on the Ambrose Asylum. Running bulldog by Jericho. Lionsault, but Zayn got his knees up. Jericho avoided a Helluva kick and went into the Walls of Jericho. Zayn crawled to make the ropes. Zayn tried a springboard, but Jericho pushed him down. Dropkick through the ropes sent Zayn into the announce table. Jericho knocked Ambrose over in his chair, then tossed him into the barricade. Zayn back-dropped Jericho into the lap of Owens. Zayn put Jericho back in the ring, but Jericho slapped him. Zayn responded with an exploder suplex in the corner. Before he could hit the Helluva Kick, Owens ran into the ring and attacked Zayn.
WINNER: Zayn, via disqualification, at 13:52.
Owens and Jericho teamed up on Zayn, but Ambrose came to his aid. Zayn hit Owens with the Helluva Kick, leaving the babyfaces to stand tall.
Did you watch Thursday's Smackdown episode? Send your 0-10 score & Reax to pwtorch@gmail.com for our TV Reax feature.
Greg Parks has been covering WWE Smackdown for PWTorch.com since January of 2007. He is the host of "Moonlighting with Greg Parks," a PWTorch VIP-exclusive audio show posted each weekend. Follow him on Twitter @gregmparks for live Tweeting during Raw, Impact, and PPVs, as well as other bits of wisdom. Comments, questions and feedback are welcome, and can be sent to g_man9784@yahoo.com.