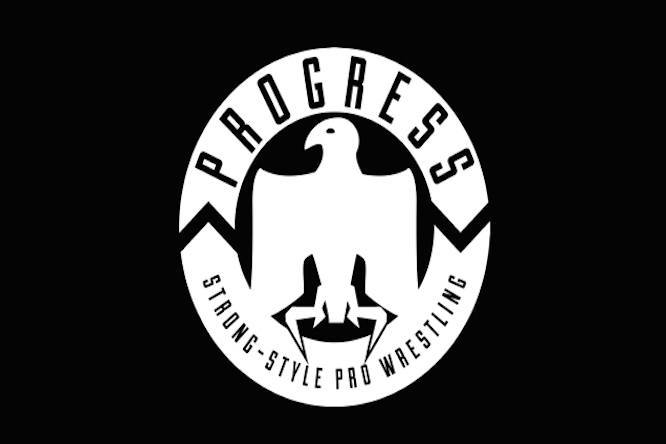 ---
SPOTLIGHTED PODCAST ALERT (YOUR ARTICLE BEGINS A FEW INCHES DOWN)...
---
PROGRESS Wrestling Live Results
Progress Chapter 32: "5000 to 1"
June 26, 2016
London, England at Electric Ballroom
Report by David Green, PWTorch U.K. correspondent
A very newsworthy show! After a few match changes were announced, the show kicked off with a big grudge match. At Chapter 30, Damon Moser finally gained a measure of revenge over The Origin by helping cost them the tag team championship. At last weekend's Chapter 31 in Manchester, Moser scored a huge upset over Zack Gibson to get tonight's match with Origin leader Nathan Cruz. Due to a brutal attack last weekend, Moser requested this match be no disqualification.
(1) Nathan Cruz (w/Zack Gibson) beat Damon Moser by pinfall. This match was easily the best of Moser's short career. This was a war, with Moser handily fending off the interference of Gibson early on and bloodying Cruz's mouth. Some brutal shots took place here, including a top rope Show Stolen through a table by Cruz. After cable-tying Moser's hands behind his back, Cruz and Gibson executed an horrific Con-Chair-To to gain the tainted win.
(2) T.K. Cooper (w/Dahlia Black) beat Jack Sexsmith by pinfall A nice match between these Pro-Jo graduates, with interference from Ms. Black. A referee distraction was enough for another New Zealand-based grappler Travis Banks to attack Sexsmith and leave him prone for a Cooper right hand to the neck
(3) Laura di Matteo defeated Jinny by pinfall. One of the big grudge matches on the show between the Knightsbridge fashionista and her former PA, the formerly dubbed Elizabeth, now Laura di Matteo. A lot of vocal support for di Matteo, who hit an amazing suicide dive early on. Jinny attempted her Face Lift finisher which Laura countered into a jackknife roll up for the pin. Jinny attacked Laura brutally after the match, with di Matteo stating that the issue was far from over. Although the action was a little rough in places, the storyline had everyone in the crowd invested.
Next was an open challenge for the Smash Wrestling championship, with champion Johnny Gargano defending against the returning Mark Haskins, who received a hero's welcome after his premature ejection from last month's Super Strong Style 16 tournament due to health issues.
(4) Mark Haskins beat Johnny Gargano to capture the SMASH Wrestling Title. This was an absolutely incredible match. Gargano settled nicely into playing the heel role after being so well received by the crowd in his introduction. Both men escaped several submission attempts, as well as Haskins kicking out of a turnbuckle lawn dart / superkick combination. Eventually Haskins trapped Gargano in the Star Armbar, leaving Johnny no choice but to tap out. The crowd erupted at the shock title change, with Haskins becoming the first British Smash Wrestling champion and, I believe, winning his first international singles title.
Post-match, Gargano put Haskins over and told him to defend the title and show the world how good he is. Smash have already posted the ending of the match on their YouTube account.
After the interval, the London Riots came out to ask if PROGRESS management had listened to their request to take on the challenge of the best teams around the world. Host Jim Smallman responded by stating that at the next Chapter, the Riots would be defending the titles against none other than War Machine (Ray Rowe & Hanson).
(5) Zack Gibson & T-Bone beat Iestyn Rees & Big Daddy Walter in a Group B Atlas championship tag match. Gibson was replacing his stablemate Dave Mastiff, who was ill with the flu. Any points won by Gibson would be given to Mastiff. Gibson was booed out of the building when trying to performed his pre-match schtick. This match had an interesting dynamic being that Gibson was the only wrestler that was outright hated, even to the point that his partner T-Bone wanted nothing to do with him. Rees and Walter worked very well together, but that didn't bring good fortune as Gibson chopped blocked Rees out of a suplex attempt on T-Bone and scored the pin. This gave Mastiff two points on the board, while Bone tops the group with 6. Walter remains on 2, while Rees in out of contention with 0 points.
(6) Rampage Brown defeated Trent Seven by pinfall. Originally this was an Atlas tournament match between Brown and Damo O'Connor, but sadly Big Damo suffered an injury to his head last night that required five staples to close. Brown received 2 much needed points as a result of a forfeit. While this wasn't a long match, it was stiff and downright brutal. Trent has an incredible ability to sustain a lot of punishment, though he could not withstand Brown's piledriver.
Next was the main event for the PROGRESS Title.
(7)  Marty Scurll defeated Tommy End by pinfall to retain the PROGRESS Wrestling championship. This was End's second title shot, which he earned by winning the Super Strong Style 16 last month. Scurll was coming off a major title defence last weekend against Chris Hero.
This was the third match in their series and probably their best so far, even if things got a little bit convoluted by the end. The match was back and forth until referee Chris Roberts got knocked down. Scurll scored with a Gotch-style Tombstone, but couldn't get the pin. End locked Scurll in a Dragon sleeper and Scurll tapped out, but Roberts was unable to register the fall. Second referee Paz came out to take over. After another nearfall, Scurll took Paz out with umbrella. Using the umbrella for added leverage, Scurll locked in the same Dragon sleeper that End used. Roberts called for the bell, not seeing the umbrella in use, but Jim Smallman called Marty out on his tactics and ordered the match to restart.
End got a second wind and nailed Scurll with a brainbuster, top rope double stomp and the spinning back kick. As he went for the pin, the lights in the building went out. With everyone anticipating another Mikey Whiplash attack, End was distracted and left prone for a roll-up, which Scurll did while also adding feet on the ropes for the successful title retention.
Post-match, End hit another spinning back kick and laid Scurll out. In a shocking moment, the music of Pastor William Eavor hit. He came out to cash in his title shot that he won from the National Progression tournament.
(8) Pastor William Eavor beat PROGRESS champion Marty Scurll to capture the PROGRESS Title. Eavor laid out Scurll with the Clothesline from Heaven to win the PROGRESS championship. A shocking turn of events, as I doubt anyone thought tonight would be the dawning of a new champion. Eavor becomes the first of the ProJo training school to become the champion.
Overall, a thoroughly enjoyable show, maybe one of PROGRESS's best to date.