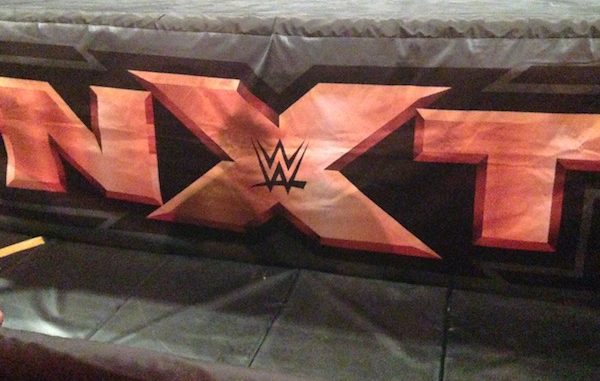 ---
SPOTLIGHTED PODCAST ALERT (YOUR ARTICLE BEGINS A FEW INCHES DOWN)...
---
WWE NXT TV Results
September 14, 2016
Taped at Full Sail University
Aired on WWE Network
Report by James Caldwell, PWTorch assistant editor
After Tom Phillips introduced the show, Samoa Joe's music played to bring out the NXT champion dressed in street clothes. Joe was all-business still upset about losing the NXT Title to Shinsuke Nakamura at NXT Takeover.
Joe said he's a man who understands when he's gone too far and has to admit to mistakes. He said when he was NXT champion, he was a disgrace. Joe said he has regrets in his heart, but he makes no apologies for wanting to be champion of the hottest brand in WWE. He said he wanted to be the standard.
Joe called out NXT champion Shinsuke Nakamura to offer some thoughts to his face. After a pause, Nakamura made his signature entrance to the ring proudly holding the NXT Title belt over his let shoulder. Once both men were in the ring, Joe hyped their encounter at Takeover: Brooklyn. Joe said he realizes that Nakamura was a deserving contender and he is now a worthy champion.
Joe said he has a re-match for the NXT Title. And, as soon as he is medically cleared to wrestle, he wants his re-match. "Re-match?" Nakamura asked rhetorically before pausing and dramatically building to his answer. "You're on." Nakamura's music played and Joe started to leave the ring. Suddenly, Joe approached Nakamura. Handshake offer. Nakamura thought about it, then shook.
Joe exited the ring, then Nakamura's music played again and he went back to posing in the ring. Nakamura did his signature poses with the title belt, then left up the ramp to the back. Nakamura posed on the stage as the announcers talked up Joe's sign of respect. Suddenly, Joe charged Nakamura and blindsided him. Joe dragged Nakamura down to ringside, then smashed him into the ring steps. Joe choked Nakamura as refs spilled out trying to restrain Joe, but he smashed Nakamura into the ring steps with a uranage. Refs yelled at Joe to get out of here as Nakamura sold on the ground.
A stretcher was wheeled down to ringside to place Nakamura on the gurney. After a replay of Joe's heinous attack, they cut back to Nakamura being fit for a neckbrace. Nakamura was gingerly placed on the backbrace, then NXT GM William Regal walked down to ringside for a closer look at the situation. Corey Graves also came down from the announce position to examine Nakamura. "Nak-a-mura" chant from the crowd as he was wheeled out of the arena.
[Network Break]
1 — LIV MORGAN vs. RACHEL FAZIO
Fazio is Rachael Ellering, who was given a different name to differentiate herself from her dad, Paul Ellering, who is managing the Authors of Pain on NXT TV. The announcers sold being shaken by how the Joe-Nakamura exchange ended and they vowed to provide an update on Nakamura later in the show. The match ended quickly with Liv tapping Rachel after some back-and-forth.
Post-match, Morgan took the mic with something to say. Morgan said usually when you say "no offense," you really mean to offend. So, Rachel, "No offense, but you just tapped out!" Liv said the NXT Women's division seems to have cleared out, but she is still standing here and she wants to fight. She knows she might have a death wish calling out NXT Women's champion Asuka, but she doesn't care. "I'm coming for you!" Liv declared.
WINNER: Liv Morgan at 1:45. Morgan is going to get a whooping, folks.
Still to come: Bobby Roode vs. No Way Jose.
[Network Break]
Announcers: Tom Phillips and Corey Graves relayed an update on Shinsuke Nakamura that he has been taken to a local medical facilty for further evaluation.
2 — HIDEO ITAMI vs. DREW GULAK
Gulak was representing the Cruiserweight tournament against Itami, who looked ready for a fight. Once the bell sounded, Gulak wanted to grapple and scrap with Itami. Suddenly, Gulak just reached back and slapped Itami across the face. That woke up Itami, who blasted Gulak with a slap and knee to the gut.
Itami and Gulak went back and forth beating each other up before Itami nailed a combination throat kick and basement dropkick. Itami wanted to give FSU the GTS, and he connected in the middle of the ring. Gulak's head snapped back and Itami made the cover for the win.
WINNER: Itami at 4:55. Itami is back. The ongoing Itami vs. Austin Aries feud should be great for getting Itami ready for the main event scene.
[Network Break]
3 — AUTHORS OF PAIN (w/Paul Ellering) vs. DOUG CESSA & CHRIS PAIN
Quick, effective squash over the over-matched enhancement wrestlers. AOP finished off Pain with a combo powerbomb. Cessa then took a combo clothesline for the pin and the win.
WINNERS: AOP at 1:50.
Backstage: A cameraman caught up with Tye Dillinger to discuss his losing summer. Dillinger said things are changing. He's no longer a 9.5 or even a 9.0. He will always be a Perfect 10.
Up Next: Bobby Roode vs. No Way Jose.
[Network Break]
In-ring: No Way Jose made his ring entrance trying to fire up the crowd. The crowd was like, 'Okay, that's fun and all, but hurry up so we can see Bobby Roode.' And then "Glorious" played and Bobby Roode made his dramatic ring entrance on a rotating platform. Big entrance for Roode with the crowd singing his song. Jose seemed thrown off by the grandeur of Roode's entrance. Cue the bell.
4 — BOBBY ROODE vs. NO WAY JOSE
Roode delivered an early amrdrag, then he stopped and posed. "Glorious!" Roode declared to the delight of the crowd. Jose then knocked Roode out of the ring to the floor. NWJ delivered a running axehandle off the ring apron heading to break.
[Network Break]
Jose continued to control the match back from break, but Roode answered with a "glorious" spinebuster. Phillips then provided another update on Shinsuke Nakamura. He said Nakamura is regaining feeling after being taken to the hospital.
Roode delivered a delayed vertical suplex, then he tried another, but Jose slipped out and delivered successive offense. Jose followed with an airplane spin into a facebuster for a close two count. Jose loaded up for a baseball pitch right hand, but Roode ducked and nailed a neckbreaker. Roode followed with a "glorious" lift-up DDT for the pin and the win.
Post-match, Roode celebrated in the ring and posed as his "glorious" music played the show out.
WINNER: Roode at 8:28. That's a much better finisher. Roode needs to be on the main roster a.s.a.p. or next in line to challenge Nakamura for the NXT Title after Samoa Joe. He's just in a groove right now with this character.