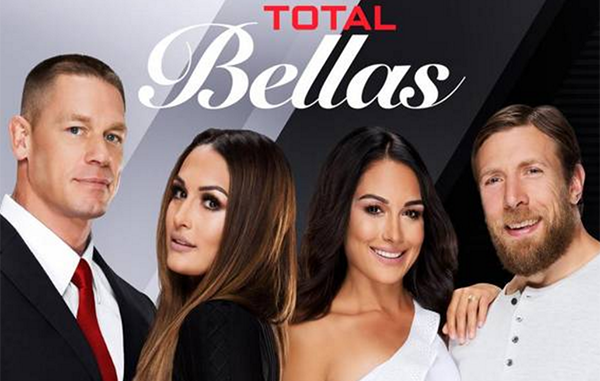 ---
SPOTLIGHTED PODCAST ALERT (YOUR ARTICLE BEGINS A FEW INCHES DOWN)...
---
TOTAL BELLAS
OCTOBER 19, 2016
AIRED ON E!
REPORT BY SARAH K., PWTORCH CONTRIBUTOR
Overall, episode 3 was less catty, and that's largely because it focused mostly on the boys. We open with the generic recap that the show is about Nikki Bella's neck surgery recovery and Daniel Bryan's retirement. So, we're in John Cena's house looking at his large fish tank. Bryan and Cena have committed the fashion crime of wearing the same t-shirt. Bryan, of course, would like the fish to live in the ocean. Cena feels the tank is adequate. To be fair, as a fish person (yes, that's where I come down between cats and dogs — I choose fish) – the tank is appropriate in size.
As per my notes, "Winston eats poop." Winston is John & Nikki's dog. This is the second episode in which it has been mentioned that he eats poop. Yes, that's gross. And no, no one is seen disciplining the dog in order to dispossess him of his poop eating habits. John is perfectly willing to give the dog to Brie and Bryan. John Cena – not real great with girlfriends, also not really a dog guy. It's not a surprise that he has a fish tank. I can verify this as a fish person. My fish never shit on the floor, chewed on the couch, or made the house smelly, also, I never had to get fish scales off my clothes! Fish are pets for people that aren't looking for affection…
Bryan and Nikki are in the living room watching Brie fight Summer Rae on Raw. They briefly mention the psychology of the match. This is a lead in to the undercurrent of the episode where Nikki thinks that Bryan should take a roll as a coach at NXT. They discuss the Mom's business – which is called JBN. JBN stands for JJ, Briana, and Nikki, which is odd because Nikki's real first name is Stephanie. John Cena occasionally makes the point to refer to her as Stephanie Nicole Garcia-Colace in public. Anyhoo, we go to a highlight reel of Daniel Bryan's career.
Nikki, Bryan, and JJ make a trek to NXT. They interact with Sami Zayn there. He asks Nikki about her surgery; moves she now cannot do. This leads into a discussion of how Bryan was trying to adjust his style to work around his head and neck injuries. Bryan and Zayn put on a demonstration of what he was planning to do. As an aside, Nikki launches into her campaign for Bryan to be a coach to JJ. They bring it up to Bryan. Bryan shoots it down on the grounds that he wants to wrestle and basically anything less is depressing. Nikki apologizes to Bryan for not considering this point.
Coming back from commercial John and JJ are in Cena's mansion drinking wine. I dunno how this plays to you ladies, but my guy drinks beer and watches Sportscenter (which is how I identify all programming on ESPN that obviously isn't an ongoing game). It's a bit posh for 2 dudes to hold wine goblets in front of a fire. By "posh" I mean weird. Anyway, JJ tries to get Cena to put in a word for him. Cena, almost human but not quite, takes the long form response of telling JJ to go to a wrestling school and train before thinking he can just be a pro wrestler. It's a reasonable let down.
According to my notes: John and Nikki are finally going out to dinner! Sadly, this date is not shown on camera.
Since being a coach at NXT is out as a career move – Nikki thinks Bryan should host something like an HGTV show as hipster Bryan is a fan of things like the tiny house movement and backyard gardens. The rest of the segment is about how JJ (aka Creepy Brother) works for Mom's company, and the Mom treats him like an errand boy. They do politely avoid the term errand boy, but that's what they mean.
Back from commercial: Bryan and Nikki go to high tea. This seems a lot like the tea date Brie & Nikki had with Paige on Total Divas, where Paige thought it was weird that they needed to play dress up and go to tea because they were in England, and, as you know, Paige is British. Bryan doesn't wanna wear a dress coat, so, in other words Bryan doesn't wanna play dress up to go eat food – like a normal person. He's a man though, so he likes the food. They both come off surprisingly well in the segment.
Back at the house they're gathered outside on a patio. I think Winston may have eaten poop again (sorry, he doesn't have many notable activities on the show). Anyway, this segues into talk about how dogs are like babies. John Cena has realized he'd rather have adopted a full grown, trained dog. Nikki says the dog is trained, Cena says no. This leads into the notion that it would take Nikki 18 years to teach a baby English. She demures that whatever she couldn't teach the kid, it would learn from interacting with others. Uh, yeah. Maybe Cena and Nikki really shouldn't have kids — I editorialize…
Johnny Ace, Brie, and JJ are hitting golf balls into a lake. JJ wonders if Ace would put in a word for him at the Performance Center. Ace sort of agrees, but then diplomatically changes his mind based on the fact that JJ's sudden interest in being a wrestler is based mostly on being tired of being treated like the errand boy at the Mom's company.
Nikki's at her vanity getting ready to go out with Brie to get pedicures. Brie pulls out a photo of Cena with kids from a drawer. She teases Nikki about it. You know, Nikki still wants marriage and a family despite Cena's automaton status as Worst Boyfriend Ever. Anyway, they go for a pedicure where they put rose petals in the water. Brie reveals that Bryan suffers from depression. On most shows – when venturing in this territory they show a screen with a number for a national crisis hotline for the real life problem they've just introduced. This did not happen here or at the end of the show.
Back from commercial we're at a restaurant. Brie throws JJ under the bus about wanting to leave the Mom's company because he feels like the errand boy. The Mom gets defensive, JJ is annoyed about having this be the topic of conversation. Surprisingly, John Cena (of all people) manages to negotiate this situation back to normal conversation while smoothing over the cause of conflict.
After another commercial we're at another meal. There is discussion of pronouns. Cena makes a joke about pronouns being professional nouns. Neither Brie on Nikki can demonstrate that they know the definition of a pronoun. Remember when I was pissed that they were billed as "smart" in the original pitches for the show. Yeah. Anyway, Mom toasts JJ and gives him 20% of the company.
In the final segment of the show: Brie and Bryan are finally on the boat (this was the teaser for this episode). They're going snorkeling in the water. Bryan gets to interact with a manatee. The undercurrent of the segment is that Brie is concerned about Bryan's health and depression. So, going out into the world and doing something with nature is supposed to lift his spirits. He does seem genuinely impressed to interact with the manatee. Future reality show pitch: Daniel Bryan swims with the fishes? I'm just sayin'.
The teaser for next week's episode is that Bryan leaves (it's unclear if it's for good or like an appearance somewhere, I'm pretty sure this was done on purpose) and that Brie and Nikki argue (which they've shown as teasers throughout the first 2 episodes).
NOW CHECK OUT LAST WEEK'S REPORT ON EPISODE 2: 10/12 TOTAL BELLAS REVIEW (ep. 2): Stick shift, masturbation puns, calorie counting cost Nikki a date, Bryan's anti-quickie philosophy