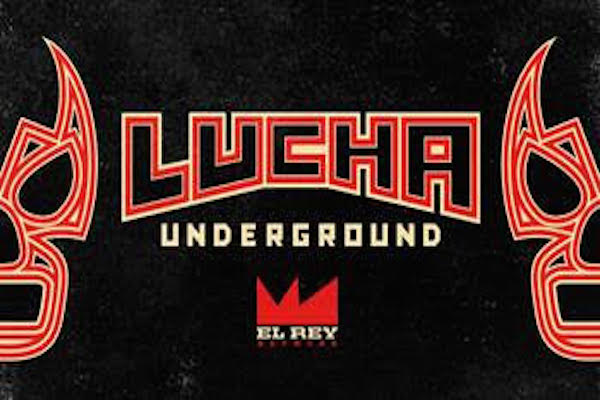 ---
SPOTLIGHTED PODCAST ALERT (YOUR ARTICLE BEGINS A FEW INCHES DOWN)...
---
Lucha Underground Report
October 19, 2016
Taped in Los Angeles, Calif.
Season 3 Episode #7 aired on El Rey Network

Report by Joel Dehnel, PWTorch contributor
The show opened with a recaps of Prince Puma-Mil Muertes, Killshot-Joey Ryan, Mundo-Sexy Star and Dario's Dial of Doom.
Backstage: Prince Puma was prepping for his match when Vampiro interrupted him. Vampiro wished him luck. Puma fended him off and told him he didn't want his help. 
Announcers: Striker welcomed the audience to the show. He hyped the main event between Mil Muertes and Prince Puma. Vampiro threw to Dario on the stage.
Stage: Dario introduced the Dial of Doom and explained the rules again. Dario spun the wheel and it landed on Killshot. 
In ring: Santos introduced the Matanza already in the ring. Next out was Killshot.
1 – Lucha Underground Champion MATANZA CUETO vs. KILLSHOT – Lucha Underground Championship Match
Matanza started clubbing Killshot and hit a flurry of clotheslines. Matanza continued to throw Killshot around the ring. Killshot tried to leap on Matanza but was caught. Killshot escaped through a submission. Matanza broke out again. Killshot landed a kick and climbed to the top again. Matanza grabbed him off the top rope and tried to hit a tombstone pile driver off the top rope. Killshot broke free and hit a DDT. Killshot climbed to the top rope again but Matanza moved out of the way and hit a clothesline followed by Wrath of the Gods for the win.
WINNER: Matanza Cueto at 4:00 to retain his title.
Post match: Killshot was cheered in the ring. A man in military attire and dog tags walked down to the ring. Killshot recognized him and tried to hug him, but the man pushed Killshot and beat him down. 
[Break]
Vignette: White Rabbit they'll be here soon promo.
Announcers: Santos introduced AeroStar, Drago and Fenix to the ring.
Stage: Dario told the trios champions that four weeks from tonight there will be Aztec Warfare. Dario said said that there has been zero competition for Matanza so he will be defending hit title in the match and entering at number 1. He gave the 3 a unique opportunity. They will face each other right now. The winner will enter at number 20 while the loser will not be allowed to participate in Aztec Warfare.
In ring: 
2 – Trios Tag Champions FENIX vs. DRAGO vs. AEROSTAR – winner will enter Aztec Warfare at #20, while the losers will be banned from participating
AeroStar began against Drago. Fenix then entered and tussled with Drago. Fenix dominated throughout and beat on AeroStar. Drago hit a crossbody on Fenix then AeroStar leaped on Drago. Drago leaped to the outside on both luchadors. Fenix and AeroStar fought back and Forth. AeroStar hit a big DDT then Drago broke up the pin and worked on AeroStar. Drago flipped AeroStar off the turn buckle then Fenix hit a double stomp on Drago. Fenix locked in a submission hold on Drago then AeroStar tied up Fenix. They all fell apart then all brawled against each other. Drago hit a neck breaker for the win.
WINNER: Drago at 8:35.
Still to come: Mil Muertes vs. Prince Puma.
[Break]
Backstage: KOBRA Moon crawled up behind Drago. She told him she expected him to win and bring the title back to the tribe. Drago said he left the tribe and will never return. A random dude walked in and said sorry I thought this was the men's room. He then continued to eat his slice of pizza then farted. 
Dario's office: Mundo entered Dario's office with a briefcase. Mundo said he needs to be the Lucha Underground Champion. He gave Dario a briefcase full of money. Dario was excited to see his money had been returned then he granted Johnny a match with Sexy Star.
In ring: Santos introduced Mil Muertes who was already in the ring. Next out was Prince Puma. 
[Break]
3 – MIL MUERTES (w/Catrina) vs. PRINCE PUMA
Both men traded blows back and forth. Muertes got Puma down and stomped on him. Puma broke free and hit a springboard elbow. Muertes fell to the outside and Puma hit a suicide dive followed by another leap. Muertes reversed being thrown into the barricade and hit a spear. Muertes beat Puma with a chair and threw him into a wall. They continued to fight up in the bleachers. Muertes walked down the stairs then Puma ran across and leaped onto Muertes from the top of the temple. Puma rolled Muertes back into the ring and hit springboard knees. Puma knocked over Muertes and again and went for a 630 but Muertes moved. Muertes hit a powerslam for a near fall. Puma went for a kick, but Muertes hit a big punch followed by a scoop slam. Muertes went for the flatliner but Puma broke free but Muertes launched Puma into the corner and hit several clotheslines. Puma kicked Muertes and set up for the 630 and hit it for the win.
WINNER: Prince Puma at 8:44. 
Backstage: Rey told Chavo Guerrero Sr. about that he has to do something about Chavo. Rey said either Chavo leaves or he will.
FINAL THOUGHTS:  Honestly my biggest pet peeve about Lucha is that in some matches they pay attention to rules and in other they don't care. It's such a cop out to say Dario has allowed for leniency. That's such a bunch of crap. It's either a no DQ match or it's not. Paying attention to the rules means a lot in the long run. 
---
(Follow Joel on Twitter @DehnelTorch.)