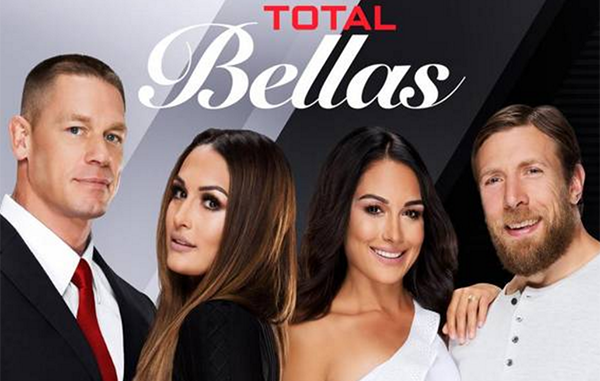 ---
SPOTLIGHTED PODCAST ALERT (YOUR ARTICLE BEGINS A FEW INCHES DOWN)...
---
TOTAL BELLAS
NOVEMBER 2, 2016
AIRED ON E!
REPORT BY SARAH K., PWTORCH CONTRIBUTOR
The show opens with a recap of last week's episode – to establish that Daniel Bryan has left for Phoenix. Brie, Nikki, and assorted family members are at a pier. There's a nice sunset on the water. Brie and Nikki have a heart to heart about their respective mates changing them and keeping them apart. There's drinking. Because (as Brie establishes) drinking solves problems. The Mom shouts "Brie mode!" I shake my head. Every time I watched a Brie Bella match on WWE programming – any time an announcer mentioned "Brie mode" – I would ask if she was about to get drunk in the ring. Total Divas established that Brie Mode = Brie getting shitfaced. So, calling a barrage of stolen Daniel Bryan kicks Brie Mode just never worked for me. But I digress. Brie is buzzed and points out that everyone has nipples. Also, they're in Naples. So, Naples – nipples, you get it. Anyway, there is a dinner. Johnny Ace got Mom a chef stripper. He gives Mom a show and ends up in just shoes and a blue speedo. Brie is going back to Arizona.
Back from break, we're still at the hotel for Mom's bachelorette party. Everyone misses Brie. As we learned last episode, Lauren (J.J.'s wife) is pregnant. J.J. insists that it's a boy. Ladies, you know this is a point of conflict. Anyway, Mom has body issues. Nikki thinks it has something to do with them being hot 30-somethings. You know, because Mom is 51. We get a story about how the Bella twin's father made the Mom insecure about her body. Watching this, I'm happy for my own father, who was never that kind of a dick to my mother. Anyway, it's weird to watch a collection of people who, outside of pregnancy, have probably never purchased an article of clothing above a size 8 talk about body issues. No one here is Roseanne Barr, or – for you kids – Rebel Wilson. Anyway, the Mom is wearing a hippie top (that shows off her legs). Nikki wants the Mom to wear her sarong. So, Mom will be showing off her mid drift instead. They post some pics on IG and then read the complimentary comments to Mom.
In the mean time, Brie returns home. She tries to pump Bryan for info about his doctor's visits. He's being evasive. Back at the hotel, Nikki gets on J.J.'s case about the baby boy comments. J.J. says every man wants a boy. Yeah, that's sexist. Nikki wears him down with talk about how his insistence on the baby's sex causes stress to his pregnant wife. You know he still wants a boy. Regardless, at the next dinner he apologizes to his wife for his baby gender wishes.
Next up we're at John's mansion. Nikki is trying to get the dog to walk down some steps. Winston is not enthusiastic about this. At least there is no poop consumption this week! Anyway, while Nikki was at the bachelorette weekend, John took care of the dog. John was not elated about his time with the dog. John would be happy to let Brie and Bryan take the dog off their hands. John is clearly not a dog person. In non-dog news, John, Nikki, and various family members bemoan Brie missing TV time when she's about to retire in order to be with Bryan.
Brie and Bryan are back home. This segment is them in their kitchen – which was on WWE.com for the last few days. There's a 1 percent chance that Bryan could ever get back in the ring. Bryan sees this as a glimmer of hope. Brie is the realist who knows that this is unrealistic. It's sad. They embrace, and Bryan sheds some tears.
Back from break, Nikki and J.J. are in a studio somewhere. They are at a painting class. Sadly, no ghost of Bob Ross. Cena shows up slightly late. They're all supposed to learn to paint the same painting. It's a picture of a woman's lower legs in high heels. Winston the dog is discussed at length. He cuts into their date nights with his dog needs. Dogs are like children. If you have an Instagram and are friends with someone with no kids but a dog or cat – you know this – your friend with pet will incessantly post photos of said pet. I think most of us know that Natalya's cat, Renee Young's dog, Brie Bella's dog, and even Winston have IG accounts. Full disclosure, I follow someone's pet chameleon on IG, at least it changes colors…
Where were we? Oh yeah, Winston is like a child, and John has pretty much fully established that he doesn't want the dog. Then we critique the paintings. J.J. covered up his sketchy painting skills by flinging paint at the canvas a la Jackson Pollack, Nikki painted the painting as instructed to the best of her abilities, and then John Cena sort of followed the instructions but didn't. I don't have to mention that I have an art degree to explain that Cena gives a B.S. esoteric explanation of his painting which is actually just rendering of a cock and balls ejaculating, do I? Nikki and J.J. smile and nod along to whatever he says.
Brie and Lauren are out for a photo shoot somewhere in scenic Arizona. Brie bemoans the end of her career and how her focus is on Bryan and not on being on TV. Brie sheds some tears.
Back from break, Brie and an assortment of brunettes are having the photo shoot. Everyone is all smiles. Bryan has shown up to witness the shoot. Brie and Bryan wander off to get some vegan food. Meanwhile, in Florida Johnny Ace is lighting a fire for the Mom, Nikki, and J.J. Ace tries to get the Mom to tell the kids about the lump in her breast. Mom is having none of it. The kids wander off. Mom and Ace exchange tense words.
We're in Fort Lauderdale for the wedding. The wedding will take place on next week's finale. In a hotel bedroom Ace tells Nikki and J.J. about Mom's breast lump. The kids overreact. Mom is pissed that Ace told them. They all end up agreeing to keep it to themselves contingent on the Mom going to get a mammogram that day. She and Nikki go in for the mammogram. Breast cancer runs in the family, oh, and Mom found the lump six weeks ago, which is contrary to the three week figure that was bandied about for all prior discussions. Everyone lies.
Next week we'll get some test results for Mom, Mom and Ace will marry, and Brie and Nikki will argue about whether Daniel Bryan or John Cena are honest in their intentions. Or as I noted: Wow, Total Bellas was only six episodes. As an addendum, they flashed a screen for the Susan G. Komen charity, with all the pertinent info… despite having done no such thing regarding all the talk about depression.
NOW CHECK OUT LAST WEEK'S "TOTAL BELLAS" REVIEW: 10/26 TOTAL BELLAS REVIEW (ep. 4): The One Where Personalities Clash, the Bellas Look Up Onomatopoeia, Winston Eats More Poop