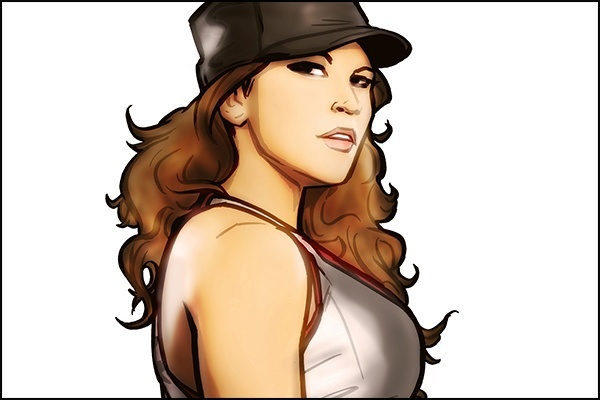 ---
SPOTLIGHTED PODCAST ALERT (YOUR ARTICLE BEGINS A FEW INCHES DOWN)...
---
Mickie James is scheduled to wrestle Asuka tomorrow on NXT Takeover, which will be broadcast live on WWE Network. It's her first match in WWE since 2010, when she was released from the company during her prime. Her husband, Nick "Magnus" Aldis, told me she is excited for the opportunity and always hoped to return some day.
"Obviously, she is excited about it," he said on a recent PWTorch Livecast (listen here). "She is incredibly proud of her WWE career, as she should be, and she always held on to a hope that she would have a chance to at least return. She always said she wanted to finish her career there. I'm not trying to imply that's what she's doing at this point. She's very glad and I'm very pleased and honored she's been able to reestablish her relationship there. Obviously it's the big time, man. It's the business."
As for ring rust, that shouldn't be an issue. Other than when she was pregnant with their baby, she's stayed active the last six years, including a strong run in TNA where she was the TNA Knockouts Champion three times, including reigns lasting nearly six months and four months. She's also worked independent dates, including shows she and her husband promoted in the United Kingdom.
"She can still 'go.'," says Aldis. "She's as good as she's ever been, if not better. Watching her work over the years, she's got even that very unique ability now to sort of really show what a veteran she is in the ring, which is a very difficult thing to do. She's so comfortable in there now and there's so much charisma that it's fun to watch her. When we promoted our live events, she was always the driving force as far as the popularity and the ticket sales and stuff like that. I can pat myself on the back a little bit and say there are markets in the UK where I do very well."
---
WHEN YOU SHOP AMAZON, PLEASE START AT OUR AMAZON LAUNCH PAGE. WE LINK TO THE MAIN AMAZON PAGE AND YOU PAY SAME GREAT PRICES, BUT WE GET A COMMISSION ON YOUR PURCHASES! PLUS CHECK OUT OUR SELECTION OF RECOMMENDED PRO WRESTLING MERCHANDISE ON OUR AMAZON PAGE: START HERE
---
Having the chance to wrestle Asuka is particularly exciting given Asuka's top level work inside the ring. It's a dream match for a lot of fans of both wrestlers. "I know that she and Asuka are going to tear the house down," Aldis said. "Asuka's fantastic. Mickey, she can work with anyone. But I think this particular match-up is very good for her style because she sells so well and she has such great movement. She's a great babyface. It'll be a great."
Aldis and Mickie now live near the WWE Performance Center, which may have been helpful from a pure geographic convenience standpoint in getting on the Takeover show. There's no flight to book or hotel room to reserve for this appearance. Aldis said the move to the Orlando area wasn't based on its proximity to the Performance Center. "It was not a strategic move on our part (laughs). We happened to find the right place that we wanted. I wanted to come back to Florida (where he lived during his TNA stint) and she wanted a place for the horses, so this was the ideal place and we loved it here."
Is this the first step to a full time return to the WWE roster? Aldis doesn't know, but it sounds like Mickie is open to it. "As far as I'm aware, it's completely by ear at this point," he said. "I feel like once they see what she does and, more importantly, see the fan reaction, which I think is going to be huge, I'd be very surprised if it doesn't lead to more. Clearly, I'm not the right guy to ask because I don't have a very good handle on what they're thinking and what they want."
Keller's Analysis: Mickie just seems like a perfect addition to the WWE women's division, especially now that it's split in half. Given the range Mickie has shown on her promos in WWE and later in TNA, she would be more than "just a good veteran hand" in the ring. She could be one of the centerpiece heels or babyfaces on either Raw or Smackdown. She'd also help other women with limited experience in the ring get better and gain from her wisdom. It just feels like a no-brainer to bring her on board full time if she looks as good tomorrow night as people rightfully anticipate she will against Asuka.
CHECK OUT THE FULL 74 MINUTES IN-DEPTH INTERVIEW WITH NICK "MAGNUS" ALDIS HERE
In the full interview, he also talks about the status of his career, frustration with not getting a chance with WWE, what he thinks of what's happened regarding TNA ownership lately, why he doesn't feel like he's a great fit for a certain aspect of the independent wrestling scene, and much more.
PWTorch Livecast Interview Thursday (11-10-16): Nick "Magnus" Aldis joins Wade Keller
NOW CHECK OUT OUR PREVIOUS NEWS UPDATE HERE: NEWS ITEMS: WrestleMania economic impact in Dallas calculated, Presidential odds listed for Vince McMahon and The Rock in 2020, Survivor Series coming to Houston
OR FOR MORE BREAKING WRESTLING NEWS, CHECK OUT OUR AFFILIATE SITE, PROWRESTLING.NET.