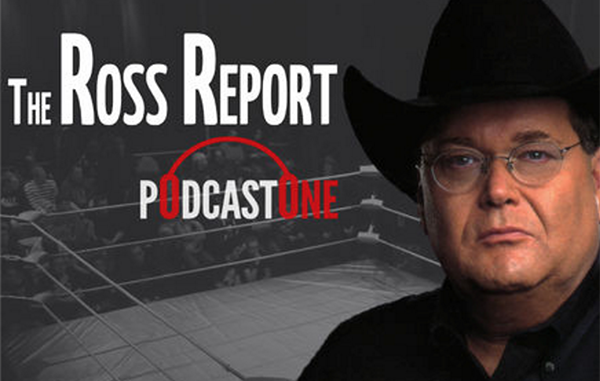 ---
SPOTLIGHTED PODCAST ALERT (YOUR ARTICLE BEGINS A FEW INCHES DOWN)...
---
The Ross Report
Guests: Chael Sonnen
Release Date: December 7, 2016
Recap by Jimmy J. Haggz, PWTorch contributor
Top Newsworthy Items
-J.R. believes A.J. Styles is the best in ring performer today
-Chael Sonnen has a PPV coming up on Dec. 11, 2016 entitle "Submission Underground 2" and it will contain only grappling and no striking
-"Weight Cutting" is very dangerous and hard to control
-Connor McGregor made 10 million dollars off his last fight at MSG
-The chances of seeing Chael in WWE are slim
-Chael Sonnen will not rest until he finds out why Buff Bagwell got fired
Subjects Covered (w/timestamps)
0:00-Sponsor Ads
1:58- Introduction
3:34- Sponsor Ad
3:58- Ross's Thoughts/ROH PPV
14:18- Ross's Thoughts/WWE TLC PPV
29:48- Sponsor ads
32:04- Interview w/ Chael Sonnen
50:03- Broadcasting Booth
55:53- Buff N Brodus
1:00:14- Sponsor Ads
1:03:13- Interview Resumes/Weight Cutting
1:11:38- Questions for Chael
1:39:05- Conclusion of Interview w/ Chael Sonnen
1:42:00- JR'S closing thoughts
1:47:43- Show Ends
Show Highlights/Rundown
Introduction
Good 'OL JR has a fully loaded podcast this week which includes him reviewing the ROH (Ring of Honor) PPV "Final Battle" and WWE TLC PPV along with his guest Chael Sonnen. JR states Chael has a big project coming up soon that they will go over and amongst their discussion these are some of the names that will be brought up: Connor McGregor, Brock Lesner, Ronda Rousey, Goldberg.
Ross's Thoughts
(A) Ross starts off talking about ROH's "Final Battle" PPV on the FITE app. He seems to be pleased with the product as a whole as of late. He states that the ROH talent has more creative freedom than any other promotion in the world. JR was very happy with the Jushin Liger match and especially the finish. He states it was " good booking." Ross comments on the Colt Cabana/Dalton Castle match and stated it was an entertaining match, but expected a little bit more. He touched on the Cody Rhodes/ Jay Lethal match as well and believed they "delivered." Ross states Cody made an impact and is fan of his. He thought there were a lot of "spots" in the 6 man title match but loved the effort. Jim goes over the TV title match and sends his condolences to Bobby Fish, who's mother recently passed. He talks about Will Osprey and states bell to bell he's " damn good." Ross states The Youngbucks/Brisco's match was nonstop and both teams worked their asses off, however Ross feels they should have slowed the pace and "sell" a little bit more. JR then brings up Matt Hardy's interview on last weeks podcast about a possible matchup with the Hardy's and Youngbucks. Jim then talks about the Kyle O'Reilly/Adam Cole main event and believes that match was outstanding and he was shocked on the outcome.
(B) J.R. segues into the WWE TLC PPV. He claims WWE is doing a great job technologically with the network. Ross then talks about the crowd at the PPV and says they seemed "docile." JR likes the Randy Orton/Bray Wyatt duo and states Bray is possibly the "biggest character babyface" WWE has had in years. He claims Luke Harper is underutilized. Overall he was happy with the match against Heath Slater and Rhyno for the tag titles. Ross then states Nikki Bella has gotten better and liked her match against Carmella. Jim then talks about the Ziggler/Miz Ladder match for the IC title. He feels that the Miz and Maryse make a good team. JR then goes over the Baron Corbin/Kalisto chairs match and states that it exceeded his expectations. Ross discusses the Alexa Bliss/Becky Lynch match. He claims that Alexa Bliss has a great future if she continues to learn and not think that she knows the business "impeccably." Ross states the business is a constant learning process. JR follows up talking about the AJ styles/ Dean Ambrose match. Ross stated that he belives AJ styles is the best in-ring performer in the business today. He compares Styles to Shawn Michaels. Ross then claims he doesn't remember when he seen a ladder match that good. He talks about the finish and AJ styles connection with the fans.
JR then discusses the Royal Rumble and segues into his upcoming shows. ** Website for tickets are Rivercitycomedyclub.com (Royal Rumble Sunday Jan. 29, 2017) and Standuplive.com ( Phoenix January 12th. 2017). JR is also making an appearance at River City Wrestling Friday January 27th, 2017 in Texas. Tickets at rivercitywrestling.net ***
Ross concludes by talking about boxing on the CBS sports network Saturday night December 17th, 2017 and the ITV special that will air on New Years Eve from 4-6pm. Ross gets ready for his interview with Chael.
Interview with Chael Sonnen
Jim is interviewing Chael Sonnen. He asks Chael to discuss his upcoming events headlined by one on December 11th, 2017 entitled "Submission Underground 2″ in Oregon. Chael states the main event will be John Jones vs. Dan Henderson. He states it will be grappling only no strikes and both competitors agreed to a " no draw clause" that there must be a winner. Chael and Jim then discuss payouts to the fighters. Chael states live gate earnings mean everything and the event in December is sold out.
Chael then gets into discussion about grappling and MMA. He states his one frustration is that MMA fighters only get three fights a year when he was grappling with 20 guys a month. Chael and Ross agree that by Dana White allowing his fighters to be involved in grappling matches with no striking allowed, it will increase profits for everybody and Ross follows up by saying it is smart management.
JR then reverts back to the main event again and asks Chael how Jones and Henderson co-exist. Chael claims there has always been "a chip" between the two. Chael feels that this match is the first in a decade that John Jones isn't expected to win. Chael and Ross then segue into wrestling and talk about Goldberg going over on Lesner. Both guys talk about booking and giving the fans what they want, but not what's expected. Ross and Chael talk about covering UFC events and how intricate the sport is. They then get into a discussion on Danny Hodge and Ross claims he is the greatest wrestler he ever met.
Broadcasting Booth
JR asks Sonnen if he prefers broadcasting or fighting. Chael states he loves to participate. Sonnen claims that being an athlete is stressful, hard work, and you are usually scared to death. Chael claims the key to being a good TV analyst is to remind yourself its a conversation and not an interview. Ross and Chael both agree Its all about story-telling. They talk about difficulties as commentators and working together.
Buff 'n' Brodus
Chael brings up his podcast that featured Buff Bagwell. He states Buff had no idea what happened that got him fired. Chael asks Jim if he knows why Buff got fired. Ross stated that he carried out Vince's orders and that Buff just didn't fit in. Chael claims Buff had a look, charisma, and a gimmick. Chael then says he was surprised Brodus Clay was let go. He followed up by saying fat people dancing are hilarious. Ross agreed and both joked about it. Ross goes to break.
Interview Resumes/ "Weight Cutting"
Ross brings up the topic of weight-cuts and asks Chael how can it be fixed. Chael explains that in 1998 3 people died trying to make weight. He states all athletes were taking heavy doses of creatine. He states that in amateur wrestling they would weigh in an hour before the fight preventing fighters from cutting a significant amount of weight and then going out and fighting. Chael follows up by stating that in the pro's there is a 24 hr. weigh in period which allows more time for fighters to bulk up before the fight. He talks about an executive director named Andy Foster making some changes. Chael proceeds to tell Jim that he cannot give him a straight answer how it will be fixed. JR follows up by saying change will be forced by casualties on a bigger scale. Ross feels weight cutting is ignorant. Chael and Ross both believe fighters should stay within their weight.
JR and Sonnen discuss PED'S (performance enhancing drugs) and Marijuana. Chael states marijuana is not considered a PED but it is illegal for fighters to use. They get into a brief discussion on the drug.
Questions for Chael
Ross hits the twitter for some questions for Chael from the fans. They talk about his relationship with Dana White. Chael claims Dana White and Vince McMahon are similar in the sense they both don't sleep and constantly work. Sonnen claims Dana White is number 1 in competitive promotion and is the only guy that can deal with the fighters various personalites.
JR then brings up Ronda Rousey and asks what he thinks about her return. Before Chael responds he brings up Buff Bagwell AGAIN and believes there is more to that story that JR isn't telling. Chael switches back and talks about Ronda being gritty and tough, but feels that she will be taking on a stronger opponent. Overall Chael is "Team Ronda" but doesn't know how she will leave with the title. Ross asks Sonnen how much money Connor McGregor made the last fight and ONCE AGAIN he tries to get an answer from JR about Buff Bagwell! Chael puts the Bagwell situation to rest and admitted McGregor made 10 MILLION DOLLARS off of his last fight at MSG! He states Connor did a 17.1 million dollar gate at MSG. Ross and Chael then talk about McGregor and WWE. Chael feels McGregor will one day show up on WWE TV. Ross and Chael then talk a little about Brock Lesner in UFC. Ross asks Chael about CM Punk and Chael feels that he has a compelling story because he is 37 years old and doesn't have to do anything else in life, but wants to get into a UFC ring because he always wanted to do it. JR and Chael weigh in about Punk on UFC and him having another possible match. Ross then asks Chael if there is a chance he will ever do something with WWE and she states those chances are very limited. Ross goes on and says if Floyd Mayweather and Big Show could have a match, anything is possible for Chael. The two then touch on Trump/McMahon at Wrestlemania and Brock Lesner's suspension.
Conclusion of Interview
Jim goes over Chael Sonnen's event on December 11th, 2016 in Portland, Oregon called " Submission Underground 2." Ross reiterates that there will be no striking and only grappling allowed. Chael once again tries to find out the truth behind the Bagwell termination and JR's response remains the same.
Jr's Closing Thoughts
JR closes the podcast pluggin' his upcoming shows and Chael's PPV "Submission Underground 2". Ross talks about his BBQ sauce and t-shirts. Ross says his guests next week will be Lance Storm and Don Callis. He once again reminds us to "Do Something Nice For Someone and that "Our Tomorrows Are Not Guaranteed.
Score and Review (9.0)
This weeks Ross Report featured Chael Sonnen of UFC and Jim reviewing ROH and WWE PPVs. I always enjoy JR's input on the product of today. I feel his interview with Chael was enjoyable even if you aren't a fan of UFC and Chael's relentlessness of trying to find out the truth behind the Buff Bagwell firing made for an entertaining podcast. Personally, I thought the podcast was a bit extensive, but overall solid once again. Two thumbs up for Ross!