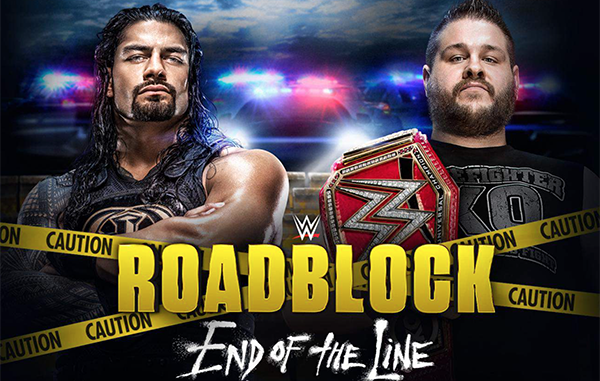 ---
SPOTLIGHTED PODCAST ALERT (YOUR ARTICLE BEGINS A FEW INCHES DOWN)...
---
It's that time of year again, time for the last WWE PPV of 2016 . Roadblock: End of the Line comes just in time to press the reset button on Raw's storylines as we head into 2017 and the Road to WrestleMania. And boy can Raw use a reset. Whereas Smackdown is producing quality shows with economical and engaging stories, Raw has been playing out like it's written by a bunch of monkeys throwing excrement at the wall. Anything can happen, and when it does, it leaves you with an itchy scalp and a ringing in your ears. Still, it's a good card and I expect to be entertained.
WWE UNIVERSAL CHAMPIONSHIP: Kevin Owens (c) vs. Roman Reigns
Well, what's going on here? Chris Jericho and Kevin Owens were best friends and the most entertaining part of Raw, until Kevin Owens told him to shut up about The List. Roman Reigns and Seth Rollins couldn't stand each other, until Seth Rollins decided to be a good guy. Now they are inseparable and annoying the hell out of the WWE Universe. How bizarre.
It's too soon to throw the title back on Roman Reigns, he still has a few months left to go on his apology tour. Though he is winning me over, maybe out of spite of all the haters and hijackers, but I love his I'm gonna kick your ass and you're gonna like it shaka brah attitude. Anytime he smirks and hangs loose, I lose my shit.
Kevin Owens has had his wings clipped a bit as of late, and a victory here would help cement his reign as more than just an afterthought. He's way better than what they've been giving him lately. Heading into Royal Rumble, I have no clue where Raw is going, but it would be cheap and silly to end Owens' reign on a nothing PPV at the end of December. WINNER: Kevin Owens
30-MINUTE IRON MAN MATCH FOR THE WWE RAW WOMEN'S CHAMPIONSHIP: Sasha Banks (c) vs. Charlotte
Charlotte is undefeated on PPV matches. Sasha Banks is the number one womens wrestler in the game today.  This is supposed to be the End of the Line for their feud, and I think they are going to tear the roof off the PPG Paints Arena in Pittsburgh, PA.
It's time to cement Sasha Banks as the face of the Womens Division, and a decisive victory over Charlotte, ending her PPV streak, will give Banks all the momentum she needs to make it to Wrestlemania, turn heel from arrogance, and lose the title to Bayley. That's where WWE needs to go, and this is where it starts.
Seth Rollins vs. Chris Jericho
Vince McMahon has this terrible idea for a top babyface, a cocky, corny, amoral asshole who talks in ways only relatable to ten-year-old bullies, saying things like Sparklecrotch. He tried it with Reigns and it didn't work, and now he thinks Seth Rollins can pull it off. But he can't, no one can, because nobody asked for that character and no one wants it.
Rollins wants this fight because he thinks the only way to get to Triple H is to beat Kevin Owens, and the only way to get to Kevin Owens is to beat Chris Jericho. But times have changed, Seth. Owens, and Jericho aren't friends anymore, so you are wasting your time and energy.
Jericho is on the downward slide after a career renaissance, and I feel his current run is coming to an end. And what a run it has been, from Y2AJ, and his beef with Ambrose, to his best friendship with Owens and his beloved list, Jericho still has what it takes to be the best thing going on Raw. The breakdown of his and Owens' friendship has started the shift to the more milquetoast Jericho of recent runs. Go out on your back Jericho, go tour with your band, and come back when we need you to save us again.
Rollins wins, and starts on his path to Triple H at WrestleMania 34.
RAW TAG TEAM TITLE MATCH: The New Day (c) vs. Cesaro & Sheamus
Cesaro and Sheamus, once bitter enemies, now have grown to love each other, but the only way to cement their love as a bromance for the ages is for them to take the tag team championship belts once and for all. Now that the New Day has taken the record away from Demolition, there's nothing arbitrary in their way anymore.
It's time for the New Day to move on, move on to the WWE Universal Championship. Both Kofi and Big E have a claim, and Xavier Woods could be the man in the middle. With Roadblock being the reset, this is where the WWE needs to go.
TRIPLE THREAT FOR THE WWE CRUISERWEIGHT TITLE: Rich Swann (c) vs. T.J. Perkins vs. Brian Kendrick
Rich Swann has been the bright light of the Cruiserweight division since its inception. Brian Kendrick is a quality heel, and T.J. Perkins still needs to take the training wheels off. Perkins has potential but he has a noticeable stick where the sun don't shine every time he opens his mouth.
Swann takes the dancing character and turns it on its head with a maniac twist. He has a fire in his eyes and charisma oozing out of every pore of his body. If WWE wants the Cruiserweights to succeed, Swann is the only man to lead the division.
TEN-MINUTE TIME LIMIT: Braun Strowman vs. Sami Zayn
Sami Zayn has an unhealthy obsession with Strong Broman. Commissioner Foley has been playing mind games with Zayn in order to psyche him up for this ten-minute time limit match. Zayn is going to go the distance here, and this match is sure to end without either man getting a victory, which will be all the victory Zayn needs heading into the Royal Rumble.
WWE KICKOFF SHOW: Rusev vs. Big Cass
Not clear why this is on the Kick-off Show, which is usually the domain of the Shining Stars and the Golden Truth.  WWE has yet to realize they have a huge star in Rusev. Everything he does, from his promos to his matches to his Instagram, is pure entertainment. He also must be versed in the art of alchemy because they keep handing him sh– stories and he keeps turning them into pure gold (Dog Ziggler/what happens behind closed doors). If there is any justice in the WWE Universe, Rusev would win both the Royal Rumble, Money in the Bank, the WWE Universal Championship, and the WWE Heavyweight Championship in 2017.
Unfortunately, Big Cass is going to win this match and then go on to have the 2017 that rightfully belongs to Rusev.
---
(Kevin LaRose is now contributing in-depth WWE PPV previews. Look for more from him in coming days, also.)