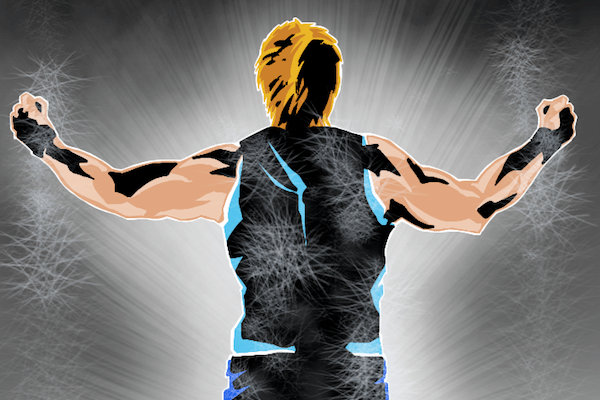 ---
SPOTLIGHTED PODCAST ALERT (YOUR ARTICLE BEGINS A FEW INCHES DOWN)...
---
He's been entertaining us for over 25 years. From claiming to be a conspiracy victim and listing all 1004 holds he knew (including several different versions of the armbar), to wearing a scarf and getting himself over with a clipboard, Chris Jericho has always been both a good worker (at times even a great worker) and great on the mic, whether he was a face or a heel.  He's reinvented himself several times over, and somehow continues to find himself right in the middle of Raw's top level storyline yet again.
Over the years, he's held pretty much every title out there, with the exception of the U.S. Title. (Imagine a CANADIAN holding that belt!) He's taken time off to tour with his band, Fozzy, and shown up on several  TV shows, did a season as a contestant of "Dancing With the Stars," appeared in movies,  and lately has created "The Jericho Network" of podcasts, including his own podcast twice a week.
After a two year break from wrestling, he came back to the WWE in late 2007 and ended up back at the top of the card,  having what some thought was the feud of the year at age 38 with Shawn Michaels in 2008 (obviously working with HBK certainly helped).  We had fun watching him as part of "Jeri-show," and watching his banter with Stephanie Mc Mahon, and then watched him work with C.M. Punk, Randy Orton, and Alberto Del Rio in 2011 and 2012, and then putting over mid-carders such as Fandango, Ryback, and Dolph Ziggler before leaving again for a while. In late 2013, he said in interviews that he was done being a full time wrestler.
After a year, he returned again in mid 2014 for what was supposed to be a limited number of events. This continued, and continued, and through 2015 ended up being part of some of the upper-mid card storylines.
And then… came 2016. He started the year by working with A.J. Styles, as Styles made his long-anticipated debut in a WWE ring. From there he shifted to a program with Dean Ambrose, and by summer was calling the fans "stupid idiots" (and getting cheered for it) and telling them to drink in "the Gift of Jericho." Before you knew it, he and Kevin Owens started their best friend routine, and in mid-September, he started "the List of Jericho," which of course means absolutely nothing but somehow Jericho has the crowd in the palm of his hand (again, he's supposedly a heel) as he puts everyone from Stephanie to Roman to the New Day to the cameraman to the entire Arena, on "The List." He's still in the primary storyline, at the top of Raw every week (with Owens, Rollins, and Reigns) – and, oh yeah, he's done this with very few, if any, pinfall victories. In fact, he's taken more of Rollins and Reigns finishers than the rest of the roster put together.
But he is SO OVER…. he has truly given us "The Gift of Jericho."
Which is why I am proposing… a gift FOR Jericho – let's give Jericho one more run as the top champion.
Okay, before you tell me why not, just listen for a minute.
Some might say it's not "believable" that a 46 year old guy who is one of the smaller guys on the roster can be champion again. I disagree. If the Undertaker can be rumored to have one more title run at age 51 (we will see if that happens or not) , then Jericho, who is in great shape and having some great matches lately, is certainly believable now. Also, there are more "smaller" guys on the roster now, so he doesn't at all look out of place.
The crowd would absolutely go nuts, and the fun that could be had with Jericho as a "keep his belt as all costs" babyface, while feuding with a heel Reigns or his former best friend Owens, among others, would keep everyone happy. The mic work alone would be memorable, and he has shown he can still put forward believable matches with top guys.  Give him a nice run on top, putting everyone he wants to on the list, showing off his $750 scarves, and running his mouth at whomever he wants to, even one last big hilarious memorable exchange with Stephanie. Let us all drink in the gift of Jericho, with the big gold belt around his waist, one more time, before he leaves to tour with Fozzy and eases his way to being a "special attraction" or "part timer."
It would be memorable. It would be entertaining. If done correctly, it would be tremendous. Call it his "Lifetime Achievement Award." A "thank you" for all his years in the ring and on the mic.
After all, how many people can say they beat the Rock and Stone Cold on the same night?
A gift FOR Jericho… drink it in, maaaannnnnnnn!
NOW CHECK OUT THE PREVIOUS GUEST EDITORIAL: WWE's missed golden opportunity to shake things up by going through with a Sami Zayn trade
---
(If you would like to submit a guest editorial for consideration, send to pwtorch@gmail.com and put GUEST EDITORIAL in the subject line. Aim for 8-15 paragraphs on a single-topic, and of course make sure it's well-edited before sending to us.)