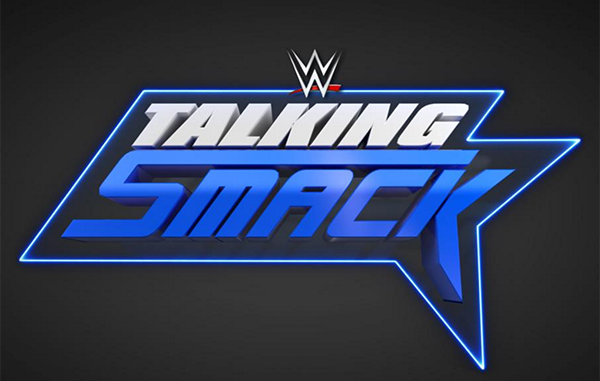 ---
SPOTLIGHTED PODCAST ALERT (YOUR ARTICLE BEGINS A FEW INCHES DOWN)...
---
Talking Smack has quickly become must see TV. That is very high praise for a network special that promotes sitting down and talking over wrestling on a wrestling network. It's smooth, easy viewing that appeals to those who want to know more about what really goes on without ever damaging the overall characters. Every episode gives us a few interesting things that it is definitely with knowing.
I'm Tom Colohue and this is Talking Points From Talking Smack.
Follow Tom Colohue on Facebook and Twitter for updates.
Talking Points From Talking Smack
1. Baby on the brain
There's no getting around the fact that Talking Smack is a very different show with Shane McMahon at the helm. Shane is complimentary, he's calm, and he's focussed on business. This is the exact opposite of what most of us remember him for. Most of us remember his hyper-enthusiastic heel persona and how he loved being thrown at windows, then at windows, then through windows, then at windows, then through windows. Shane McMahon is a nut.
Here however we saw further evidence that he might actually be retired. He openly admitted that he wouldn't be competing and instead fed the continuing hype train for the upcoming Rumble. When pressed for who he thinks is winning, however, he was clearly unhappy with the question. I think somebody might already know.
2. Hardcore Country
Mickie James is clearly on the fast track to superstardom. Admittedly, she is already a major name but WWE seems intent on reminding everyone who she is, and fast. Expect Becky Lynch to do the job for Mickie at Elimination Chamber.
Apart from some entertaining flirting with Shane McMahon, Mickie didn't really say all that much new. She elaborated on her relationship with Alexa only enough as to make it clear that Alexa was used as a foot in the door and to help legitimise their current champion. Hopefully Mickie will also be giving a bit of training. Everyone could learn a lot from the psycho stalker about in-ring performance.
3. The whole Diva thing
The idea of the Women's Revolution was vitally important. It was a reset button on a failing division that A.J. Lee had effectively burned to the ground both in the ring and out of it before the arrival of Paige really started to shake things up. While a lot of Mickie's comments were clearly aimed at the Four Horsewomen, there was definitely a different perspective at play here.
Mickie proudly announced herself as a five time Women's Champion and, more tellingly, Divas Champion. Knowing that both Charlotte and Mickie James are former Divas Champions gives that belt more credibility than it ever had in reality, don't you think? It sounds to me like the WWE might just be changing history.
4. Mojo by numbers
Make no mistakes, Mojo Rawley is still a jobber. If you want proof, look no farther than this promo. Like Jerry Lawler last week, it was Rawley who did the honors of putting over everything before himself.
Mojo hit all the requisite beats. Mentioning tag teams? Done. Drawing viewers' attention to Slater and Rhyno? Yes, sir. Plugging the hell out of the Royal Rumble? Would I ever. By the time Rawley got on to his own stuff, a lot of the energy had gone. While Rawley isn't doing his nice guy act out in front of the crowds, doing it on Talking Smack is liable to make him burn out, especially when we know that the Hype Bros. are only going to reunite.
5. Just another "the guy"
I mentioned in the Reigns-o-Meter on Monday that "The Guy" is a stupid nickname. Why then are they seemingly foisting it on AJ Styles as well? Is this a dig at Roman or something?
At least after all the Rumble hype this segment meant something. AJ Styles had to redirect Shane a couple of times, but Styles continued to build towards what should be a headline feud between himself and Cena at the Royal Rumble.
A lot of attention was also paid to the Smackdown vs. Raw dynamic of the Royal Rumble, though this actually means very little in the grand scheme of things unless one of two things happens. Either an unbranded superstar wins, or the Undertaker does and gets to choose the champion that he faces.
I sincerely doubt that Smackdown's Superstars will be featured too heavily in this Royal Rumble.
---
NOW CHECK OUT LAST WEEK'S ARTICLE: TALKING POINTS FROM TALKING SMACK 1/17: Lawler does some of his best work in years, Corbin's rising star, Wyatt speaks