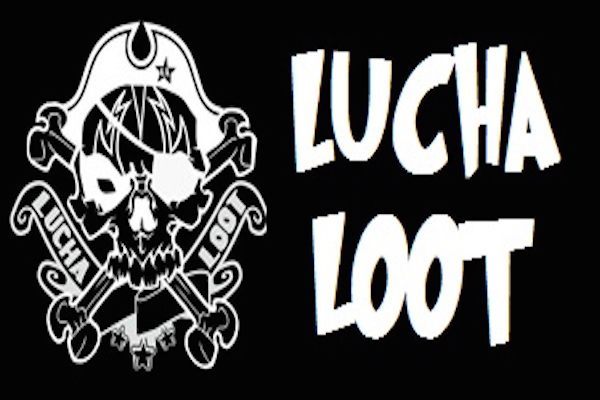 ---
SPOTLIGHTED PODCAST ALERT (YOUR ARTICLE BEGINS A FEW INCHES DOWN)...
---
The latest PWTorch.com monthly unboxing video features an unboxing of the November 2016 Lucha Loot Deluxe Booty Chest. Lucha Loot features 100% authentic lucha libre merchandise. There are two options when signing up. You can either purchase a Standard Chest or a Deluxe Booty Chest.
The Deluxe Booty Chest comes with extra items, but no matter which chest you order, you will a high quality mask, t-shirt, a copy of Rudo Can't Fail, and a signed 8×10. One of the items in your box will be an item that has never been released to the public previously.
The November Deluxe Booty Chest once again provided a lot of value to those that purchased it. I really like how Lucha Loot tries when possible to tie in some themes from their previous offerings, as they did by offering a fantastic looking Tineblas mask this month to match up with the Tineblas keychain they put in one of their earlier crates.
The t-shirt for Rey Fenix has a nice simple design that will be perfect for the gym. I like how Lucha Loot switches things up when it comes to their t-shirt offerings. They offer different colored shirts and designs most months instead of going with basic looking black t-shirts, which would be an easy fallback for them. To top things off the Deluxe Booty Chest this month included a previously unreleased MaskedManaia PPV DVD featuring the likes of L.A. Park, Matt Cross, Solar, and Dr. Wagner Jr. If you are a fan of lucha libre, I would say Lucha Loot is a must for you. As I stated previously there is a ton of value for your money in these crates. You easily double your money in value every month with the Deluxe Booty Chest.
And now to the unboxing video!
NEW CRATE OPTION: Lucha Loot is offering a new service this month called Lucha Loot Mini, which is a lucha mask of the month club.
You can purchase a subscription to Lucha Loot by visiting LuchaLoot.com. Act fast, as the deadline to order the December Lucha Loot chest is February 15. Crates ship around the 21st each month. No items are ever repeated. This new monthly offering from Lucha Loot costs $10 per month plus shipping. The best part is that no masks are repeated. People that subscribe for long-term subscriptions will get an even better rate depending on the length of the subscription chosen.
Attention: Get 10% off your first Lucha Loot Chest by entering the code PWTORCH at LuchaLoot.com!
***
Email Sean at pwtorchsean@gmail.com
Please visit Facebook.com/SeanRadican and click "like" to join the Radican's Wrestling Community Facebook fan page.
Follow Sean on Twitter at Twitter.com/SeanRadican