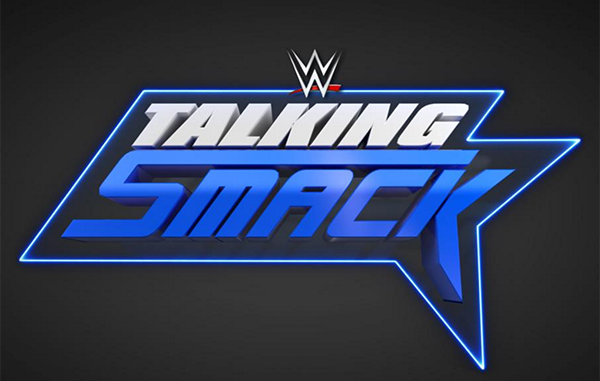 ---
SPOTLIGHTED PODCAST ALERT (YOUR ARTICLE BEGINS A FEW INCHES DOWN)...
---
Talking Smack has quickly become must see TV. That is very high praise for a network special that promotes sitting down and talking over wrestling on a wrestling network. It's smooth, easy viewing that appeals to those who want to know more about what really goes on without ever damaging the overall characters. Every episode gives us a few interesting things that it is definitely with knowing.
I'm Tom Colohue and this is Talking Points From Talking Smack.
---
Follow Tom Colohue on Facebook and @Colohue for updates.
---
Talking Points From Talking Smack
1. Next week is booked huge
Battle Royals are always a big deal. Even when it was a couple of weeks ago and Mojo Rawley won the jobbers battle royale to get into the Rumble, it felt like a big deal. Next week we have one that could decide the main event for WrestleMania.
However, there's a lot more to it than just the battle royale. Next week we have a Falls Count Anywhere match between Nikki and Natalya, after which we can expect Nikki to pivot to Maryse, and we also have a rematch for the Smackdown Women's Title between Alexa Bliss (who is starting to get seriously over) and Naomi.
The Smackdown wildcard finals at the end of 2016 beat Raw for attendance and for ratings. If Smackdown continues to book some shows this heavily then this strategy could pay off in a big way. Announcing the battle royal on Talking Smack is a sure fire way to make it important too. Talking Smack really is must see TV.
2. Alexa Bliss would have failed on Raw
Talking Smack is a perfect example of what makes Smackdown the better show right now. On Talking Smack a lot of decisions are made on the fly, with much faith put in Bryan and Young to ask questions that do not encourage a break in kayfabe whilst also encouraging a break in kayfabe. Alexa Bliss has been heavily featured because she will become a star because of this formula.
On Raw, the scripting is more on the nose and obvious. Charlotte has certain key phrases to hit. Roman Reigns isn't allowed more than 5 lines or else he gets confused. Chris Jericho lifts the list of KO at just the right time. It's much more carefully choreographed, leaving Alexa Bliss' talent for improvisation completely out in the cold. Also, every now and then full reality slips out and a second later she snaps straight back into character. I seriously love this woman. Can you tell?
3. Things with Crews aren't working
The plan with Ziggler, Kalisto and Crews looked like they were supposed to go one very simple way. Ziggler heels it up, Kalisto and Crews stand their ground and get some popularity out of it. Ziggler does this for a while, loses a couple of matches to make Kalisto and Crews players in this game and then moves back into the main event against someone like Styles or Ambrose. Ziggler pays some dues and Crews gets TV time.
Has this worked? No. Ziggler is more popular now than ever before. People love this Ziggler. Why? Crews is dull. Crews isn't really wanted, so people are happy to see him beaten up.
Crews appeared on Talking Smack for the first time, showing no signs of any sort of injury. Crews hit a lot of the same points that Mojo Rawley did recently and this seems to be something of a formula for developing new talent. They hit on a military background but ultimately just hit the same standard baby face nonsense that people don't like and never have.
Push the soldier thing and you'll have a player, but he needs a couple of wins over mid carders. All we have to do is find some mid-carders on Smackdown for him to beat. Everyone's either stars or nobodies.
4. The tag team division goes unloved
The tag team turmoil match at the Elimination Chamber was a burial. Aware that The Ascension were going to be embarrassed at the pay per view, Ascension were given a pin on Smackdown beforehand and they also got a chance to put in a decent performance on Smackdown afterwards. Neither match served to develop their credentials. American Alpha are also losing momentum rapidly.
No tag team was present on Talking Smack. Slater and Rhyno are still hugely over but underutilised. There's some mid carders right there. Time has to be given to these teams or people will start to be lost in the shuffle. A lower card feud between Slater and Rhyno and Breezango is at least something. It writes itself.
The Usos need to hurry up and win the belts though, otherwise the tag team division might as well just call time. Give me a tag team ladder match or something. Just give me something.
5. Mr. Manbun
I don't want to see Shane vs. A.J. at WrestleMania. I'm worried that Shane is genuinely going to kill himself instead of just retiring because he cannot compete with someone the calibre of A.J. Styles. That said, A.J. Styles has to have a match at Wrestlemania and right now he does not. He came onto Talking Smack looking quite different. He was showing off his muscles much more than usual and he had his hair tied back for what I think is the first time.
Since Royal Rumble, admittedly only three weeks, A.J. Styles has flitted around losing big matches to put over people like Wyatt and Corbin. His current storyline is pursuing his rematch and this works because it is completely true. A.J. Styles fully deserves to be at the top spot but you can not make stars when it's always A.J. and Cena up top.
AJ is far too professional to actually be annoyed by this, but playing up to this as a heel reminds everyone that A.J. will be back in the main event soon. So too Ziggler and Ambrose.
---
NOW CHECK OUT LAST WEEK'S REPORT: TALKING POINTS FROM TALKING SMACK 2/7: Smackdown creating stars, Corbin shines, Cena puts over Nikki-Natalya, Ascension talk