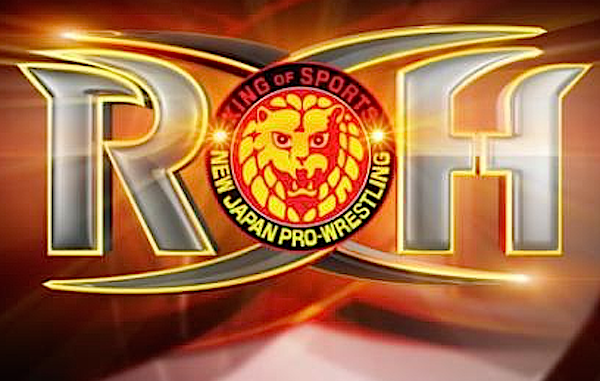 ---
SPOTLIGHTED PODCAST ALERT (YOUR ARTICLE BEGINS A FEW INCHES DOWN)...
---
When it comes to the news of Sinclair negotiating with WWE breaking this past week courtesy of Ryan Satin at Pro Wrestling Sheet, there's a lot more to look at than that individual piece of news. One of the bigger picture stories that is not being widely discussed is that WWE in the past year has tried to buy their two main competitors. Last September, it became public that WWE was negotiating with Impact Wrestling to purchase the company. As first reported by Dave Meltzer of the Wrestling Observer and independently confirmed by PWTorch sources, WWE also first began making contact with Sinclair about a purchase last August.
The likelihood is that had the TNA sale been completed, WWE would have shut the company down and used the tape library for content on the WWE Network. Dave Meltzer of The Wrestling Observer also reported that WWE's motivation behind purchasing Ring of Honor is to get the tape library and get rid of competition. PWTorch has independently confirmed that it is likely that WWE would shut down ROH operations if they acquired the company from Sinclair.
Mike Snider of USA Today reported two weeks ago that Sinclair was in negotiations with the Tribune Media Co. about a possible consolidation deal. Reuters also reported on the possible merger and said that it would require a relaxation of the current FCC rules, which currently only allow a merger if the media company doesn't own more than 39% of the market share across the nation. Right now according to TVNewsCheck.com, Sinclair reaches 38% of the nation and Tribune Media reaches more than 43% of the nation.
The regulations are expected to be relaxed under the Trump administration, which makes the merger a very real possibility. One of the more interesting things happening is that it appears that Sinclair is getting their books in place for a possible merger. One sign of that is that FTV Live reporting earlier this month that the Sinclair owned American Sports Network is going to cease operations at the end of March.
An article by AwfulAnnouncing.com by Ken Fang gives context to how American Sports Network was operated by Sinclair. "American Sports Network was created in 2014 by Sinclair Broadcast Group to air college sports and provide local sports coverage to certain areas across the country," writes Fang. Fang's report also revealed some similarities between the production values offered by the American Sports Network and Ring of Honor. "It's a sudden end for a network that in theory should have worked, but he execution and production didn't quite catch on," wrote Fang.
To put this in a historical context, the bottom line as to why WCW was shut down when the Time Warner/AOL merger went down and WCW ceased operations was because it wasn't making money. Sinclair isn't putting numbers out publically, but the fact that Sinclair is sitting at the table with WWE for a possible sale speaks volumes.
Has ROH grown in the five years since Sinclair took over? The answer is that signs of growth are minimal without getting a look at Sinclair's books on ROH. The company looks at Ring of Honor as nothing more than cheap programming. The company hasn't put a lot of money into production to get it to a place where people can look at the product and consider it major league when it airs on television. That's not to say production hasn't improved by leaps and bounds, but it still lacks the polish it needs to be taken seriously as a national promotion.
ROH suffered from poor ticket sales multiple times last year. One glance at their website at times last year would show the seating chart of an ROH venue with several hundred empty seats available for purchase. One of the low points for the company was despite hosting several NJPW stars and having a huge main event Ladder War between The Young Bucks, The Addiction, and MCMG for the All-Star Extravaganza VI PPV on Sept. 30, 2016. The company only managed to fill about half of the venue. which can sit over 2,000 fans. The TV tapings the next day drew a dismal crowd of around 300-400.
There are recent signs that ROH's business is on the upswing. They recently sold out the Hammerstein Ballroom earlier this month for a house show, but New York has always been a strong market for the promotion. The company is getting a lot of buzz thanks to The Hardys vs. Young Bucks feud as well, but looking back at the last five years of the promotion, the company should be in the position to sell out 800 seat or less venues and TV tapings given their level of exposure.
ROH has been given a bigger budget to sign talent, but Sinclair has never put any real money into the company to truly give it a chance to flourish. The company also stopped leaking their PPV numbers, which is telling about that stream of revenue.
Another thing that makes ROH less valuable as an asset as Sinclair considers a merger is the lack of many components a viable wrestling promotion brings to the table. To date, ROH hasn't been able to syndicate internationally; they have no cable deal, no ancillary revenue, and no big licensing deals. When TNA was growing, it had all of these things.
When two companies sit at the table and talk about a merger as Sinclair and the Tribune Media Company are currently doing, they look at all of the assets. It is very black and white and assets that are making money are kept and assets that aren't making money are left behind. Sinclair won't publicly comment on the sale of the American Sports Network or the negotiations between Sinclair and WWE, but when it boils down to it, stations are eliminated for business reasons and not because someone higher up likes it or not.
Another reason to look at the bigger picture of word leaking about WWE's negotiations with Sinclair to purchase Ring of Honor is that these negotiations often take a long time. When word leaks out about negotiations, they could affect them negatively. Companies that are in negotiations usually don't allow word to get out because it could affect pricing according to a source I spoke with.
A sale can take a long time to complete. When former ROH owner Cary Silkin sold ROH to Sinclair, the deal took almost a year to complete. Then it took from May-September of 2011 for ROH to finally begin broadcast through syndication on Sinclair channels.
Another factor in any potential sale of Ring of Honor is that there are huge issues to be figured out. What happens to the show is another question that needs to be answered, as time slots for when Ring of Honor airs in each market are determined a long time in advance. It has to be taken into consideration that Sinclair has promised ROH programming to each station for a certain length of time, but it unknown what those commitments are to each market right now. One possibility could be WWE taking over operations and running the company until it fulfilled its various commitments according to one source familiar with how negotiations like this could potentially work out.
As was originally reported by Ryan Satin of Pro Wrestling Sheet, nothing has come out of the meetings between Sinclair and Ring of Honor yet, but the report getting out could greatly impact the negotiations between WWE and Sinclair going forward when it comes to reaching a dollar amount for the sale. According to sources, PWTorch has learned that the most recent leaks of the talks between WWE and Sinclair came from Impact management. One source noted that Jeff Jarrett has been looking for a way to take the heat off of Impact from the Hardy debacle when Impact tried to get ROH's most recent PPV taken off of the air by sending cease and desist letter to several cable providers shortly before the PPV was set to air on March 10.
Nothing is set in stone, but it will be interesting to see what happens to ROH going forward. There are a lot of factors to be sorted out and a potential merger between Sinclair and Tribune Media Co. could be a bad sign when it comes to the future of ROH. The company being on the table for sale isn't a good sign given the pending merger. If WWE acquires ROH, it will likely mean the end of the company and one less place for talent to work and one less place to offer competitive wages to wrestlers. WWE seems bullish on working with independent companies such as EVOLVE and Progress Wrestling. Vince McMahon wants to control as much talent as possible. ROH falling would be one more step towards Vince McMahon completely dominating the wrestling market.
***
Contact Sean Radican at pwtorchsean@gmail.com. Follow him on twitter at twitter.com/SeanRadican. For live video content and more visit the Radican Wrestling Community page on Facebook and like it at Facebook.com/SeanRadicanRWC.