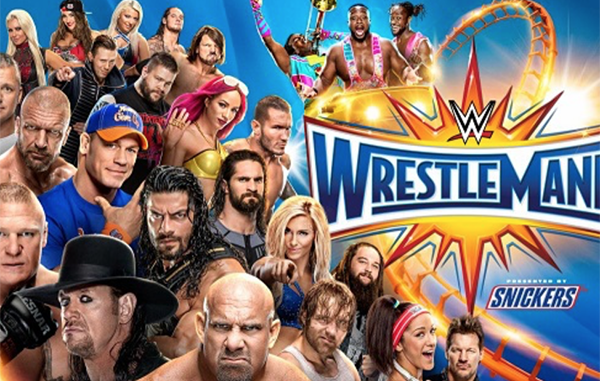 ---
SPOTLIGHTED PODCAST ALERT (YOUR ARTICLE BEGINS A FEW INCHES DOWN)...
---
KELLER'S WWE WRESTLEMANIA 33 KICKOFF SHOW REPORT
APRIL 2, 2017
ORLANDO, FLA.
AIRED LIVE ON WWE NETWORK
Panel: Renee Young, Shawn Michaels, Booker T, Jerry Lawler…. Social Media Lounge: Charly Caruso, Maria Menounos… Roaming Interviewer: Sam Roberts… 
KICK-OFF SHOW
-Renee asked Michaels about being back at WrestleMania. He said he's comfortable in the air conditioned studio skybox and not being part of the chaos out there. Lawler wondered if the heat is going to have an effect on the wrestlers. Booker T said the number to bet on is 33.
-Caruso and Menounos immediately talked about how hot it is there. The current temp is 83 with tolerable humidity of 62 percent. The forecast has temps dropping to 78 by 9 p.m. ET and 74 midnight (which, if there is any justice in the world, won't be an issue this year).
-They aired a video package on Randy Orton vs. Bray Wyatt.
-Panel: Michaels said he wasn't surprised about seeing this side of Randy. Booker said Orton and Bray Wyatt joining forces shook the foundation of Smackdown. Lawler boldly said Bray won't be happy leaving empty-handed. They made their picks. It was 2-1. Michaels went with Randy. Lawler went with Bray. Booker went with Randy.
(Keller's Analysis: This storyline was so poorly executed, there's no way to really talk about it without just mumbling platitudes and generic proclamations. And that's what we heard here. There is just nothing about the alliance that led to Bray & Orton taking over Smackdown. It's revealing that the panel couldn't really dive into the heart of the angle and dissect Orton's plan with any depth, because there isn't anything to dive into that wouldn't expose the weaknesses in this storylines execution. Same for talking about what the title means to both because they have barely talked about it. This discussion exposed the utter failure of this storyline.)
-Panel: Renee called Shane a wildcard opponent. Lawler said every time he sees Shane coming back to the ring, he's looking to shock the world. He stammered a bit, because what can you safely say? Lawler said there's added pressure to look good against Styles and that might be too much for him. Renee said Styles has to show his complaining about his place on Smackdown is justified. Michaels said he saw Styles backstage and he's calm and cool. "None of it scares him," he said. Lawler said he hopes Styles doesn't underestimate Shane. Booker started several thoughts and didn't seem to finish one of them. I think he said Shane might be getting kind of old for this, but try really hard. All three predicted Styles.
-They showed the giant ring above the regular ring on the ground. They thanked Metallica "Am I Savage" for the theme song of WrestleMania.
-A video package aired on Triple H vs. Seth Rollins.
-Panel: Renee said she's fearing for Seth's health tonight. Michaels said this is the tipping point for Seth. He said if he doesn't win this, he thinks he's done. "This makes or breaks him; it's that simple," he said. If Triple H wins, he said regarding Seth: "He's done. He's done!" Booker said after an injury like he had, who knows. Michaels said he'll have a great career even if he loses, but he won't reach the "unlimited potential he has" if he loses tonight. Booker said Triple H is the master at breaking rules. Michaels said they've all come back from injuries. Lawler said there's a whole locker room of people willing to do the bidding for Triple H just to get on his good side. Lawler said Seth better have eyes on the back of his head. Michaels said it's the biggest match in his career. All three predicted Triple H. Booker said it hurts to say it, but with that injury and under the bright lights, it ain't gonna happen. Michaels said for his sake it better. They showed the stands which appeared to be about one-third full at this point.
-They went to a Final Fantasy commercial.
-Peter Rosenberg walked out onto the stage. They showed off the WrestleMania Globe over the entrance tunnel and the roller coaster set surrounding it. Rosenberg said the ramp is 80 yards from the start to the ring.
-Panel: They discussed Kevin Owens vs. Chris Jericho. Renee asked how much of the match is about the U.S. Title. Booker said it's already about the championship. Renee said this seems more personal in nature. Booker said being champion is great because you get red carpet treatment everywhere, free meals. Booker said Owens doesn't miss any meals. Renee laughed and asked if he just said that. Booker said it'll be one of the best fights because they're former best friends. Lawler said Jericho has been in the business for nearly a quarter century. He said he knows what friendships are really about in wrestling. He said it's over. Michaels said Owens is more wrapped up in the friendship and that could cost him. He said Jericho is a pro. Booker said Jericho is a first-ballot Hall of Famer. He talked about Owens stabbing him in the back. Booker picked Owens. Lawler picked Jericho. Michaels picked Jericho.
They shifted to talking about Alexa Bliss against "all available women on the blue brand" and the Bayley defense of the Raw Women's Title against Charlotte, Nia Jax, and Sasha Banks. Renee said all 50 states and over 60 countries are represented in the crowd.
-Lita joined the Panel, replacing Lawler. Lita talked about her pride in what the women have done since she presented them with the new Women's Title, replacing the Diva's Title. Lita said all of the women want the ending video to show them holding up the title. They talked about Alexa being undersized by feisty. They said Bayley shouldn't be seen as a big underdog anymore. Michaels praised Lita for setting the foundation for the women today long ago. He said they can't ignore Nia Jax. He said he's been there before where someone bigger than hit just knocks you down. Lita picked Bayley. Booker said Jax is on a roll and it's her time. For Smackdown, Booker picked Alexa. "Once you become champion, you don't want to lose it," he said. Lita picked Jax. Michaels went with Alexa. He said the win doesn't have to be pretty.
They shifted to talking about John Cena & Nikki Bella vs. Miz & Maryse. Booker said when Maryse came along, Miz has shined and "tonight, he will cap it off." Lita agreed. Michaels said went with Cena because he loves him. He said he could never have a woman with him for too long as it just got too personal.
-They cut to the crowd who had largely filled in the stadium. They cheered as ring introductions began for Austin Aries.
KICKOFF MATCHES
Announcers: Tom Philips and Corey Graves
(A) NEVILLE vs. AUSTIN ARIES – Cruiserweight Title match
During Aries ring entrance, Phillips said he is excited to be calling WrestleMania. A loud "Austin Aries" chant rang out. Phillips noted that #WrestleMania was already the no. 1 trend on Twitter worldwide. They circled each other early. Aries outwrestled Neville early and arm dragged him into an armbar. Neville reversed him into a head scissors. Aries escaped and dropkicked Aries, then threw a running elbow in the corner. He followed with a second rope elbow to the back of Neville's neck. Neville rolled to the floor. When Aries went for a dive to the floor, Neville caught him with a kick to the face. Then he climbed to the top rope and landed a dropkick for a one count. They cut to a commercial. [c]
Back in the ring live, Neville had Aries in a headlock on the mat. They showed that during the break, Neville threw Aries into the barricade at ringside. Phillips said over 70,000 expected tonight as fans were still filing in. Aries began a comeback and landed his Pendulum Elbow. Neville charged at Aries, but Aries backdropped him over the top rope to the floor. Aries leaped off the top rope with a forearm and then dove with a flying clothesline striking Neville and sending him hard into the ringside barrier. Aries quickly threw Neville in the ring and scored a two count. Nice to see such a rapid urgent attempt to get the cover after a big move at ringside. Neville kicked Aries in the face in the corner to take control.
Neville went for a superplex, but Aries fought out of it. Neville backflipped to the mat, but Aries nailed him with a flying dropkick. Nice impact. He scored a two count. Neville gave Aries a snap German suplex onto his head and it looked nasty. Geesh. They replayed it in slo-mo. That's not good for the neck. Graves said he's not sure how Aries survived it. Neville lifted a limp-bodies Aries and overhead tossed him. Aries landed on his feet. When he went for a discus five-arm, Neville countered and gave Aries a bridging German suplex for a near fall. Neville stomped away at Aries. He went for a Rings of Saturn. Aries countered into a leverage pin attempt for a believable near fall. Aries came back with a reverse sidekick. Neville hit an enzuigiri. Aries countered with a discus punch. The ref began counting Neville down. Aries went to get him and he rolled him back into the ring.
Neville suddenly kicked Aries to take back control. Then he climbed to the top rope. Aries hopped up and gave Neville a top rope huracanrana. He charged Neville in the other corner and then hit the 450 for a close near fall. He soaked up coming up short, then moved in for a Last Chancery Neville raked Aries eye socket. Aries let go and yelled out in pain. Neville kicked the middle rope into Aries's face and then hit the Red Arrow. Phillips said, "The King stays atop the throne."
WINNER: Neville in 19:00 to retain the Cruiserweight Title. (***1/4)
(Keller's Analysis: Really good match. I don't know that it helps the Cruiserweight Title's prestige to be the "curtain jerker." They delivered a nice match, though. The commercial break mid-match will upset some viewers.)
-Panel: They raved about the match, then shifted to promoting the main card. Then after some in-house commercials, they went to the ring for the battle royal.
Announcers: Michael Cole, JBL, Byron Saxton.
(B) ANDRE THE GIANT MEMORIAL BATTLE ROYAL
A lot of wrestlers came to the ring all at once. They did show Big Show's individual entrance and then Braun Strowman's. Cole said fans were still filing in. They showed Rob Gronkowksi of the New England Patriots. Cole said he's the best friend of Mojo Rawley. The bell rang and the ring was full. Kalisto was out first. Then a Vaudvillian. Then Heath Slater. Then Goldberg. Then Konnor from the Ascension. The announcers weren't even tracking everyone, and the camera didn't seem to even catch everyone. The wrestlers backed off about two minutes in as Strowman and Show faced off. Sami jumped at Strowman and everyone started fighting again. Strowman then eliminated Show without much fanfare. The wrestlers gained up on Strowmanand eliminated him. That was anticlimactic. Cole announced as if they were cutting to a break, but they didn't. The announcers microphones were silenced, but then they turned them back on after five seconds.
Cole talked about some first-time WrestleMania appearances in the match. It came down to Killian Dane, Mojo Rawley, Sami Zayn, Dolph Ziggler, and Jinder Mahal. Ziggler and Zayn were knocked out. Jinder and Mojo fought at ringside, but neither went over the top. They fought near Gronkowski who trash-talked Mahal. Mahal drank some water and then threw his drink in Gronkowski's face. Well, he missed. He threw it over his shoulder. A little splashed on his shoulder. security ran over to Gronkowski when he tried to interfere. There's your SportsCenter Moment that WWE loves. Gronkowski took off his shirt and entered the ring. JBL said he can't do that. He tackled Mahal. Rawley celebrated with Gronkowski. Gronkowski left the ring. Dane charged at Mojo, but Mojo moved. Mojo then dumped him over the top rope. Then he countered a suplex attempt by Jinder and the knocked him off the ring apron to win.
WINNER: Mojo Rawley.
(Keller's Analysis: This is WWE taking advantage of an opportunity to get a sports celebrity involved so WrestleMania gets extra free publicity tonight and tomorrow. If they don't actually push Mojo after this, I'm not sure it's worth trading in the investment fans made in this match having some meaning just for a "SportsCenter Moment." But if they do use this to push Mojo more, the use of Gronkowski helps them in a couple ways.)
-Panel: The Panel reacted to Mojo's win and then eventually discussed the Goldberg-Brock Lesnar match. Lawler said Paul Heyman is so nervous he's biting his nails and now his stomach needs a manicure. Booker said Heyman turned him down for an interview on his podcast, and that's the first time.
-Social Media Lounge: Heyman sat down to field questions from viewers. He didn't really say much of substance. He did say if someone tells him Goldberg wins, it'll be a bad dream because that's not reality. He said Goldberg's comeback ends tonight. Not a lot to this.
Announcers: Phillips, JBL, David Otunga
(C) DEAN AMBROSE vs. BARON CORBIN – Intercontinental Title match
Corbin attacked at the start. Ambrose made a brief comeback. Corbin, though, took control back about a minute in. After some more intense back and forth action, they fought to ringside. Ambrose landed a flying elbow onto Corbin at ringside. Back in the ring, Corbin caught a charging Ambrose with and elbow. The announcers talked about Ambrose having a potential rib injury affecting him. Corbin eventually hit a spinning side slam for a two count. Ambrose hit a Lunatic Lariat. Corbin came back and went for an End of Days, but Ambrose blocked it and hit Dirty Deeds for the win.
WINNER: Ambrose at 10:55 to retain the Intercontinental Title.
(Keller's Analysis: This wasn't anything special. It wasn't a showcase for either of them. It could have just as easily been a match in the middle of Smackdown and no one would remember it.)
-Panel: They discussed Undertaker vs. Roman Reigns. Rosenberg checked in again, this time from the first level of the arena. They went to Sam Roberts, also. He said there's a chance Reigns gets booed again and that could affect his psychology. Roberts said Reigns told him on his podcast that he has put the fans out of his thoughts headed into the match. A video played for Undertaker vs. Reigns to close the Kickoff Show.
END REPORT