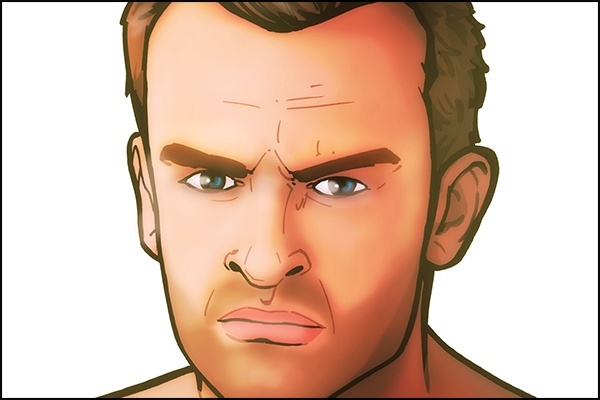 ---
SPOTLIGHTED PODCAST ALERT (YOUR ARTICLE BEGINS A FEW INCHES DOWN)...
---
HITS
EC III' Promo: EC III has always seemed like a more natural heel to me (those eyebrows just scream "evil!"), and with the returns of Magnus and Matt Morgan, the babyface side of the main event scene was becoming a bit too crowded. Carter looks to be turning soon, and they did a nice job of setting up that it was because of the fans (well except for that whole making things up part, which we'll get to shortly).
Mathews Is Gone: From an entertainment standpoint, I'm still terrified that Josh Mathews will be back on TV next week and try to weasel his way back onto the announce team. It was hard to sleep last night, as I was having nightmares of him building his own version of the "Cole Mine." Or, maybe Mathews now starts some sort of feud with Karen Jarrett to get back on-air. There's a lot of scary ways this can go! But for one night, I was relieved to believe the worst announce team I've ever heard is over.
The Main Event: This wasn't a great contest, and I strongly dislike that everyone involved was fighting for an announcer, but once again, Impact gave us a lengthy, entertaining match on the show that fans could get invested in.
Davey vs. DJ Z: The best-written story in WWE/NXT/Impact right now continues to be Davey Richards vs. Eddie Edwards. Richards never really connected much with me as a character until these past few months, but Impact has done a great job of re-inventing him and building a compelling feud around the long-time friends and tag partners who violently split. However, someone really does need to explain why Edwards didn't call or visit his friend when he was injured.
Opening Vignettes: Last week Impact started right off the bat with a match, and this week they aired a pair of vignettes, which I thought was a novel way to open a show. We found out Kongo Kong was one of the men coming into the promotion, and now we have two more arriving soon in the Veterans of War. I like that they keep mixing up how the night will start, as basically anything that isn't a 20-minute promo these days feels fresh.
Santana Returns: I actually enjoyed Santana Garrett's last run in the company alongside Sam Shaw. She seemed to be finding herself as a heel, then both acts suddenly disappeared. Garrett looked pretty good, and will hopefully stick around longer and provide some much-needed depth to the Knockouts Division.
Kong's Debut: The tag match was a dud, and made Sienna look exceptionally weak by tripping into a pin, but I'll still give the segment a hit due to the arrival of Kongo Kong. I haven't seen much of his in-ring work, but he has an interesting look that makes him stand out from anyone in WWE or Impact. A stable of Sienna/Laurel Van Ness/KM/Kong could be a good thing for all of their careers. We'll see how it plays out.
MISSES
The Return Of Magnus: Last week Impact ended on a hot note with a shot of a man in a fancy suit making his way to the ring. This week they briefly and casually revealed in a video piece that it was Magnus. Oh. That's it? Now, had they cut to him at any point in the show and let him talk about why he's back, then that initial reintroduction would have been okay. But they didn't. By the end of the night, the former Heavyweight Champion merely felt like a pawn in the Mathews vs. Borash war.
The Lies: It seems silly to tell viewers that the no. 1 contender was decided by a vote on the Impact website. Oh really? Then why didn't you tell fans LAST WEEK to go vote? They tell people to check out the site all the time, so to make up a story was dishonest and a bit baffling. There had to have been easier ways to get there.
Decay Loses Again: It wasn't long ago that this group meant something. Decay has been one of the better creations in the promotion over the past couple years, and now they mean absolutely nothing. I feel bad for Abyss in particular. He's been there nearly since the beginning and should be treated as an Impact legend (as much as one can be presented that way). Instead, he just loses random tag matches left and right. Despite his tenure, he's never meant less.
Who Is Adonis?: On last night's PWTorch Post-Impact Livecast, Mike McMahon and I talked about how it's been years since Chris Adonis (Masters) has been a top guy. I thought it was 2008 when he got his big push, which I argued was too long ago for Impact to know their audience is familiar with the guy. I was wrong. He basically peaked as an act in 2005. Twelve years ago! The company should be assuming there are plenty of newer fans who have never seen him or kids who weren't even born when he got a decent push in WWE. Yes, he was later a comedy act, and he was briefly in the GFW Invasion angle, but the poor guy was badly overshadowed in the match and got his Impact run off to a lackluster start.
Announcing: Yep. Even though the end result was satisfying, the rest of the night on commentary was terrible and it once again dragged the show down. Mathews has been bad, but he should at least have re-watched some episodes of Impact to pick up on his lazy go-to phrases. "That reminds me of when I…" has been effectively ran into the ground these past few weeks. Everything else was just as awful. I would seriously take the inaugural 2002 announce team of Mike Tenay, Don West and Ed "freaking" Ferrera over those three. Really, though, they should have used all the money they saved from the departures of The Hardys, Drew Galloway, Mike Bennett and Maria and offered all of it to Jim Ross a few months ago. Sorry, just daydreaming a bit.
---
NOW CHECK OUT LAST WEEK'S COLUMN: IMPACT HITS & MISSES 4/6: Matt Morgan returns, LAX, Josh vs. Jeremy, Eddie vs. Davey, Alberto El Patron, Dumb Hats