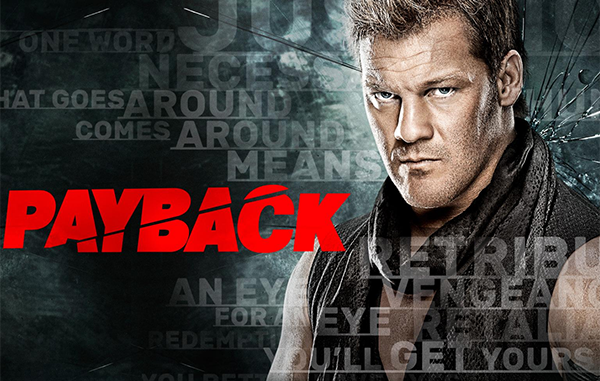 ---
SPOTLIGHTED PODCAST ALERT (YOUR ARTICLE BEGINS A FEW INCHES DOWN)...
---
KELLER'S WWE PAYBACK PPV REPORT
APRIL 30, 2017
AIRED LIVE ON WWE NETWORK
(A) ENZO & BIG CASS vs. KARL ANDERSON & LUKE GALLOWS
The heels were in control as they cut to a break. [c]
Cass eventually got a hot-tag and landed an Empire Elbow on Gallows during his rally. Anderson yanked Gallows out of Cass's path on a charge into the corner. Anderson knocked Enzo, who tagged himself in, off the ring apron with a running kick next. Anderson tagged in Gallows a minute later after some ringside action. They set up the Magic Killer. Cass gave Anderson a big boot to break it up, then Enzo rolled up Gallows for the three count. Cole noted that Anderson & Gallows dominated, but Enzo & Cass "stole one" in the end.
WINNERS: Enzo & Cass.
-Goldberg & R-Truth told the Hardys in the locker room that they're the shot of adrenaline the tag division needed. Goldust said they talked to G.M. Kurt Angle and arranged for them to face the winner of their tag match later. Matt morphed into his Broken Matt accent and laugh, a little like Ross Gellar when he started moving back and forth between his British accent and Long Island access when he began teaching.
-Charlie Caruso interviewed Sheamus & Cesaro in the Social Media Lounge.
-Miz TV: Miz made an issue of how long it took his guest, Finn Balor, to get to the ring. Balor talked about Balor Club. Miz snidely asked and he and Maryse could join or if it's for other types of people. Balor said it's not up to him. He said it's up to them – the fans. They booed when he asked. Miz said while Balor was out injured, he was dominating on Smackdown. Balor talked about how he suffered a serious injury and still completed the match. Miz asked what's next for him. Balor said "getting my title back." Miz asked if he realizes who the champion is. When he said it's Lesnar, the crowd cheered and booed. Balor said he's been facing bigger opponents his whole life and he likes it that way. Miz said he'd wipe the mat with him. Balor said he's not worth his time. He got up to leave. Miz mouthed off to him and complained that they were playing Balor's music. Balor attacked him including a sling blade. Then he left.
-The panel discussed the Braun Strowman vs. Roman Reigns match. Lawler said Braun will probably send Reigns to the hospital "and then tip the hospital over." Roberts said Raw has become the "What's Braun Going To Do Next" show.
MAIN PPV CARD
Announcers: Michael Cole, Booker T, Corey Graves.
(1) CHRIS JERICHO vs. KEVIN OWENS
When the bell rang, Owens rolled to the floor. Jericho chased him down and hit him when Owens was yapping at the ref. He threw him back into the ring, but Owens bashed him to the mat with forearms. Jericho fired right back with a dropkick. Owens rolled to the floor once again. Jericho climbed to the top rope and hit a flying elbow to a standing Owens' chest. It looked great on replay.
Owens rolled to the floor to avoid a Lionsault. When Jericho went after him, Owens threw his face into the ringpost above the top turnbuckle. Then he rapid-fire attacked him at ringside with a cannonball against the ringside barrier. He returned to the ring as the ref began the count on Jericho. Owens settled into a chinlock. A "Y2J" chant started. Owens went back to an extended headlock mid-ring. Jericho stood and tried to punch out of it. Owens let him loose and charged, but Jericho caught him with a boot. Jericho charged at Owens, but Owens ducked and Jericho dropped to ringside.
Back to ringside, Jericho gave Owens a flying axe handle and set up a Walls of Jericho. Then an enzuigiri for a two count. Jericho stomped on Owens' head. Owens caught a charging Jericho with a kick. With Jericho down, the crowd chanted "Y2J" again. Jericho went for a Code Breaker, but Owens blocked it. Jericho went for a Lionsault, but Owens lifted his knees. Owens then landed a cannonball in the corner for a believable near fall. Owens went for a Pop-up Powerbomb, but Jericho rolled through and applied a Walls of Jericho mid-ring. Owens crawled over and put one finger on the bottom rope. Cole noted that Owens did that at WrestleMania, too.
Owens rolled to the floor. Jericho went after him at ringside and rammed his left hand into the steps. Jericho put Owens' arm behind the ringside steps and took a stupid-long time to move in for the kick, making Owens look foolish for pretending his arm was stuck back there. Jericho kicked the steps and Owens sold an arm injury. The ref backed Jericho off so he could check on Owens' arm. Owens poked Jericho in the eye while the ref wasn't looking. Apparently you have to hide an eye poke inside the ring, but not kicking the ringside steps into your opponent's arm outside the ring. Why? Jericho applied a Walls of Jericho mid-ring. The crowd cheered when Jericho dragged Owens backstage to mid-ring. Owens tapped out.
WINNER: Jericho in 14:00 to capture the U.S. Title.
(Keller's Analysis: Really good opener. I anticipate a rather quick turnaround in terms of Jericho dropping the U.S. Title.)
-Ads played for WWE Network and WWE Shop.
CHECK OUT OUR NEWLY RELAUNCHED WEBSITE – www.PWPodcasts.com. We think this will become your new favorite pro wrestling website, with multiple updates throughout every day including in-depth written recaps of wrestling-personality-hosted podcasts (Chris Jericho, Edge & Christian, Steve Austin, Bruce Prichard, etc.) and shorter news-making quotes uttered by wrestlers.
(2) NEVILLE vs. AUSTIN ARIES – WWE Cruiserweight Title match
Cole asked Graves if this is a must-win for Aries. Graves said yes. Neville took control a couple minutes in. Neville gloated so much, eventually Aries leaped up and knocked him off the ring apron. Aries shook his arm and torso to try to get feeling back in his body parts that took a beating. Neville fired back, though. Aries got the better of him and threw him head-first into the turnbuckle. Neville came back with a knee to the gut.
Aries dove through the ropes and bodyblocked Neville into the ringside barrier. Back in the ring he scored a two count. A couple minutes later Aries took Neville off the top rope with a sunset flip and rolled right into a Last Chancery. Neville yanked the ref down. The ref was so upset, the DQ'd Neville, stealing Aries' opportunity to win. Cole said the ref had no choice. Booker said the referee was just doing his job.
WINNER: Aries via DQ in 11:00 so Neville retained the Cruiserweight Title.
(Keller's Analysis: Good match. This finish has been done forever, but it's long past putting heat on the heel and more puts heat on the booker for not booking an actual finish, or puts blame on WWE for having a rule in place that makes a farce out of the heel's ability to retain his title without ever winning.)
-A commercial aired for Backlash starring Shinsuke Nakamura.
-They went to the announcers who threw to the interview Charly Caruso did with Sheamus & Cesaro on the Kickoff Show discussing their intent to win the titles tonight.
(3) MATT & JEFF HARDY vs. CESARO & SHEAMUS – WWE Raw Tag Team Championship match
Cole noted that Sheamus & Cesaro referred to the Hardys as a "nostalgia act." He also said Goldust & R-Truth lobbied for a match against the winner of this match. Shouldn't Goldust & Truth have been given a quick TV time sometime in the last week or two in order to establish maybe they have an ounce of justification for requesting such a thing? A Brother Nero chant broke out. A few minutes in Sheamus threw Jeff hard out of the ring and Hardy took a hard bump flat at ringside. Booker said Sheamus and Cesaro don't do enough double-teaming moves.
Sheamus nailed Jeff with a shin to the face and then a knee lift. Cesaro tagged and hit a running legdrop for a near fall. He got high. On replay, Graves said Cesaro's butt was above the top rope before he started his descent. Graves also said he thinks Jeff lost a tooth when Sheamus kicked him in the face. Cole said he thinks Cesaro might be the best "pure athlete" in WWE, a compliment usually reserved for black wrestlers in pro wrestling.
Jeff finally fought back and hot-tagged Matt in. Matt went to work aggressively on Cesaro. Cole called Matt "unorthodox." Matt hit a running bulldog for a two count. Then he hit a Side Effect on Cesaro. Booker exclaimed, "That's it. Trust me!" Sheamus broke up the pin. Jeff took Sheamus out at ringside with a dive. Matt went for a top rope moonsault, but Cesaro moved. Cesaro then hit a springboard corkscrew uppercut to Matt's chest. He then played to the crowd and signaled for the Cesaro Swing. He gave him the swing. The crowd tried to count along, but gave up. Cole said was near 20 revolutions. Cesaro then applied the Sharpshooter. Matt reached the bottom rope. Jeff, though, helped push the bottom rope to Matt. Sheamus knocked Jeff down at ringside.
Matt caught a charging Cesaro with a boot to the face. Cesaro gave Matt an uppercut to knock him off the top rope. Sheamus then tagged in and gave Matt a top rope White Noise slam. Jeff broke up the pin attempt. Jeff dove at Cesaro at ringside. Cesaro caught him. Jeff broke free and shoved Cesaro into the crowd. Matt went for a Twist of Fate in the ring, but Sheamus blocked it and DDT'd Matt for a two count. Jeff, though, tagged himself in first. Sheamus then gave Matt a power slam. Jeff hit a Swanson onto Sheamus to break up the pin attempt. Jeff made the cover and scored the three count.
WINNERS: The Hardys to retain the Raw Tag Team Titles in 13:00.
-Afterward, Cesaro and Sheamus raised the arms of the Hardys in a show of apparent sportsmanship. As the Hardys celebrated, Cesaro ran back and shoved Jeff off the top rope. Sheamus attacked Matt from behind. They aggressively attacked them at ringside. Booker said, "Respect can only last so long. This is a business!" Booker said, "This is what business is about. It's not about shaking your opponents' hands. This is about making them feel heat. This is a message." Way to steal the heat away from the heels in the midst of their attempt to get it. Thankfully, Cole expressed disagreement. Booker said they're trying to end the Hardys' careers, and that's what you do when you try to make it to the top. Matt bled from his forehead by the time the beating was over. Sheamus & Cesaro celebrated with the tag team titles. Booker said they don't look like they lost. Cole said it's a pathetic display by Sheamus & Cesaro. Cole said he would love hear an explanation from Sheamus and Cesaro for their actions.
(4) ALEXA BLISS vs. BAYLEY – WWE Raw Women's Title match
Alexa came out first. When Bayley came out. Cole said there were 25 family and friends in attendance supporting her. Graves wondered why she only had 25 friends in her hometown. (Maybe because Kevin Dunn made her buy the tickets out of her own paycheck?) Cole said listening to the crowd, it's apparent the arena is full of over 13,000 friends. They showed various other announce teams who got a little on-camera and mic time. Jo Jo then did formal ring introductions. Graves said competing in your hometown isn't always an advantage because you feel extra pressure.
The crowd was really into this at the start. Bayley went on a flurry at the start, but Bliss eventually cut her off with an elbow to the side of her head. She aggressively went after Bayley. Cole said she's cocky and doesn't believe there is a Superstar in her league in WWE. Booker defended her. He said she has talent and everything she does in the ring is part of a gameplan. Graves complimented her, too. (Well, we should all root for Bliss, then, shouldn't we? It's unbelievable how counter productive Booker T's commentary is to the story the wrestlers in the ring are trying to tell.) Bliss went on sustained offense. Bayley fought back. Cole said Bayley is a "ball of fire." Too soon, Cole.
Several minutes later, Bliss shoved Bayley face-first into the bottom turnbuckle as she charged at her. A "Let's Go Bayley!" chant started. Bayley set up a Bayley-to-Belly off the top rope. Bliss blocked it and landed a sunset flip off the top rope. Bliss threw a tantrum after the Bayley kickout. Bayley avoided a flip double knee drop by Bliss, then kicked her. She climbed to the top rope and leaped at Bliss with a top rope elbow for a near fall.
Bliss went for a sunset flip bomb, but Bayley sat down on it. Bliss powered out and shoved Bayley head-first into the post. Bayley surprised Bliss with a small package for a near fall. Bliss countered immediately with a DDT for the win. (Steve Austin just smiled a little.) Graves said Bliss said the Bayley fairy tale would end here, and she was right. Cole made a big point of stressing that Bayley was stunned from her head hitting the ringpost a moment before the finish.
WINNER: Bliss in 11:00 to capture the WWE Raw Women's Championship.
-A video package aired on the House of Horrors match between Randy Orton and Bray Wyatt.
(5) BRAY WYATT vs. RANDY ORTON
Jo Jo said the match will begin in Bray's House of Horrors and end in the ring with a pinfall, submission, or forfeiture. They went to the announcers who discussed the Bray-Orton feud. They were interrupted by a Bray video snippet and then a limo pulling up in pitch black. They're in San Jose. It's still bright and sunny out. Multiple camera angles filmed Orton inside the limo and getting out of the limo. They added music as if it was a post-produced horror movie. Orton got out and saw a haunted house with lights flickering upstairs. He said, "What the hell?" A tractor drove by without a driver. (Modern technology!) Orton approached the house, because why not, right? Orton peeked in a window and saw Bray. He kicked down the door. Of course, there was a camera inside to film him from the inside as he walked in. The door slammed behind him. Orton turned around. Bray then attacked him from behind in the living room. Bray said, "You took everything from me. Now I'll take everything from you." He began laughing. Glass broke as he tossed Orton around.
Orton broke free and wandered around. There were crying baby noises and then baby dolls hanging from a ceiling. Bray attacked Orton again. Bray beat up Orton in the kitchen and eventually low-kicked him and tipped the refrigerator on him. He then staggered his way to the front lawn. The address is 39115, apparently. He yelled out, "Follow the buzzards!" Bray struggled to get to the limo in the driveway. He laughed in celebration as he looked back at the house. He got into the limo and sang, "He's got the whole world in his hands."
-Back to the announcers, Cole said he has never seen anything like that. Graves asked if anyone knows where it is. He said Orton just had a refrigerator fall on him. Apparently on the East Coast where it's ACTUALLY DARK ALREADY. Some boos were heard in the background, and suddenly the crowd noise seemed to be cut off.
(Keller's Analysis: That is on the page where I keep a list of the dumbest things ever done in pro wrestling, usually inspired by someone who doesn't get what makes pro wrestling work and thinks what it's been missing along is some real outside-the-box creativity and a bigger post-production budget with a score as a backdrop to the action. Yuck. The fact that it was filmed in the dark when they're in San Jose, Calif. at 6:30 p.m. should lead to several pink slips tomorrow.)
(6) SETH ROLLINS vs. SAMOA JOE
Cole said these two had only met one time previously. It was in ROH in 2008, but he didn't say that. He also said Joe is undefeated in singles matches so far in WWE.
Seth dominated offense early. Joe came back with a dive to ringside at 4:00. Joe began to work over Seth's knee, including a senton onto his knee, then a kneeler. Seth reached the ropes. Joe applied a cloverleaf. Seth reached the ropes to force another break.
At 10:00 Seth landed a Falcon Arrow and then a top rope frog splash for a near fall. Joe surprised Seth with a Coquino Clutch mid-ring. Seth pushed off the ropes and bridged to try to pin Joe. Joe kicked out, then clotheslined Seth. Seth took a flip bump. Joe applied a sleeper mid-ring. Seth countered and bridged Joe's shoulders onto the mat for a three count. Graves said Seth solved the Samoan Submission Machine. "Jaime Lannister figured out how to do it with one hand and tonight Seth Rollins did it with one leg." (I wonder who got to explain that to Vince McMahon after Graves said it?)
WINNER: Seth in 15:00.
-Another WWE Network commercial aired.
-Cole hyped Raw Talk featuring Renee Young and Jerry Lawler hosting with Cesaro & Sheamus and Bliss as their guests.
-A limo pulled into the parking garbage. More boos from the crowd. (That "House of Horrors" match might have finally achieved what should be every heel's goal, but has eluded Bray so far – getting booed by the fans. Too bad it's for all the wrong reasons.) Bray made his way out of the limo.
-They went to the announcers. Cole said with a refrigerator lying on Orton, we have to assume a forfeiture is coming. Bray came out to his music with the fireflies lighting up the arena stands.
(5b) BRAY WYATT vs. RANDY ORTON – No Holds Barred
Bray entered the ring and smiled. Orton appeared behind him and Bray looked scared. Orton whacked Bray with a chair. Orton then DDT'd Bray off the table face-first onto the mat at ringside. Bray made his way back into the ring. As Orton moved in for an RKO, the Bollywood Boys ran in and attacked Orton. The crowd didn't seem to know who they were. Bray then caught Orton with an attempted Sister Abigail during the chaos. Orton, though, blocked it and gave Bray an RKO Out of Nowhere. Jinder then hit Orton from behind with the WWE Title belt. It's "No Holds Barred," remember. Cole said that's not even Jinder's title; he didn't even earn it. He hit Orton again. Bray then gave Orton a Sister Abigail for the win. Cole called it a "hellacious House of Horrors match." Cole noted that Jinder not only caused Orton to lose, but left with "the title in hand." (It's called a "Championship belt," I believe.)
WINNER: Bray Wyatt in 3:00.
-A long video package aired previewing the Reigns vs. Strowman main event.
(6) BRAUN STROWMAN vs. ROMAN REIGNS
As Reigns came out, after Braun, Cole said: "Injured ribs, separated shoulder, possible internal injuries. But do not count Roman Reigns out. Here is the man who beat Undertaker at WrestleMania." Cole said Reigns has been through wars and has accomplished so much already. He went after Braun before the bell with a right. Braun charged and ate a boot. Braun charged, and Roman dropped down and pulled down the top rope, so Braun spilled to the floor. Reigns then did a leaping clothesline off the ringside steps. Eruption of boos. Cole said Reigns can barely move his left arm. Reigns entered the ring and called for Braun to enter. Reigns then teased another running dive, but Braun walked away. Reigns went at him from the other side of the ring, but Braun caught him and threw him hard into the ringside barrier. Braun then chokeslammed Reigns onto an announce desk at ringside.
Back in the ring, there was a loud "Let's Go Roman / Roman sucks" battle chant. Braun beat down Reigns and gave him a running kick to the ribs and then a running charge in the corner. He let out his signature yell. Strowman methodically beat on Reigns for several minutes. Reigns eventually fought back with a punch and a Samoan Drop for a near fall. They showed an adult man in the crowd looking on like he had just heard his entire family died in a fire. They tumbled to the floor when Reigns clotheslined Braun over the top rope. Cole stressed the possibility of internal injuries coming into play. Braun threw Roman into the ring. Reigns rolled right back out and then surprised Braun with a Drive By. Cole said Reigns is "is survival mode."
Reigns avoided a charging Braun, who flew into the ringpost. The ref nearly counted Braun out. Booker said, "A victory is a victory!" Strowman just beat the count. Back in the ring Reigns hit a spear for a near fall. They showed a young female Bayley fans protesting the kickout. Strowman lifted Reigns, but Reigns slipped free and hit the Superman Punch twice. Strowman went down on one knee. Cole wondered what Reigns has to do to "slay this monster." Braun came back with a headlock triangle mid-ring. Cole said Braun had Reigns's bad shoulder trapped. Braun then hit a running powerslam for a believable near fall. Strowman hit a running powerslam and scored the three count.
WINNER: Braun in 12:00.
(Keller's Analysis: That's pretty much what you'd have expected out of this, and it was well done. They gave Reigns a ton of credit for fighting despite the severe injuries, but they want to give Braun the momentum going into a presumed match with Brock Lesnar and just in general to keep him strong.)
-Afterward, Braun lifted the top of the ringside steps and threw it into the ring. He nicely avoided throwing it into Reigns. Inside the ring, he lifted and dropped Reigns onto the side of the steps. Then he lifted and dropped the steps onto Reigns's chest. A loud "Thank you, Strowman!" chant broke out. It must still be the day after WrestleMania. Reigns was helped to the stage area. They followed him with cameras and tried to put him on a gurney. Of course, this means someone should keep an eye on Braun. Roman turned down the "ride."
They transitioned quickly officially to the "Raw Talk" post-PPV show. Reigns made it to the ambulance. Braun charged at him and knocked the left rear door off the ambulance. Reigns slammed the right rear door on Braun, who then left the scene. Reigns was "coughing up blood." They shifted to Renee and Lawler in the Raw Talk studio.
STREAM LIVE OR CALL (515-605-9345) as Pat McNeill & Greg Parks discuss Payback on tonight's post-PPV PWTorch Livecast HERE.
UP NEXT – PWTorch Livecast PPV Post-Show at 11 p.m. ET (04-30-17): Pat McNeill & Greg Parks discuss Payback