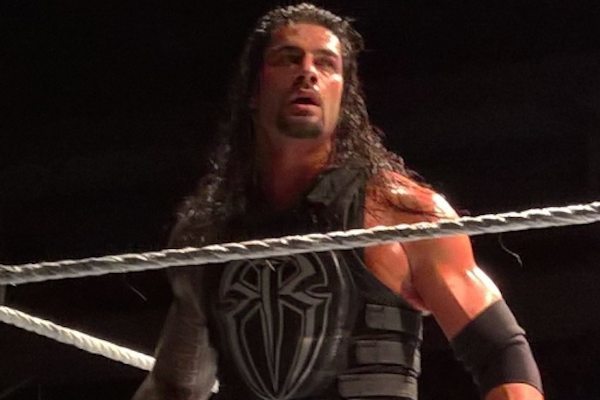 ---
SPOTLIGHTED PODCAST ALERT (YOUR ARTICLE BEGINS A FEW INCHES DOWN)...
---
Carrot Top says if you subscribe to WWE Network now, you get to see Orton vs. Mahal at Backlash. Shut up and take my money!
Samoa Joe injured Seth Rollins three months ago. Typing the video package is quicker than watching it.
"The WWE Universe has a lot of questions about Seth Rollins". Yes. The first one is "Who booked this mess?"
Enzo & Cass vs. Gallows/Anderson. Next time, can we take our Kickoff commercial break during Enzo's promo?
Enzo Amore opted for the "Captain Caveman goes to Vegas" ring gear tonight.
Mrs. McNeill: That guy looks like he's wearing pajama pants.
Me: He's from New Jersey.
Mrs. McNeill: Oh.
Yes, Enzo & Cass win.
Backstage, Golden Truth encounters the normal Hardys from Earth 3. Who get replaced by the Broken Hardys mid-promo.
WWE needs to sign Young Bucks, and debut as the Hardys from 1998, arriving via time machine to feud with Broken Hardys.
"Miz brings his own brand of entertainment to WWE Payback". I'm glad SOMEBODY is. Finn Balor beats up Miz, because that's the gimmick.
Time for the main show. And time for Sassafras Kitty to come by and try to eat my supper. Not a chance, little girl.
Michael Cole tells us that despite WWE's best efforts, tonight's show in San Jose is sold out.
Owens vs. Jericho is your opener. Cole introduces us to the international announcers. Except for the North Korean crew, who are, um, stuck in traffic.
Cole: Booker, you've fought Chris Jericho many times.
Booker: Yeah, yeah. Bitter rivals. Hated his guts. What's the wi-fi password again?
We have an inquiry from ParApar4Man via Twitter. "Why does Roman wear armor as a baby? Why does Bray forget his past promises and finally why do women wear extra makeup to fight?"
Answers:
1) Daycare works differently in Samoa.
2) Peyote.
3) Added resistance against cuts. WWE hates blood stoppages.
Thanks for reading.
Despite the fact Owens has never defeated anyone with his superkick, Booker is amazed to see Jericho kick out. Chris locks in the Walls of Jericho and Kev barely makes the ropes.
Jericho locks in the Walls again, and Owens taps out. We have a new United States champion. WWE: Our ratings may suck, but at least we're not predictable!
WWE Network ad. Lots of Prime Time Wrestling just added. Neville vs. A Double is next.
Cole asks Graves how Neville got on this hot streak. It may have something to do with Neville no longer wrestling anyone Vince McMahon cares about.
Booker asks out loud if Aries is blown up. I would have loved to hear Booker with Gorilla Monsoon as his play-by-play man.
Okay, I love Neville breaking the submission hold by grabbing the referee. But the referee doesn't. Aries wins by disqualification.
Aries is furious. Gee, if only the next Raw pay-per-view had some sort of no holds barred theme to it…
Up next: Matt & Jeff Hardy vs. Swiss James Bond & Braveheart. Sheamus & Cesaro earned this title shot by losing to the Hardys in two singles matches. Or something like that.
Right now, more people are chanting for the Broken Hardy gimmick than ever saw the Broken Hardys on PopTV.
Graves calls Sheamus "The Alabaster Gladiator". First, I'm changing the nickname to "The Alabaster Assassin". Then, I'm stealing it.
Matt Hardy has the Lionmane hair going. This means the Hardys are breaking ba…Nah. Can't say it. Intellectual property.
Sheamus has Matty pinned, but Broken Matt isn't the legal man. Jeff pins him with the Swanton. Ouch.
They follow the Code of Honor after the match. Well, that's nice…No it isn't! Postmatch attack by Cesaro & Sheamus. Okay, I need a transcript of whatever it was Booker said after the Euros turned on the Hardys.
We now go backstage, where the cameraman is slumped against a wall after Braun Strowman beat him up. Don't pass out now, you'll miss the shot!
Bayley vs. Bliss is next. Alexa cuts a mean promo. Literally. Bayley actually gets a hometown pop in her hometown. I'm glad.
Bayley's gear makes her look like the fourth member of New Day.
Bayley told Cole she's been dealing with mean girls like Alexa since middle school. (That's how tall they were).
You know how some wrestlers like to work a body part? Alexa's been working over Bayley's face. And it works. Alexa wins the title in Bayley's hometown. That's pretty awful.
"Sometimes, the wicked witch wins." Sometimes, the wicked witch loses, but still gets her own musical.
Time for the House of Horrors. Our only chance of survival here is if Matt Hardy's the producer for this match.
"The following House of Horrors Match will begin in Bray Wyatt's rumpus room!" Well, that's different.
The match opens with Randy unable to find Bray's address on his GPS, and stopping at the Sunoco to ask for directions.
"Honey, did you invite someone from work over? You know the house is a mess." "Shut up, Abigail!"
Randy follows Bray into the basement, but is quickly overcome by all the radon gas. Orton takes a wrong turn and winds up in the nursery, where he is covered for a flash pin by Maxel Hardy.
They're in the kitchen. They beat the crap out of each other and lie side by side on the floor. "Nice tile work". "Thanks".
Orton throws himself into the fridge, and is able to surprise the explosion that destroys the warehouse…Sorry. Wrong film.
Bray leaves Randy trapped in the house, just as Holmes on Homes comes in to rip out the mold in the garage.
(We're now going to take a break in the House of Horrors match while we find a new crowd. The last one left.)
Seth Rollins vs. Samoa Joe. This is the match designed to bring the crowd down after the, um, excitement of seeing the WWE World Champion in action.
Let's watch in slow motion as Joe lands on Seth's injured knee and Seth screams out…Well, that wasn't very nice.
Booker tells us there's no way Seth Rollins' knee will recover in the next few minutes. I'm not sure Booker's ever seen a WWE match before. Sure enough, Rollins turns inside the choke hold, takes Joe over with a fireman's carry and pins him.
The WWE Network Livecast will be on against our Livecast, in about 50 minutes.
Bray Wyatt arrives at the arena. Randy Orton hasn't made it. Unless he's hiding in Neil's Workbox, that is. Bray goes to the ring, the lights come up, and Hereeeee's Randy!
Orton looks confused, probably because no one told him the stipulations, and he's not sure how to win. That's when the Singhing Shiras attack.
Jinder & the Singhs help Bray Wyatt win the match, making Bray the number one contender to..No, that can't be right.
It turns out Nakamura vs. Ziggler is the main event of Backlash in three weeks. That makes more sense.
Time for our main event. Can anyone defeat Braun Strowman? Gee, if you wanted someone who could defeat Braun, you should have called Kalisto. He did it six days ago.
Roman Reigns vs. Braun Strowman. It's about time.
The crowd, by and large, got behind Braun. Braun takes Roman's best shots. Strowman wins the match and starts the postmatch beating. Somehow, you knew WWE wouldn't let its fans down.
After the match, Braun murders Roman with the ring steps. Roman gets better, and refuses to take the stretcher ride to the back. A happy ending.
Okay, that's all for Payback. We'll see you momentarily on PWTorchLivecast.com. VIPs can join Wade and the gang for the roundtable. Good night.
---
NOW CHECK OUT THE FULL DETAILED PAYBACK REPORT: KELLER'S WWE PAYBACK PPV REPORT 4/30: Ongoing updates on House of Horrors, Owens vs. Jericho, Reigns vs. Strowman