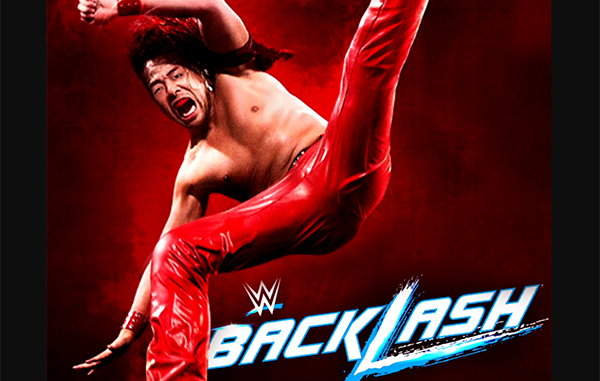 ---
SPOTLIGHTED PODCAST ALERT (YOUR ARTICLE BEGINS A FEW INCHES DOWN)...
---
So it's possible, even likely, that I'm going to get all of these wrong.
1. Tye Dillinger vs. Aiden English (Pre-show)
This is genuine pre-show fodder and, sadly, both of these men are still likely to be pre-show fodder as we get closer to Summerslam. I don't understand the appeal of Tye Dillinger yet. He hasn't had enough time on the main roster for me to know anything about him beyond that he makes fans chant "10" a lot, which is really annoying. In addition, he's come up at the same time as Nakamura. That's not a good thing for Tye in comparison.
Meanwhile, Aiden English has been dumped to the side and looks set to job for a little while before he hopefully starts to find some traction. This match at least gives us a chance to see them both in action.
It's the pre-show. Faces win. I've been bitten by this one before.
Winner: Tye Dillinger
No Alpha? I'd take Alpha/Colons/Ascension with one heel team pinning another, to be honest.
2. Sami Zayn vs. Baron Corbin
My feeling is that whoever loses this match will be winning the Money In The Bank contract next month, though it's still possible that Rusev will win that match. Anyway, that means that the wrestler who needs the win more is unlikely to win because Money In The Bank is a big deal.
Sami Zayn has come to Smackdown and been used in exactly the same way as he was on Raw: jobber to the big guys. He's lost to Mahal a lot. Meanwhile, Corbin has lost to Ambrose, Styles, Cena and Orton this year. Vaunted company, even in losses. Either way, they're both in trouble so the question is where both are likely to go from here.
The card needs heels. Corbin gets built up.
Winner: Baron Corbin
3. The Usos vs. Breezango (Smackdown Tag Team Championships)
I've been hoping for a Breezango push for a while. I fantasy booked a whole "Luke Harper: Sex Machine" angle involving makeovers and the like a while back. The Fashion Files have been great and the crowd are really starting to get behind these guys. That said, I don't think they're winning.
The Usos are the right people for the belts right now. Their promo skill are excellent, as are their wrestling skills. They put on great matches with great builds so in a tag division that is currently being rebuilt, they're the right people.
There aren't many heel teams for Breezango to move on to should they win the belts. The Colons and Ascension need more built first, which non-champion Breezango could supply. Meanwhile, New Day are due to come in and it would make perfect sense for them to walk straight into a feud with The Usos. Big names in big matches. It could push The Usos to the next level.
Winner: The Usos
4. Luke Harper vs. Erick Rowan
These 2 are destined to be in the tag team ranks soon. Let me elaborate. The tag division needs another heel team with New Day coming in. More importantly, neither Harper nor Rowan are currently represented in the Smackdown Live opening video. You know, the one that features everyone on the roster? They're not there. It stands to reason that they're waiting for the right image of the 2.
The story tells itself. Rowan has been abandoned by a master that Luke Harper now recognises as not being worthy of either of them. Rowan is looking for leadership and blaming Harper for driving his man away. If the matches were good then this would be a good feud but the 2 of them seem completely out of place right now. Change is coming.
I see Harper winning this one, delivering a finisher to a Rowan who is practically begging for it. After that, Harper becomes the master.
Winner: Luke Harper
5. Randy Orton vs. Jinder Mahal (WWE Championship)
Randy squashes Mahal. Mahal goes back to his feud with Mojo Rawley, but as a much bigger deal now. That elevates Mahal and Rawley, with a view to elevating a returning Zack Ryder too in the long run. Orton goes on to fight someone else. AJ, Owens, Jericho, Cena, that's his level. Rusev could easily be pushed up there too in the interim.
But first, Orton squashes Mahal.
Winner: Randy Orton
6. Shinsuke Nakamura vs. Dolph Ziggler
It's Nakamura's first match. It's going to be a huge crowd reaction, Ziggler's going to sell with Shawn Michaels level brutality. This match could genuinely be tremendous. It's fresh, it's exciting and the 2 men have been practicing incessantly. If this match isn't amazing I am going to be stunned.
I am so hyped right now, and Ziggler benefits so much from just being in this match. We might even be seeing Orton vs. Ziggler after this one.
Winner: Shinsuke Nakamura
7. Royal Fire Glow vs. The Welcoming Committee
And you thought "The Welcoming Committee" was a bad name.
What's likely in the future? Well, Charlotte vs. Becky is the big draw match in the division but in the meantime WWE is building both Naomi and Natalya, with Carmella getting a few wins under her belt too. A lot of people are rolling their eyes at this whole feud but the fact is that everyone is getting the benefit of it.
I believe Natalya will be the next champion. So it makes sense to me that Tamina (making her re-debut) will pin Becky after Charlotte accidentally hits the wrong person. That leads the 2 of them to fight, thus leaving Naomi exposed and easily to overwhelm and steal the title from.
Winner: The Welcoming Committee
8. Kevin Owens vs. AJ Styles (US Championship)
Man am I psyched for this one. This might not be the strongest card wall to wall but it contains some genuine beauties of match ups. Dream matches, really, and that's before top stars like Cena and Jericho come back, then Rusev joins lower down. You can see why I think Dillinger and English are in trouble.
The lack of heels once again shows itself in this match. With so few heels left, Owens has been moved to Smackdown to be the top heel. He has the potential, he just needs to get some big wins under his belt to really position him where he needs to be.
Is there any bigger scalp than A.J. Styles?
Winner: Kevin Owens
I'll see you for another live Twitter session during Backlash 2017.
Follow Tom Colohue on Facebook and @Colohue for updates.
---
NOW CHECK OUT THE PREVIOUS COLUMN: WWE PAYBACK PREDICTIONS – Tom Gets It Wrong: Braun vs. Reigns, Seth vs. Joe, Hardys vs. Sheamus & Cesaro, House of Horrors