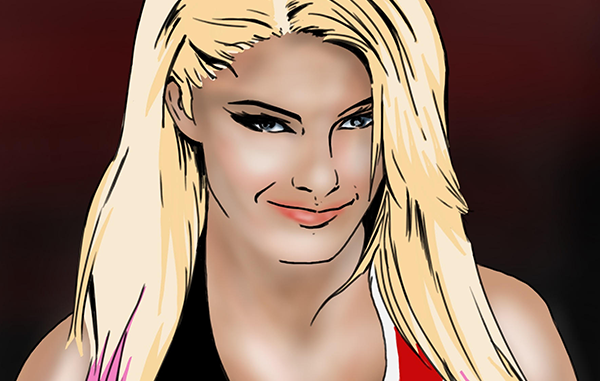 ---
SPOTLIGHTED PODCAST ALERT (YOUR ARTICLE BEGINS A FEW INCHES DOWN)...
---
RAW HITS
Sampson vs. Ambrose: I was never too impressed with Elias Sampson in the ring at NXT. I never thought he was bad, but his in ring work never stood out. He did look good here against Dean Ambrose. Their match went 10 minutes and was fun to watch. That leaping knee that Sampson gave Ambrose as he leaped off the top rope was a great spot. So often, wrestlers do a dropkick in that situation which can look great, but often looks poor. This was a good alternate move to counter a top rope leap other than the dropkick or just a fist to the gut. The ending was cheesy with The Miz getting Ambrose disqualified by attacking Sampson. I'm not a fan of the stipulation where Ambrose loses the Intercontinental Title if he gets DQd against Miz at Extreme Rules. Matches with that stipulation tend to focus so much on the heel trying to provoke the babyface to snap and get DQd that the actual wrestling quality suffers.
Heyman Addresses Balor: I was certainly not expecting Paul Heyman to show up and address Finn Balor. I am not complaining as surprise Heyman promos are generally a treat as it was in this instance. Balor seemed like the forgotten man this week with the other four Fatal Five Way wrestlers in the main event. This reminded the fans that Balor can't be overlooked as a potential opponent for Brock Lesnar. Heyman put him over in a big way. I'm not sure if it is because Balor will actually get the Title match or not. Maybe it is foreshadowing Balor becoming a Paul Heyman guy? I'm intrigued by it. And since I don't yet have a strong feeling about who will with at Extreme Rules, this adds to that feeling that Balor is a legit possibility.
Bliss Interview: This was a good interview to continue Alexa Bliss' string of good mic work. She is making a strong case that Bayley doesn't have Extreme in her. She can't get extreme and that is why Bliss will win their Kendo Stick on a Pole match. It was a short and very effective interview. Her match later on with Mickie James was ok, but too short to amount to much and the DDT victory came out of nowhere so it didn't really work well to me. The save from Bayley worked afterwards in that she didn't actually get a chance to use the kendo stick so that it keeps it a mystery as to whether or not she actually has it in her to use it at the PPV.
Hardy vs. Sheamus: This was a good match between Matt Hardy and Sheamus. It went 12 minutes and was good from start to finish. It went back and forth nicely and built well to the finish with Jeff Hardy keeping Cesaro from interfering allowing Matt to hit the Twist of Fate on Sheamus for the victory. I was surprised by the ending as I was expecting Sheamus & Cesaro to pick the stipulation for their Extreme Rules match, and a bit disappointed too (more later).
Rollins & Reigns vs. Wyatt & Joe: This was a good main event tag match with the former Shield members Seth Rollins and Roman Reigns re-teaming for one night to take on reluctant partners Bray Wyatt and Samoa Joe. Both teams were reluctant partners, but the heels were able to work well together. On a show with too many short matches, it was nice to see the main event go 15 minutes. It had good wrestling action as it should considering the talent involved. I particularly liked the ending. It was well thought out and executed for Reigns to be attempting the Superman Punch on Joe, only to have Joe move and Reigns realize it and try to pull up, but still accidentally crash into Rollins. I had this bad image in my mind as Reigns started to leap, that he would go ahead and actually punch Rollins in a very lazy spot. So, I was pleasantly surprised in that brief moment when he pulled up and just ran into him. That worked well and allowed the heels to get the win to stand tall in the end. I also liked that Finn Balor would go to Kurt Angle in the end and ask to be in a match with one of those opponents next week. Angle then put some guy named Finn Baylor into a triple threat match next week against Wyatt and Joe, plus announced Rollins vs. Reigns. Those are two big matches to give away, but at least they announced them a week in advance to build anticipation for next week's show.
RAW MISSES
Opening Segment: This did nothing for me. I'm just not a fan of Bray Wyatt's long promos. He goes on and on about weird stuff that I don't care about. He is both the ruler of the world and the Eater of Worlds and I'm not sure exactly how that works. He also talked about how opponents like Seth Rollins can't save the fans. Ok. I'm not looking for a savior. I'm looking for someone who can kick ass in the ring. He talked about sacrificing Samoa Joe. No, you hit one move on him. That's not sacrificing someone, not even in a metaphorical sense. So, this didn't work for me. Roman Reigns doesn't work for anyone. I wasn't excited to see him come out. This segment did set up a big match for after the first commercial break, but it wasn't good. The match that followed was ok while it lasted before Joe and Rollins got involved to ultimately set up the big tag match main event.
Hype for Balor vs. Anderson: If you are going to acknowledge that Balor and Karl Anderson (plus Luke Gallows) have a past going to back to Japan, then you should probably flesh that out a little. Why even mention it if you aren't going to explain it for the majority of fans who aren't familiar with the Bullet Club from New Japan? They had Gallows & Anderson teaming with AJ Styles as The Club last year and talked about their history, but they never mentioned that Balor was part of that history as well. Here, a few times during the show the announcers mentioned the match coming up of Balor vs. Anderson and talked about their history without defining it. We never got to hear from Anderson. We didn't hear about it from Balor either. It was like they wanted to give some meaning to this otherwise throwaway match, but they didn't want to go that extra step to actually define the meaning.
Banks vs. Fox: This feud isn't doing any favors to Sasha Banks. The matches aren't good. The brief encounter before the match in the back wasn't good. The post match attack by Alicia Fox was disappointing to show that the feud would continue even though Banks had said that she was going to defeat Fox in order to move on.
Hardys Pick the Stipulation: The Hardys have pretty much gotten the better of Cesaro & Sheamus from the time they returned to WWE at WrestleMania. I agree with keeping the Champions strong, but more can be done to keep the challengers strong too. To me, this was a case where Sheamus should have gotten the win to give the challengers some momentum and the ability to name the stipulation for their Tag Title match at the PPV. The Hardys are the masters of the ladder match, so why not pick that? A Steel Cage match does seem to fit in with the brawling style of Cesaro and especially Sheamus. Booker T astutely made that point after Matt made the announcement, but Cesaro & Sheamus were acting super upset about it. What would they have picked? I'm fine with the steel cage stipulation, but it should have been the heels picking it in this case.
NOW CHECK OUT LAST WEEK'S COLUMN: WWE RAW HITS & MISSES 5/15: Reigns's heel promo, Fox beats Banks, Booker's commentary, Amborse-Miz, Alexa Bliss, Reigns vs. Balor