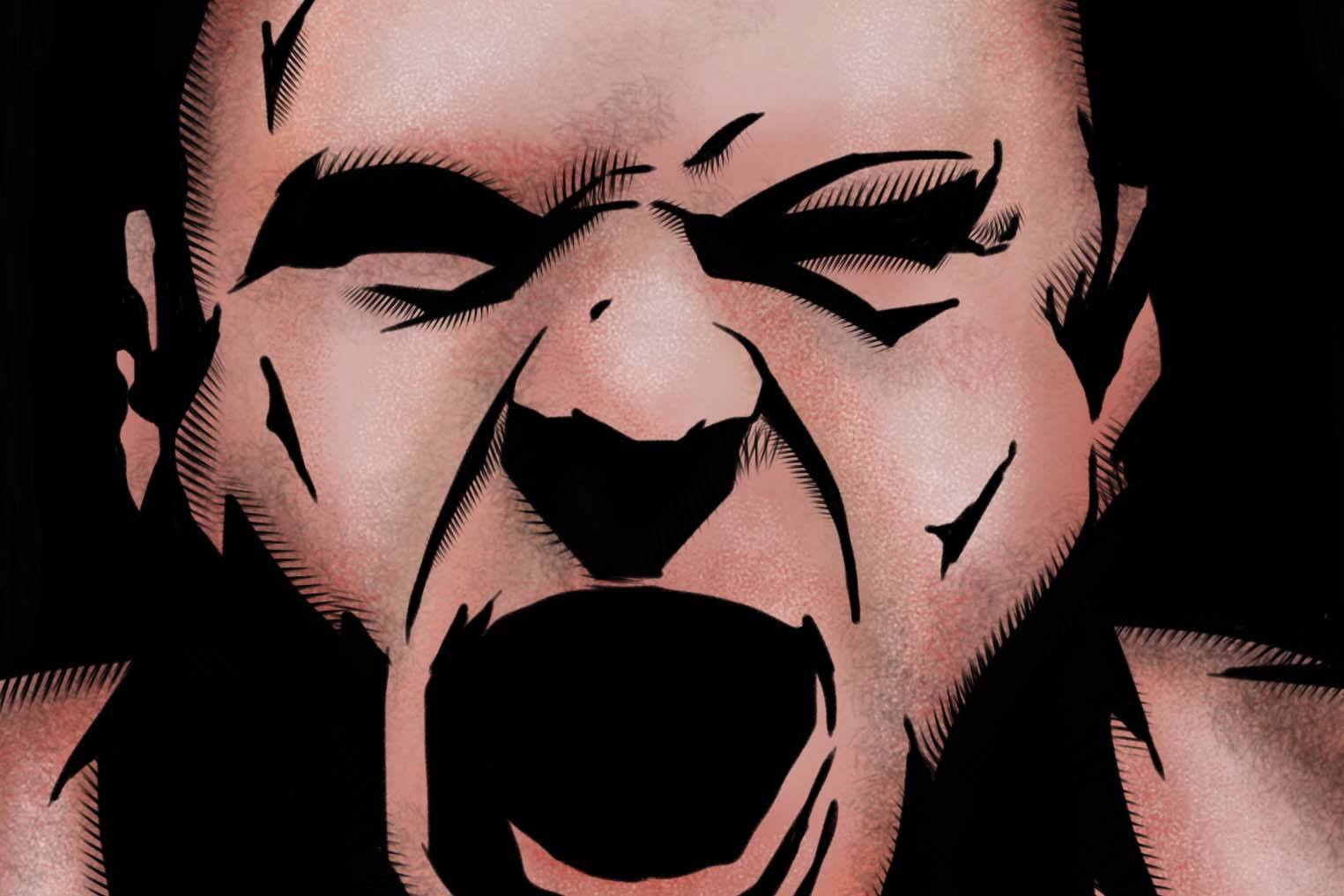 ---
SPOTLIGHTED PODCAST ALERT (YOUR ARTICLE BEGINS A FEW INCHES DOWN)...
---
This past weekend, one of the last remaining dream matches in pro wrestling took place between Brock Lesnar and Samoa Joe. Although he has largely been going through the motions in recent years, Lesnar remains the most exciting attraction in pro wrestling. From the first time we saw him as Paul Heyman's Next Big Thing in 2002, we knew that he was something special. This was a beast of a man who exuded charisma and had a frightening presence.
He was a star from the outset, and he became the youngest WWE Champion in history. By the time he suddenly departed the WWE in 2004, he had a resume of more magnificent matches than most wrestlers that have been around a decade. Of course, we all know of Brock's legendary transition to UFC World Champion and record breaking MMA PPV attraction. The legitimacy of being a real fighting champion only heightened his aura when he returned to wrestling in 2012. I was there at Raw in Miami that night, and he received a thunderous ovation. The Beast was back and over the past five years, he has had many more unforgettable matches. Today we will count down the Top ten matches in the career of Brock Lesnar.
(10) Brock Lesnar vs. Kurt Angle: Smackdown Iron Man Match
In 2003, WWE did something unprecedented and presented an hour-long Iron Man Match between two of its best wrestlers on the planet. In my opinion, this was far superior to the overrated match between Shawn Michaels and Bret Hart at Wrestelmania 12. Many of you may not have seen this classic so I will not spoil the ending despite it being over a decade old. You should go out of your way to find this battle between two of the best amateur-turned-pro wrestlers of all time.
(9) Brock Lesnar vs. Roman Reigns: WrestleMania 31
This was one of the worst built Wrestlemania main events ever. Hopefully none of you remember that awkward faceoff between Lesnar and Reigns on the go-home Raw before Mania. Reigns was already anointed WWE's chosen one as the next big thing, and he was originally slated to win the championship here. A variety of circumstances, including the perceived mismanagement of Daniel Bryan as well as Reigns' failure to connect with the crowd made this a match very few were anticipating.
Lesnar and Reigns defied expectations by having a great match that was brilliantly booked. Brock was the unstoppable bully for most of the match and Roman showcased his resilience at the end before Rollins came in and cashed in the Money In the Bank in a shocking turn of events. This match defied odds to become one of the better Wrestlemania main events.
(8) Brock Lesnar vs. The Rock: Summerslam 2002
We go from one of the least buzzed about Mania finales to one of the most hyped Summerslam showcases. Who could forget the sensational training sequences in the spectacular video package leading into the main event between The Rock and Brock. This show featured numerous classic matches including the return of Michaels in a grudge match against Triple H. Despite the loaded card, this was a worthy closer.
The two icons put on an entertaining match where the crowd once again turned on The Rock. It was a changing of the guard matchup as Rock was leaving for movies in Hollywood and Lesnar became the youngest champion in company history. You should not only go out of your way to see this match, but this entire show because it was one of the greatest shows in wrestling history.
(7) Brock Lesnar vs. John Cena: Extreme Rules 2012
This was the much-anticipated return of Lesnar to the WWE, and he faced off against the biggest star of his generation in Cena. It was a brutal battle with Brock having the added aura of being a former UFC champion. The opening minutes of the match were unforgettable as Lesnar absolutely demolished Cena before he made his superman comeback to win. Both competitors gained respect after this extreme rules epic. It was baffling that Brock was booked to lose his return match, but this is one of the best street fights in history.
(6) Brock Lesnar vs. Bill Goldberg: WrestleMania 33
The return of Goldberg shockingly resulted in one of the most compelling programs in recent memory. This was a true story of redemption as their previous encounter was one of the worst matches in wrestling history at Wrestlemania 20. Goldberg returned in an unforgettable squash of Brock at Survivor Series 2016, but nobody knew how these two would fair in an actual match. They proved all skeptics wrong by having a colossal confrontation between two titans. They exchanged devastating finishers in a perfectly booked match.
I was in the audience with former Pro Wrestling Dot Net Senior Editor Rich Twilling, and the atmosphere in the stadium was electrifying. We agreed that this was the reason that WWE keeps bringing these legends back, because they have larger than life personalities that today's superstars sorely lack.
(5) Brock Lesnar vs. Kurt Angle: WrestleMania 19
This was the main event of one of the most stacked cards in wrestling history featuring The Rock versus Stone Cold, Vince McMahon versus Hulk Hogan and Chris Jericho versus Shawn Michaels. Lesnar and Angle proved they earned the honor by putting on a wrestling clinic. Sadly, it is remembered primarily because of Brock's botched Shooting Star Press, but I felt that it was worth the risk because it was an awe-inspiring visual. If he was able to pull it off, it would be the finish this universally acclaimed show rightfully deserved.
(4) Brock Lesnar vs. C.M. Punk: Summerslam 2013
This mid-summer classic featured Heyman's two most famous protégées in a brilliant battle. I was in attendance for this amazing match that continued CM Punk's MVP year of 2013. This was one of the last Lesnar matches where he brought out his arsenal before dumbing down his office to Suplex City.  If you are a fan of these two, you must go on the Network and check out this classic.
(3) Brock Lesnar vs. John Cena: Summerslam 2014
This was one of the most unique matches in wrestling history.  It was coming off Lesnar ending Undertaker's streak and going for the WWE World Championship against the biggest star in the company. The story of the match was that Brock was an unstoppable Beast, and he absolutely destroyed Cena tossing him around the ring like a rag doll. This was the birth of Suplex City, for better or worse, and this match made Lesnar look like the baddest man on the planet. Unfortunately, WWE did not have the courage to follow it up properly, but on this night, we knew we had seen something truly special.
(2) Brock Lesnar vs. Seth Rollins vs. John Cena: Royal Rumble 2015
Brock may have had the worst championship reign in wrestling history. He had the belt for about seven months, but he did not win a single one-on-one pinfall his entire reign. This spectacular triple threat match was the highlight of that infamous run. Lesnar and Cena brought their power and Rollins added his athleticism, and the three had incredible chemistry in the ring. This may have been WWE's best match of 2015, and it was the highlight of an awkward night that ended with Reigns and The Rock getting booed.
(1) Brock Lesnar vs. Eddie Guerrero: No Way Out 2004
This was a historic match that result in Eddie Guerrero's first WWE Championship reign in front of a rabid crowd. It was a young Lesnar at the peak of his athleticism against Guerrero really finding his own as a character while becoming a big draw  for the Smackdown brand.  It had all the elements of a classic match from atmosphere to historical significance to amazing storytelling in the ring from two larger than life characters. It was a true feel good moment, and I would argue it was the greatest moment in Eddie's career before his untimely passing the following year. Lesnar proved he could have great matches with all different types of styles, and less than two years into his career, it appeared that he would be the biggest star in wrestling of the next decade. Even he did not know where his fate laid ahead.
As wrestling fans, we are lucky to have a performer the caliber of Brock Lesnar, and I would argue that he is the great freakish athlete of his time similar to how Bo Jackson was in his time, and that is high praise considering Bo was the best athlete I have ever seen.
By the way, check out our new weekly show, The Pro Wrestling Top 5. Our first episode is the Top 5 Wrestlemanias of All Time.
Please follow me and send questions, comments and feedback on Twitter @shawnvalentino and subscribe to our show on Youtube.com/TheProWrestlingTop5
---
NOW CHECK OUT THE PREVIOUS COLUMN: MAGIC, MEMORIES AND MANIA: Top 10 Undertaker Matches from Mankind to Punk to Michaels to Triple H, which finished first?