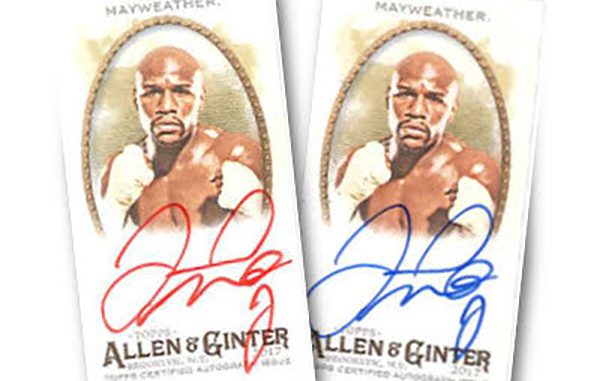 ---
SPOTLIGHTED PODCAST ALERT (YOUR ARTICLE BEGINS A FEW INCHES DOWN)...
---
Topps will release more WWE trading card products than ever before in 2017. At the center of the pro wrestling trading card calendar is 2017 Topps WWE Undisputed, which was just released earlier this week. The hobby-exclusive product is Topps' highest priced WWE product, at roughly $25 per five-card pack, or $225 per 10-pack hobby box. Each pack delivers one hit (an autograph or memorabilia card), and each box includes at least eight autographs and two relics.
Colin Walton, Topps' WWE Brand Manager, recently spoke with PWTorch Collectibles Specialist Michael Moore about the newly released 2017 Topps WWE Undisputed product.
Moore: This is the third year of Topps WWE Undisputed. What sort of value does this brand carry in the hobby?
Walton: Topps WWE Undisputed has consistently been our biggest release of the year in the hobby channel since it launched. And while we have exclusives and special guarantees for all of our WWE hobby (products), it is the only hobby-only Topps WWE release that we've done as an annual product, so it's been the most valuable WWE brand in the hobby.
Moore: When Topps originally launched this brand in 2015, was there any skepticism as to how well a higher end wrestling product would do?
Walton: 2015 Topps WWE Undisputed was definitely a test product, in that we didn't know how big the WWE market would be in the hobby, especially since it's a hybrid sports-entertainment product rather than a traditional sports brand. Topps WWE products still continue to do very well at mass retailers, but we are extremely happy with how it's been doing in the hobby. So not only have we continued WWE Undisputed, but we're also launching another hobby-only product (Topps WWE Legends) later this year.
Moore: What do you think will be the key cards from 2017 Undisputed?
Walton: We have a great autograph list this year, with lots of first-time Undisputed signers, so I think the Undertaker, Goldberg and Alexa Bliss autographs will be big. Alexa also has an Autographed Kiss and Shirt Relic Book Card in the product. There's also a lot of great multi-autos, such as the Goldberg, Brock Lesnar, John Cena and Randy Orton Quad Autograph Book Card.
Moore: I've talked to a lot of collectors who love the idea of cut signatures in a wrestling product. Do you think we'll see more from Topps going forward?
Walton: The Tribute Cut Signature in this year's WWE Undisputed is two-time WWE Champion Yokozuna. We actually decided to include the bulk of cut signatures in our new Hobby-Only product, Topps WWE Legends, which comes out in November. That product will include cut signatures from Legends such as "Macho Man" Randy Savage, Miss Elizabeth and Kerry Von Erich. It's actually a better fit with that brand, which focuses exclusively on Legends and long-time veterans, but cut signatures are definitely something we plan to continue.
Moore: Are there any redemptions in this product?
Walton: There are a handful of redemptions in 2017 WWE Undisputed, but all of them are now signed and in-house. The redemptions are Undisputed Autograph Cards of Bret "Hit Man" Hart, Cesaro, Big Cass, Sami Zayn and Heath Slater, along with Undisputed Autograph Relic Cards of Darren Young.
Moore: The only concern I've heard from collectors is that early images show Undertaker as a sticker auto. Do you think this hurts that particular card?
Walton: There are only a few Undisputed Autograph Cards that are stickered autographs rather than on-card. They are Undertaker, Goldberg, Brock Lesnar and some of the Diamond Dallas Page cards. I don't think this hurts the product as Brock's cards are limited and were previously stickers as well. The other three are also big name Legends and veterans who are first-time Undisputed signers, so it only strengthens the product to include them in any way possible.
Moore: Do you have any personal favorite cards from this product?
Some of my personal favorite cards are the multi-autographs, because I love it when we can put together some great themes for them. For the Quad Autograph Book Cards we have one featuring the Four Horsewomen and another with Bullet Club veterans Finn Bálor, AJ Styles, Karl Anderson and Luke (Gallows). There's also a Shield Triple Autograph Card along with Jeri-KO and DIY Dual Autograph Cards that I love. I'm really excited about the Dream Matches base subset as well, with cards such as Undertaker vs. Sting and Daniel Bryan vs. Shinsuke Nakamura. It's an insert that I've wanted to do for a long time.
***
While 2017 Topps WWE Undisputed will keep collectors busy for the next few months, another Topps product will include trading cards and autographs of several individuals with ties to pro wrestling.
Ever since the product's debut in 2005, Allen & Ginter Baseball has been one of Topps' most popular brands each year. In addition to baseball cards, Allen & Ginter also includes trading cards – including autographs – of individuals from all walks of life, including athletes, actors, musicians, entrepreneurs, Scrabble champions, and more.
The forthcoming 2017 Allen & Ginter Baseball set – scheduled to be released next week – includes autographs from the following individuals from other walks of life who are familiar to pro wrestling fans.
Brooke Hogan, daughter of Hulk Hogan.
Eric LeGrand, former football player who was inducted into the WWE Hall of Fame in 2017.
Floyd Mayweather, pro boxer who wrestled the Big Show at WrestleMania XXIV.
Freddie Prinze, Jr., former WWE creative team member.
Peter Rosenberg, sports broadcaster.
William Shatner, actor who has appeared on WWE television numerous times over the years.
A full checklist is available at http://www.cardboardconnection.com/2017-topps-allen-ginter-baseball-cards.
NOW CHECK OUT THE PRIOR COLUMN: COLLECTIBLES COLUMN: Collectors Discuss the Value of Benoit Items 10 Years Later
---
PWTorch Collectibles Specialist Michael Moore can be reached at michaelmoorewriter@gmail.com. Follow him on Twitter @MMooreWriter.