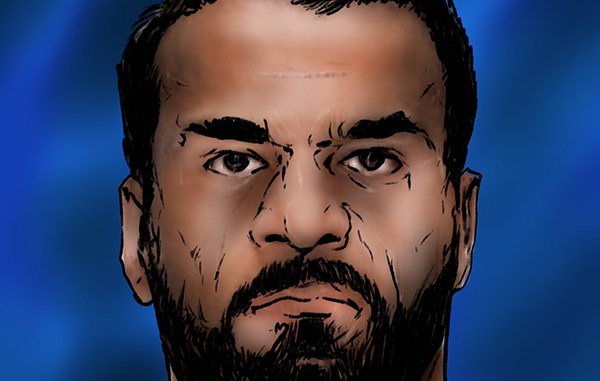 ---
SPOTLIGHTED PODCAST ALERT (YOUR ARTICLE BEGINS A FEW INCHES DOWN)...
---
SMACKDOWN PRIMER
JULY 18, 2017
BIRMINGHAM, ALA. AT THE LEGACY ARENA
By Joey Galizia (@RamJam89), PWTORCH SPECIALIST
"TRAVELING PRISON"
I'm not one to bad mouth the WWE. The truth is that its professional wrestling and it's suppose to be silly and entertaining and once in a while blow your perpetual socks off. However, it seems silly to me that Jinder Mahal, who was given all the essential tools to succeed, has had to be trapped into a feud with Randall K. Orton for the better part of three months. It's not that the two don't have chemistry, but this isn't a Roman/Braun dynamic.
With that said, Mahal will be brining his Punjabi Prison with him to Birmingham tonight in an effort to frighten the Viper. Randy has seen a lot of crazy #@$% in his long career, and becoming intimidated by one of WWE's other OTHER structure matches doesn't rank too high. 6 more days until they clash, and then hopefully, move on.
"TAG TEAM MAIN EVENT PLAYA PLAYA"
Now if there is something to get excited about it's the future for the 4 men included in tonight's tag match. New U.S. champ A.J. Styles and Shinsuke Nakamura will battle Mr. Money in the Bank Baron Corbin and former U.S. champ Kevin Owens. In case you haven't been keeping up: Styles defeated K.O. at a house show in MSG for the belt, and Shinsuke and Corbin have been beating each other so bad that every time a match is booked they have to be separated by officials. The two feuds are currently scheduled to conclude at Battleground which will give Summerslam a strong possibility of some DREAM bookings, but tonight in Alabama, a war should ensue.
"DEADLY ROULETTE"
Naomi may still be champion, but her next challenger prepares to make a big run. Who that challenger will be determined this Sunday as Charlotte, Becky, Tamina, Lana, and Natalya fight it out in a five-way elimination match. You'll notice that Carmella is not in the scenario, and that's because she could choose to have a match at any moment of her choosing, and it still waiting for the correct moment to strike. Odds haven't come in yet but it's really anyone's match. I just hope that Becky stays focused considering she's been picking a fight with Cyborg over the Twitter machine.
"ONE ALPHA LEFT"
-Chad Gable has been fighting solo for the several episodes of SD Live now, and seeing as his former partner turned out to be Kurt Angle's love-child, he'll probably need to start picking up some W's since he's now a singles star.
-As much fun as rap battles are, they won't win you championships. (At least not in wrestling.) Last week Xavier woods scored a victory over Jimmy, so can the Superkicking Samoans respond tonight?
-People are aware that there are two "America Sucks" storylines going at once yes? And that both of those storylines are happening on the same brand specific show? Okay just checking. Anyways Cena and Rusev will have a flag match and this all just seems like a holder until Summerslam so let's just call it what it is.
-Sami Zayn may still be picking glass out of his head after Mike Kannelis smashed him over the head with a glass jar. Hopefully the likeable one was able to do some strategizing, because he'll be facing Maria's husband in a matchup tonight!
-The Fashion Police are still hard on the case of who destroyed their office. My main guess was American Alpha, but seeing as that's no longer possible…WHO…WHO…WHOO…could have done it?
-205's big angle tonight will conclude the Mustafa Ali and Drew Gulak "no high flying" storyline and WOW how did  Talking Smack get canceled and the cruiserweights show didn't?
Go-home show for Battleground. You in?
---
NOW CHECK OUT LAST WEEK'S COLUMN: SMACKDOWN PRIMER 7/11: Jinder Mahal-Randy Orton, Styles-Owens U.S. Title change fallout, Baron Corbin-Shinsuke Nakamura, Cena-Rusev