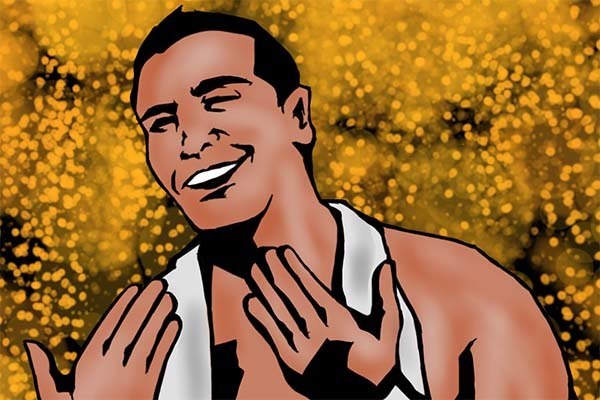 ---
SPOTLIGHTED PODCAST ALERT (YOUR ARTICLE BEGINS A FEW INCHES DOWN)...
---
HITS
Grado And Laurel: Two weeks in a row now, Grado's quest for love finds itself a hit here. For those who don't find this amusing, it's probably quite painful. But the absurdity of the two having a date in a hotel lobby while Laurel is in her six-month old wedding dress and Grado is in his wrestling singlet is pretty ridiculously funny to me for some reason.
Drago's Promo: I was a bit concerned when Drago first appeared in GFW. His Slammiversary appearance was underwhelming, and then he showed up on TV wearing a t-shirt on Impact. It looked goofy. Some of that presentation was fixed when they aired a sitdown interview with him where he played up his supernatural character. Now they need to go further on the presentation and give him a unique ring entrance. His match against Sammy Guevara on the show was short but strong. Hopefully he sticks around for awhile and becomes one of the centerpieces of the X Division.
MISSES
Karen Channels Stephanie: For the first time ever, Impact ran one of those WWE-like charity videos right in the middle of the show. And just like WWE, they had a heel in Eli Drake being nice to kids in it. There were 15 babyfaces on the roster they could have asked to attend instead! Or, have him go do the event but leave his footage out of it! Beyond that, Karen Jarrett did her best Stephanie McMahon impression and was the focal point of the piece. Yes, charity is a good thing, but the way wrestling promotions go about it make it look all so incredibly self-serving.
Karen Channels Stephanie Some More: Who's the baddest woman in all of the Knockouts Division? It sure isn't Sienna or Rosemary. It's Karen Jarrett! Much like Steph, Karen talked down to Sienna, who is the top heel in the division, and then even pulled her hair! Considering Sienna vs. Karen in a match is highly unlikely to happen, it's a complete waste of time and damages the star power of the actual wrestlers.
Bruce's Heel Turn: Let's put this as a miss for now. Bruce Prichard has been a lousy character so far on Impact, due in large part to his role not being well-defined. What doesn't make sense is that he's now acting like a heel, but why would Karen Jarrett and Dutch Mantell stand for that? If Bruce quits the management team to form a stable and doesn't overshadow the wrestlers, then this could be a good move. Those are some big "ifs" though.
Super El Patron: At the end of the show, LAX had El Patron's father and brother held hostage. Instead of bolting down to the ring to save them, El Patron stood on the stage and told them to stop. He then reluctantly agreed to join the group…and then beat everyone up by himself. The coolest act going on Impact by far was manhandled by a guy who was a forgettable midcarder in WWE the last time he was on the national scene. It felt like if Hulk Hogan from The Millionaires Club took out The New Blood by himself. Even if El Patron is the GFW Champion, and even if there wasn't all of the outside the ring drama, he's still crazy over pushed. Once again, GFW is sacrificing their future for someone who peaked as an act years ago.
Whiney Sydal: This was just odd. Matt Sydal won an X Division match, then took the mic and asked for a title show. Bobby Lashley took to the ring and then demanded a Heavyweight Title shot. Instead of standing up to him, Sydal was on one knee yelling "No! This is about the X Division Title!" Then he was beat up. Also, negative points to GFW for jobbing out Low Ki again, who they look to be moving away from. Not sure what they see in Sydal as the potential face of the X Division. If he was going to be a big star it probably would have happened somewhere over the course of the past 13 years.
Swole: Eli Drake and Chris Adonis need to be fired immediately. They are so terrible at their jobs of professional fighters that they can't beat up a football player or two guys who have zero in-ring experience. A couple months ago, Adonis held his own in a main event with Alberto El Patron. So within GFW's narrative, the Swole guys are basically as good as their World Champion.
Overall Show: Too many random matches, too many authority figures, too much of Alberto El Patron's family drama, which was once again overshadowed by his real-life drama (when the show was aired, as he is no longer under investigation for the domestic incident). A few months ago, the product felt kind of exciting with the returns of Matt Morgan, Magnus, ODB, the debut of Cody Rhodes, and the hot storyline of Eddie Edwards and Davey Richards. But nothing good came out of any of that! The best thing going now is LAX and they just got beat up by one dude. The talent is there, but the creative direction continues to be a huge mess.
---
NOW CHECK OUT LAST WEEK'S COLUMN: GFW IMPACT HITS & MISSES 7/14: Grado's Quest for Love, ACH vs. Everett, Trevor Lee Wins, Laurel's Dress, Alberto, Grand Championship