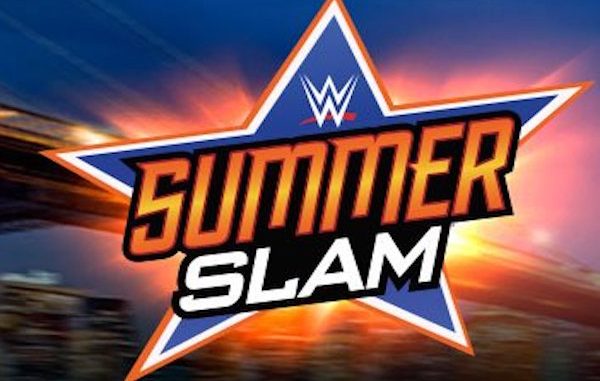 ---
SPOTLIGHTED PODCAST ALERT (YOUR ARTICLE BEGINS A FEW INCHES DOWN)...
---
SMACKDOWN MATCHES
TAG TEAM CHAMPIONSHIPS: NEW DAY (c) vs. THE USOS
These two teams provided the only source of entertainment during Smackdown's last PPV and it is extremely surprising to see this match buried on the Kickoff Show. Nevertheless, New Day and The Usos have done a great job building up tension between one another leading into this title match. The finish here will be interesting to see given that no other tag teams have been heated up enough to challenge for the blue brand's Tag Team Championships moving forward. (I feel like I have been saying that for 3 months now, but unfortunately it is still true.) The only downside to this has been that we have seen these two teams interact on television in some form or fashion every single week since the end of May.
The New Day have a fantastic ability to flip a switch and move seamlessly from entertaining the crowd to being ready for a fight, and we will need to see more of that from them at Summerslam. With how well The Usos have done, really positioning themselves as physical threats to Big E, Kofi and Xavier, New Day will need to be on their game and match the intensity both Jimmy and Jey will bring. If New Day were to come out victorious it could open the door for another team to challenge them moving forward as WWE resets and looks towards the fall and winter. If defeated, I am not sure they will need to be protected all that much, as this rivalry really has been a battle of two elite teams trading victories.
The Usos just need to stay the course here. They have proven that they are a valuable commodity as heels in WWE and still have a lot of milage to get out of this new persona. It is almost in their nature to devise some plan to get an advantage, and I suspect that to happen on Sunday. A win for the twin brothers will assure that this feud continues with the babyfaces in the chase while The Usos get even more heat for the way they won. If Jimmy and Jey are unsuccessful, it will be much more about the story WWE is trying to tell and not one bit about how they are viewed on the roster. This feels much more like a continuation than a blow-off match.
Prediction: The Usos
---
RANDY ORTON vs. RUSEV
Rusev didn't have an opponent at Summ
---
erslam. Randy didn't have an opponent at Summerslam… and here we are. This match is built solely on neither man being afraid of the other and an RKO out of nowhere on the go-home episode on Smackdown. Lets be honest here, Randy Orton is too big a star not to be on the Summerslam card and Rusev is just so good at making legends and legacy stars look good, isn't he?
While Randy has hardly anything to lose or gain here, this match will be very telling as to how WWE views Rusev and how he fits into the Smackdown roster. Unlike Raw, it seems that the top of the Smackdown card is wide open with AJ holding the United States Championship and John Cena potentially moving to Raw. By no means am I implying that if Rusev wins here he would be next in line for a WWE Championship shot, but beating someone like Randy Orton at such a big PPV will absolutely help Rusev's standing. With Randy's methodical, paint-by-numbers match structure Rusev will need to take it upon himself to create opportunities to shine and seize the moment. Should Rusev lose here it would not be a good look and leave fans wondering if WWE has any plans for him in the immediate future. Whoever loses could just get a win back on Tuesday when they run 3 or 4 Summerslam rematches though, right?
Prediction: Randy Orton
---
JOHN CENA vs. BARON CORBIN
In a mother match that was pretty much thrown together a few weeks before Summerslam we see John Cena squaring off against Baron Corbin. It seems like quite the unlikely pairing but could serve as a way to start writing a new story for Corbin while Cena heads over to Raw. JBL made it a point to tell us how furious Baron Corbin will be heading into Summerslam after his failed attempt at cashing in his Money in the Bank contract which will be something to look out for on Sunday. On paper, this match may not seem like it means much but it is far more significant that we think.
John Cena just lost clean to Shinsuke Nakamura on TV which he himself said is something that rarely happens. As fans, we know that Cena is winding down his career in the ring and WWE needs to be very careful with how much he loses and to whom. If "Big Match John" were to come up short against Corbin, clean or not, it won't exactly hurt his character but may tarnish what it means to beat him quite a bit. John Cena is a legacy star and an attraction for any WWE event, and could be influential in helping to make the stars of the future. To do that, he needs to win big matches so his losses still mean something. If Cena does pull out the win it is much more of a detriment to Corbin that good for Cena, so it will be interesting to see how WWE sees this playing out.
Make no mistake about it, this is the biggest match of Baron Corbin's career. Coming off of a poor outing where he looked very foolish in losing to Jinder Mahal after the cash-in, Corbin needs to hit Cena with everything he has. A win here would be a massive lift for Corbin. Beating John Cena at Summerslam would absolutely give him the ammo he needs to ask for a WWE Championship match, and his recent history with Nakamura could make for an interesting title match should Shinsuke be successful on Sunday. On the other hand, a loss here would be quite devastating. Without the briefcase to fall back on, Corbin would be coming off of two major losses that could send him into a tailspin. That, however, could be all a part of the long-term storytelling to get Baron over down the road.
Prediction: John Cena
---
WOMEN'S CHAMPIONSHIP: NAOMI (c) vs. NATALYA
It is awfully strange to see a Summerslam card without Becky Lynch or Charlotte Flair. What we have is Naomi vs. Natalya in a match that is much more about Carmella than the two participants. In the weeks leading up to Sunday we have seen little tension between Natalya and Naomi aside from them bickering about who will come out victorious.
Natalya has been begging for an opportunity like this for years. She is by far one of the best in-ring workers either Women's Division has but struggled to connect with the fan base or garner any real reactions from live audiences. This will be her opportunity to show the world what she can do in the ring and has a very athletic dance partner in Naomi. Should Natalya come up short it would likely be a "back of the line" situation with Lynch and Flair waiting in the wings, regardless of how good of a match this turns out to be. If victorious, there would be a guaranteed rematch but the planning here might be a bit more long term. Assuming Becky and Charlotte factor into WWE's Wrestlemania plans, this would be a perfect opportunity to get the title on a heel who would be able to start a program with either babyface.
Naomi is very much in an all or nothing scenario on Sunday. If she does come out on top, it would almost ensure that she will be carrying the championship for a while longer as there are no true heel contenders for her title at the moment. Carmella would choose to cash in rather than challenge Naomi one on one, Lana is helping Tamina crush better and Tamina is still learning how to crush. Not exactly a lofty list of legitimate opponents. Should she lose, however, the aforementioned Lynch and Flair would leap frog Naomi almost immediately should she lose her rematch. How Naomi is booked and protected in this match will be a very interesting story to watch out for on Sunday.
There is, of course, the possibility of Carmella cashing in during or after the match.
Prediction: Natalya
---
UNITED STATES CHAMPIONSHIP: AJ STYLES (c) vs. KEVIN OWENS
In watching the recent Kevin Owens vs. AJ Styles matches it really seems like they have been saving a lot for one big match. This might just be it. Shane McMahon being added as a special referee adds a ton of intrigue and a different layer to this contest.
The likely scenario that plays out here sees AJ Styles walking out of Barclays Center with the United States Championship. AJ is one of the most popular wrestlers on the roster and can be vital in bringing new life into the title. His promo talking about making this championship belt a sign of excellence resonated with the crowd and he is the best choice for the company to do so. Unlike other championships in WWE, there are enough contenders for this title to not only stay relevant, but also build credibility in it moving forward. If AJ does defeat Owens there will be a line of wrestlers ready and waiting for a shot. Should AJ come out on the losing end, I am not sure he would need to be all that protected. It has been made clear that these two are considered almost equals and it would be likened to the saga that played out between Sasha Banks and Charlotte. Two of the best trading back and forth.
For Kevin Owens this match seems to be much more about setting up an encounter with Shane McMahon. It has been building for weeks and the addition of Shane as the guest referee, along with how tense their interactions have been throughout this build makes for an interesting scenario. The likely outcome here would see Owens come up short against AJ and take out his frustrations on McMahon. It will be interesting to see how this all plays out in the finish, but it is clear that Owens is lined up for a major push. While most fans do not see a match with Shane as a "reward" or a "step up" the card, WWE sees that as one of the biggest spots to be in. This match will be the spark that lights Owens up heading into the fall. I am expecting a fantastic match.
Prediction: A.J. Styles
---
WWE CHAMPIONSHIP: JINDER MAHAL (c) vs. SHINSUKE NAKAMURA
It is a little strange to be heading into such a big PPV with a relatively cold WWE Championship match. The contest between Shinsuke Nakamura was born in a #1 Contenders match and not out of conflict. Jinder has continued to claim that WWE fans don't accept him because of the way he looks and speaks while Nakamura has been playing up his zany Artist persona. Though lacking a ton of tension, this match is most certainly one of the hardest to predict and could be an opportunity for both competitors to turn some heads backstage.
Jinder Mahal has not exactly stood out as a totally legitimate champion. He has cut the same promo for 2 months straight, lost clean to Randy Orton in a non-title match, and was a 3-count away from losing to John Cena clean before Baron Corbin broke it up. This match is a massive make-or-break for Mahal but if he were to conquer Nakamura it wouldn't exactly be the most surprising outcome. WWE is headed on its tour of India in September and well… Thats why they did this in the first place isn't it? That is what would make a Mahal loss that much more significant. For WWE to take the title off Jinder on the heels of a loop around his "home country" would be such a telling sign as to how Vince and company sees Mahal moving forward. A victory gets Mahal to India as Champion, but how much longer will it last? Smackdown ratings are much lower than before he won the title and with such a stacked roster it is hard to see WWE moving forward with The Maharaja past September.
It is crazy to think that Shinsuke Nakamura's first World Championship opportunity would come against Jinder Mahal. Imagine someone telling you that after he defeated Sami Zayn at NXT Takeover: Dallas last April? Nakamura's push since joining the main roster has been concerning at times but here we are with him challenging for the company's top championship at its second largest PPV. One thing we can rely on is that Shinsuke will not lose this match clean. With the Singh Brothers at ringside and the importance of keeping Nakamura strong, Jinder's lackeys will absolutely take part in the finish should The Maharaja come out on top. If Nakamura does walk out of Brooklyn with the WWE Championship it will be a huge vote of confidence from WWE. Either way, we need to see the Kind of Strong Style at Summerslam. It seems as if Nakamura has held something back since arriving on Smackdown and this would be the perfect spot to unleash his fury.
Prediction: Jinder Mahal
---
RAW MATCHES
JASON JORDAN & THE HARDY BOYZ vs. THE MIZ & THE MIZTOURAGE
Considering the injury to Scott Dawson and the inability of Jason Jordan to get over with the crowd as Kurt Angle's son, this very much seems like a Plan B for WWE. The main focus here will be to legitimize Jordan as a babyface by teaming him up with Matt & Jeff to take on three guys everyone loves to boo. The layout of this match will be interesting to watch as their performance on Raw saw Jordan in more of a supporting role while The Hardys laid in most of the offense for their team. I suspect this contest will be much different and used as a vehicle to further showcase JJ's abilities and demeanor in the ring.
The only outcome that matters here is the pinfall Jordan will likely score on Miz to set up a future Intercontinental Championship match. It will be a hot Brooklyn crowd so they will let him know how he is doing, one way or another. Make no mistake, this is a big night for Jordan's character and future on the Raw card. It is just such a shame to see a full Summerslam card without an Intercontinental Championship match.
Prediction: Jason Jordan & The Hardy Boyz
---
CRUISERWEIGHT CHAMPIONSHIP MATCH: AKIRA TOZAWA (c) vs. NEVILLE
In an extremely puzzling move, WWE decided to end one of their longest current title reigns on Raw which saw Akira Tozawa defeat Neville. They will meet again at Summerslam in a rematch to see who the true "King of the Cruiserweights" really is. My question – If a tree falls in the woods and no one hears it, did it actually happen?vWWE has done 205 Live no favors and while this title switch should have, and could have, been a major story coming out of Monday it was just got lost in the shuffle. This rematch is incredibly important for two reasons, getting the CW Division back on track and to see if Tozawa really is the chosen wrestler to humanize the unstoppable Neville.
WWE has tried so many different ways to provide a really intriguing feud at the top of the Cruiserweight Division including guys like TJP, Rich Swann, and Austin Aries who have all had good matches with Neville but never really garnered any interest from the fans. This is largely due to how 205 Live has been presented. If these two can tear the house down in Brooklyn it could be a turning point for the show and division, however its placement on the Kickoff Show gives us an idea that Vince McMahon may not care all that much.
A Tozawa victory here could be significant if WWE would like to move Neville back into the heavyweight division and move away from this feud completely. Should Neville be victorious it will be made clear that he is there to stay and will likely battle Tozawa a few more times with no one else in the division anywhere close to being ready for a title opportunity. I wish I could say I am more excited about this match but hope both guys perform as well as they can to raise their stock.
Prediction: Neville
---
BIG SHOW vs. BIG CASS
Thankfully the viewers of this match will have Enzo Amore hanging from a shark cage to keep us entertained. Aside from the devastating knockout punch Big Show landed on Cass a couple of weeks back, any involvement these two have had has been sloppy and hard to watch. We know Big Show is capable of having tremendous matches with guys like Braun Strowman and Mark Henry, so there will be a lot of pressure on Cass this Sunday to hold up his end of the bargain.
The most interesting thing to look out for with Big Show in this contest is how willing he is to sell for Cass. Recently on Talk is Jericho Big Show talked about a match he had with Jinder Mahal at a house show, right before Mahal's major push began. Show saw how hard Jinder was working and suggested having a longer match where he allowed Mahal to really get the upper hand while Show sold like crazy for him. Big Show also stated that he doesn't do that for just anyone, and with this potentially being one of Big Show's last major singles matches at a PPV he will not be going down without a fight. Examining Show's eagerness to work with and sell for Cass will be be a very telling sign as to how he is viewed both by the locker room but also Vince and his team.
This is a big match for Big Cass and his performance on Sunday will have a major impact on his trajectory moving forward. Raw has become the land of the giants and with a crowded top half of the card, in which guys like Finn Balor, Bray Wyatt, Seth Rollins, Dean Ambrose and others cannot even scratch right now so the barrier to entry is quite high for Cass with many worthy competitors in front of him at the moment. It will be important to see something new from Cass aside from his corner splash and Empire Elbow if he truly wants to stand out and get noticed. A victory here would be nice, but he could always be protected should Enzo find a way to get involved. This one is all about his in ring work and how he carries himself.
Prediction: Big Cass
---
TAG TEAM CHAMPIONSHIPS: SHEAMUS & CESARO (c) vs. DEAN AMBROSE & SETH ROLLINS
From a booking and performance standpoint this has been one of the best and most entertaining rivalries heading into Summerslam. There has been a real conflict between the two teams which has brought Dean and Seth back to the days of the Shield. All 4 men should be commended for how well they have done since this program started and I expect this to be a sleeper pick to steal the show in Brooklyn.
Sheamus and Cesaro have really found a niche and seem so much more comfortable as a team these days. Their timing is fantastic and the way they interact with one another ages you believe these two really are on the same page. A victory here would be a massive one. Defeating two top stars on Raw would be a huge notch in the belts of The Bar as they push forward towards the fall. Typically in these scenarios, the victor's win does not mean as much because they were the traditional tag team up against two singles wrestlers that were thrown together. Not in this case. Rollins and Ambrose solidified their partnership last week and have defeated many people together. If defeated, Sheamus & Censaro will have nothing to hang their heads about. They have donated the Raw tag division and would have lost to two former world champions. The only negative storyline coming off of a loss would be the tease of a break-up, but a solid losing performance would only enhance their credibility even further.
This match is a big one for Seth Rollins and Dean Ambrose. Both are former main event players that sort of got lost in the shuffle over the past 2-3 months. The (semi) Shield reunion garnered a massive pop and fans are so excited to see what these two can achieve now that they are a team. A Tag Team Championship victory would be a fantastic feel-good story for these two in a time where a lot of PPVs have lacked such moments. Should the team of Rollins and Ambrose come up short they would need to be protected. It would be a shame for this to be built up so much with a very poor pay-off. Trickery from The bar could prompt a rematch of some sort to help this story move into its next chapter. Also, much like Smackdown, there are very few teams on Raw that could heat up quick enough to challenge Sheamus and Cesaro should Seth and Dean get beaten. They could default to The Hardy Boyz, but that program just finished up not too long ago. Lastly, the fist bump heard round the world happening a week before Summerslam rather than at the PPV event itself could be telling as to who will come out on top here.
Prediction: Seth Rollins & Dean Ambrose
---
FINN BALOR vs. BRAY WYATT
After a bucket of fake blood was poured over the head of Finn Balor the WWE Universe learned that we will be reintroduced to The Demon King as he squares off against Bray Wyatt this Sunday. While I do believe this will be a very good match and an interesting clash of styles, it seems like a pretty open and shut case.
---
Bray Wyatt just doesn't win feuds and Balor went out of his way to state that he knows Wyatt cares much more about hurting his opponent than actually winning the match. Balor is set for a major push following Summerslam and needs to look as strong as possible for when he finally receives his Universal Championship rematch. Wyatt has lost so many times it would be foolish to have him go over here. The most important thing here for Bray will be to work the best match possible and put himself into a position where he can work a meaningful feud once this one concludes. The Demon King will NOT lose in Barclays Center one year after beating Seth Rollins unless something completely out of the ordinary happens.
Prediction: Finn Balor
---
WOMEN'S CHAMPIONSHIP: ALEXA BLISS (c) vs. SASHA BANKS
It is a tough break for WWE to see Bayley injured so close to Summerslam. It seemed as if they had finally gotten her character back on track and this could have been her crowning moment. Instead we see Alexa Bliss defending her title against Sasha Banks in a rematch from Great Balls of Fire. They had a great match on that evening, and I expect nothing less on Sunday.
While Sasha is the fill-in for this match do not sleep on her regaining the Raw Women's Championship. She is still one of the best wrestlers on the red brand's roster, seems to be gaining momentum each and every week with the fans, and could carry a 2-3 month long program with Alexa with the way these two are able to interact with one another. Should Banks lose, given the circumstances of how she got into the match in the first place, it is no guarantee that she will be protected. A defeat should not be read into so much though. She was not the original chosen opponent for Bliss and should there be any funny business during the finish she could easily get a rematch on Raw the next evening.
After a very hot winter and spring for Alexa Bliss she has cooled off a bit in the summer. Most of that has been due to the way she has been positioned, and the lack of time the women have gotten on Monday's lately. Win or lose Bliss could really benefit from a top notch performance in the ring with Sasha. One thing that Bliss has not done is take a massive risk. Whether it be a dive off the top or executing a new move no one has seen, most of Bliss' memorable moments have come on the mic and not in the ring. A victory would likely see her match up against Nia Jax next, and a loss would guarantee a rematch with Banks, but the most important thing here for Bliss is to take a massive step forward with her in-ring work.
Prediction: Alexa Bliss
---
WWE UNIVERSAL CHAMPIONSHIP: BROCK LESNAR (c) vs. BRAUN STROWMAN vs. SAMOA JOE vs. ROMAN REIGNS
There is no doubt that this is the most anticipated match of Summerslam pitting 4 of the hottest wrestlers in the world up against one another. Each man, plus Paul Heyman, have done an absolutely tremendous job building to this with so many teases and pull apart I cannot even begin to keep track. While there may have been a bit of over saturation with how much these 4 have interacted on TV this will be on heck of a spectacle when the bell rings. Add in Brock Lesnar's possible UFC match and Heyman's declaration that he will leave WWE if he doesn't retain his Universal Championship and we have one heck of an unpredictable main event.
The two men that could benefit most from winning here is Braun Strowman and Samoa Joe. Both men have taken much different paths to get into this match but each man's push has been logical, well played out and protected. They are both extremely credible wrestlers that would absolutely be believable champions should they walk out of Brooklyn with the Universal Championship. Joe has proven that he can stand toe to toe with The Beast while Braun has been destroying Roman Reigns for the better part of 2017. Both men have absolutely built a case for why they should be champion, and being that it would be their first ever title win in WWE it would make the moment that much more special.
For Roman Reigns and Brock Lesnar, things are a bit more complicated. Roman is still being rejected by a large part of the fan base. His matches on Raw and Pay Per View have been first class but fans still see him as a miscast wrestler and the chosen one. While plans can change, it is widely known that WWE's plans for the Wrestlemania main event is Roman Reigns vs. Brock Lesnar for the Universal Championship, with Reigns being the challenger. If that is the case it would be foolish to have Roman win on Sunday when you can tell a much longer story culminating in April. Roman's job in this match is to be the pin cushion with a massive babyface comeback. He has the opportunity to show that new fire he has been displaying in front of a Brooklyn crowd to win them over. That could be the start of making his coronation at Wrestlemania much more positive than negative.
Brock Lesnar's looming UFC fight throws so much of this match into the air. Fans everywhere are playing out so many different scenarios in which Lesnar could lose that match without getting pinned or submitted, but will he even lose? Paul Heyman has been reiterating week after week that his client has been put in an impossible situation and his odds to win the match are next to nothing. Is he telling the truth? Or is this Mr. McMahons reverse psychology at its finest? We know that Lesnar will be fighting in UFC, and it is up to Vince and company to determine whether or not that will effect his standing as Universal Champion.
Regardless of who wins this match, I find it very hard to see anyone involved coming out of Summerslam worse off than when the match started. It should be an all out war in which all 4 men will be able to shine and carry on strong storylines moving forward. I cannot wait for this one.
Prediction: Samoa Joe
---
NOW CHECK OUT THIS ARTICLE: NXT TAKEOVER BROOKLYN III PRIMER: Roode vs. Galloway, Asuka vs. Moon, Almas vs. Gargano, Itami vs. Black