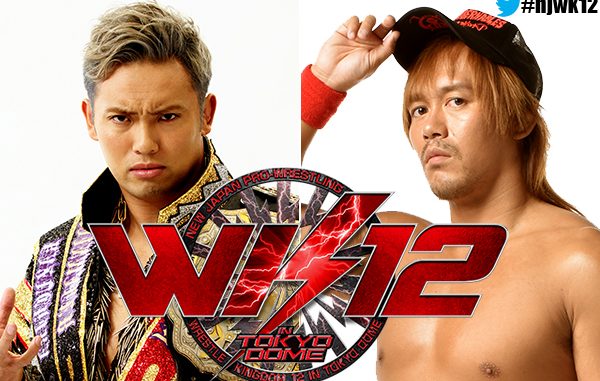 ---
SPOTLIGHTED PODCAST ALERT (YOUR ARTICLE BEGINS A FEW INCHES DOWN)...
---
RADICAN'S NJPW "WRESTLE KINGDOM 12" BIG MATCH SPOTLIGHT
IWGP HVT. CHAMPION KAZUCHIKA OKADA VS. TETSUYA NAITO
TOKYO, JAPAN
AIRED LIVE ON NJPW World
IWGP HVT CHAMPION KAZUCHIKA OKADA (w/Gedo) VS. TETSUYA NAITO
The pre-match video package showed Naito doing a sit down interview with the G1 Climax briefcase. Footage of Naito was shown before and after his transformation to his current gimmick. They showed highlights of Naito facing Okada at the Tokyo Dome for the IWGP Hvt. Championship in a losing effort after he won G1 Climax 23. That was the match that was placed in a semi-main event after a popular fan vote.
They showed Okada laughing a smiling talking about the match in Japanese. The clips showed Okada hitting a rainmaker on Naito at their first dome main event. The video package definitely did a good job of establishing that they are two very different people since their first dome match.
Tetsuya Naito was out first and the fans lapped along to his music and chanted his name as green lasers shot all around the arena. What an atmosphere. Naito came out wearing a cape, a white suit, and what appeared to be a wolf mask. Fire shot up as Naito made his way to the ring. The Naito chants got louder and louder as he made his way to the ring. What a moment with Naito finally getting his Tokyo Dome main event.
A video played showing Okada from different angles as the Tokyo DOme went dark. Okada flicked a coin and it landed. The fans gasped and hit theme music kicked in. WOW! Okada then appeared on the stage accompanied by Gedo. Okada glared at the ring and hit the rainmaker pose from the top of the ramp as Okada money fell from the roof. The announcers hit on Okada being the longest reigning IWGP Hvt. Champion in the history of NJPW. The fans fired up once Okada hit the ring and hit his pose. Naito was shown not even looking at Okada, who was posed in the background. What a shot that was! WOW! The NJPW production team has gotten some really great shots of the dome and the wrestlers. The announcers said Okada has a cobra hold that can counter the destino of Naito.
Naito slowly took his clothes off. Okada was wearing long tights for the first time. With a mix of gold and several other colors. Naito was finally ready and Red Shoes called for the bell. The fans went nuts chanting for both men after the bell rang. Naito is wearing black and red trunks with white boots.
MATCH HIGHLIGHTS
Naito kept ducking tieup attempts from Okada. Okada finally went after him and they ended up in the ropes. Naito teased a chop and backed away. He then nailed Okada with a kick to the gut. They picked up the pace and both guys went back and forth. Naito duked a clothesline and hit his pose in the ring and the fans fired up. Okada just looked at him with no emotion. Natio went to the floor to stall. Natio went on the attack, but Okada countered him in the corner and hit his signature dropkick to send Naito to the floor. They brawled near the barricade and Naito snapped Okada's neck over it. He then turned Okada around and hit a neck breaker over the guardrail. Calis mentioned that Okada's neck has been an issue for him during the past year. The action eventually ended up back in the ring and Naito hit a missile dropkick for a 2 count. Naito continued to target Okada's neck inside the ring. Naito hit his signature dropkick in the corner followed by a neck breaker. He made a light cover and only got a 2 count. He then worked a cravat on Okada as the fans gasped. Okada finally mounted a comeback and went on the attack.
Okada was rolling after hitting a running kick all the way around the ring on the outside and then a draping DDT on Naito off the guardrail. Once they got back into the ring, Naito cut him off and went right back to work on his neck. Okada flipped out of destino and hit a big flap jack on Naito and both men were down. Okada went up top and dropped an elbow. He hit the rainmaker pose, but Naito elbowed out of it right away. Okada then grabbed a cobra clutch, but Naito fought out of it. They went back and forth and Okada got the cobra clutch again. Okada got the cobra clutch on the mat and the fans fired up as Naito struggled to free himself. Okada maintained the hold when Naito tried to stand up and roll through on him. The fans fired up and Okada screamed and applied more pressure. Naito suddenly scooted to the ropes and got the rope break he needed. Okada fired back and tripped Okada on the apron. He draped Okada over the top rope and hit a big neck breaker!
Naito placed Okada up top a short time later and hit a poison hurricanrana for a near fall that had the fans gasping. That was nuts. Naito hit Gloria and went up top for the stardust press, but Okada got out of the way. Seeing Naito go old school was crazy. The fans fired up as both men regrouped. Kevin Kelly asked if the long reign of Okada would end tonight. They got up and began exchanging blows. They ended up exchanging forearms at the same time, but Naito got the better of Okada, wh9o went down to one knee. They went back and forth trading kicks until Okada sent Naito flying across the ring with a shotgun dropkick. Naito fired back with a flying forearm and both men were down once again! Naito placed Okada up top a short time later.
They traded punches until Okada sent Naito down to the mat. Okada set up to the side of the turnbuckle and went for a dropkick, but Naito got out of the way. Naito hit a slam and went up top. Okada got right up and grabbed him down off the top. Naito held onto the ropes for dear life. Okada kept pulling and he finally freed Naito and hit a HUGE German suplex. Okada held on and went for a rainmaker, but Naito ducked it. Naito came off the ropes and went for a forearm, but Okada got out of the way and hit a rainmaker for a near fall. WOW! The replay showed that Okada got all of that rainmaker. Okada stood over Naito and slowly lifted him to his feet. He went for a tombstone, but Naito tried to fight out of it. Naito finally slid out and over Okada, but he collapsed to the mat.
At around the 30 minute mark in the match, Okada ducked an enzuguri from Naito. He applied the cobra clutch again, but Naito slid out and hit destino out of nowhere and both men were down. The fans fired up with both men down on the mat. They got to their knees and began exchanging blows as the 30 minute mark was passed. They continued to trade blows and got to their feet. Okada glared and then continued to trade blows with Naito. The pace picked up as both guys began tagging each other with forearms and the crowd chanted along with each one. Okada ran out of steam and had nothing behind his forearms. Naito spit at Okada and slapped him across the face. Okada collapsed to the mat. Okada countered Naito in the corner, but Naito countered him as he went for an Alabama slam and hit a modified code red for a near fall. Okada blocked destino and hit a HUGE rainmaker before collapsing to the mat. Okada hung on to Naito's wrist like he did against Tanahashi at WK 10. The fans were going crazy at this poiint.
Naito ducked a rainmaker and hit destino for an insane nearfall. You've got to be kidding me! WOW! This match has been very different than Jericho vs. Omega, but it's been an incredible, long, and drawn out war. The fans fired up and Naito screamed. He went for another destino, but ate an elbow from Okada. Okada hit an uppercut and staggered while favoring his head. Naito hit a step-up enzuguri. He then caught Naito with the too awesome dropkick. The replay showed the incredible height Okada got on it. The fans fired up and Okada went for the tombstone and hit it as Naito was kicking his legs. WOW!
Okada screamed and set up for the rainmaker, but Naito countered it into the destino. He went for a second, but Okada hit a jumping tombstone. Okada held onto his neck and grabbed Naito. He then obliterated him with a rainmaker for the win. Calis said Naito was knocked out from the last rainmaker.
The announcers questioned if anyone would ever beat Okada. Gedo jumped into the ring and celebrated with Okada, who slumped into the Okada.
They did a ceremony after the match and placed the belt around Okada's waist. Naito was shown collapsing as he tried to make his way to the back. Gedo got on the mic and had some words from Naito. Okada stood slumped over as Gedo cut a promo that fired up the fans.
Okada grabbed the mic and had some words for Naito. He talked about Tokyo Dome main events. Naito smirked at him as he continued to talk and the fans applauded.
As Okada made the long walk to the back, Kelly noted they had sold 34,995 tickets and over 40,000 were in attendance with comps. He plugged New Years Dash on NJPWWorld.com on Jan. 5.
Winner: Kazuchika Okada to retain the IWGP Hvt. Championship
Star rating: (*****)
MATCH ANALYSIS
This was very different from Jericho vs. Omega. Both guys took their time at the beginning and it was clear that this was going to be a long and drawn out war, as neither guy could maintain the advantage for long. One thing that became clear is that Naito and Okada are on another level from everyone else in the world except for perhaps A.J. Styles.
Going into the match, I wasn't sure what to expect. They told a really good story with Naito trying to work over Okada's neck and just never fully behind able to get any long sustained offense on Okada during the match.
The counter wrestling between these two was just at another level. They knew each other front and back, but the slickness and speed with which they pulled off counters during the match was something to behold. You just don't see wrestling that precise very often. The spot in the corner where Naito countered an Alabama slam attempt into a modified code red for a near fall was tremendous.
It seemed like it was Naito's time, but it looks like Gedo is going to be booking Okada as a dominant champion for some time to come. I think they can pull off another Tokyo Dome main event with these two for Naito to finally complete his journey and unseat Okada at the Dome like Okada finally did when he overcame Tanahashi.
It's very special to see someone wrestling as champion as Okada has for nearly the duration of the last two years. He is one one heck of a roll and it seems like he's conquered everyone in his path at this point. It will be a huge moment when someone unseats him. I would rank this match ahead of Jericho vs. Omega. Wrestle Kingdom 12 presented wrestling fans with a very special night.
***
Contact Sean at pwtorchsean@gmail.com. Follow Sean on twitter HERE. Follow and like Radican's Wrestling Community Facebook.com HERE