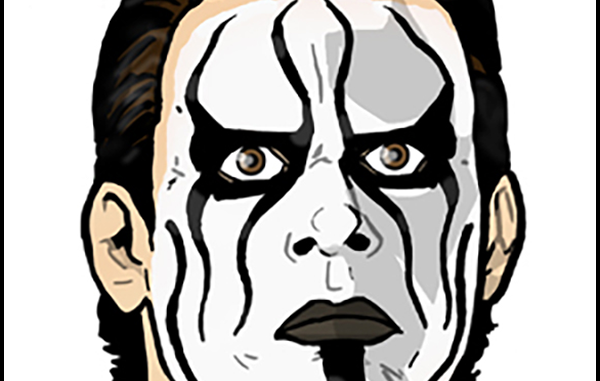 ---
SPOTLIGHTED PODCAST ALERT (YOUR ARTICLE BEGINS A FEW INCHES DOWN)...
---
The following report was published five years ago this week on PWTorch.com…
---
TNA Impact Results
March 28, 2013
Live in Jonesboro, Ark.
Episode #13 of 2013
Report by James Caldwell, PWTorch assistant editor
This week's TNA Impact opened with a video package documenting recent events surrounding Hulk Hogan's TNA roster against Aces & Eights. The video stressed Hogan's desire to have the TNA Title back in TNA.
Arena: Todd Keneley introduced the show from on-campus at Arkansas State University before plugging Open Fight Night. As TNA swung the camera around the arena to capture a full-looking section of the arena, Jeff Hardy's music played to bring out the #1 contender to the TNA World Title. Mike Tenay added his thoughts on Hardy earning the #1 spot last week on Impact. No Taz on commentary yet. Well, there he is. Taz said he was trying to be a gentleman giving Hardy his moment.
After Hardy took a victory lap around the ring, Hardy entered the ring to open the show verbally. Hardy shouted out to his Creatures, then noted he wasn't 100 percent last week, nor is he 100 percent this week, but he is better. Hardy said he tested himself last week against Angle, Joe, and Magnus, and he stands here as #1 contender. With that said, Hardy excitedly said it's Open Fight Night. Hardy said he's going to call someone out.
Suddenly, a voice interrupted shouting, "Blah blah blah," over and over. Out from the back of the arena emerged Bully Ray flanked by Devon. Behind them were the A&E henchmen. Ray told everyone in the arena to sit down and shut up. Ray slowly led A&E down the back entrance toward the ring before saying he's sick and tired of hearing Hardy's voice. Ray surveyed the crowd as TNA gave each A&E member some cameratime. Ray stepped onto the ring apron to ask Hardy if he was trying to call him out. Ray said they're not in Corpus Christi where the title will be on the line, so who is he calling out?
Mr. Anderson then stepped onto the ring apron and asked Bully if Hardy is really getting another second chance. Anderson said that no way happen. No wait, that happens all the time. Anderson said this guy gets third chance after fifth chance after 75th chance. Anderson said they don't get free passes because they don't need free passes. But, as long as Hardy isn't burning down buildings and keeps selling merchandise, rules don't apply to him. Anderson dragged this out even more by telling Bully that this guy is one disappointment after another. Anderson kept going that Hardy lost the title fair and square to Ray at Lockdown. Some ringside fans responded by chanting, "Please shut up." Anderson then said Hardy will be another disappointment in Corpus Christi in two weeks.
Hardy had enough and shoved Anderson off the ring apron. A&E then hit the ring to attack Hardy. Ray started swinging his chain, which finally brought the TNA roster into the ring to clear A&E from the ring. Angle, Joe, Magnus, and Eric Young led the charge making the save for Hardy. On the floor, Ray took the mic and said they're out of here. Hardy then took the mic and called out Anderson tonight.
So, it's Hardy vs. Anderson set for tonight's Impact.
Last Thursday: Daniels & Kazarian interfered in the Tag Title match, costing Chavo Guerrero & Hernandez the Tag Titles against Bobby Roode & Austin Aries.
Backstage: A camera followed Chavo and Hernandez around in the backstage area as they complained about Daniels and Kaz interfering in their business for the last time. Chavo said they take care of it tonight because it's Open Fight Night.
In-ring: Techno music was met by a puzzled response before Chavo & Hernandez walked out on-stage to be introduced for the opening match on the other side of the break.
[Commercial Break]
[Q2] Back from break, Chavo took the mic and asked Jonesboro how they're doing tonight. Guerrero said if you saw last week, then you know they were robbed of the Tag Titles. Not by Aries & Roode, but about a team they want payback on. Chavo said he talked to Hulk Hogan and there's been a stipulation added to the match – the winner is #1 contender to the Tag Titles. Chavo then called out Bad Influence to come get a beating.
1 — CHAVO GUERRERO & HERNANDEZ vs. BAD INFLUENCE (DANIELS & KAZARIAN) — #1 contender match to TNA Tag Titles
As the match started, the announcers explained what Bully was talking about in the opening segment about Hardy getting his TNA Title re-match in two weeks, per Dixie Carter's announcement on Twitter earlier this week. The goal is to push people to follow Dixie & TNA on Twitter to understand what's happening during the show, but the majority of TNA's audience just tunes in to Impact to watch wrestling for two hours, so they're often-times left in the dark. Bad Influence took control of the match, then Impact cut to break.
[Commercial Break]
Back from break, Kaz was in control of the match working on Chavo. Kaz mocked Chavo's Eddie Guerrero tribute dance, then slingshot leg-dropped Chavo. The crowd tried to rally with a "Let's Go Chavo" chant, which inspired Chavo to deliver a head-scissors, but B.I. retained control. Chavo finally had enough and delivered a dropkick before tagging in Hernandez.
Hernandez smashed the heels with offense before big-splashing them in the corner. Hernandez then received both B.I. members to deliver a double-shoulderbreaker. Hernandez posed too long after performing the move, then covered Daniels for a nearfall. After the highspot, B.I. tried to cheat to pin Hernandez, but Hernandez got his foot on the bottom rope. Daniels again tried to cheat to pin Hernandez, but ref Stifler saw it and cut off the pin.
[Q3] Hernandez followed with a sit-out powerbomb on Daniels, then Chavo climbed to the top rope, but he posed too long, allowing Kaz to shove down Chavo. Daniels then rolled up Chavo with a handful of tights, but Chavo kicked out before three. More chaos, then the teams set up a complicated spot leading to Hernandez slingshotting over the top rope to shoulder-tackle Daniels. Chavo then came flying off the top with a frogsplash on Daniels for the pin and the win.
WINNERS: Chavo & Hernandez at 12:10 to become #1 contenders to the Tag Titles. A little over-complicated at the end, but an overall decent match that will give Daniels & Kaz something to complain about after two run-ins with the referee.
Backstage: The roving camerman knocked on a door that produced Taryn Terrell. Taryn quickly opened the door and said she knows who she is calling out on Open Fight Night and what she is wearing.
[Commercial Break]
Last Week: TNA recapped Brooke Hogan "firing" Taryn Terrell as Knockouts referee before "re-hiring" her to the Knockouts roster.
In-ring: Taryn Terrell was introduced for the next Open Fight Night match. In the ring, she said she is so excited for her first official night as a Knockout. Taryn said she can get physical with anyone she wants, and there is one woman on the roster who has assaulted her, tormented her, and cost her her Knockouts referee role. Taryn then called out Gail Kim, which Taz said is crazy because Taryn can't hang with Gail. No sign of Gail, though.
After a pause, Gail slowly walked out on-stage laughing about this call-out. Once in the ring, Gail told Taryn it's a rookie mistake to call her out on her first night as a Knockout. Gail said not only has Taryn rubbed her the wrong way, but also someone else who wants to call her out tonight. Gail then brought out Tara to help take care of business. Gail spoke over Tara's theme music that Taryn actually thinks she can hang with them. This turned out to be an ambush on Taryn, but Velvet Sky's music played to bring out the Knockouts champion. Velvet helped clear the heels from the ring once it was two-on-two, then Velvet's music played. So, no bell and no match.
Still to come tonight: Jeff Hardy vs. Mr. Anderson.
[Commercial Break. A spot for The Rock's "Pain & Gain" movie aired. This was followed by another "G.I. Joe 2" movie spot.] […Q4]
[Q4…] Backstage: Velvet told the roving cameraman that she felt like she had to help Taryn tonight against Gail and Velvet. A fight then broke out among the four Knockouts, continuing the fight from the ring. Taz heeled on Taryn, asking if she needs anger management.
Announcers: The announcers plugged Gut Check returning next week on Impact. Behind them, bright orange and yellow letters took up most of the screen spelling out "NA4LIFE." Apparently a latter was missing from the camera shot. Tenay then fed to a video package on the Gut Check contest.
Backstage: Jeremy Borash was standing by to plug Gut Check. JB said facing off next week will be 17-year-old veteran Adam Pearce, who was shown sneering at the camera. JB then brought in Magno as Pearce's opponent. Pearce and Magno went face-to-mask as JB plugged their match next week.
Backstage: Sting was shown approaching Atlas Security standing in front of an office door. Sting shouted Security's shoulder that he will get through the door. Apparently it was Hulk Hogan's office, but it wasn't clear from Sting SHOUTING every other WORD.
[Commercial Break]
Earlier Tonight: Jeff Hardy smashed Mr. Anderson off the ring apron, A&E attacked Hardy, TNA faces made the save, and Hardy called out Anderson for a match tonight.
Hogan's Office: Hulk Hogan was shown talking to Jeff Hardy. The audio couldn't be heard over the crowd. TNA silenced the crowd, then Hogan told Hardy he's booked the TNA Title re-match for April 11 on Impact. Hogan hyped Hardy as being the guy to lead this company, then apologized for locking Hardy in a cage with Ray at Lockdown. Hardy said he appreciates it, said they all make mistakes, and vowed to take back the title in Corpus Christi. Hogan then told Hardy to hand-pick the stipulation for the match.
Suddenly, Sting's music played in the arena. In a nice piece of continuity, Hogan asked Hardy if that's Hardy's music playing. Hardy confirmed it as such, then Hogan stood up and said Sting isn't supposed to be here tonight.
In-ring: Sting came out to the ring and said Bully Ray swerved him. Sting said he was wrong, very wrong about Bully. He said he needs to fix this problem, but in order to fix it, he needs to be on the same page with Hogan, who continues rejecting his overtures. Sting then called out Hogan on Open Fight Night. Taz chuckled to himself, saying he loves this.
Hogan's music played to bring out the Impact GM one minute before the top of the hour. Hogan hobbled out on-stage without his crutch, then slowly walked down the ramp toward the ring. Hogan sold that he was not happy about this while Taz chuckled to himself.
[Q5 — second hour] Once Hogan entered the ring, Sting recapped his failed apologies. Sting said if Hogan doesn't accept his apology this time, then things could get a little nuclear tonight. Hogan said he listened to his gut about Bully being no good, then Hogan threw Dixie Carter under the bus for joining Sting in convincing him that Bully is good. Hogan said Sting took it too far pleading with him that he should listen to him, not his gut. Sting then screamed in Hogan's face to stop blaming others and own up to making the decision.
Hogan shouted back that he's the guy who walked his daughter down the aisle and picked Ray as #1 contender. Hogan said he's tired listening to everyone else. So, as the decision-maker and the Impact GM, he's telling Sting to "get the hell out of my ring, brother." Sting sold sadness over this, then slowly turned his back to leave, but then walked back to Hogan. "Make me!" Sting shouted in Hogan's face, popping the crowd.
Suddenly, Atlas Security hit the ring to get more TV time separating Sting and Hogan, who ripped open his t-shirt. Security escorted a stubborn Sting out of the ring as Taz laughed about this development. Taz then asked Tenay about "his boy" Sting being dressed-down by Hogan since Tenay was quiet throughout this. Sting eventually made it to the top of the ramp, disappeared to the back, and shouted, "Soon enough."
After Sting disappeared to the back, a TNA camera followed him walking backstage. It was pitch-dark, so all that could be made out was Sting casually walking to the back as Security continued to watch him. A purple light provided some light as Sting kept walking before Impact cut to break.
[Commercial Break. So far, one match through the first 68 minutes of the TV broadcast.]
Moments Ago: TNA trimmed down the Sting-Hogan exchange to the basics – Sting wanted Hogan to man up for his decision-making, but Hogan told Sting to get out of the ring, to which Sting replied, "Make me."
During the break: Matt Morgan was shown sarcastically clapping as he watched Sting leaving under the watchful eye of Security. Morgan said it's yet another Hulk Hogan mistake. Sting paused, clenched his fists, didn't turn his back to face Morgan, and kept walking.
Announcers: Tenay, Taz, and Keneley were shown on-camera for a discussion on A.J. Styles. This time, the bright letters behind the announcers spelled out: "T4LIFE." Maybe third try. Tenay then fed to a video package on A.J. Styles's recent issues, including Taz offering Styles a spot in Aces & Eights and James Storm having a run-in with Styles.
In-ring: James Storm was introduced to the arena. Taz said he's sure the people here love Storm, who came to the ring dressed to wrestle. Tenay said he hopes Storm can get some answers out of A.J. Styles. In the ring, Storm tipped his cowboy hat to the crowd before going back to two weeks ago when Styles made his big return, but it wasn't the return he was looking for. Storm said that since tonight is Open Fight Night, he thought he would take the time to call out A.J. Styles.
No sign of Styles. Storm looked around the arena as Taz joked to himself that maybe Styles is at the bar. The camera then pulled up to reveal Styles standing in the crowd among the people. Styles, dressed in a black cap, black t-shirt, cross chain, and jeans stood annoyed in the crowd. Storm said he went through what Styles is going through last year when he took his ball and went home. But, he got back up. Storm said since they're both from the South and they're in the South, they can handle this two ways: drink and talk about it or they can close their fists and fight about it. He said the choice is Styles's.
[Q6] Suddenly, Aces & Eights C-Team members hit the ring to attack Storm. Meanwhile, Styles casually walked away and disappeared to the arena concourse. Eric Young's music briefly played to bring out EY trying to make the save, but D.O.C. beat him down. Kurt Angle then hit the ring and easily disposed of the C-Teamers. Angle wasn't done for the night. Angle grabbed the mic and said he sees three of them and three of us. He said it's Open Fight Night, so they should make this a good old fashioned six-man tag in Jonesboro. Taz told D.O.C. to crush these three.
2 — KURT ANGLE & JAMES STORM & ERIC YOUNG vs. ACES & EIGHTS (D.O.C. & WES BRISCO & GARETT BISCHOFF) — six-man tag match
The face trio worked over Bischoff early on, drawing some advice from Taz to tag out. Bischoff failed to listen to Taz and continued to take a beating. Garett then stumbled into a clothesline on EY before tagging in Wes. EY quickly took control on Wes, nailing him with a flying clothesline for a two count. Angle then tagged in and took his time working over Wes, who turned his back on Angle. Angle continued to beat up Wes before tagging in EY, who resumed his attack on Brisco. On commentary, Taz begged for a heavy-hitter to get in the match. Taz finally got his wish and A&E took control leading to break.
[Commercial Break]
Back from break at 9:00, Wes was working on EY with a reverse chinlock. EY then broke free and tagged in Storm, who cleaned house. Taz begged for someone to slow down Storm, which D.O.C. did by blind-siding Storm from the ring apron. Storm battled back on Garett, but "Bisch," as called by Taz, cut off Storm. Taz said only he's allowed to call him "Bisch," though. Garett and Wes double-teamed Storm to cut off a comeback, then Brisco went back to working on Storm.
[Q7] Aces & Eights continued to exchange tags working on Storm before Storm fought back out of a neutral corner. Storm then reached across the ring and tagged in Angle as Brisco tagged in for the heels. Angle cleaned house, then the action broke down before Angle grabbed D.O.C. for a German Suplex. Brisco took one, then Bischoff to complete a different type of trio suplex.
Suddenly, D-Lo Brown hit the ringside area to confront Angle. In the background, Bischoff dramatically pulled out a chain. Angle ducked a chain shot, though, then wanted the Anklelock on Bischoff, but Wes rolled up Angle from behind with a hook of tights for the pin. "No, dammit!" Keneley said, showing actual real emotion. Taz laughed at what unfolded as A&E celebrated ringside and the faces regrouped in the ring.
WINNERS: Aces & Eights at 14:27. Is A&E more resourceful under Bully Ray's official leadership or are the TNA babyfaces even less competent?
A&E Office: Bully Ray toasted with Devon and Anderson about a job well-done tonight. Ray took a sip of his beer, then leaned in close to Anderson. Ray said he can't believe the set of balls on Hardy to call out Anderson tonight. Ray said he can't believe Hogan allowing Hardy to pick the stipulation for the TNA Title match in two weeks. Anderson then flipped out and said Hardy won't even make it to Corpus Christi. Anderson said he's a little fired up, then he stormed off. Ray and Devon had a good laugh about Anderson fired up to handle Hardy tonight.
[Commercial Break]
Backstage: JB plugged the first "One Night Only" PPV premiering next Friday. JB said it will spotlight the X Division. He then brought in Sonjay Dutt to note Dutt can get back in the X Division Title picture if he defeats this man… Mason Andrews (Scorpio Sky) and this other man returning to TV for the first time in four years… Petey Williams. So, the next X Division match is Dutt vs. Petey vs. Andrews.
Announcers: Tenay announced the Tag Title match will take place in two weeks, as well as the Hardy-Ray TNA Title match. The announce trio was then shown on-camera. This time, the letters behind the announcers spelled out: "TNLFE." Tenay then fed to a video package on the Hardy-Ray feud.
Earlier Tonight: TNA replayed how the Hardy vs. Anderson main event was set up in the opening segment of the show.
In-ring: Jeff Hardy's music played to bring out the #1 contender to the TNA World Title for the main event. Hardy saluted the crowd, posed for some photos, and Taz said he doesn't like Hardy's chances tonight. Aces & Eights music then played to bring out Mr. Anderson by himself. Anderson stomped down to the ring, then slowly entered the ring after staring down the crowd. No formal ring intro, then ref Earl Hebner casually called for the bell.
[Q8]
3 — JEFF HARDY vs. MR. ANDERSON
Hardy quickly knocked Anderson to the floor before pushing Hebner out of the way as Hebner got too close to the action. Hardy shoved Anderson into the guardrail, but Anderson yanked Hardy into the steps used for the entrance ramp. Anderson got cocky, though, allowing Hardy to back-drop Anderson into the ring. Hardy in control heading to the final break of the show.
[Commercial Break]
At 10:00, Hardy fired himself up, then Anderson kind of knocked over ref Hebner. Suddenly, Garett Bischoff snuck into the shot and handed a hammer to Anderson. But, Hardy ducked a hammer shot, hit Twist of Fate, and picked up the hammer. Hebner reprimanded Hardy, but Hardy ignored him and hammer-smashed Anderson, drawing a DQ.
WINNER: Anderson via DQ at 10:50.
Post-match: Hardy smashed Bischoff, then went under the ring to retrieve a chair. Hardy then ran off the chair to smash Anderson over the ropes and back into the ring. Next, Hardy went under the ring to grab a table. Hardy set it up in the ring, then went under the ring and retrieved a ladder, making it pretty clear what match stipulation he wants for two weeks. Taz begged for some help as Hardy set up the ladder inside the ring.
In the ring, Anderson tried to cut off Hardy, but Hardy delivered Twist of Fate. Hardy then placed Anderson on the table, climbed the ladder, sat on the ladder, and Bully Ray stormed the ring to save Anderson and overturn the table. Ray helped Anderson out of the ring, then took his TNA Title belt and walked off. Back in the ring, Hardy took the mic and said it will be No Rules, No DQ, Tables, Ladders, and Chairs in Full Metal Mayhem. Hardy celebrated as his music played and Ray yelled at him from ringside.
In-play for Impact in two weeks: Ray vs. Hardy in a TLC/Full Metal Mayhem match for the TNA Title and Aries & Roode vs. Chavo & Hernandez for the Tag Titles.
---
NOW CHECK OUT THE PREVIOUS FIVE YEARS AGO FLASHBACK: 5 YRS AGO – NXT TV Report (3/27/13): Main Roster takes over Developmental show – Orton vs. Sandow main event, Cena promo, Divas Title match; Overall Reax