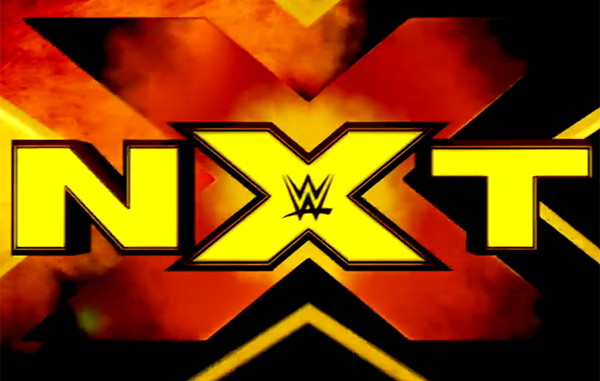 ---
SPOTLIGHTED PODCAST ALERT (YOUR ARTICLE BEGINS A FEW INCHES DOWN)...
---
KELLER'S NXT TV REPORT
JUNE 27, 2018
TAPED IN ORLANDO, FLA. AT FULL SAIL UNIVERSITY
AIRED ON WWE NETWORK
Announcers: Mauro Ranallo, Nigel McGuinness, Percy Watson
-The NXT open aired.
-Mauro introduced the show and he spoke of the fans of the "black and yellow brand" vociferously chanting for NXT as spring has sprung. Nigel noted that Tyler Bate & Trent Seven beat Undisputed Era to become NXT Tag Team Champions in England. He said they'd be in action tonight.
-Aleister Black's ring entrance took place. Percy talked about the NXT Takeover title defense by Black against Lars Sullivan. He spoke from mid-ring about adversity. He said how you deal with it defines you as champion. He said the adversity he faced at Takeover was named Lars Sullivan. He said he truly is a freak of nature. He said he made that advertisity fade to black.
(Keller's Analysis; I like the touch here of giving Lars credit for a tough fight before moving on.)
Tomasso Ciampa walked out and acknowledged that Aleister stood face to face with adversity, but now it's time he stands face to face with the devil. He said he doesn't buy Aleister's image. He said there's an old saying that the title doesn't make the man, but the man makes the title. He said he feels the title does indeed make Aleister Black. He said at Takeover Chicago, Aleister barely got past Lars and that same night, "in the main event," he defeated Johnny Freakin' Wrestling. Boos from the crowd. He said he not only beat him, but he did it with hands tied behind his back.
He said the Gargano fairy tale is behind him and the personal crap goes away, so he's ready to focus on the shiny title he wears. Aleister said he loves the sound of his own voice. He said if William Regal books that match, he'll kick his ass like he has all other foes. Ciampa said when he steps in the ring with him, he's lose more than his title, he'll lose that mystique. He said he only needs one opportunity, one title match, one moment. He sat cross-legged on the stage mocking Aleister and said his title reign will fade to black.
Aleister heard enough and made his way toward the stage. Ciampa popped up and looked very briefly nervous, then smiled and waved bye and retreated backstage.
(Keller's Analysis: Ciampa's body language here was great. It's going to be nice to see him in a situation in NXT that doesn't involve Gargano. The least authentic moment of the segment was when Black said Ciampa sure likes the sound of his own voice. That sounded scripted and just out of character for Black. A dry delivery of "Are you done?" I think would work better for Black. The line he was given sounds more like something Miz would say. Ultimately, even if Black isn't great on the mic and it can actually undercut his gimmick a little, it's good in NXT that he's having to build that muscle and see where it leads.)
-They went to the announce desk near the stage. The showed an X-Ray of Lars Sullivan's broken jaw. Mauro said he wrestled more than half the match with that broken jaw. Percy said he fought through that and still almost beat Black. They really put him over, even in defeat. They shifted to previewing Lacey Evans vs. Candice LaRae. [c]
-A clip aired of a press conference outside earlier in the day with Vanessa Bourne. She wanted to know if the gathered media knows why Kairi Sane dresses like a pirate. She said it's stupid, but what's worse is "all of you admire her for it." She said they should be admiring her instead. She said she'll be the only person on the posters when she's done.
(1) KONA REEVES vs. MAX HUMBERTO
Percy said Kona trained with Magnificent Muraco in Hawaii. Mauro noted he's a former protege of Afa the Wild Samoan. Nigel mentioned he doesn't have the best win-loss record, but Mauro said since retiring to NXT he has an impressive record. He had a lot of chains and a fur-lined coat with golden lettering. Nigel said Muraco helped Reeves get in better shape and talked up his height. Mauro said Reeves likes to talk a lot in the ring so his opponents know when they set foot in the ring with him that they're getting in the ring "with the finest." Reeves threw Humberto out of the ring and Humberto took a hard fall on the floor. Nigel noted how Reeves is more aggressive. Percy said he wants his name up in lights. He finished Humberto with the Hawaiian Drop.
WINNER: Reeves in 2:00.
-Mauro narrated a clip of the finish of Moustache Mountain winning the NXT Tag Titles. [c]
(2) CANDICE LERAE vs. LACEY EVANS
Mauro said Lacey has been acting more like a Real Housewife than a lady of NXT lately. Nigel said she has all the style and all the finesse you could want in a lady, but most importantly she has the Woman's Right. Fans briefly chanted "Candice Wrestling" as the match began. Lacey didn't break until the last possible second when getting the count in the corner. Mauro pointed it out and Nigel told him not to create excuses for Lacey potentially winning. Lacey settled into a cobra clutch, cueing a Mauro reference to Sgt. Slaughter. Nigel said he gets better week by week. LeRae made a comeback, but then clutched her injured left shoulder. She fought with a fury using only her right arm. LeRae then springboard moonsaulted Lacey for a clean win that made the announcers go a bit bonkers. Percy said she might not have the championship, but she has the heart of a champion.
WINNER: LaRae in 6:00.
(Keller's Analysis: It's so strange how much it stands out, because it shouldn't be an exception to the rule like it is – but Mauro and Percy's joy in seeing LaRae was such a big part of the story of this match. The announcers – the key being they're likable and credible – being so happy to see LaRae win was contagious. It's an ingredient that the main roster doesn't exhibit much with the approach that's standard on Raw and Smackdown.)
-Cathy Kelley interviewed Johnny Gargano backstage. She asked how he felt watching his wife's victory seconds ago. He solemnly said Candice is his favorite wrestler, but it's hard to focus because he keeps replaying Chicago in his head over and over again. He said he sat down and watched it, and to actually see Tomasso rip the wedding ring from his finger, spit on it, and throw it into the crowd and then go on to win – "he doesn't get to win, this is far from over." He said the way he sees it, they're 1-1 against each other. He said he's going to talk to Mr. Regal and have this done one more time. He said he doesn't care where it takes place, perhaps a grocery store. "This ends when he does," he said.
-A clip aired of Heavy Machinery grilling out and complaining about The Mighty stealing a win from them. They said no more fun and games.
-Percy read a Tweet from William Regal saying Gargano needs to move on from Ciampa, so next week he'll face EC3, "who demands the main event spotlight."
-Kelly interviewed LaRae backstage. She asked with things going well for her career, how hard has it been dealing with her husband's challenges lately. LaRae said she made the mistake before of letting everything going on in his life distract her from her dream, and while she's concerned for him, it's her time to worry about her goals and her future. She said his passion and drive inspires her, and she's chasing the NXT Women's Championship.
-Mustache Mountain (Tyler Bate & Trent Seven) made their full ring entrance. They were scheduled to face Dave Dixon & Carl Axelrod. The match never started as Undisputed Era attacked Dixon & Axelrod on the stage from behind. Strong gave Dixon a backbreaker and then threw him off the stage. Kyle O'Reilly said they won the tag titles because they were held up by their dumpy country. Strong said they're phonies and those titles are theirs. Adam Cole said they're going to make sure that when they get on a plane to the UK, they leave without their titles and without their pride. "This is our era and you two are just living in it," said Cole.
Ricochet ran out to the ring to even the odds. He did a backflip and then waved his finger at Undisputed Era at ringside as if to say "not so fast." [c]
(2) UNDISPUTED ERA (Kyle O'Reilly & Adam Cole & Roderick Strong) vs. MUSTACHE MOUNTAIN (Tyler Bate & Trent Seven) & RICOCHET
Mauro said Seven and Bate are more than just friends, as Seven mentored Bate. The babyface trio made rapid tags and dominated the heels. Bate ducked and avoided some O'Reilly swings a la Anderson Silva vs. Forrest Griffin, then dropped him with a left. Cole kicked Bate from the ring apron while the ref was distracted. Cole tagged in and stomped away at Bate.
Strong settled into a headlock on Bate. Cole took over a minute later as the match slowed a bit. O'Reilly then tagged in and continued to the ground attack. Bate landed an exploder suplex on Strong and then tried to crawl over for the tag. Strong tagged in O'Reilly just as Bate hot-tagged Ricochet. Ricochet went on rapid-fire attack against all three heels, but soon was swarmed by the heels. He pushed through and cleared the ring. Ricochet landed a springboard uppercut for a near fall on O'Reilly. "What an onslaught by Ricochet!" said Mauro. Ricochet landed a Northern Lights suplex, but O'Reilly twisted into a guillotine out of nowhere. Ricochet walked backwards and tagged in Seven while still locked in the hold. Seven went to work on O'Reilly and scored a near fall after a Michinoku Side Slam.
Undisputed Era, though, took over on Seven and got a near fall, broke up by his partners. Three-on-three action broke out. Cole ended up waiting for Seven to stand and then charged, but Seven surprised him with a clothesline. Cole flip bumped hard to the mat. Ricochet tagged in and lifted Cole into a fireman's carry and landed a Michinoku Driver. More wild action ensued ending with all six down and not moving after a flurry of hard strikes. Fans chanted "NXT! NXT!" Everyone stood and paired off and just began punching each other. Strong slammed Seven on the edge of the ring apron. Cole and Ricochet fought. After Ricochet fended off O'Reilly and Strong, he dazzled fans with his acrobatic offense against Cole and then hit the 630 splash for the seeming sure win. O'Reilly, though, yanked Cole by his leg to safety. Ricochet dove onto O'Reilly on the floor. Strong then picked up Ricochet and slammed him onto the edge of the ring. Cole made the cover and got the pin. The show ended with Undisputed Era celebrating on the stage.
WINNERS: Undisputed Era in 14:00.
(Keller's Analysis: That was a red hot match, especially in the final four minutes or so. Ricochet is standing out as a potential star. Connecting with the crowd beyond his usual expressionless celebrations after big moves is a key, but he's already getting better in that regard. He seems to be fighting, not just performing, and that's a balance he had to strike.)
FINAL THOUGHTS: Good show start to finish with a really strong main event that had a lot of time to tell its story without a commercial to break the momentum. They shifted to some new feuds, most notably Ciampa calling out Black, which wasn't a surprise. Gargano not being okay with the outcome at Takeover is no surprise, and having Regal resist giving Gargano what he wants, and even having Gargano's wife not on board with Gargano distracting her anymore with his obsession is something to build on post-Takeover.
---
NOW CHECK OUT LAST WEEK'S REPORT: 6/20 NXT TV REPORT: Dakota Kai vs. Bianca Belair, War Raiders vs. The Mighty (formerly TM61), NXT Takeover fallout