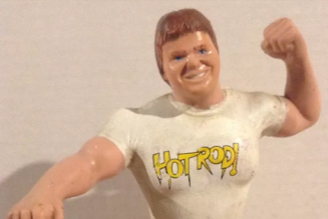 ---
SPOTLIGHTED PODCAST ALERT (YOUR ARTICLE BEGINS A FEW INCHES DOWN)...
---
Thanks to technological changes, websites like Pro Wrestling Tees and WWE's monstrous marketing machine, it seems like every pro wrestler has a new T-shirt weekly. There are so many cool, quality wrestling T-shirts that it's hard to find many that really stand out.
The most iconic wrestling T-shirts are those that just about everyone from a particular era knows, whether it's the bright yellow Hulkamania shirt from the 1980s or the black and white New World Order shirt from 1996. And in many cases, less is better – wrestling fans seem to love a cool logo that really pops.
Wrestling T-shirts make great accessories when it comes to wrestling action figures as well. Even back in the mid-80s to early 90s, companies like LJN, Remco and Hasbro were incorporating some of the most iconic shirts into their figures.
Here's a look at five of the most iconic T-shirts in wrestling history, and how toy companies have found a way to make them a part of their action figure lines.
CM Punk "Best in the World" T-shirt. No wrestling shirt in this millennium has created the type of frenzy that this one did the night that Punk debuted it in 2011. Punk showed up to the main event of Money in the Bank rocking his new white T-shirt, with an image of his taped fist clutching a lightning bolt on the front and "Best in the World" on the back, along with the July 17 date. The shirt instantly sold out at the merch tables; before the night was over, the shirt was already selling for hundreds of dollars on eBay.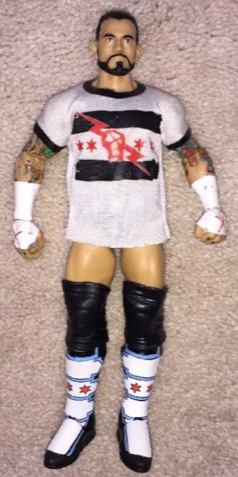 Mattel perfectly captured the moment with a Punk figure in Elite Series 16 in early 2012. The figure had Punk in the gear he wore at Money in the Bank, including a removable cloth "Best in the World" T-shirt. It remains one of Punk's most popular figures to date, selling for around $40-$50 loose and upwards of $100 in the package.
Roddy Piper "Hot Rod" T-shirt. Wrestling veterans from the 1970s and 1980s often gripe today that heels shouldn't be selling merchandise. Apparently, nobody ever mentioned that to Piper and the WWF, which sold a boatload of these shirts in the 80s and early 90s. The white "Hot Rod" T-shirt with yellow-red lettering was arguably the second most popular wrestling shirt of the 80s.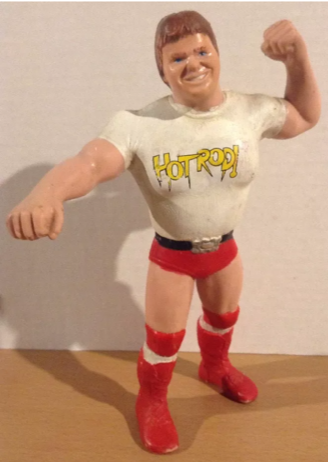 Practically every company that ever made a figure of Piper found a way to include the classic "Hot Rod" shirt into their respective toy lines, including LJN Wrestling Superstars, Hasbro WWF, Jakks Classic WWE Superstars and Mattel WWE Hall of Fame. The Mattel Hall of Fame figure is especially cool, as it comes with a removable cloth shirt and kilt; you may still be able to find one at your local Target.
WCW New World Order T-shirt. Pro wrestling's popularity began to wane in the early 1990s, and it was pretty uncommon to see any sort of wrestling shirt out in public. That all changed in the summer of 1996, when Kevin Nash, Scott Hall and Hulk Hogan made pro wrestling cool and the nWo T-shirt white hot. The simple black and white T-shirt looked like something a fan might buy at a heavy metal concert, and it was the perfect look for angst-ridden Gen X teens and twentysomethings.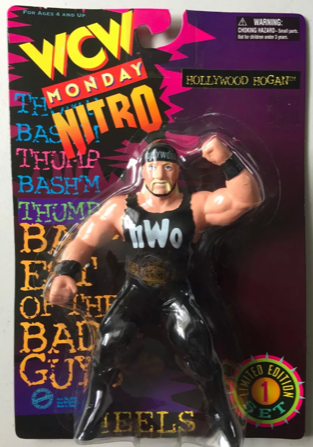 One of the first figures to sport the nWo logo was a Hogan figure from OSFTM WCW Monday Nitro line. It's hardly one of Hogan's best figures; OSFTM simply took an older sculpt of a smiling babyface Hogan and painted his gear black and white. Companies like OSFTM and Toy Biz made improved figures of Hollywood Hogan, and by the mid-2000s Jakks made a couple of real quality nWo Hogan figures. The Jakks Classic Superstars Series 8 figure has Hogan in all his nWo glory, with a painted on T-shirt and removable feather boa, bandana, WCW title belt and an extra weightlifting belt. The Series 12 figure has Hogan in a removable cloth nWo Wolfpack style shirt.
Hulk Hogan "Hulkamania" T-shirt. Few wrestlers ever understood the power of merchandising the way Hogan did. In the AWA, he'd show up on TV each week with a new custom made shirt with sayings like "eye of the tiger" on them. With Vince McMahon and the WWF machine behind him in the mid-80s, the yellow and red Hulkamania colors were flying everywhere. The classic yellow shirt with red lettering that Hogan sported in the WWF from 1984 to 1990 has been reproduced everywhere Hogan has worked, including WCW and TNA.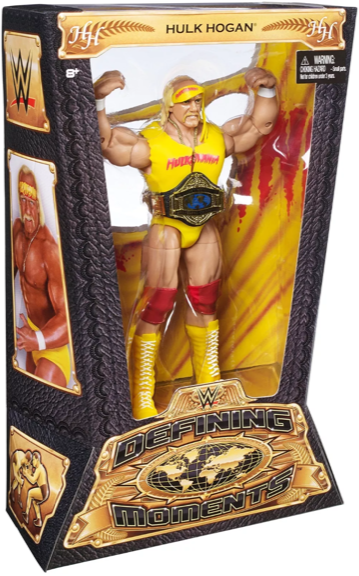 In 1985, LJN made a really detailed 16-inch Hogan figure with a removable red "Hulkamania" shirt. Thirty years later, after Hogan returned to WWE, Mattel made a special Defining Moments figure of the Hulkster as he appeared at WrestleMania 3. Many collectors regard the Defining Moments figure as being one of Mattel's very best, with the only knock on it being that the shirt is made of molded plastic instead of cloth. Storm Collectibles has also made some amazingly detailed Hogan figures with various shirts, which can be purchased at ringsidecollectibles.com.
Stone Cold Steve Austin "Austin 3:16" T-shirt. If the nWo shirt set a new standard for wrestling T-shirt sales in 1996, the iconic "Austin 3:16" shirt completely shattered it. In 1998 and 1999, the now famous smoking skull was everywhere – quite literally. Fans who didn't live through Austin's heyday may not understand just how big he was or how hot this particular shirt was. From 1990 to 1995, nobody was wearing wrestling shirts out in public. But in 1998, every JC Penney, Walmart, Target, novelty shop and T-shirt store was displaying Austin T-shirts front and center, and quickly selling out.

In late 1997, Jakks released a Target-exclusive four-figure box set called "King of the Iron Rungs" with Austin, Bret Hart, Ahmed Johnson and a referee. The Austin figure was unique in that it had him in an Austin 3:16 shirt and blue jeans (check out this classic commercial: https://m.youtube.com/watch?v=srFvJqFEdaU). Before then, wrestling figures had almost always been made in wrestling gear. Since then, Jakks and Mattel have made countless Austin action figures. Mattel's first Austin Defining Moments figure had the Texas Rattlesnake in a removable hat, camouflage jacket and Austin 3:16 shirt.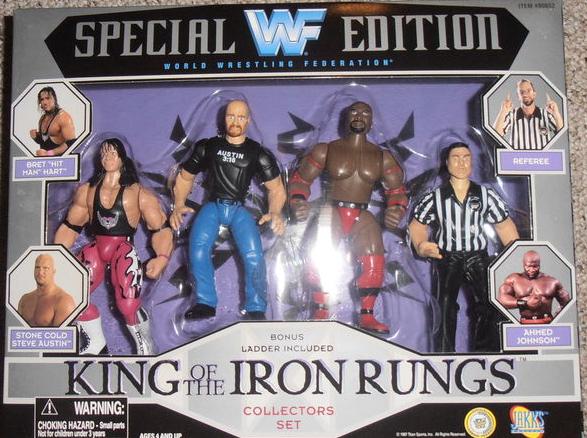 NOW CHECK OUT THE PRIOR COLUMN: COLLECTIBLES COLUMN: Trading Card News – Leaf Offers Rare Austin Autograph; New WWE Set from Topps
---
PWTorch Collectibles Specialist Michael Moore can be reached at michaelmoorewriter@gmail.com. Follow him on Twitter @MMooreWriter.