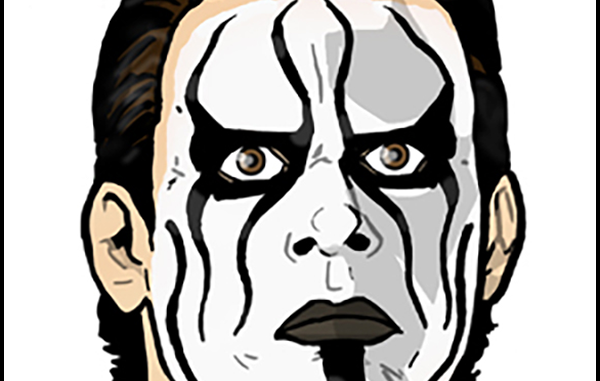 ---
SPOTLIGHTED PODCAST ALERT (YOUR ARTICLE BEGINS A FEW INCHES DOWN)...
---
The following report was originally published five years ago this week on PWTorch.com…
---
TNA Impact Results
September 26, 2013
Semi-live in Little Rock, Ark.
Episode #39 of 2013
Aired on Spike TV
Report by James Caldwell, PWTorch assistant editor
[HOUR ONE]
This week's Impact opened with a video package documenting last week's events, highlighted by Main Event Mafia vs. E.G.O., Magnus losing again, Aces & Eights having some problems, and Dixie Carter cutting down A.J. Styles before shutting down the show.
Backstage: Dixie Carter was shown entering the building. Sting stopped Dixie to talk, but Dixie pulled out her phone to text instead of listen to Sting. Sting eventually gingerly lowered Dixie's phone to get her attention, but Dixie fixed Sting's Main Event Mafia suit jacket and said she's got this. Dixie spoke in the third person before walking off with a smug look on her face.
In-ring: Aces & Eights's music played live in the building. Out came TNA World Hvt. champion Bully Ray and Brooke Tessmacher. No sign of the other A&E members. In the ring, Bully said it's not often that he's at a loss for words, but he has to say that Dixie Carter shocked him last week. Ray asked the crowd if they heard how she put A.J. Styles in her place. Ray said ever since Styles won the BFG Series, he's been thinking about how to beat Styles, but now he doesn't have to worry about that anymore because Dixie is so far inside Styles's head. Crowd silence. Ray said Styles should kiss the ground that Dixie walks on right now, then said Dixie made A.J. "phenomenal." Ray added that if not for Dixie, A.J. would not be able to perform in front of "all of you morons" in the crowd.
Ray backed up a second to ask the crowd who he is, which cued up Aces & Eights's music interrupting. Knux led Wes Brisco and Garett Bischoff to the ring, annoying Ray. Knux said Ray is once again taking care of his own business, being more worried about the TNA Title than protecting the men left in this club. Silence. Knux said he's more worried about his "ho" than his "bros."
Ray responded that he will say this one time and one time only. "Do not call her a ho," Ray said, which got the crowd involved. Ray re-shouted it, prompting more "ho" chants. Knux then declared that they will take care of club business tonight against the Main Event Mafia. Silence. Ray shouted back that he makes the rules in this club, and their labels are now "lackey." He reminded them of what he did to D-Lo Brown, Ken Anderson, and his own brother, Devon. Ray told them to fall in line, then said if they lose this match tonight, it will be "lights out" for one of them. Ray then left the ring, leaving the B-Squad to contemplate matters.
[ JC's Reax: When are they going to get around to giving the audience a reason to care about the Aces & Eights B-Team? The crowd silence as Knux tried to stand up to Bully was telling. ]
Announcers: Mike Tenay and Taz were shown on-camera to react to the latest issues with Aces & Eights. Tenay then plugged Manik vs. Chris Sabin for the X Division Title tonight before revisiting ODB's Knockouts Title victory over Mickie James last week on Impact.
Up Next: Bro-Mans recruited Gail Kim as their tag partner vs. Eric Young, ODB, and Joseph Park tonight.
Bathroom: A camera was positioned in the bathroom as Joseph Park shaved and sang to himself. Eric Young and ODB then barged in and said it's unsafe when Park cuts himself and bleeds. He told Joseph he can't shave the day of a match again.
In-ring: Christy Hemme was standing by to introduce a "six-man tag match." Out came Knockouts wrestler Gail Kim along with the Bro-Mans.
[Commercial Break at 9:11]
[Q2]
1 — BRO-MANS (JESSIE & ROBBIE E.) & GAIL KIM vs. ERIC YOUNG & KO champion ODB & JOSEPH PARK — six-person tag match
The match built to EY hot-tagging into the match and cleaning house. The action broke down with Gail and ODB brawling in and out of the ring before EY grappled Jessie for a Death Valley Driver. Park then came off the second rope with a belly-flop, EY with a top-rope elbow, and ODB with a splash for the win.
WINNERS: ODB & EY & Park at 6:25.
Backstage: Austin Aries was shown walking around. Asked what's next for him after the Bound for Glory Series, Aries said he's going to make his intentions known to everyone up next.
[Commercial Break at 9:26]
Backstage: Hulk Hogan was shown walking around. Hogan had a transcript of Dixie Carter's speech last week in his hand. He said he's here to "fix all this crap."
[Q3] In-ring: Austin Aries, in street clothes, was introduced to the ring for a promo. In the ring, Aries addressed what's next for him after coming up short in the BFG Series. First, Aries went back to last year when he headlined with Jeff Hardy. But, even if he's not headlining, every time he steps in the ring, he's the main event.
Suddenly, music interrupted. Out came former X Division champion Kenny King, who said he's here to say whatever is on his mind. King said he was back there listening and what Aries is saying is starting to get on his nerves. Aries interrupted with an invitation to step in the ring and say how he really feels. King started walking and talking about making headlines. King said he was X Division champion last year and went through everyone. But, then, the X Title was stolen from him by Chris "frail" Sabin.
Now in the ring, King said his real beef is with Aries, who dressed up as Manik to steal the X Title. King then insulted Aries as being ten years in the past, while he is the future. Aries cut off King, telling him to stop letting the poop come out of his mouth and fight. Aries told King to do something about it, but King said he doesn't want to fight. King then sucker-punched Aries, who responded with an open-hand slap to the chest. The fight was on and Aries said he wants a match.
[Commercial Break at 9:36]
2 — AUSTIN ARIES vs. KENNY KING
Back from break, Aries was suddenly dressed to wrestle. Apparently he wears his wrestling trunks under his dress pants. Also, King was busted open from the forehead. Aries went to work on the forehead to draw more blood, but King sent Aries tumbling to the outside. Back in the ring, a blood-soaked King worked on Aries.
[Q4] The battle moved to the top rope, where King t-bone suplexed Aries off the top rope for a two count. King tried to follow with a double-foot dropkick in the corner, but Aries moved. Aries followed with a brainbuster suplex. It was good for the three count. And, Aries avenges King interrupting his interview time.
WINNER: Aries at 4:55.
Tonight: Main Event Mafia vs. Aces & Eights in six-man tag action.
[Commercial Break at 9:47]
Vignette: Lei'd Tapa is coming.
Backstage: Chris Sabin, along with Velvet Sky, were shown walking down the hallway to stop Austin Aries. Sabin congratulated Aries on his "cool" win, then welcomed back to his X Division. Sabin knocked Aries's X Title cash-in last year, then Aries replied that Sabin sure accomplished a lot by lying on his back for 15 minutes before using a hammer. Sabin ignored Aries, then vowed to become X Division champion again before dragging away a silent Velvet. After they left, Aries said he's going to test Sabin's claim of being greater than the greatest man who ever lived.
Main Event Mafia Office: Magnus was upset, Sting wanted to know what's wrong with him, and Samoa Joe was annoyed by Magnus giving into E.G.O.'s mind games. Joe told him to worry about it next time because they have to take care of Aces & Eights tonight. Sting calmed down Magnus, telling him they're this close to pushing A&E over the edge, which is why the group was re-formed to begin with. Sting slapped Magnus across the chest to get his point across.
Backstage: Hulk Hogan was shown walking down the hallway. He's up next.
[Commercial Break at 9:53]
Impact returned two minutes before the top of the hour with a video package on A.J. Styles's history in TNA. Then, a look at Styles running down Dixie Carter last week before Dixie turned on her "marketing gimmick" who depends on her daddy's paycheck.
[HOUR TWO]
[Q5 — second hour]
Hulk Hogan Promo Segment
At the top of the hour, Hulk Hogan's music played to bring out the Impact TV GM. On commentary, Tenay said he hopes Hogan can play peace-maker between Styles and Dixie to get them back on the same page.
In the ring, Hogan milked some "Hogan, Hogan" chants before shouting out to Little Rock. Hogan then got down to business, saying he's been here for four years and he's developed an opinion of Dixie Carter. Hogan said his role is to make sure this TV program runs smooth and in his 35 years in the ring, he's seen things blow up in the ring and in the back. But, to air dirty laundry in public should never happen in this business.
Hogan then polled the crowd on how many Hulkamaniacs want to see A.J. Styles stay with the company. TNA went to various crowd shots before returning to Hogan, who told Styles to listen for the love and respect from the crowd. More crowd shots and more pandering. Hogan then vowed to bring out A.J. later in the show to fix this for everyone. And that was it.
Announcers: After Hogan left, Tenay and Taz set the stage for the rest of the show. Included was Taz slipping on a line about Aces & Eights having "quantity" over quality when he meant "quality" over quantity. Tenay didn't give him too hard of a time, noting Aces & Eights sure doesn't have quantity right now, which Taz laughed off.
Vignette: Kurt Angle is returning to TNA at Bound for Glory. The video hyped Angle as an Olympic gold medalist and legend in wrestling, plus this year's TNA Hall of Fame inductee.
Up Next: X Division Title match.
[Commercial Break at 10:08]
Vignette: "Ethan" is coming. More cheap labor additions to the roster?
Backstage: A.J. Styles, covered by a dark hoodie, was asked for his thoughts on what Hogan just said. Styles said he has no problems with Hogan's words, then said he'll see him out there later.
In-ring: Chris Sabin, along with Velvet Sky, was introduced for the X Division Title match. Sabin acted like a cocky goofball on the way to the ring before turning into a "gentleman" escorting Velvet to her ringside seat. Manik then came out to defend the X Title.
[Q6]
3 — X Division champion MANIK vs. CHRIS SABIN (w/Velvet Sky) — X Division Title match
Sabin pretended to fall down to the mat selling a knee injury 45 seconds in. Sky acted concerned as Sabin hobbled out of the ring and over-sold a right knee injury. The crowd didn't buy it and booed. Meanwhile, Tenay played along with Sabin feigning an injury, going through all of Sabin's knee injury history. Ringside, Manik came over to check on Sabin, prompting Sabin to push Velvet into Manik. Sabin, now "healed," came off the apron with a running strike to Manik.
Back in the ring, Manik made a comeback, then Sabin re-sold the fake knee injury. Manik didn't let Sabin fake the injury too long, as he delivered kicks and strikes to the challenger. Manik tried a Sharpshooter, but Sabin reached the bottom rope. Well, Sabin reached Velvet and dragged Velvet into the ring. Sabin hid behind Velvet, then tried to run around Manik to roll him up, but Manik reversed with a three count for the win.
Post-match: Sabin jumped Manik from behind and beat him down as Velvet tried to calm down Sabin. Austin Aries then hit the ring and chased away Sabin, who bailed from the ring. Velvet remained in the ring as Sabin tried to run away from Aries.
WINNER: Manik at 5:42 to retain the X Division Title.
Backstage: Wes Brisco freaked out about the Aces & Eights club crumbling. Garett Bischoff calmed him down and said they have this tonight. Knux then freaked out in pep-talk mode before knuckling him to prepare for the main event up next.
[Commercial Break at 10:22]
Still to come: Hulk Hogan-A.J. Styles face-to-face.
Video Package: Kurt Angle is returning at Bound for Glory.
Backstage: E.G.O. reacted to not liking Angle being inducted in the Hall of Fame. Bobby Roode asked what he's done lately. Christopher Daniels then shouted about Main Event Mafia being losers. Kazarian said Magnus is a really good loser. Kaz and Daniels shared a "maniacal laugh," which Roode did not join in before walking off.
In-ring: Aces & Eights was introduced first for the main event. Tenay said this could be the last time Knux, Brisco, or Bischoff is seen in TNA. TNA cut away from their mid-ring pose to show Main Event Mafia. Leading the pack was Magnus, followed by Samoa Joe and Sting.
[Q7]
4 — MAIN EVENT MAFIA (STING & SAMOA JOE & MAGNUS) vs. ACES & EIGHTS (WES BRISCO & GARETT BISCHOFF & KNUX) — six-man tag match
Magnus started things off with Knux. Magnus quickly knocked around Knux, taking out his frustrations from two recent losses. The action broke down moments later with action in and out of the ring. Suddenly, E.G.O. hit the ringside area and jumped Magnus. Joe and Sting chased them away, then Magnus sold a leg injury. During the chaos, A&E dragged Sting into the ring to begin punishing him.
[Commercial Break at 10:33. Mid-break, TNA showed Sting continuing to take a beating.]
Back from break, Sting was still taking a beating. In-and-out tags kept Sting trapped in the heel corner as Tenay and Taz debated Mafia vs. Aces on commentary. With Magnus taken out of the match, Sting eventually made it to his corner to tag in Joe. Joe cleaned house, giving everyone some high-impact offense. Joe tried to end Brisco with a snap powerslam, but Bischoff made the save.
Chaos with a two-on-three situation. Sting then Stinger-Splashed all three members. Wes then walked into a rear-naked choke from Joe as Taz freaked out. Brisco tapped out, giving Joe and Sting the victory. Taz said he can't believe they just lost another member. "We got a problem!" Taz said, then tried to calm down and say he's sure Bully Ray will fix this. Taz said he couldn't believe they lost this with a 2-on-3 advantage.
WINNERS: Joe & Sting via submission at 10:07.
Post-match: After Joe and Sting left the ring, Wes Brisco was left alone in the ring. Bully Ray, followed by Brooke Tessmacher, marched down to the ring to address Wes. Ray said he told Wes that if any one of them lost, it would be Lights Out. "You lost," he told Wes. "You tapped out, Wes!" Ray added that he's a disgrace to his colors. "Hand over your cut right now," Ray said.
Garett Bischoff, conflicted, stepped on the ring apron to stand next to Wes. This also drew in Knux. Wes shook his head no, then verbally declared, "No!" Ray asked if he's telling him no, prompting "No!" chants from the crowd. Ray then told Garett and Knux to take Wes's jacket from him. The instructions were shouted a second time. Bischoff sold concern, Knux thought long and hard, then Ray ran over Wes with a clothesline.
[Q8] Ray dressed down Knux and Bischoff, then scooped up Wes and piledrove him into the mat. Taz said he can't blame Wes for this. Ray picked up the mic to talk, but Aces & Eights's "wrap up the segment" music played. Ray shouted to cut off the music, then he told Bischoff and Knux to remove the jacket now. The jacket was removed, then Knux lightly placed Wes on the mat. Ray demanded that Knux hand over the jacket, prompting more thinking from Knux.
The crowd tried to encourage Knux not to follow orders, but Knux slapped the jacket in Ray's chest. He then helped Wes to his feet as TNA quickly cut away from the ring.
Backstage: Hulk Hogan and A.J. Styles were shown walking on a split-screen.
[Commercial Break at 10:47]
Hogan Promo Segment #2
Impact returned 9 minutes before the top of the hour with Hogan already in the ring. Hogan had a piece of paper in his hand. He plugged the TNA Title match of Bully vs. Styles at Bound for Glory, then called out Styles to join him in the ring.
Styles entered the ring and reminded Styles that he was out here earlier. Hogan talked down to Styles about how proud he is that he won the BFG Series, then handed over a contract for Styles to sign because the TNA champ cannot not be under contract. Hogan said all of TNA is betting on Styles to bring the title home. "They love you, brother. We all love you," Hogan said. More crowd shots.
Styles signed the document, then told Hogan that he's Hogan's. This brought out Dixie Carter to boos. "Boys, boys, boys," Dixie said. In the ring, Dixie said she's been very clear with Hogan over the years. She brought Hulk into to TNA to open doors for TNA and he's done that for the company and for her. And she appreciates that. Dixie said Hulk has taught her so much about the business, but Hulk is just an employee. Dixie said Hulk is capable of so much more than that. So, she is here to make Hulk the best that he can be.
Dixie turned to Styles and mocked Styles telling her to get on her knees and beg. Carter told A.J. that his reality is staring him right in the basis. She then said Hulk might see something in the "marginal one," but she does not. Dixie ripped up the contract. "It's okay!" Dixie said, palms out.
Styles spoke over Dixie that she just made the biggest mistake of her life. Dixie shouted in A.J.'s face to get out of her ring. Styles dropped the mic on Dixie's leg, then Hogan pointed out the boos from the crowd. Dixie said she gets it that they are not happy with her. But, they don't understand. Dixie shrieked that 99 percent of the people in this world have never had to live in her world.
Carter then addressed people who have criticized her and put her down. "You need me!" Carter said over boos. She said the one percent create all of the people's worlds that they get to live in. Carter said she has to suffer the burden and this is obviously not a popularity contest. Dixie said she's gone down this road for 11 years.
Hulk tried to calm down Dixie, who kept talking. She said Hulk made a lapse in judgment earlier, then said they know what it's going to take to take this company to another level. That lost the crowd. Dixie asked Hogan if he's going to get in-line and get on Team Dixie or be like A.J. and watch from the sidelines. "I don't want that fer you," Dixie said. Dixie told "darling" Hulk that she'll give him a week to think about it. Hulk had a look of "This is where my career has ended up?" as Dixie walked out of the ring. On commentary, Tenay tried to make sense of what just happened before Taz noted Dixie gave Hogan an ultimatum that Hogan must answer by next week.
FINAL THOUGHTS: So, is the TNA Title match still on for Bound for Glory? Or, is the deal that Styles will "wrestle without a contract" to go for a C.M. Punk MITB 2011 situation? Overall, it's as if TNA and Spike know how bad this Dixie heel turn angle is and they're trying to attract an audience for the trainwreck appeal. And because Dixie hasn't played heel before, there's weeks and weeks of material to work with as they build to an epic crash. That's the only possible logical explanation for how this angle made it out of the writer's room onto television. Besides the obvious explanation of putting the money mark front-and-center on television during a downturn in business.
---
NOW CHECK OUT THE PREVIOUS FLASHBACK: 10 YRS AGO – KELLER'S IMPACT WRESTLING REPORT (9-25-08): Styles vs. Booker T, Abyss, Roode, Angle, Jarrett, Foley, Christian