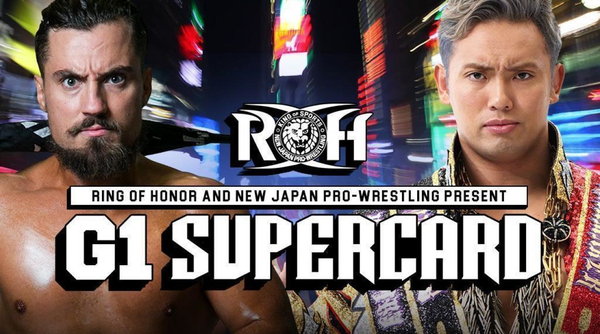 ---
SPOTLIGHTED PODCAST ALERT (YOUR ARTICLE BEGINS A FEW INCHES DOWN)...
---
Ring Of Honor was founded in February 2002 in Philadelphia, Pennsylvania in an attempt to fill the void left by ECW. New Japan Pro-Wrestling was founded in 1972 and has understandably gone through many changes in its 47-year history. The two promotions joined forces officially in early 2014 and have since done a number of joint shows together including the annual Global Wars tours and Honor Rising shows out of Tokyo. Their partnerships have continued to grow since then, forming working relationships with NWA, CMLL, Stardom, Revolution Pro Wrestling, and others. For ROH the NJPW relationship means access to some of the top wrestlers on the planet. For NJPW there's an opportunity for increased in-roads into America, such as the first non-WWE wrestling event held in the historic Madison Square Garden since 1960.
This sold out show stands to be the biggest ever in ROH's 17-year history. All but one of their championships will be on the line as well as many of NJPW's top titles, including two "winner takes all" matches with the victors leaving tonight holding gold from both companies. Jay Lethal, the greatest ROH world champion in history, defends his title in a ladder match. Kazuchika Okada, the man with the longest IWGP heavyweight title reign in history, challenges for that belt in the main event. Stars abound.
One year ago at ROH Supercard Of Honor XII Marty Scurll unsuccessfully challenged Dalton Castle for the world title, The Briscoes retained the ROH tag titles over Jay Lethal & Hiroshi Tanahashi, and Sumie Sakai defeated Kelly Klein to become the first Women Of Honor champion. Can the mistakes of the past be erased or will history repeat itself?
Note: previews 1, 2, 4, 5, 6, 8, and 11 were written by Harley. Previews 3, 7, 9, 10, and 12 were written by Emily.
---
1. Sumie Sakai, Hana Kimura, & Stella Grey vs. Kagetsu, Hazuki, & Jenny Rose (pre-show)
Our opening contest on the pre-show is a trios tag featuring three wrestlers from Women Of Honor and three from Japanese promotion World Wonder Ring Stardom. We haven't seen the Stardom women in ROH since July 29 TV when Kagetsu and Kimura (with Hazuki in their corner) defeated Jenny Rose and Mayu Iwatani in tag action. Later that fall Kimura would turn on her Oedo Tai stable mates and leave the group.
Former WOH World Champion Sumie Sakai has made two appearances for Stardom this year, defeating AZM in singles action and participating in a four-way. On social media Kimura approached Sakai about the idea of teaming together in MSG only for Kagetsu and Hazuki to attack the two of them. Jenny Rose and Stella Grey were then randomly added to the proceedings with the babyface Rose paired up with a heel duo that she fought against the last time they appeared in ROH.
Prediction: It's very strange for me to see two of the top Stardom title holders wrestling in a pre-show opening contest but you knew there wasn't going to be room for two women's matches on the main card. After all it's only ten matches long… As long as Rose has her own Oedo Tai jacket and does their dance entrance I'll forgive it. The point of Rose teaming with the heels seems to be simply so that the rookie Grey can be opposite them and thus get pinned by Kagetsu following a 450 splash.
2. Honor Rumble for an ROH world title match (pre-show)
The Honor Rumble (ROH's version of WWE's Royal Rumble) dates back to 2008. Past winners have included Jay Lethal, Silas Young, Mike Bennett, and Frankie Kazarian. Like the WWE version this one will be a 30-man battle royal with wrestlers entering at timed intervals. The last man left standing at the end earns a future match for the ROH world title.
Announced entrants include Cheeseburger, PJ Black, Rhett Titus, and The Bouncers but the favorite has to be Jushin Thunder Liger, who's on his retirement tour ahead of next January's Wrestle Kingdom. At Road To G1 Supercard: Baltimore last Sunday Kenny King made it clear that he felt disrespected by being thrown into a pre-show battle royal rather than having a main card match. If he was going to be in this match he demanded they make him entrant #1 so he could run through everyone and beat up some decrepit old Japanese men in the process, proving how good he is.
Prediction: King is #1. Entrant #2 is one of his so-called decrepit old Japanese men, Minoru Suzuki. King gets his ass handed to him. Fingers crossed we get some interaction between Colt Cabana and Toru Yano at some point. Shane Taylor will look like a boulder and eliminate a bunch of men. Cheeseburger and Liger will get their band back together. In the end Liger outlasts Silas Young to earn a future match for the ROH world title.
3. Jeff Cobb vs. Will Ospreay (ROH World Television Championship & Never Openweight Championship)
It's a battle of flight vs. flex as the aerial assassin Will Ospreay looks to defend the NEVER Openweight title while also adding another belt around his waist: the ROH world TV title currently held by undefeated champ Jeff Cobb. Cobb has a rocky history with the openweight title. Even before signing full time with ROH last summer he was doing tours with NJPW and going up against then-openweight champion Hirooki Goto (G1 Special In San Francisco, 7/7). While he lost that challenge he was able to score a victory over Goto during Honor Rising 2019, defending the ROH TV title in the process and continuing his undefeated streak in singles competition.
Since winning the openweight title from Kota Ibushi at Wrestle Kingdom 13 Ospreay has only defended once – against Dalton Castle during the first night of Honor Rising. Ospreay went on to score a big victory in a tag match on the second night of that tour, becoming the first person to pin Cobb since he signed with ROH.
Prediction: Outside of the lone pinfall in that Honor Rising tag match Cobb is one of the most protected members of the ROH roster. Ospreay, still inhabiting a role between junior heavyweight and heavyweight in NJPW, has a lot of opportunities for bigger victories in the coming months but fewer chances to defend ROH's TV title. Ospreay OsCutters his way into a Tour Of The Islands for a Cobb victory.
4. Dalton Castle vs. Rush
Besides Cobb (7-0), Rush has the best record in ROH this year at 5-0. He defeated both of Matt Taven's henchmen before embarking into a sort of feud with Lifeblood, picking up wins over Bandido, Mark Haskins, and Tracy Williams over the past three weeks. The Los Ingobernables founder debuted somewhat babyface against The Kingdom but has since relapsed to his heel tactics of wrestling aggressively, arrogantly stopping to pose mid-match, and throwing a fit any time the referee tells him to back up.
Dalton Castle has been struggling. Since dropping the world title last summer he's been banged up and bruised and losing a lot. It doesn't matter whether it's in singles matches or tag team action with his Boys, he loses. All the more reason it's so bizarre that this is the only non-title, non-gimmick match on the card. At ROH 17th Anniversary on March 15 Castle issued a challenge to Rush for this match, seemingly intrigued on commentary by Rush's heel tactics.
Prediction: As part of Castle's losing streak he's shown frustration and shoved The Boys a couple times. That was enough for any seasoned wrestling fan to predict a heel turn for the peacock. Studying Rush on how to be a heel sounds fun on paper but also feels too similar to the Kenny King-Austin Aries story from last fall. It's not clear why this match is happening or why it's happening here, on a card so full and too long already, but the result is obvious. Rush hits his running dropkick in the corner for the win.
5. Mayu Iwatani vs. Kelly Klein (Women Of Honor World Championship)
The ace of Stardom and the gatekeeper of WOH have faced off in four singles matches over the past year. The first was as part of the tournament to crown the inaugural WOH champion with Klein coming out victorious (ROH TV, 4/22). The second was August 18 in Japan as part of Stardom's 5Star Grand Prix tournament with Klein again winning. They wouldn't meet again until February 10 at ROH Bound By Honor. With Klein's WOH title on the line Iwatani pinned her for the first time following two top rope moonsaults. The rematch came March 15 at ROH 17th Anniversary and Iwatani again came out on top thanks to an inside cradle. The series is tied at 2-2.
Iwatani's tenure as champion couldn't have come at a better time. WOH has been hemorrhaging wrestlers with Brandi Rhodes, Karen Q, Britt Baker, Madison Rayne, and Tenille Dashwood all taking flight over the past four months. In fact the only full-time women really left in the division now are Klein, Sakai, and Rose. Klein has become the face of Women Of Honor but not simply by default. Her hard work, commitment, and continued growth have all ensured that she would have been at the top of the pile even if all the aforementioned women had stuck around. Iwatani adds star power and great wrestling to the division but it's unclear how flexible the Japanese star's schedule is and how often she can truly be available to ROH.
Prediction: My heart has Iwatani retaining again and this humbling Klein enough for her to turn face. She can fend with division newcomers like Kris Stadtlander, Tasha Steelz, and Maria Manic while Iwatani can defend in fresh match-ups against Sakai, Rose, Kimura, and Hazuki. My brain says that they won't have Klein lose three times in a row. Klein retains and, while not going full babyface, turns more tweener than ever as she waits for ROH to actually get serious about giving WOH screen-time, money, and roster members. AEW is breathing down their neck and hard.
6. Juice Robinson vs. Bully Ray (street fight)
Bully Ray has been a plague on ROH since turning heel on Cheeseburger one year ago at ROH Supercard Of Honor XII. He was supposed to get his final comeuppance against Flip Gordon in an I Quit match at Final Battle in December but Gordon's win there came with an asterisk. ROH senior official Todd Sinclair declared that Ray forfeited as Gordon unloaded on him with a kendo stick but Ray has since repeatedly denied ever saying the actual words "I quit." At ROH 17th Anniversary on March 15 Ray interrupted a musical performance by rapper Mega Ran and issued an open challenge to anyone in the world to face him in a New York City street fight in MSG.
Juice Robinson made his ROH debut as part of last November's Global Wars tour, promising to be around plenty in 2019. He has thus far come through on that promise, forming his own faction called Lifeblood and vowing to bring honor back to ROH. With David Finlay, Bandido, Mark Haskins, and Tracy Williams at his side it was only a matter of time before they came into conflict with Ray's unofficial faction of Silas Young, Shane Taylor, and The Briscoes. The first shots were fired at Road To G1 Supercard: Baltimore last weekend when Young low-blowed Haskins and he and Ray threatened to put Haskins through a table as a means of punishing biased referee Todd Sinclair. Robinson made the save and announced that he was accepting Ray's open challenge.
Prediction: Finlay is injured and Bandido and the Briscoes will be tied up with their title matches later but expect Haskins, Williams, Young, and Taylor to get involved here. Possibly Jonathan Gresham too, who was injured by Young at 17th Anniversary. In the end Sinclair helps Robinson pick up the victory over Ray, infuriating him even more as we build to Ray-Sinclair at Final Battle 2019 in a death match. (Okay, maybe not that last part.)
7. Taiji Ishimori vs. Bandido vs. Dragon Lee (IWGP Junior Heavyweight Championship)
The Bone Soldier was reborn in May 2018 when Tama Tonga introduced a returning Taiji Ishimori as the newest member of Bullet Club. Ishimori then went on to the finals of the Best Of Super Juniors tournament before ultimately losing to Hiromu Takahashi. Ishimori got his first real chance at the junior heavyweight title last fall, developing a feud with then- champion Kushida. This culminated in Ishimori winning the belt at Wrestle Kingdom 13 in January.
Since then Ishimori has defended the title twice: against Ryusuke Taguchi (NJPW The New Beginning In Osaka, 2/11) and Jushin Thunder Liger (NJPW 47th Anniversary Show, 3/6). Following the latter match Ishimori called on ROH to send him a worthy challenger for MSG. That challenge was answered instead by CMLL's Dragon Lee, who has made sporadic appearances for ROH since 2016 and done select tours with NJPW since 2017. It was then announced on social media that Bandido was also being added to the match.
Prediction: Prepare for lucha-style insanity as all three men have considerable records with Mexican promotions. In addition to Dragon Lee's résumé, Bandido has history with CMLL, The Crash, and Lucha Libre AAA Worldwide, a nice counterpoint to Ishimori's time with AAA. With the 2019 Best Of Super Juniors just around the corner, and all three men rumored to be among the 16 included, the outcome of this match will possibly dictate who enters that tournament as champion. Look for that to be Ishimori with a pinfall over Bandido.
8. Villain Enterprises vs. Guerrillas Of Destiny vs. The Briscoes vs. Evil & Sanada (ROH World Tag Team Championship & IWGP Tag Team Championship)
Guerrillas Of Destiny became five-time IWGP tag team champions at Honor Rising on February 23 when they defeated Evil & Sanada for the titles. In the main event of that same show ten-time ROH tag team champions The Briscoes retained their belts against Finjuice. Post-match the chicken farmers from Sandy Fork, Delaware called out G.O.D. and challenged them to a title for title, brothers vs. brothers, match at G1 Supercard. It was the first official match booked for this show, though the specifics would change.
Across the Pacific PCO & Brody King had debuted for ROH on January 13 TV as Marty Scurll's new allies in Villain Enterprises. They earned a shot at the Briscoes' titles by winning the Tag Wars tournament on January 24 and would go on to win the belts from them at 17th Anniversary on March 15. (They also won the six-man titles with Scurll from The Kingdom on March 31 TV but nobody cares about those belts.) As a result VE was given the Briscoes' slot in the already-announced "winner takes all" match. But shortly thereafter both sets of former champions would also be added to make this one a four-way.
Prediction: It seems hard to believe that any of these four teams will leave with both sets of titles but this one has been built up far too much for a cop-out DQ ending or other non-finish. We have to leave here with double champions or we will never take any stipulation like this one seriously again. So who is it? The Briscoes appeared for NJPW a fair amount in 2016 but not so much since then. Brody King has never wrestled there and PCO's last match in Japan was July 1999. G.O.D. wrestled for ROH a handful of times from 2016-2017 but not once since. Evil and Sanada both made 14 appearances for ROH last year, the same amount as ROH regulars like Jeff Cobb and Jenny Rose. I'm not confident in this one but the stats point to Sanada & Evil becoming the first Japanese ROH tag team champions since Naruki Doi and their current L.I.J. stablemate Shingo Takagi in 2007.
9. Zack Sabre Jr. vs. Hiroshi Tanahashi (RPW British Heavyweight Championship)
Zack Sabre Jr. made his NJPW debut at the 45th Anniversary Show in March 2017. On that card he challenged Katsuyori Shibata for the British heavyweight title, which he won thanks to interference from Minoru Suzuki and Davey Boy Smith Jr., ensuring his recruitment into the Suzuki-gun stable. That first reign lasted nearly a year and has been repeated twice, the second reign lasting from June 2017 to June 2018 and the third beginning with his defeat of then-titleholder Tomohiro Ishii at Wrestle Kingdom 13 this January.
After winning the New Japan Cup in 2018 (only the second gaijin to do so) Sabre was one of the favorites to make it to the semi-finals this year, only to be stopped in the quarter-final round by Hiroshi Tanahashi, the eight-time IWGP Heavyweight Champion and the undisputed ace of New Japan. Tanahashi would fall to Sanada in the semi-finals but turned that win over Sabre into a challenge for the British title. A win here could be a big turnaround for Tanahashi who, after capturing the IWGP Heavyweight Championship from Kenny Omega at Wrestle Kingdom 13, held onto it for only 38 days before losing it to Jay White at The New Beginning In Osaka on February 11.
Prediction: When Sabre holds the British heavyweight title he tends to keep it for a while but this could be the match that proves the exception. A masterful technician and joint-murderer he will do his best to hobble the aging Tanahashi, particularly at the knees and ankles where he is most vulnerable. But, fueled by "Love & Energy", Tanahashi will hit a High Fly Flow to end this match on top and set up an explosive rematch when NJPW visits the UK on August 31.
10. Tetsuya Naito vs. Kota Ibushi (IWGP Intercontinental Championship)
It's fair to say that Naito has a complicated relationship with the intercontinental title. It's fair to say that Kota Ibushi has a complicated relationship with NJPW. But both of these relationships seem to have hit a stride in 2019 with Naito winning back the IC title from Chris Jericho at Wrestle Kingdom 13 and Ibushi announcing his full-time status with NJPW at The New Beginning in February. Naito and Ibushi have a long relationship in NJPW as rivals and partners. Before his heartbreak with the IC title and subsequent reinvention Naito was a babyface occasional tag partner to then-junior Ibushi. They have faced off six times since the G1 Climax 2013 with Ibushi taking the majority of the matches 4 to 2. But never with a title on the line.
Following Ibushi's win over Naito in this year's New Japan Cup this challenge was inevitable. Ibushi and Naito are two of NJPW's top stars but only one of them (Naito) has been locked down until 2019. Before then Ibushi's recent time with NJPW had been as a freelance performer, which understandably limited his opportunities for long-term title-holding. After his loss of the openweight title to Will Ospreay at Wrestle Kingdom 13 it was rumored he might be making a full step away from NJPW, perhaps following his Golden Lovers partner Kenny Omega to All Elite Wrestling. This, to the relief of many NJPW fans, was not the case.
Prediction: Rewarding his newly-founded commitment to NJPW Ibushi wins this one and walks away the new IWGP Intercontinental Champion, his first true heavyweight title in his run with NJPW. Meanwhile the stage is set for Naito's next chase of the IWGP heavyweight title, with many believing that he is the man to win the G1 Climax 2019 come August.
11. Jay Lethal vs. Marty Scurll vs. Matt Taven (ladder match for the ROH World Championship)
Jay Lethal is the greatest world champion in ROH history at over 700 days and 41 successful defenses. Matt Taven has held the TV title, tag titles, and six-man titles with the world championship the only one that has eluded him. Scurll won the TV title in his third match for the company in November 2016 and is a current six-man champion.
Scurll also won the annual Survival Of The Fittest tournament last November to earn a future world title match. At the 17th Anniversary press conference he declared he was cashing in his title opportunity in MSG against the winner of that show's title match, only for Lethal and Taven to wrestle to a 60-minute draw. Following that stalemate Lethal suggested a triple threat only for both of the other men to scoff at the idea, refusing to compete in a match that they could lose without even being involved in the finish. Instead Lethal reflected back to WWF WrestleMania X in 1994 where Shawn Michaels and Razor Ramon established the ladder match as one of the most popular gimmick matches in wrestling. That one took place, you guessed it, in Madison Square Garden.
Lethal has spoken extensively in the build to this show about how much it means to him to walk into MSG as world champion. (It's a shame he doesn't get to main event but that's due to the complicated nature of the ROH-NJPW relationship rather than his own merits as champion.) He hasn't spoken much about what it would mean to leave MSG as champion, though. We are getting a new world champion tonight.
Prediction: A lot of people seem to be under the impression that Scurll is finished with ROH this month and off to AEW to join his Elite friends. I don't believe that's the case. Another portion of ROH viewers believe Scurll will win here, finally taking a place at the top of the ROH landscape that should have been his last year. I'm not so sure about that either. If Scurll were our next champion I feel the anniversary show would have been the time to strike, keeping the Elite fans hooked through January and February before you risked them dropping off as viewers. I also have to believe that Scurll would have been booked stronger in the build to tonight, not needing to rely on an umbrella to beat Kenny King (17th Anniversary, 3/15) or referee nonsense to beat Shane Taylor (Road To G1 Supercard: Baltimore, 3/31).
Matt Taven has been on the slow path to the ROH main event for nearly a decade. He competed as enhancement talent for the company as early as 2009. He won the second Top Prospect Tournament in 2013, earning himself an ROH contract. He's held the TV Title, the tag titles, and was an inaugural six-man champion. The 60-minute draw at our last pay-per-view was ROH telling us that this man is a main event wrestler, that he can hold his own on the biggest stage the company has to offer, against the greatest world champion in their company's history. A three-way ladder match is built for a heel to win because he can do so without pinning the champ. Lethal and Scurll take each other out and Taven climbs the ladder to earn his coronation and join Christopher Daniels as only the second grand slam champion in ROH history.
12. Jay White vs. Kazuchika Okada (IWGP Heavyweight Championship)
Kazuchika Okada has a lengthy history with the IWGP heavyweight title, having the longest title reign in the company history at 720 days and holding the most defenses of that title at 12. "Switchblade" Jay White, being just a month into his first title reign and only a little over a year as a New Japan heavyweight, would seem out of his depth were it not for the interesting parallels between the two men and where their paths have intersected. When Okada returned full-time to NJPW in January 2012 his first move was to join Chaos and take on Gedo as a mentor, manager, and spokesman. His second move was to challenge and subsequently defeat Hiroshi Tanahashi for the IWGP title, just over a month after his return to the company. From there the legend of The Rainmaker continued to build, culminating in his historic fourth title reign for the IWGP title.
Okada's fall from grace coincided with Jay White's rise. Returning to NJPW from excursion in early 2018 White first challenged (and lost to) Tanahashi, then briefly flirted with the idea of joining Bullet Club before turning on then-leader Kenny Omega and joining forces with Chaos to take on BC instead. White would win the IWGP United States Championship from Omega later that month before losing it to Juice Robinson at the G1 Special in July 2018, setting up a major turn for White as he entered the G1 Climax 2018 with a meaner, sharper focus on his real goal: winning the G1 and the right to challenge for the IWGP title at Wrestle Kingdom 13.
This goal brought out an even more vicious side of White who most pointedly targeted Chaos figurehead Okada, a man weakened by his loss of the title at Dominion and seemingly adrift and plagued by a series of losses. White beat Okada, then Tanahashi, in the G1 Climax. His ruthlessness in singles competition was echoed in the multi-man tag matches throughout the G1 and by the end of the tournament it was clear that White was no longer in touch with the rest of his Chaos stable. Okada and White faced off numerous times in tag bouts throughout the rest of 2018, leading to two big storyline developments. First, White joined Bullet Club and took on the mentorship of Gedo, who had parted ways with Okada following the G1. Then, Okada and long-time rival Tanahashi joined forces to create the Dream Team to take on White's Bullet Club. This rivalry built to a special singles match between White and Okada at Wrestle Kingdom 13 with White's victory there ensuring a challenge for Tanahashi's IWGP title. This came to fruition at New Beginning In Osaka in February with White capturing the gold. White's first title challenge, in MSG for the G1 Supercard, would be from whomever won the 2019 New Japan Cup. That man's name was Okada.
Prediction: White isn't just NJPW's current champion but also their top heel, earning unusually vocal derision from the typically-polite Japanese fans. A win for White would be a weirdly deflating note to send the crowd home from this historic show. By comparison Okada, going through an evolution from untouchable golden boy to lost boy to man heroically renewed, is the wrestler that the MSG crowd is going to be fully behind. The Rainmaker will once again be on top amid a flurry of golden dollars raining down upon the New York crowd.
Up next it's ROH Masters Of The Craft on April 14 in Columbus, Ohio. The main event will see Jay Lethal & Jonathan Gresham vs. Mark Haskins & Tracy Williams in a 30-minute iron man match. Let's also add The Kingdom vs. Shinobi Shadow Squad, Rush vs. Beer City Bruiser, and Shane Taylor vs. PJ Black.
---
Find Harley on Twitter @talkinghonor and Emily on Twitter @forkedpgh. They discuss all things ROH every Wednesday on the PWTorch livecast "Talking Honor."