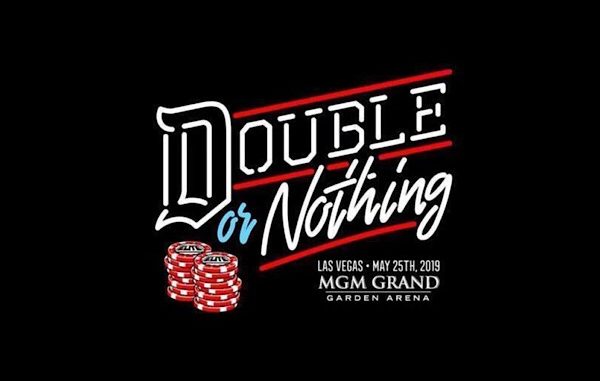 ---
SPOTLIGHTED PODCAST ALERT (YOUR ARTICLE BEGINS A FEW INCHES DOWN)...
---
RADICAN'S AEW DOUBLE OR NOTHING PREVIEW
MAY 25, 2019
LAS VEGAS, NEV.
AIRING LIVE ON PPV, B/R LIVE, AND INTERNATIONALLY ON FITE.TV
Note: For those watching the show on B/R Live, the app is only available on Amazon Fire Stick right now if you're looking for an easy way to watch the show without using traditional PPV.
It's time to look at AEW's "Double or Nothing" PPV card. The company is expecting over 11,000 fans in attendance and more tickets were just released today, so this should be the typical large crowd that shows up from all corners of the globe. In other words, this should be a hot show with a hot crowd exposed to a diverse card that's unlike any other pro wrestling card you've ever seen.
The downside is that outside of Cody Rhodes vs. Dustin Rhodes, there's not a great storyline hook on the show. Hangman Page vs. PAC, the other match with a solid storyline, is off the card and now AEW is teasing that Hangman Page won't even wrestle on the card as he sells an attack from PAC that took place after their match at WrestleGate in the U.K. last weekend.
PRE SHOW (THE BUY IN) – STREAMING LIVE ON B/R LIVE
KIP SABIAN vs. SAMMY GUEVARA
I'm not that familiar with Sabian's work, but Guevara is a legit high-flying prospect. There's not much of a storyline going into this match, but Guevara was one of the early names announced as signing with AEW and he's been featured regularly on Being the Elite.
Prediction: Guevara gets the win to establish himself as a threat on the roster.
CASINO BATTLE ROYALE – winner receives future AEW World Title match
AEW has announced that the winner of Chris Jericho vs. Kenny Omega will face the winner of the Casino Battle Royale to crown the first AEW World Champion. The rules are that each participant picked a card from a deck and wrestlers will enter in groups of five every three minutes depending on the suite they drew. The last entrant will be the lucky number 21.
The match will feature the following names: Sonny Kiss, Brandon Cutler , Ace Romero, Glacier, Brian Pillman Jr., Sunny Daze, MJF, Joey Janela, Dustin Thomas, Billy Gunn, Jimmy Havoc, Michael Nakazawa, Jungle Boy, Isiah Kassidy, Marq Quen, Luchasaurus, Shawn Spears, and four other competitors.
I don't see anyone announced so far being ready for a top spot in AEW's title picture. I'm guessing that a bigger name shows up among the four unannounced entrants and wins the match.
Prediction: Hangman Page shows up as the lucky number 21 entrant and wins the match and captures his spot in the match to crown the first AEW World Champion.
DOUBLE OR NOTHING
CHRIS JERICHO vs. KENNY OMEGA
This match has been largely built as an extension of their feud in NJPW when Jericho and Omega faced off at Wrestle Kingdom 12 on Jan. 4, 2018. They had a really entertaining match that was largely filled with a lot of hardcore brawling elements. I would expect more of the same in this match, as Jericho has been wrestling more of a brawling style since he reinvented himself before entering NJPW.
I'm interested to see if Jericho plays the same character he does in NJPW with the black face paint and makeup he wears. He's toned down his appearance when he's shot footage for AEW. Jericho and Omega have had a couple of brawls. The first one was at the Double or Nothing ticket rally on Feb. 7. They also had a recent brawl at Southern Honor Wrestling that you can watch below.
Jericho has been planting the seed for a feud with Cody in the future on recent editions to Double or Nothing. Omega is clearly going to be involved in the AEW World Title picture on a regular basis.
Prediction: Kenny Omega wins a long brawling match in front of a hot crowd with the One-Winged Angel.
AAA WORLD TAG TEAM CHAMPIONS THE YOUNG BUCKS (MATT & NICK JACKSON) vs. THE LUCHAS BROS. (PENTAGON JR. & REY FENIX)
The Young Bucks and Lucha Brothers have been in a feud over who is the best tag team in the world since the Double or Nothing ticket rally. Their feud has played out across several surprise appearances on the indies and an impromptu match at AAA's Rey de Reyes on March 16 that saw the Young Bucks capture the AAA Tag Team Championship.
You can fast forward to around the 1 hour mark to watch that match below:
On the latest episode of Being the Elite, there was a great highlight package hyping up this match between The Young Bucks and Lucha Bros. They've only faced each other one other time in the U.S. in a traditional tag back at PWG's Head Like a Cole on May 19, 2017, which you can watch HERE with a subscription to Highspots Wrestling Network.
These two teams have fantastic chemistry and this will likely be the match of the night. The Young Bucks have been teasing a new finisher on Being the Elite. That makes me think they have the edge going into this match.
Prediction: The Young Bucks win with their new finisher.
CODY vs. DUSTIN
This match has had the best build of any match on the card. Cody is really good in matches that tell a story and his match against Dustin should be fantastic. A few years back, when they were Stardust and Goldust in WWE, it appeared they were going to get a spot on WrestleMania for a singles match when they split apart, but it never came to be for them.
Now, Cody and Dustin get to tell their story on their two terms. The story is a simple one: this is about two brothers driven apart in life and in wrestling by a generational gap. Dustin is the older brother that was part of the attitude era and Cody is the younger brother that despises that time. The feud goes deeper than that as both men discussed that they grew up at different times under their father Dusty Rhodes, which drove a wedge between them due.
The feud has been built up in a tremendous manner on Cody's The Road to Double or Nothing series. Cody has said it is time to put Dustin out to pasture like an old animal that is put down when its time has come. Dustin has said that this match is coming as he's looking to wind down his in-ring career. You can watch the most recent video from The Road to Double or Nothing below:
Cody is being pushed into a feud with Chris Jericho and Dustin has been painted like his time in the ring is close to coming to an end. I'm not sure how much Cody and Dustin can do in the ring. Cody is coming off knee surgery, although he was shown on Being the Elite recently doing a moonsault into a pool. Dustin hasn't had a spotlight singles match in a long time. Dustin's new look with red, black, and silver face paint on half his face is a nice departure from his look as Goldust.
Prediction: Cody wins a good match that catapults him into his feud with Chris Jericho in the fall. This match should be the match coming out of the show that people remember for a long time when it comes to Cody's character going forward.
BEST FRIENDS (CHUCK TAYLOR & TRENT) vs. JACK EVANS & ANGELICO
Angelico and Evans were just signed and announced as being part of the AEW tag team division recently. Originally, Taylor and Trent were supposed to be in the Casino Battle Royale. They did a goofy skit on multiple episodes of Being the Elite where Taylor and Trent wanted out of the Casino Battle Royale because they wanted a tag match. At one point on Being the Elite, Taylor threatened to kidnap Matt and Nick Jackson's children if they didn't give them what they wanted.
On the most recent episode of Being the Elite, Matt and Nick Jackson gave in and told Trent over a Facetime call that Best Friends would be facing Jack Evans & Angelico at Double or Nothing. Obviously,the build to this match hasn't been that exciting, but I'm expecting a really good match out of these two teams if Best Friends have their working boots on and aren't doing comedy.
Angelico hasn't been great as a singles wrestler, so it's great to see him reunited with Jack Evans in AEW. They have great chemistry together.
Prediction: This is a tough one to call. Best Friends have gotten a big push on Being the Elite, so I'm guessing they win a very competitive match to establish themselves at the top of the pecking order in the AEW tag division. Angelico and Evans will likely be handled well going forward and they will likely have their turn to be the featured tag team in the division at some point down the line.
KYLIE RAE vs. NYLA ROSE vs. BRITT BAKER
Rose and Rae had a shoving match and were separated at the Double or Nothing ticket rally. This occured after Rae was announced as the latest additional to the female side of the AEW roster. Baker, who was the first woman announced for the AEW roster, was added to the match without much explanation a short time later. On The Road to Double or Nothing, Brandi Rhodes has been trying to stick her nose into the match by by telling them in separate Facetime sessions that she thinks each of them is going to win.
This match got off to a good start with some tension between Rae and Rose, but not much has been done since then to put some steam behind the feud. I'm not that familiar with Rose's work, but Rae and Baker are excellent wrestlers. Although Rae is good, Baker seems to be getting the most attention of any female on the roster besides Brandi Rhodes.
Prediction: Baker appeared at the WarnerMedia upfronts, so my guess is she gets the spotlight in this match to establish her as one of the top acts in the women's division.
SCU (FRANKIE KAZARIAN & SCORPIO SKY & CHRISTOPHER DANIELS) vs. STRONG HEARTS (CIMA & T-HAWK & LINDAMAN)
This match has been set up as a friendly challenge between SCU and the team of CIMA & T-Hawk & Lindaman from OWE in China, which is a federation known for its flashy maneuvers and innovative wrestling. There's not much of a storyline here, but this should be a great six man tag, as I expect both teams to be ready to wow the crowd in Las Vegas. OEW out of China will be represented well, as they have a working relationship with AEW.
Prediction: The Strong Hearts will win a very good match. CIMA has been announced as signing a full-time contract with AEW, so he will likely be showcased here to establish him as a permanent fixture going forward.
AJA KONG & YUKA SAKAZAKI & EMI SAKURA vs. HIKARU SHIDA & RIHO ABE & RYO MIZUNAMI
These six women from Japan are likely going to tear the house down. Outside of those that follow joshi wrestling closely, Kong is likely the only recognizable name to most people going into this match. If AEW's plan is to feature great women's wrestling from Japan on their undercards in a similar manner to the way WCW's Nitro featured the cruiserweight division on their undercards, fans will be in for a treat.
Kenny Omega is one of the lead voices when it comes to AEW finding female talent and he has a deep knowledge of the women's wrestling scene in Japan, so it's likely that he's found some great talent. This is just the tip of the iceberg when it comes to what AEW is going to be able to present from the female talent in Japan going forward. With so many women being signed by WWE and Impact, AEW will likely make its mark on women's wrestling by bringing in some great undiscovered talent from Japan. I'm not familiar with all of these women outside of Kong and I've seen a little bit of Shida, but from what I've heard about all of them, it will be exciting to see what they bring to the table.
Prediction: Hikaru Shida & Riho Abe & Ryo Mizunami win a fantastic match. Shida and her incredible kicks will likely be showcased here. Shida has been appeared in Shimmer in the past and could be a potential star on the rise in AEW.
Contact Sean at radicansean@pwtorch.com. Follow Sean on Twitter at twitter.com/sr_torch.