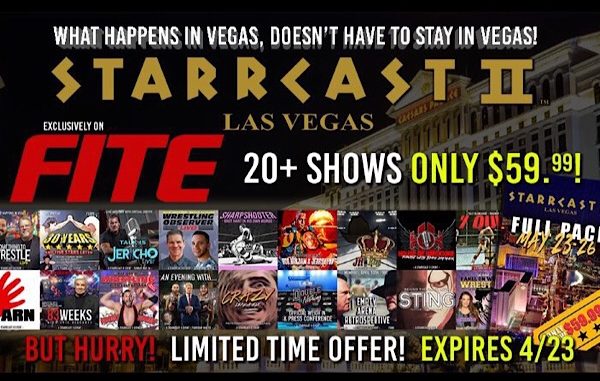 ---
SPOTLIGHTED PODCAST ALERT (YOUR ARTICLE BEGINS A FEW INCHES DOWN)...
---
The second day of Starrcast was far more busy with most of the attendees arriving that morning. More wrestlers had arrived and were hanging out in the lobby of Tuscany. Bill Apter was taking pictures with fans. I also saw Blue Meanie, Road Warrior Animal, and Dan Severn. This was one of the major differences with having Starrcast split over two venues. Last year, it was much more common to see wrestlers hanging at the bar or grabbing a bite to eat while fans browsed the convention. At Caesars, most of the wrestlers were held in back rooms and closed off areas. Although I did see a few big names like Hangman Page walking through a hallway. While the accessibility was still good, it was nowhere near the level at Starrcast I.
Sting was the first major show of the day I went to. It went head-to-head against J.R. and The King which was held at the adjacent theater. Sting was a big draw this year not only because it was his inaugural Starrcast appear, but because he was going to have his full face paint. The face paint made it feel like a true Sting appearance rather than Steve Borden talking about Sting. I estimated over a thousand were in attendance for the interview with Tony Schiavone. Schiavone said that he considered Sting a good friend of his even though they don't talk too much. Sting received a great pop from the audience before they dove into discussing his various face paint incarnations.
There were a few awkward moments when Sting inferred that Schiavone accused him of ruining WCW because of the finish from Starrcade 1997. It was clear that Sting didn't actually believe that, but at times it felt like it took the act too far where the audience didn't know how to react. Sting then brought it back for some comedic moments later in the interview. He talked about with Big Van Vader and how he brought him to a another level as well as his love for working with big men. If he had to chose one opponent in WWE now, it would be Braun Strowman.
An audience member asked him if he would come back for another match and he said he would consider it for the right price, but he is satisfied with how his career ended. Throughout the interview, Sting became more and more comfortable where you could see why the surfer Sting gimmick fit him so well. He was laid back and relaxed, and found a groove with his comedic timing. One of the funnier moments was when someone asked about working with Jim Herd and Mark Madden, then David Crockett audibly yelled "Pizza Man" from the back of the theater. Sting did not have much to say about him other than he didn't understand the wrestling business at all. He was once offered a contract for significantly less than his worth at the time.
Before entering the massive line for my Kenta Kobashi meet and greet, I stopped by the merchandise table which was run all weekend by Don West. West tried to lure in guests with his pitch man promos working to sell as much as he could. He told me and a few others surrounding the table about his time in TNA. He told a story about working with Kurt Angle and how Kurt put an ankle lock on him that he sold as much as he could. Afterwards, Angle threw West's shoe at his back and made an imprint that was pointed out by Sting backstage. Most merchandise was fairly priced with programs and prints $20 and Starrcast shirts $30.
After buying my Kobashi print, I entered the daunting line for his meet and greet. While my wait in line exceeded an hour, the time seemingly flew by. I chatted almost the entire time with two guys standing behind me from Connecticut. They had been to several WrestleManias, WrestleCons, and comic conventions, but not Starrcast. I asked them about the general feeling at those shows compared to this and they thought, other than the meet and greet line, Starrcast was more organized. They said the staff was more helpful and knowledgeable whereas they had numerous frustrating encounters at large comic conventions where they were given false information at times. They also noted that WrestleMania weekend has so many people that at times it can feel claustrophobic and like you're always in a rush to beat the crowd or sprint to the next thing. By the time we had made it around the corner, Starrcast staff had shouted last call for Sting meet and greet over a dozen times.
The people who had Sting tickets were instructed to go towards the front of the line which started to split in two. Other people starting making their way towards the front creating a glut of people who had all sorts of meet and greet tickets. Several people in line let their negative feelings be known to staff member and those waiting with them. Many had hoped there would have been an optimal solution for the meet and greet queue other than everybody lining up together then going to the different wrestlers in the room.
Not long afterwards, they called for anyone with Kenta Kobashi tickets. I made my way to the front and showed my ticket. Kobashi was placed in between Jim Ross and Jerry Lawler to his right with Joey Janela and Penelope Ford to his left. Kobashi had five people in line who were all major Japanese wrestling fans. Not everyone there knew Kobashi, but those who did were more excited about him than anyone else advertised for Starrcast. Kobashi was humble and graciously thanked every fan who came to him. He intently listened to each fan, then spoke back with a few words in English and Japanese.
The vendor room was in a giant conference room. Last year's event in Schaumburg was in a tiny lower level room that could only fit a few hundred people. This year, the space could hold well over a thousand allowing for a more free flowing experience. The biggest lines were for Kevin Nash, Dean Malenko, Ricky Steamboat, and Ted Dibiase. There were a lot of the same vendors from last year, but this year did not see a tattoo area which was quite popular last year.
An hour before the Press Conference/Weigh-In, people began lining up. Last year, a large portion of people did not get into the event. This year, I was successful and the theater could seat nearly everyone who wanted to attend. By the time the show began, I only saw a handful of open seats near the back areas. The event kicked off with with MJF being kicked out followed by Kylie Rae and a legitimate marriage proposal on stage which was followed by a "Holy Sh–" chant. The fans were ready to buy into anything and everything tonight. Kip Sabian and Sammy Guevara didn't get much reaction when they came out, but had won over the crowd with their heated exchange. Cody and Brandi received enormous pops on the same level as The Young Bucks.
The show ended on a high note with an excellent promo from Dustin Rhodes. Although people loved Dustin, people were surprised that he had this level of promo in him. By the time people Dustin exposed his "Dusty's Favorite" t-shirt, people began to be the most excited for his match. Exiting the event, I overheard several people express disappointment over the absence of Kenny Omega and Chris Jericho. In hindsight, their match could have really used this platform to cut one final promo to get people more excited about the main event.
At the next event, Wrestling Observer Live, Dave Meltzer and Bryan Alvarez were asked why Jericho and Omega did not appear. Meltzer seemed surprised that they didn't, but speculated it may have been because they didn't want to have them brawl or any face-to-face confrontation. Had Omega come out for a basic promo, the fans would have eaten that up, despite Dustin stealing the show. Wrestling Observer Live was one of the weaker shows of the weekend, but not because of Meltzer or Alvarez. They were asked more basic questions such a favorite finishers as well as inappropriate questions like "f—, marry, kill."
Comedian and podcaster Matt McCarthy asked Meltzer about his tapes and magazine collection which drew some amusement from the crowd. McCarthy suggested starting a Go Fund Me to ensure that everything was preserved. I had meant to ask Meltzer more about the state of journalism and the increase of online trolling, but given the context my question about internet trolls drew laughter from the crowd so I shortened my question in order to move on quickly. Most in the crowd had only heard of Meltzer through other mediums. While others were looking for a more in-depth show. The timing of the event did not help either. If the show had been on Sunday, they could have talked more about Double or Nothing and crowd would have been more positively engaged.
Following Wrestling Observer Live was supposed to be The Roast of Ric Flair. Due to unfortunate circumstance, the event was postponed and replaced with a "Ready to Rumble" watch along with David Arquette. Throughout the weekend, many had hoped there would be a last second Roast added, as that was the event that drew most people to buy the platinum bracelet to ensure a good seat. On such short notice, it would have been difficult to arranged such a thing. The free night allowed me to explore more of Las Vegas and attend "The Beatles Love" over at The Mirage.
---
RECOMMENDED: STARRCAST II DIARY – DAY 1: Dehnel's blog detailing Cody & The Bucks stage show discussing Punk and TNT deal, observations from roaming Starrcast and Vegas