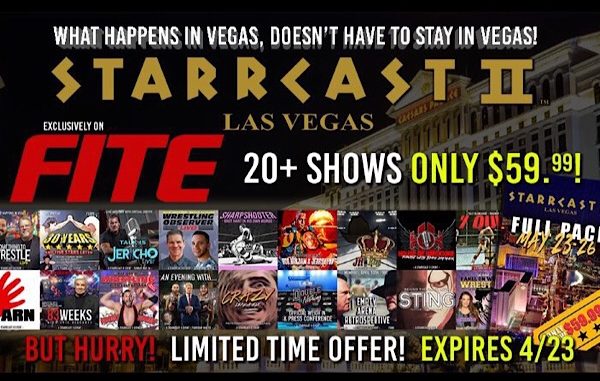 ---
SPOTLIGHTED PODCAST ALERT (YOUR ARTICLE BEGINS A FEW INCHES DOWN)...
---
As the fourth day of Starrcast wound down, I decided to sacrifice more sleep to catch a few more panels before catching my flight home. Sundays at Starrcast always feels like a hangover because most people are actually hungover and a lot of people have left after an eventful weekend. I thought I would check out fellow Minnesotan and new AEW Coach, Jerry Lynn, and Rob Van Dam discussing their matches together.
By the time the show started, there were about 100 in attendance. This was the most low-key of all the panels that I had been to this weekend. Lynn talked about the physical toll that the matches took on his body as well as one match with Van Dam where he was in insurmountable pain. Van Dam told Lynn that he always thought he was knocked out cold. Lynn wished that he had been in order to avoid the feeling that his head had been split in half.
Van Dam was joined on stage by his longtime girlfriend, Katie Forbes. He credited Forbes with helping him with his depression and bringing him through a very tough time in his life. Van Dam also wanted to clear the air about false reports made about him leaving his ex-wife for Katie. He said that none of it was true and explained how the timelines don't match up with what was reported.
Lynn spoke on being a coach for AEW and working with the young wrestlers including helping to plan out the match between Best Friends and Angelico & Jack Evans at Double or Nothing. Van Dam said the goal of his matches with Lynn was to make everything look real and avoid anything that looked like coordination between them. He mentioned the Canadian Destroyer as a move that he hates seeing because it requires the opponent to wrap their legs around them in order to execute. When I exited the panel, there had already been a line established for the Rob Van Dam meet and greet. I waited around the Vendor Room which was starting to clear out. About a third of the tables were empty at this point.
About an hour before the Talk is Jericho stage was supposed to begin, I checked my Twitter. Starrcast had retweeted a video from FITE TV. It was a video of Chris Jericho saying that he would not appear at Starrcast because he did not get a thank you from the fans last night. Word started to spread quickly that the show had been cancelled and people were not happy. There was a lot of confusion and debate whether or not the event had actually been cancelled or not. I checked with the Starrcast information table to get some clarification.
The first person said they were not aware of any cancellation and seemed quite confused by the question. Another Starrcast staffer walked by and confirmed that it had indeed been cancelled because Jericho had somewhere else to be today. Fans who stuck around an extra day just for this show were very disappointed, but optimistic that it would be a work since Starrcast had not sent out any official word on the matter. As it became apparent that there had been another cancellation, most people began lining up for Dustin Rhodes's panel which was happening at the same time.
Starrcast members came by to put tape over Jericho's slot on the schedule banner. Right before they allowed people to enter for Dustin's panel a text was sent out via the Starrcast app confirming that Jericho's show had been cancelled. At the same time, a Starrcast staffer yelled out that Talk is Jericho is still happening and it was open for seating. Everyone made a mad dash into the theater. Everything was setup as though it was going to happen with two chairs on stage and the Talk is Jericho graphic on the screens.
While waiting, I talked with a gentleman from Canada who had recently gotten back into wrestling. He said that he left wrestling in the mid 2000s, but started to comeback when he heard about The Elite and All In. I heard this a lot over the weekend from various people who continued that mantra of wrestling was back and they were finally excited again. I asked him about last night's show and he said that the closest thing he remembered in terms of audience reaction in-person was The Rock vs. Hulk Hogan at WrestleMania 18.
Matt Striker appeared on the screen and introduced the audience to Talk is Jericho. The same video of the tweet from Jericho played in the big screen where he said he was not going to appear. The focus moved back to the stage where there was a cardboard cutout of Jericho. A fan stood up and said he wanted to give the audience a show if Jericho wasn't going to be here. He went up on stage and Striker began to strut towards him. Striker asked him why he thought it was okay to come up on stage, but pulled the mic away before he could answer. The fan was incredibly embarrassed. Striker booted the fan off stage then confirmed that show is indeed cancelled, but said to check out Dustin in the adjacent theater.
There has been varying opinions on how this was all handled. The audience at home loved Jericho pulling a big heel move. Fans at Caesar's were very upset that Starrcast still told people that the show was going to happen even though all indications were that it was cancelled. It would be one thing if it was cancelled and everyone went to Dustin, but to still send people into the theater reflects poorly on Starrcast. Fans had already dealt with several disappointments of shows being cancelled and talent being pulled for a variety of reasons. Terry Funk was not feeling well after his wife passed. Kurt Angle and The Undertaker were pulled by WWE. Ric Flair was recovering from heart surgery. Sabu was pulled after fan backlash. Tatsumi Fujinami did not appear with no reason given. Many of these were for very valid reasons and completely out of the hands of Starrcast while they had all the intentions of doing right by the fans. While a no-show benefits Jericho's heel persona, unfortunately another cancellation put more heat on Starrcast even though by all accounts it was not their fault.
Matt Koon, who worked at Starrcast, provided some more insight on the situation by saying not all staff knew that it was cancelled which explains why there was miscommunication. He also said that Jericho cancelled on Starrcast. Dave Meltzer of The Wrestling Observer later reported Jericho and promoter Conrad Thomson's side. Jericho says he informed Thompson a month prior that he could not do the show due to it airing on iPPV through FITE TV. Thompson claimed he was told by Jericho two days before that he could not do the show due to family plans. Both sides agreed that Jericho would cut an in-character promo prior to Jericho finding out about the conflict. Jericho would later take responsibility for the no show claiming it was his fault for not coming, but live Talk Is Jericho was never happening.
The dejected fans made their way over to Dustin Rhodes's sit-down interview which was already in progress. Dustin was asked about his match last night with Cody. Dustin got emotional every time he thought about how perfect the moment was. He was not fully aware of the fan reaction because of all the blood that poured down his face. He asked the crowd if they actually thought it stole the show then received a standing ovation from the audience.
Dustin claimed that was his last match against Cody and planned on that being his last match ever before Cody asked him to do the tag match against The Young Bucks. The interviewer continued to ask Dustin about his career as Goldust and what advice he would give to members of the WWE roster. He told them to do what they can to get over and, if that means changing things yourself in the ring and if you get fired, then there's so much more you can do outside of the prison. At times Dustin had difficulty understanding the interviewer's European accent which lead to a few awkward moments where Dustin yelled at him.
Following Dustin's panel, I began my trek to the airport. On the escalator down from Starrcast to the casino, I bumped into Dave Meltzer and asked him if the Dustin-Cody match could be five-stars. He wouldn't commit, but said that it would be close and he would need to rewatch the broadcast.
When I made it to the airport, I asked people with Starrcast bracelets what they thought of it all and if it was worth the money. Almost everyone said they had a great time, but felt that the platinum bracelet was not worth the additional cost compared to gold. This year, platinum was $279 which included priority seating, first dibs on meet and greet packages, and other ticketed events. Gold was priced at $179 which was the same price as last year's platinum. As it turned out, three of the major stage shows being cancelled and no meet and greets for Kenny Omega or Chris Jericho. Many who purchased Platinum thought they would get free first crack at The Undertaker meet and greet and a good spot for The Roast of Ric Flair.
Starrcast ran into a number of hiccups the second time around which was a testament to how smoothly everything went at the first event. I had purchased the gold bracelet and, despite the issues, I felt that I got the value back for what I spent. The opportunity to meet Kenta Kobashi could be a once-in-a-lifetime opportunity. The stage shows that I saw all delivered. And of course, Double or Nothing was another event I will never forget. I plan on making the drive down to Chicago for All Out, but it remains to be seen if I will attend Starrcast III.
---
RECOMMENDED: STARRCAST II DIARY – DAY 3: Dehnel's blog detailing Bret's harsh comments on Viceland documentary on Montreal Screwjob, Double or Nothing on-site report including Moxley surprise