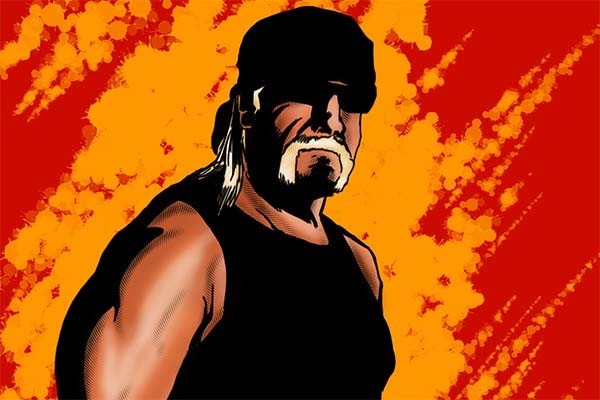 ---
SPOTLIGHTED PODCAST ALERT (YOUR ARTICLE BEGINS A FEW INCHES DOWN)...
---
In the course of the Wade Keller Pro Wrestling Post-Show, we received a letter I wanted to respond to regarding Hulk Hogan, "cancel culture," and the ability to respect and enjoy our favorite wrestlers before they are gone. While I will warrant that, at times, the dog-piling nature of social media can be a bit much, I'm the resident receipt keeper of the Torch, and I invite you to follow along the Bollea experience through my eyes.
Hulk Hogan taught a lot of lessons to those in the world of wrestling and the overall world of entertainment. Whether it was his move into television and movies, his pop culture status, or even the WrestleMania 18 match with The Rock, Hogan's been a fount of knowledge. Cancel culture, in turn, is a lesson Bollea can learn via the Rock's hit Under Armour line – "Rent's Due." You remember Dwayne, right Terry? He's one of those n*****s you said had to be a billionaire for your daughter to be approved to date? He's almost there, but I think he's married, so he might not make the list.
Say, where'd the dude that used that say that go? Anyway…
Cancelling, as exhibited in current society, is the rent coming due on behavior people in society
have exhibited for years and weren't checked until someone with the power to force them to change that negative behavior or the market itself did so. For every person "cancelled," there is a return to prominence after a period of time where:
The person cancelled has expressed remorse, attempted to make amends, and has shown growth from the situation that was brought to light (see James Gunn, Nick Gage)
The person has apologized for "anyone harmed" or expressed their remorse that their indiscretion was brought to light. (Terry, Johnny Depp)
The person is Mel Gibson and apologizes for nothing.
If the company really wants to ride out whatever issue it is you as a celebrity/public figure are facing, and there's enough money in it for the people that will be employing/supporting you, it'll go away. Pro wrestling is no different than any other entertainment walk of life – the calculus of risk/reward will determine your presence as much as the level of "fireability" the action has warranted. For a star whose luster had faded (generously, I'll say, in 2010), the actions of Terry Bollea as revealed in 2015 warranted his firing from a publicly-traded, billion dollar company.
From 1983 until 2015, Terry Bollea enjoyed the power, limelight, and marketing power that Hulk Hogan earned him. When Bollea was fired in 2015 because, on a sex tape, among other things, he said the below quoted, he lost the ability to ever fully profit from the character without answering the questions raised about the man behind them. You've no doubt heard or read his, "I'm a racist, to a point, y'know, f***ing n****rs" grenade. But remember, he never said what was said was wrong at first, it was instead:
"People need to realize that you inherit things from your environment. And where I grew up, was south Tampa, Port Tampa, and it was a really rough neighborhood, very low income. And all my friends, we greeted each other saying that word."
This excuse was also easily dispelled by current WWE wrestler and actual role model Titus O'Neil, who grew up in the same area. O'Neil went on the "Busted Open" radio show after Hogan's failed apology attempt to the WWE locker room in Pittsburgh prior to a pay-per-view (O'Neal on Sirius, transcription courtesy of WrestleZone):
"First of all, you grew up in the '60s," Titus said. "I don't know any black man that would let you call him that in the '60s. You grew up in South Tampa, you went to Robinson High School. I live in Tampa — Robinson High School was not a predominantly black school in the time that he went to high school. Most of the people he wrestled with, Mike Graham – Eddie Graham's kid – you know Steve Keirn, these guys all went to high school with him. So don't tell me that's how you spoke in the '60s. There's no realistic way that you can even come close to telling me that was okay with any black man at that time. So again, the inconsistencies of the apology along with the lack of remorse and contrition with the apology are the reason why I felt and many others felt at that meeting that this was a complete waste of our time." –
But let's take a time out, because I know this is a lot. Take the racism and dog-piling off the table. Take the issues with his daughter's choice in men off the table. Let's talk about the idea, as Bollea mentions in an interview with Larry King in 2008 prior to joining TNA – again proving his worth at the time warranted ignoring this firestorm – that he was disappointed that tapes got to the media. Not the sex tape information – no, we're talking about the tapes of Nick and Terry and Terry's wife at the time talking to Nick in jail about Nick's friend John Graziano – who was in a brain trauma unit clinging to life.
John's injuries were a result of deciding to ride with Nick without a seatbelt as Nick went in excess of 100 miles an hour under the influence in a car Terry owned. While the Bollea family threw themselves on the mercy of the court, citing how sorry they were to the judge that the incident occurred and wished mercy for Nick, on those jailhouse conversations, the family saw John's injuries as payment for something Graziano must've earned from God as a result of prior transgressions.
(Yes, the Dean Ambrose-Roman Reigns story had a real-life counterpart 10 years prior and was still just as icky.)
Terry also had this to say to Nick when on one of those jailhouse calls:
"I guarantee it. Because you know how all the blizz pizz love us."
– Bollea to his son Nick, 2008
This is in regard to a school Nick could go to after jail, where he'd be taken care of because black people love him. So, a full seven years before the fateful quotes would hit the airwaves, Bollea was banking on black people to have his back just on the fact he's Hulk Hogan. This would also play out in 2015 to present, whenever Terry finds time to retweet or post a picture of any smiling black face willing to wash his non-apologies away in the wake of their love.
Let's go back to Titus O'Neil, in a statement after Bollea's apology to the WWE locker room:
"As to the reinstatement of Mr. Bollea, I can only communicate that I am a proponent of second and even third chances for individuals that show true remorse, acknowledgement of wrongdoing, fulfill their punishment, if applicable, and otherwise put forth sincere efforts to correct the issues."
In my day job, we talk to students about the idea of a "brave space" instead of "safe space," which affords the opportunity and grace to screw up when dealing with others of a different background in word or deed. That friction in turn allows for growth, understanding, and hopefully a new perspective.
Terry Bollea, in the span of two life-changing situations, has only taken away from those events that having the public hear his words – hear him – were the true sins. In the case of either the chat with the Pittsburgh locker room that precipitated the Titus O'Neil and New Day press releases, nor the Larry King interview on the jailhouse chats, there was no willingness to move into a brave space. Bollea just wanted to step back into the Hulk Hogan role with minimal self reflecting. My dad had a phrase for a situation like this: When someone shows you who they are, believe them.
In 2019, if you want to cheer Terry, that's not for me to judge. If WWE wants to use Bollea and they can make bank off of his legacy, have at it. If he wants to go the Gibson route and say to hell with any of his critics and ply his trade at times in spite of the criticism, Terry can knock himself out and would be fine doing so. Shoot, I'd have respected his hustle more if he died on his short-lived "how come they can say it in rap songs" Twitter posit as the imbroglio raged post-firing.
However, if Bollea, his remaining fans, or WWE want Terry to be in the spotlight that his years as Hulk Hogan afforded him, with the love and affection that character had banked for almost 20 years without fans like those in San Francisco booing him, don't count on folks like me not changing the channel when he's on.
It's not cancel culture, it's the fact the rent's way past due.
REFERENCES…
DAILY RECORD: Hulk Hogan caught making more racist comments in jailhouse phone call to son Nick – listen here
COMIC BOOK: Titus O'Neil Explains Where Hulk Hogan's Apology Went Wrong
CBS SPORTS: New Day, Titus O'Neil address recent Hulk Hogan apology to talent
---
Rich Fann is the host of the PWTorch Dailycast "The Deep Dive" on Saturdays at 6 p.m. Eastern, as well as the co-host of "Radican Worldwide" and "The East Coast Cast". He can be found on Twitter @rich_fann.