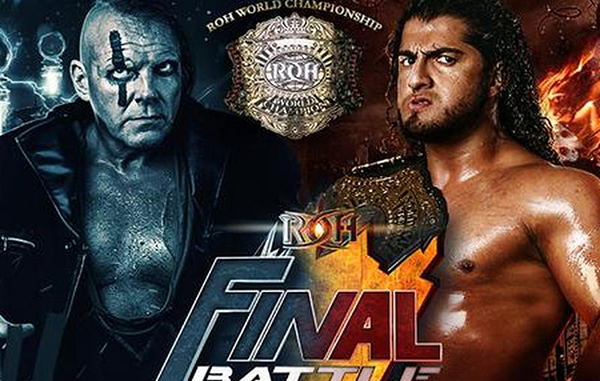 ---
SPOTLIGHTED PODCAST ALERT (YOUR ARTICLE BEGINS A FEW INCHES DOWN)...
---
I've watched Ring Of Honor television every week for about eight years now. Two years ago the opportunity arose for me to turn that love into text form and I arrived here on staff at the Pro Wrestling Torch, tasked with the assignment of providing weekly written reports on ROH TV. And I loved it. Getting to be a small part of the dynasty that is the PWTorch. Writing about terrific wrestling. Seeing the wrestlers of the future on a regular basis before they became even bigger superstars. We even launched an ROH-centric podcast called Talking Honor and recorded 85 episodes before ending it this past September.
2019 was the year the wheels came off the bus for ROH. This time one year ago it became clear that The Young Bucks, Cody, Adam Page, and Brandi Rhodes would be departing from the promotion to do something different, though it wasn't clear quite yet what that would be. Pretty quickly on their heels the trio of SCU and the duo of Best Friends also packed their ROH gear away and followed suit. It was a big blow to ROH but not a fatal one by any means. This was the same promotion that had seen wrestlers like Daniel Bryan, CM Punk, Samoa Joe, Seth Rollins, Kevin Owens, and Adam Cole leave. Every time they readjusted, found new stars, and continued on.
In the wake of The Elite's departure ROH broke out their check book. Big indie names like PCO, Brody King, Rush, Bandido, Mark Haskins, and Tracy Williams were signed. Added to the long list of exemplary talent already on the roster and all the makings were in place for a renaissance. Not to mention the thriving working relationships and talent-sharing agreements with NJPW, CMLL, Stardom, and RevPro. At the time ROH and New Japan already had a sold out event scheduled for the world's most famous arena, Madison Square Garden. By attendance numbers alone it would be the largest event in the 17-year history of ROH.
G1 Supercard may end up being remembered as the moment it all started to go wrong. Three of the biggest names in Stardom were brought over from Japan only to be relegated to a dark match. A 30-man Honor Rumble culminated with a lukewarm Kenny King eliminating the legends Jushin Thunder Liger and Great Muta to apathy from the live crowd. Former world champion Dalton Castle jobbed out to Rush in 16 seconds. A decent match between Kelly Klein and Mayu Iwatani was overshadowed by the arrival of TNA's former Beautiful People. A trios street fight, unnecessary in and of itself, centered entirely around Bully Ray. Perpetual midcarder Matt Taven captured the ROH world title over the massively-beloved Marty Scurll and the franchise of ROH Jay Lethal in the third gimmick match of the night. Oh, and lest we forget ROH management deciding to shoot on their own locker room by orchestrating an angle wherein two WWE cast-offs (one dismissed amidst sexual assault allegations) came from the crowd to pick a fight with The Briscoes. By contrast New Japan's side of the card saw straightforward championship matches with the selling point being the quality of the wrestling, as opposed to the abundance of shenanigans and has-beens ROH chose to showcase. For many fans, the juxtaposition was embarrassing.
Since April ROH live events have seen a steady decline in attendance. The creative team appeared desperately out of touch with what the growing number of NJPW, AEW, and NXT fans were clamoring for in their presentation of wrestling. ROH shows increasingly started to resemble 2010 TNA or the later days of ECW. Nearly every event seemed to feature some form of street fight. Low blows were rampant.
Lacklustre feuds dragged on and on (Lifeblood vs. Villain Enterprises?). Wrestlers would debut an impact, then spend months doing nothing of consequence (Soldiers Of Savagery, Maria Manic). Popular wrestlers that the fans loved and genuinely wanted to cheer for were turned heel (Dalton Castle, Jonathan Gresham, Flip Gordon, Jay Lethal). Others swung back and forth from face to heel so frequently that it was hard to know how we were supposed to feel about their behavior on any given night (The Briscoes, Rush). The women's division bled out with wrestlers leaving quicker than new talent could be signed (Karen Q, Britt Baker, Madison Rayne, Tenille Dashwood, Twisted Sisterz). Arguably the most popular and most valuable members of the roster were continually underutilized (Marty Scurll, Jeff Cobb). Even the weekly television show got overhauled from a reliable, if bland, hour of wrestling to a glorified infomercial featuring video package after video package of matches Honor Club subscribers had already seen in full weeks earlier.
All of this in itself was enough to leave long-time fans like myself feeling frustrated and pessimistic about the direction of the promotion. Just one year earlier ROH had been the de facto #2 promotion in America behind WWE, seemingly poised to finally break through to a new level. But rather than swim for that new shore they instead seemed content to tread water until their strength finally gave out and they began to drown.
Which brings us to Joey Mercury. He had been working backstage for ROH since retiring from in-ring competition, all the while growing increasingly frustrated with the lack of professionalism and support he saw the wrestlers getting from ROH COO Joe Koff and ROH general manager Greg Gilleland. By October he'd had enough and chose to quit, with no safety net in place, rather than continue killing himself trying to improve a promotion that had no interest in getting any better. With nothing left to lose he has spent the subsequent two months airing more dirty laundry than most of us accumulate in a calendar year. Private phone messages of Gilleland insulting ROH and NJPW wrestlers and admitting he forgot about contracts expiring. Revelations that ROH was without medical staff and licensed security at many events. Accusations that they have no concussion policy in place whatsoever, that every woman on the roster gets paid the same amount. A list of wrestlers that were supposedly all being let go at the end of December, most of whom had families to support and no knowledge whatsoever that they would be unemployed in a matter of weeks.
When Women Of Honor World Champion Kelly Klein dared to speak up on social media in support of Mercury and testify as to what a positive force he was in the locker room, Koff fired her. The fact that ROH hasn't shut its doors and closed up shop already in the aftermath of all of this is a testament to how little the general wrestling public cares about them. For almost any other promotion it would be enough to sink them. But since it's ROH the majority just shrug their shoulders, scoff, and move on to the next news story.
I'm not shrugging or scoffing but I am moving on. It's disappointing. The potential was always there for ROH to be so much more than it was – more vital, more ground-breaking, more contemporary, more unique – but nothing ever came of it. The talent in the ROH locker room, from the wrestlers to the broadcasters to the referees, is enormous. They deserve so much better. They deserve a creative team that utilizes their strengths and builds their résumés instead of merely coattail-riding on the reputations the wrestlers made for themselves before coming to ROH. They deserve a parent company that wants to promote their events and showcase their matches to larger audiences. They deserve a management team that cares about their personal interests and wellbeing.
Maybe ROH will survive all this and will still be here this time next year for another Final Battle. They've survived a lot since 2002. I'd like to imagine, if they are, that it's because something changed. That the relationships they destroyed, the hearts they broke, and the people they hurt can at least know that it wasn't all for nothing, that their sacrifices made things better for the people who came after them. I won't be around to see but news tends to spread, both bad and good. I'll keep an ear out.
---
This year's Final Battle is a four-hour, ten-match event from the UMBC Event Center in Baltimore, Maryland. The first hour will stream live for free starting at 7 p.m. EST on ROH's Facebook page, Fite TV, Honor Club, and pay-per-view.
1. Villain Enterprises vs. MexaBlood
Marty Scurll's ROH contract has officially expired but, like with The Elite this time last year, ROH ponied up a small fortune to get him to stick around for two more appearances. The first is here, the second two days later at Final Battle: Fallout. Scurll, PCO, and Brody King are currently the ROH six-man tag team champions but King is out with an injury. For this match it's Scurll & Flip Gordon taking on Bandido & Flamita. Villain Enterprises vs. Lifeblood was the most prominent feud in ROH in 2019, taking place in multiple incarnations on seemingly every major show all summer. Scurll wrestling an opening show tag match might feel like a waste of his star power at this point but it's par for the course with ROH's mishandling of him post-Elite. Flamita just signed a one-year contract with ROH so expect to see more of him and Bandido teaming in 2020. ROH's partnership with NJPW has been quite weak since G1 Supercard and they've been leaning heavily on their CMLL connection instead. With Juice Robinson and David Finlay wanting nothing to do with ROH anymore and Tenille Dashwood leaving for Impact Lifeblood has been on life support for a while. Also Tracy Williams (perhaps the most featured wrestler this year to not be booked for this show) appeared on Joey Mercury's aforementioned list of wrestlers rumored to be fired at the end of the month. This match may end up signaling the complete end of Lifeblood. But will it be the end of Villain Enterprises?
Prediction: Let's say no. As misguided as Flip Gordon's heel turn was, ROH is apparently committed to it and they have to get the six-man title off of Scurll somehow. Bandido pins Scurll clean with a 21plex and Gordon lays out Scurll post-match. On Sunday Scurll is officially overthrown and kicked out of the company with Gordon claiming his title belt and usurping his position as CEO of Villain Enterprises.
2. Kenny King vs. Rhett Titus
Kenny King and Rhett Titus first came together as a tag team in January 2009. As The All-Night Express they would capture the tag titles from Wrestling's Greatest Tag Team in 2012 only for ROH to subsequently strip them of the belts and fire King after he made an unauthorized appearance for TNA. Titus was then downgraded to enhancement talent as the masked Romantic Touch until King returned to ROH in 2015. By 2016 the two were both members of the stable known as The Cabinet, which eventually became The Rebellion, but that faction dissolved by June 2017. King began to climb the ranks as a solo act at this point while Titus became enhancement once again, teaming with "Little Willy" Ferrara as The Dawgs. Ferrara stopped making regular appearances in October 2018 and Titus went back to being a solo enhancement wrestler, doing an oiled-up fitness gimmick that landed him the worst singles record in ROH this year at 1-10.
Titus's wife had a baby this summer, which ROH used to push him toward a face turn. King also began hanging around his former tag partner, taunting and belittling him. This is the grudge match.
Prediction: Titus was another name on Mercury's list of talent expected to be let go at the end of this month. King won a 30-man match at their biggest show ever. King wins with a Royal Flush off a distraction from his valet, Amy Rose.
3. Dalton Castle & Joe Hendry vs. Two Guys, One Tag
Dalton Castle was world champion a year and a half ago. Since then he turned heel, attacking his Boys on multiple occasions, while continuing to get the same adoration as always from live crowds. "The Prestigious One" Joe Hendry signed with ROH this August and immediately began bickering with Castle over who was more entertaining. Nearly every interaction between them since has been filled with sophomoric jokes and insults that saw them both come across as petulant children.
Silas Young began mentoring Josh Woods earlier this year after low blowing Woods on a number of occasions. As a tag team Woods was unwilling to resort to Young's use of illegal tactics, convinced they could win of their own merit. Young seems to have mostly come around to that point now and they've racked up a 5-0 record as a result, the second best record in ROH in 2019 behind only Rush. Also somewhere along the line one of them apparently showed the other the infamous scat film 2 Girls 1 Cup and they thought that would be a great basis for a team name.
Prediction: Young & Woods picking up the win here would be a big endorsement and a sign they were destined for the tag title picture. I just don't see it. ROH has never shown that much investment in Woods and there has long been a glass ceiling on the tag division. (Just ask Coast 2 Coast and The Bouncers.) The title picture of the next three months will likely consist of The Briscoes, Lethal & Gresham, and MexaBlood. Hendry pins Young, convincing himself that he and Castle are finally on the same page. Castle will probably betray him again on Sunday, setting up a singles match for the 18th Anniversary Show in March.
4. Jeff Cobb vs. Dan Maff
Jeff Cobb could be the biggest star in ROH but instead he's always the bridesmaid. At the last pay-per-view he was relegated to the pre-show. On the Honor United tour of Europe he challenged Rush for the world title and lost clean. At The Experience on November 2 he lost clean again to Dragon Lee. Now he lands on this card in a throwaway match with nothing at stake.
Dan Maff wrestled on the very first ROH event in 2002 as Mafia, one half of Da Hit Squad. He continued to wrestle consistently for them until 2005, capturing the tag titles twice with BJ Whitmer. 14 years later Maff returned to ROH this past November, replacing an injured Brody King in the main event of The Experience. He pinned Cheeseburger, helping Marty Scurll and PCO retain the six-man titles, but lost to PCO the following night at ROH Unauthorized.
Prediction: Cobb was also on the other side of that six-man tag on November 2 and faced off with Maff a couples times, setting up this encounter. Cobb went from a nine-month undefeated streak to being pinned three times in the past six months by Matt Taven, Rush, and Dragon Lee. He can't afford for that to happen again. Tour Of The Islands for the win.
5. Matt Taven vs. Vincent Marseglia
The first Kingdom formed in 2014 and consisted of Adam Cole, Matt Hardy, and Mike Bennett with Matt Taven joining a few months later. Hardy would leave ROH to return to TNA mere months into their run and Bennett would leave the following year to sign with WWE. The sole remaining members, Taven and Cole, turned on each other with the latter joining Bullet Club and the former debuting his own version of The Kingdom in September 2016.
Taven's new Kingdom featured two relative unknowns to ROH named TK O'Ryan and Vinny Marseglia. Through their time as a unit they would capture the six-man titles on three occasions and Taven would of course capture the world title, becoming only the second grand slam champion in ROH history behind Christopher Daniels. That world title reign came to an end on September 27 at Death Before Dishonor when he lost clean to Rush. The following night at Death Before Dishonor: Fallout Taven cut a babyface promo announcing that he re-signed with ROH and vowing that The Kingdom would rise again. Later on in the show, though, O'Ryan and Marseglia were found unconscious backstage, their assailant unknown. At Glory By Honor on October 12 Taven called out the attacker but no one appeared. Instead a video played on the tron showing Taven and Marseglia being filmed surreptitiously from a distance as they arrived at the arena, unpacked in the dressing room, and spoke before the show. On November 2 at The Experience O'Ryan and Marseglia were found laid out backstage again and Taven again called for the perpetrator to show himself. This time he did as Marseglia himself appeared in the ring, attacking his leader and slicing his forehead open with a hatchet.
Prediction: Noted horror fan Marseglia has renamed himself Vincent and has seemingly been auditioning for the Firefly Fun House as of late. O'Ryan has been out of action since August, rumored to be due to a concussion. He has to factor in here. The question is whether he was also playing possum when we saw him laid out backstage or if he was legitimately attacked by Marseglia. I'm going to go with the first scenario. Taven turning face makes sense at this point but I don't see O'Ryan as a babyface yet. He returns here to help Marseglia pick up the biggest win of his career and Taven can continue to feud with both men for the near future. Maybe if Bennett gets the WWE release he's been asking for Taven can count on some backup.
6. Mark Haskins vs. Bully Ray (street fight)
Every Bully Ray feud follows the same formula. He attacks someone randomly and powerbombs them through a table. He spends months insulting them, distracting them during matches, and outsmarting them on every occasion. Then, on the big stage, he loses once. Afterwards he promptly disappears from TV so that the loss doesn't actually hurt him at all and returns months later to start the process anew.
Ray ended 2018 in an unofficial faction with The Briscoes, Silas Young, and Shane Taylor. They kayfabe sent The Elite packing from ROH and immediately jumped into a feud with the new Lifeblood faction. This led to Ray, Taylor, & Young facing Flip Gordon, Mark Haskins, & Juice Robinson in a street fight at G1 Supercard in April. Gordon pinned Ray with a 450 splash. As a response Ray powerbombed Tenille Dashwood through a table backstage (off-camera), injuring her so severely that she quit ROH and went to Impact Wrestling. (Maybe they have an actual concussion policy there.) Ray continued to feud with Lifeblood through the spring, sparring routinely with Haskins and Tracy Williams. Williams faced Ray in a No DQ match at State Of The Art on June 2 and won with a crucifix pin but it was of course Ray standing tall at the end after laying out Williams and powerbombing Haskins through a table post-match.
Ray wouldn't resurface again until September at Death Before Dishonor when he attacked Haskins again as Haskins' wife Vicky watched from the front row. She overacted her tail off as Williams tried to make the save, only to be attacked from behind by the now-heel Gordon. Vicky slapped Ray and he powerbombed Mark through a table again. He then attacked Haskins and Williams again at Glory By Honor on October 12 and traded words with Haskins on December 8 TV until Gordon jumped Haskins from behind again.
Prediction: I've lost count of how many street fights/no DQ matches/unsanctioned matches/ladder matches/barroom brawls ROH has had this year. They all blend together at this point. I know I've already predicted a lot of outside interference on this show but that's ROH in 2019. Gordon shows up to help Ray. Williams shows up to take out Gordon. Vicky low blows Ray. Haskins picks up the win. Ray will be back in a month or two to start the build to his next street fight at the anniversary show. Maybe it will be Bandido that time. Rinse and repeat.
7. Maria Manic vs. Angelina Love
Angelina Love and Velvet Sky arrived in ROH at G1 Supercard in April with ROH stalwart Mandy Leon turning heel to form a trio called The Allüre. Maria Manic arrived in ROH in June at Best In The World and proceeded to spend six months beating up security guards and members of the ring crew for no good reason. In all that time she only wrestled once match and that was for Beyond Wrestling after her ROH contract expired and nobody in the office noticed. Once they did, she re-signed and will finally wrestle her first ROH match here.
The elephant in the room is of course our current Women Of Honor World Champion Kelly Klein. Klein lost the title to Love at Death Before Dishonor via shenanigans only to win it back two weeks later at Glory By Honor also via shenanigans. Then she suffered a concussion and was fired by ROH while sitting out the injury. Klein still has the title and is still under contract until the end of this month. None of the circumstances around her and the title have been acknowledged on ROH television and the question remains how they'll kayfabe explain the face of the division and the current champion leaving the company.
Prediction: With Klein's departure the Women Of Honor division literally consists of just Love, Manic, Leon, Sumie Sakai, and Jenny Rose. I wouldn't be surprised if they get rid of the championship altogether à la WWF in 1988. It's been made abundantly clear that nobody in any position of power within ROH legitimately cares about women's wrestling or wants WOH to succeed. I just hope that Rose, who is full of potential, is able to sign with NXT or Impact. Sakai would also make a great trainer for any promotion in need of one. I've repeated one phrase over and over more than any other in my coverage of ROH this year and I will repeat it ad nauseam until something changes: Women Of Honor is a joke. Manic squashes Love Lesnar-style in under a minute.
8. Shane Taylor vs. Ryu Lee (ROH World Television Championship)
Shane Taylor is my pick for breakout star of ROH in 2019. No one else has raised their stock as well as he has. When seemingly everyone else on the roster was going back and forth from face to heel over and over or falling prey to 50/50 booking Taylor was a consistent force as the confident, dominant champion laying waste to anyone who entered his sphere. The late-year story of Taylor "leaving ROH" to start his own promotion hasn't really amounted to much but it at least gave him more screen time and some different aesthetics to stand apart. This makes it all the more baffling that he was also a name on Mercury's list of talent that is apparently being let go at the end of this month. If it does come to be that is just another sign of how clueless ROH management is because Taylor could immediately be a big player for AEW.
Rush's brother Ryu Lee (f/k/a Dragon Lee) captured the IWGP junior heavyweight title in a three-way at G1 Supercard and spent the rest of the year splitting his time between Japan and Mexico. He resurfaced for ROH at Best In The World in June, losing to Dalton Castle. He picked up a win over Jonathan Gresham at Manhattan Mayhem on July 20 but then lost again to Kenny King the next night at Mass Hysteria. After Lee and Rush split from CMLL Lee appeared again at Death Before Dishonor in September as a last-minute addition to a four-way TV title match but didn't factor into the finish as Taylor pinned Flip Gordon to retain. He then faced off with Jeff Cobb at The Experience on November 2 and became only the third man to pin Cobb in ROH after his brother and Taven. That's a big endorsement.
Prediction: Regardless of whether Taylor will remain in ROH in 2020 or not I suspect the end result is the same. Lee wins clean to capture the title. ROH can get some shine from Lee continuing to raise his profile in NJPW and tell the story of the brothers Rush and Lee both holding the two ROH singles titles. It also sets up a big tag title match down the line and some wars with MexaBlood.
9. The Briscoes vs. Jay Lethal & Jonathan Gresham (ROH World Tag Team Championship)
Jay Lethal and Jonathan Gresham have gone from rivals to friends to partners to rivals to enemies to friends/partners again. This time they're united as heels, a decision Gresham was quicker to jump to than Lethal. For Gresham the heel turn was a case of pointing fingers. He wanted someone to blame for his frequent losses and refused to acknowledge that he had only himself to look at. Lethal's heel turn was out of frustration with the current state of ROH. (I feel you, Jay.) He pointed out in a promo at Honor United: Newport on October 25 that all the champions in ROH (Rush, The Briscoes, Villain Enterprises, Shane Taylor) were pieces of crap who routinely cheated and used low blows and weapons and nobody cared and nothing was ever done about it. How is a good guy, determined to play by the rules, supposed to succeed in an atmosphere like that?
Lethal made this new attitude known at Honor United: London when he and Gresham laid out the Briscoes with a steel chair. Since then the two teams have brawled a couple times and this match came about at the insistence of the 11-time champions.
Prediction: Match of the night. Say what you will about the Briscoes but they never disappoint in big matches and anyone who's ever seen Lethal or Gresham wrestle knows how good they are. Gresham signed with ROH two and a half years ago but has never held gold. (Not even the meaningless trios titles.) The time has come. We've already seen The Briscoes as tag champions. We've seen it eleven times. There's nothing more to be said there. Like Hiroshi Tanahashi or Randy Orton they can continue to be main event stars and top names but they don't need the belts for that. If anything I'd be more interested in Mark Briscoe pursuing the TV title and trying to win singles gold for the first time in his career. Lethal & Gresham capture the titles here and have a number of fresh challengers lined up to face them including Rush & Lee, MexaBlood, Young & Woods, The Bouncers, and Coast 2 Coast.
10. Rush vs. PCO (ROH World Championship)
PCO debuted for ROH on January 13 TV by joining Brody King to save Marty Scurll from The Kingdom. Rush arrived one week later on January 20 TV with a win over TK O'Ryan before being laid out by The Kingdom. Both men were booked very similarly this year, sometimes wrestling heel, sometimes wrestling face while using heel tactics. PCO had the out of being the French-Canadian Frankenstein, a monster bent on destruction. Rush was just an a—hole. It earned him the best record of anyone in ROH in 2019, though, and he enters this one with a 19-0 undefeated streak, having captured the world title from Taven at Death Before Dishonor on September 27.
PCO got his own world title shot in May at Summer Supercard but lost after a surplus of shenanigans from The Kingdom. He got another shot at the gold in Defy Or Deny at State Of The Art in June but was disqualified for using a chair. At that point, if he wanted another world title match, he would have to win a tournament to do so and he did just that, defeating Kenny King, Dalton Castle, and Marty Scurll in succession. That final match saw PCO's stable mates in Villain Enterprises betray him with Brody King and Flip Gordon both interfering against PCO and Scurll accosting him with an umbrella and a title belt. PCO overcame it all, though, and post-match apparently didn't care about the backstabbing as they all celebrated together.
PCO is full babyface entering this main event. Rush is Rush. I guess he's a face now? Even when he's a face he spits on people, bullies the referees, and is just generally arrogant and self-absorbed. It all makes him a bit of a strange choice to be the face of the company but 2019 has seen the babyface side of the ROH roster completely pillaged as the creative team apparently doesn't see the need for likable heroes anymore.
Prediction: ROH has been teasing the feel-good story of the 51 year-old PCO capturing the first world title of his career. They could do that but, unless it's just for a short transitional reign, it seems like a mistake. Rush's first ROH loss should be used to put over a young talent big. If the promotion wants to survive and bring back any of the many viewers they've lost this year they need to invest big in the future. PCO's a blast but he's not the future of any promotion at his age. Also we already did the "veteran talent finally wins the big one that has eluded him" story in March 2017 with Christopher Daniels and that was far more effective than this would be because Daniels wrestled for ROH on day one. Both men are known for no-selling big offense, brawling around ringside, and routinely destroying the timekeeper's table. There will be lots of that but in the end it's a Bull's Horns and Rush retains.
Up next it's Final Battle: Fallout on December 15 in Philadelphia, Pennsylvania. The lineup features Bateman, Nicole Savoy, Rey Horus, Hallowicked, and Crowbar. Is this another changing of the guard or just a group of cameos to try to lure in some of those lost viewers? Time will tell. One thing is clear: nothing is going to get any better until some serious changes are made backstage. All the talent in the world can't prop up a sinking ship. They've spent all year trying and it just keeps getting worse.
---
Find Harley on Twitter @yrechoheart and listen to he and Emily Fear discuss the best in women's wrestling every Wednesday on the PWTorch DailyCast "Grit & Glitter."