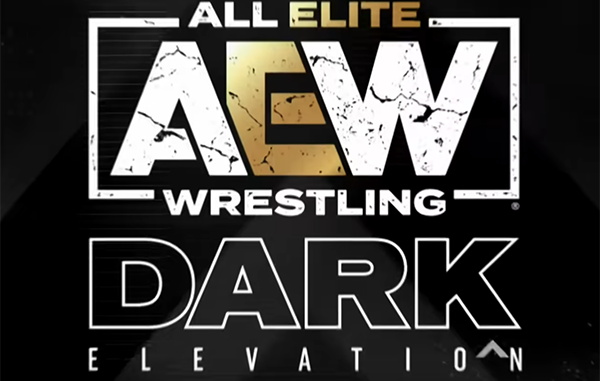 ---
SPOTLIGHTED PODCAST ALERT (YOUR ARTICLE BEGINS A FEW INCHES DOWN)...
---
AEW DARK TV REPORT
MARCH 15, 2022
RECORDED AT UNIVERSAL STUDIOS, ORLANDO, FL.
AIRED ON YOUTUBE.COM
REPORT BY RYAN HOWARD, PWTORCH CONTRIBUTOR
Announcers: Excalibur and Taz
Ring Announcer: Dasha Gonzalez
-Excalibur with the Price.com plug before he welcomed us to the show.
(1) THE YOUNG BUCKS (Matt & Nick Jackson) & BRANDON CUTLER vs. EVIL UNO & ALAN "5" ANGELS & COLT CABANA
Excalibur pointed out The Bucks have returned to the place that would be one of the low points of their careers. Shout out Max & Jeremy Buck! Taz mentions his time there as well as Nick & Angels started things off. Angels hit a leg lariat and arm drag that frustrated Nick, who tagged Matt and he too ate an arm drag. Uno & Matt traded shoulder blocks and Uno got a Manhattan Drop, stomp on the hands and tag to Cabana. Uno & Colt double stomped on The Bucks hands and high fived each other as Cutler reluctantly was tossed into the ring. Cutler promptly got beat up in his track suit for a while, as The Bucks refused to tag in. Cutler tried to dive for a tag, but face planted by not diving far enough. Cutler unintentionally got a boot to the face of Angels and a hot tag to Nick Jackson, who cleaned house. The Bucks did their signature pose, Cutler tried a goofy dance between them and they sent their tag partner to the floor. Cutler's inability to hold Angels in place resulted in his own partners superkicking him in the face and a Cabana hot tag as a result. Cabana unleashed bionic elbows on Cutler and moonsault onto The Bucks. The Flying Apple wiped out Cutler for two. Uno hit an End of Days on Cutler, Angels hit a Frog Splash, but The Bucks broke it up. The ref assisted neckbreaker by Uno, superkick by Cutler, bionic elbow by Cabana, superkicks by The Bucks on Colt all led to a BTE Trigger on Angels. The Bucks put Cutler on top of Angels for the win and Cutler celebrated like he won the NCAA tournament.
WINNERS: The Young Bucks & Brandon Cutler in 9:00
(Howard's Analysis: We haven't seen The Bucks on Dark since June of 2020 where they defeated Peter Avalon and ironically Brandon Cutler. This was a fun opener with a lot of comedy, but action as well.)
(2) RUBY SOHO vs. ASHLEY D'AMBOISE
The match began with the crowd chanting "Ru-beaver" which would make Ethan Page very happy, as it's a reference to his V-Log. Ruby worked a headlock and got a quick shoulder tackle, but Ashley took out Ruby with a nice dropkick. Both ladies trade arm drags, but Ruby followed hers up with a leg sweep and straightjacket submission. Ashley fought out, but Ruby blocked a kick, hit a knee lift and No Future kick for the victory.
WINNER: Ruby Soho in 3:00
(Howard Analysis: Ruby on Dark means only one thing: Taz singing her entrance! Remix Jones didn't disappoint. This was a quick match, but you can see how much Ashley D'Amboise has improved since first showing up on Dark last year. I'd like to see this match get more time if it happens again.)
-Tony Schiavone tried to interview Serpentico before Chaos Project's match with Dark Order tonight, but Luther interrupted. If you think I'm going to try to recap a Luther promo, you're out of your mind. He bear hugged his own partner and Serpentico passed out in the process.
(3) JOSH WOODS vs. A.C. ADAMS
The Code of Honor is shown at the bell, as Woods quickly took Adams down and Adams slapped him right in the face. Woods got pissed and hit a nice butterfly release suplex. Adams tried a float over in the corner and Woods hit a fall away Tombstone piledriver that looked weird yet awesome at the same time. Taz said there's a reason we've never seen that move before.
WINNER: Josh Woods in 1:00
(Howard's Analysis: Quick work from the Ring of Honor Pure Champion, who cut a promo after the match about being happy that Tony Khan bought ROH. Woods is impressive, but he needs a new finisher.)
(4) RICKY STARKS vs. DARIAN BENGSTON
Both men worked early submissions, but Starks fired up quick and put the boots to Bengston in the corner. Starks hit a double axe handle off the second and leaping elbow drop for two. Bengston got a boot up in the corner, charged, but Starks planted him with a nice overhead suplex. Starks targeted the arm, connected with a short arm clothesline before he posed for the crowd. Bengston fought back with a roll up, but Starks demolished him with a Spear and the Roshambo for the three.
WINNER: Ricky Starks in 3:30
(Howard's Analysis: Starks looked very impressive here and I could see a match with Keith Lee coming down the line.)
(5) DIAMANTE vs. SESSION MOTH MARTINA
Martina couldn't help herself dancing to the entrance music of Diamante. Martina tried to keep the party going, but Diamante mowed her down with a clothesline. Both ladies missed corner attacks, but Diamante got a tilt a whirl leg sweep for two. Diamante got a sliding uppercut to the back and crucifix for two. Martina made a comeback with a headbutt and spinning suplex for two of her own. Diamante tried to cheat with her feet on the ropes with a roll up, but was too far and got two. Martina ate a knee in the corner and Diamante hit a Code Red for the win.
WINNER: Diamante in 2:30
(Howard's Analysis: We never found out the answer of "Is it bants to grind on Diamante?" as Diamante made relatively short work of Martina. I'm glad Martina got a few matches in AEW before heading back Ireland. Hopefully it's not the last time we see her in AEW.)
(6) JOHN SILVER & ALEX REYNOLDS (w/-1) vs. CHAOS PROJECT (Luther & Serpentico)
Timeline's are weird, but this is a rematch from last night's Elevation, despite it being taped before that happened. Silver showed his power early by hitting multiple beals on Serpentico. Luther distracted Silver long enough for Chaos Project to take over as Luther used his partner as a battering ram. Luther tried it again and nearly killed his own partner by almost dropping him on his head. Reynolds made a hot tag, took out Luther with a tope suicida and top rope cross body for two. Serpentico avoided a back breaker; Reynolds avoided a superkick and popped his opponent with a roaring elbow for two. Silver took out Luther with a pump kick and German suplex before Reynolds did a Tombstone Piledriver onto Luther using Serpentico. The Dark Destroyer, double DDT destroyer, won it for Dark Order, as Silver pinned Serpentico.
WINNERS: John Silver & Alex Reynolds in 4:30
(Howard's Analysis: Back to back wins for the Dark Order duo, as post match, -1 got in the face of Luther and it's now a match I demand we see. I don't like Luther's chances in that one. Taz & Excalibur talked about Bad News Bears before the match and Taz tried to think of a character's name and said Cody, as Excalibur called him Landmine Jones. I laughed at that line big time.)
(7) LEYLA HIRSCH vs. MARINA TUCKER
There's no way around it, Leyla beat the crap out of Tucker in the corner with clubbing forearms before a snap suplex got two. Tucker missed a Playmaker, but took Leyla's head off with a nice clothesline. Leyla tripped Tucker up in the corner and hit a double knees for two. Tucker fired off a nice uppercut and roll up for two of her own. Leyla blocked a kick, hit a V-Trigger and got the arm bar for the tap out.
WINNER: Leyla Hirsch in 2:00
(Howard's Analysis: My goodness does Leyla Hirsch hit hard. It was only a matter of time before she decided to get that quick tap out.)
(8) TOP FLIGHT (Darius & Dante Martin) vs. ARIYA DAIVARI & INVICTUS KHASH
Dante & Daivari had a nice quick exchange to start, as Dante used his speed to work an arm bar and tag his brother. Daivari cut off Darius, made a tag of his own, as Khash worked a cravat. Darius did a nice reversal, wisely avoided the potential cheap shot by Daivari and slid to his corner to reset. Darius used his speed to hit a quick arm drag, dropkick and assisted dropkick from Dante. Khash & Daivari regrouped and used the numbers game to attack Darius, posting him to the floor. Darius remained isolated for a few minutes before Dante made the hot tag. The lighting speed was on full display, as Dante hit a sling blade neckbreaker that looked really cool. Dante tried his moonsault, but Daivari tripped him up. Khash hit a neckbreaker of his own, while Daivari hit a frog splash for two. Miscommunication from Khash & Daivari allowed Top Flight to wipe out Daivari with a step up dropkick. Top Flight hit a nice rolling German suplex for the win.
WINNERS: Top Flight in 7:30
(Howard's Analysis: This was a very enjoyable back and forth tag match, as Daivari & Khash looked good, even in defeat. I'm glad we've gotten to see them as a duo multiple times on Dark. Top Flight continues looking strong on their comeback tour and I see them continuing to climb the ranks.)
(9) 10 (w/-1) vs. AARON SOLO (w/QT Marshall)
It was all 10 in the opening minutes, as he used his power and hit 10 punches in the corner. A stalling vertical suplex for 10 seconds got a two count before QT tripped up 10. Solo punted 10 outside and QT got a cheap shot as Solo took control back inside. Solo tried for the Pedigree, but 10 backdropped out of it, hit a series of clotheslines and spinebuster. Solo rolled through a Full Nelson for two, but ate a 10 discus lariat. Bryce ejected QT after -1 ratted him out by saying he put Solo's foot on the ropes, even though he didn't. The distraction, allowed Nick Comoroto to hit the ring and wipe out 10 with a Spear. Solo only got a two count, as miscommunication by The Factory led to 10 getting the Full Nelson for the submission.
WINNER: 10 in 6:00
(Howard's Analysis: If we've learned anything, it's you never cross -1 and QT Marshall learned that the hard way tonight.)
(10) EMI SAKURA vs. SHALONCE ROYAL
The triumphant return of Shalonce Royal means we get the operatic tones of Taz on commentary. I love how Shalonce singing sends Taz into giggle fits. Literally every forearm Shalonce threw she sang, while Sakura did her We Will Rock You singing after her strikes. Excalibur made a Live Aid reference, while this match is almost indescribable. Sakura almost took a bump off the melodic voice of Shalonce Royal. Sakura blocked a suplex into a spinning reverse neckbreaker. Taz suggest the audio of this match should be on iTunes. Sakura hit a twisting Vader Bomb for the victory that came out of nowhere.
WINNER: Emi Sakura in 3:00
(Howard's Analysis: One word to describe this match, fun. This was the perfect pairing and if Tony Khan booked this show, he needs an award given to him for pairing these two ladies together. The cherry on top is Taz & Excalibur laughing the whole time. Go out of your way to watch this one.)
(11) LANCE ARCHER vs. SAGE SCOTT
Archer tossed Scott through the tunnel, while he had Jake St. Patrick on his shoulders. Archer tossed that dude away like a sack of potatoes, and beat up Scott back in the ring. The locomotion splashes in the corner by Archer led to a huge full nelson slam. Scott fought off a chokeslam, but only angered Archer, who promptly hit the Blackout for the win.
WINNER: Lance Archer in 2:00
(Howard's Analysis: For good measure, Archer planted St. Patrick with a chokeslam post match. This could've been a handicap match, but Archer would've had the same result.)
(12) DANIEL GARCIA & 2POINT0 (Matt Lee & Jeff Parker) vs. SHANE STETSON & MIKE REED & LUKE SAMSON
2point0 took turns beating up Stetson for the opening minute, as Garcia ran and wiped out Samson. Stetson made a tag to Reed, who ate a violent slap and Parker took over with Lee screaming at their opponents. Samson got a tag and was immediately planted with a release German suplex. Two for the Show hit and Garcia got the Scorpion Death Lock bridge for the win.
WINNERS: Daniel Garcia & 2point0 in 2:30
(Howard's Analysis: There's nothing like a good family squash with Garcia and his two dads. While I'm very happy 2point0 & Garcia are getting a big push by being associated with Chris Jericho, the name Jericho Appreciation Society doesn't really roll off the tongue. I'm hopeful it catches on, but I'm not even a fan of The Influencer nickname for Jericho, so again, I'm hopeful it catches on.)
(13) FRANKIE KAZARIAN vs. JORA JOHL
Pretty evenly matched contest to start things, as both men got off their strikes, but it was Kazarian who showed off speed to get control. Johl backed Kazarian to the corner and hit a beautiful snap powerslam, but didn't follow up immediately, as a delayed suplex got a one count. Kazarian tried a comeback, but Johl hit a dropkick to cut off the momentum. Kazarian hit a flying forearm, bodyslam and springboard legdrop. Johl tried a cheap win with the feet on the ropes roll up, but Kazarian got free. Johl got Kazarian up in a fireman's carry, but Kazarian floated through into a cross faced chicken wing for the submission.
WINNER: Frankie Kazarian in 4:30
(Howard's Analysis: Jora Johl was brought into the H.F.O. by Matt Hardy and Excalibur pointed out how Johl's future with the A.F.O. is up in the air. I agree, because I literally forget Johl is a member of that group every week he's on Dark. This was a good back and forth contest, but a weird choice for the main event, considering the other folks on the show.)
FINAL THOUGHTS: Looking back through my reviews, this is officially the 1 year anniversary of doing AEW Dark recaps for the Torch! It's been great to do and tonight was a fun episode to commemorate that. The opener brought the comedy, we got the vocal stylings of Taz multiple times, there were some solid squashes and some entertaining one liners on commentary. I'd give three Matches of Night, which is weird, but from a wrestling perspective Top Flight vs. Daivari & Khash is my pick. The opener was filled with action and comedy. Finally, you all just have to watch Shalonce Royal vs. Emi Sakura due to how off the walls it was and how much fun Taz & Excalibur were having on commentary. 13 matches is a bit much, but this was an enjoyable show overall.
Now that my final thoughts on tonight's show are finished, I'd like to take a brief moment to wish the family & friends of Scott Hall my condolences. If you removed Scott Hall from pro wrestling, look at everything that wouldn't have happened as a result. The man successfully got toothpicks and "Hey, Yo!" as a catchphrase over with fans worldwide. It was such a cool moment seeing Hall & Nash wrestle Roddy Piper & Ric Flair in person at the 97 Great American Bash as a ten year old with my dad. What would wrestling be like had he not walked through the crowd that night at Monday Nitro? Thank you, Bad Guy, for everything you gave wrestling and its fans. You were the catalyst of so much and safe to say the industry wouldn't be what it is today without you. Rest in Peace.