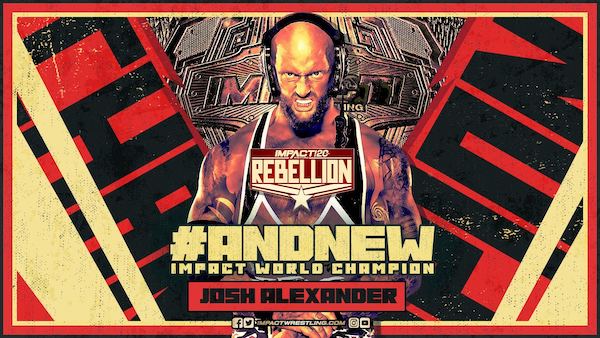 ---
SPOTLIGHTED PODCAST ALERT (YOUR ARTICLE BEGINS A FEW INCHES DOWN)...
---
This is a new weekly exclusive series at PWTorch.com discussing and analyzing the current storylines and feuds taking place in Impact Wrestling.
One of Impact Wrestling's best strengths is their rock-solid feud building. Logical and sequential, their storylines typify commonsense storytelling in pro wrestling. However, not every feud is a homerun, and every promotion has strikeouts. Where do all the current storylines in Impact Wrestling rank today? Let's dig in.
---
Josh Alexander and Steve Maclin
Josh Alexander's current title reign is possibly the best thing going in Impact today. A clear cut babyface up top that has excellent matches, and turns away heels.
Steve Maclin has been gaining prominence and moving up the card since he joined the company in 2021. After No Surrender on February 24th, where Alexander retained the Impact World Championship and Maclin won the Number 1 Contender's Match, the future title match between these two was set.
Wisely, the match is not taking place at Impact's next two big shows – Sacrifice nor Multiverse United – but instead at Rebellion on April 16. Giving this match a little more time to breathe is the right call.
Alexander has a title defense at Multiverse United against Kushida, but the company is already building Maclin past him. Some may be critical, but booking past the next challenger, but in this case it makes Macling seem like a much bigger deal and gives the fans more reason to believe that he can dethrone Maclin.
The selling point for Alexander-Kushida is match quality anyway, not convincing the fans that Kushida has a chance of taking the belt off of him. Alexander will be teaming with Frankie Kazarian and Rich Swann at Sacrifice, taking on Time Machine (Kushida & The Motor City Machine Guns) in a trios match. Again, wise not to throw yet another challenger at Alexander, but instead put him in a six-man match.
Maclin tried to convince Alexander to let him join his team for Sacrifice the past two weeks, but Alexander put that to bed this week by announcing Kazarian as his final partner, after announcing Swann last week. So far, Maclin has not steered into heel territory in this feud.
While a clear face/heel dynamic is often the best course of action for a pro wrestling feud, the best course of action here would be to stay the course. No Surrender could possibly see Maclin interfere and cost Alexander the match – an overused trope in Impact – as it feels like this title feud needs something to make it hotter.
A better option would be for Alexander's team to lose clean (without Alexander eating the pin) and for Maclin to chide him in the following weeks about how he wouldn't have let Alexander down if he would have been on the team. Expect Alexander to retain at Rebellion, but for this feud to extend to Under Siege in May where Maclin takes the championship. So far so good with this one.
Feud Rating: 4 out of 5
---
Mickie James and Jordynne Grace
Mickie James won the Impact Knockouts World Champion at Hard to Kill in January over Grace in controversial fashion. It appeared James tapped out, but the referee didn't see it that way, and James went on to win the match and the title. Grace has been clamoring for a rematch ever since. James, despite being a babyface, has seemingly been ducking Grace, giving Masha Slamovich and Gisele Shaw titles.
Shaw even was willing to wait until after James and Grace settled things, but James moved Shaw to the front of the line, presumably because she fears Grace. Eventually, however, Director of Authority Santino Marella made the match official for Sacrifice. Typically, these actions by James would be a huge red flag that a wrestler is about to turn heel. She, however, is a popular veteran, and would seemingly be much more over as a face than a heel.
Despite that, the smarter move would indeed be for Mickie James to turn heel during their match at No Surrender. Grace is the next big thing. Giving her a strong heel to finally overcome, especially one as high profile as Mickie James, would be an ideal situation to make the top woman in Impact. Look for James to retain at No Surrender via cheating. Down the line, though, this has to be a feud that Jordynne Grace wins decisively.
Feud Rating: 4 out of 5
---
Trey Miguel and ???
Trey Miguel is the current X Division Champion. He didn't have a title defense at No Surrender, his challenger at Sacrifice has yet to be named, and he is defending in a six-way match at Multiverse United. This is not the way to treat Trey Miguel, a talented wrestler, nor the X Division Championship. The most significant thing he's done lately is be a pawn in the PCO-Eddie Edwards feud. An absolute misuse of both this wrestler and this title. He will most likely retain at Sacrifice as he is already being advertised as the champ for Multiverse United, but will he retain there? Impossible to say, as there no meat on the bones for these matches, and therefore nothing to go by. Disappointing.
Feud Rating: N/A
---
The Coven (KiLynn King & Taylor Wilde), Death Dollz (Taya Valkyrie & Jessika), and Killer Kelly
Death Dollz retained the Knockouts Tag Team Title over the Hex (who were sent by James Mitchell) in a lackluster match. This past week, Killer Kelly, who has recently had a run-in with Taylor Wilde, called her out, and while the two when back and forth on the mic, King showed up and attacked Kelly. Then backstage, the Death Dollz went to offer Kelly some advice, only to be confronted by Wilde and King, setting up a title match for this week's upcoming episode of Impact.
Convoluted might be too strong of a word, but this is certainly indirect. With reports that Taya Valkyrie is done with the company, it would surprising if The Coven didn't win here. Killer Kelly can find a partner – maybe Jessika or Rosemary – to chase them. Don't be surprised if James Mitchell shows up and costs the Death Dollz the titles.
Feud Rating: 2 out of 5
---
Joe Hendry, Moose, and Brian Meyers
Joe Hendry knows his place in the company and fits the bill well. Can be serious, can be funny, whatever the situation calls for. After a cheeky loss to Joe Hendry for the Digital Media Championship at No Surrender, Moose recruited Brian Meyers – who lost the title to Joe Hendry last fall – to help him gain revenge.
Moose has been clear that Meyers can go for the title, while he seeks to simply embarrass the champ. Surely a title match between Meyers and Hendry will be set for Sacrifice. With Matt Cardona's name being dropped in recent weeks, expect to see him possibly cost Meyers the title shot, setting up a feud between the former tag partners. Joe Hendry should keep this title for as long as possible, as it suits him perfectly.
Feud Rating: 3 out of 5
---
Bully Ray and Tommy Dreamer
Oh boy. A coffee-in-the-face angle. So these two had been at odds with each other for weeks, culminating in a "live" Busted Open session at No Surrender. This ended with Dreamer referring to Bully Ray in a backhanded way as "someone like you" which Ray took offense to, and threw coffee in the face of Tommy Dreamer.
Dreamer's retina was injured, but will be cleared for their Busted Open Match at Sacrifice. Ray even said this week he doesn't know what a Busted Open Match is. This whole feud feels like an ad for their radio show. Furthermore, how many people are there out there that are excited for a Bully Ray vs. Tommy Dreamer feud in 2023? Fake heat, poor angle, unknown match type.
Feud Rating: 1 out of 5
---
Eddie Edwards and PCO
Eddie Edwards buried PCO alive in November, cost PCO during his Number 1 Contendership match at No Surrender, and interfered with his subsequent match against Trey Miguel, all while wielding a shovel.
So this week, PCO called out Eddie Edwards from the desert, where Edwards attacked him, and only got the better of PCO due to help from an unknown accomplice driving a car. It wouldn't be surprising if all of this led to some sort of cinematic buried alive match in the desert, as the angle this week indicated. This build is old school in it's "interference, interference, blowoff" template, and have kept the shovel/burying motif alive.
At the end of the day, an Edwards vs. PCO buried alive/cinematic match doesn't seem enticing. The story makes sense and is logical. But that doesn't make it entertaining.
Feud Rating: 2 out of 5
---
Sami Callihan and The Design
At the end of last year, Deaner "killed" Eric Young, took over the Violent By Design stable, renamed it The Design, and shortly afterwards, Callihan expressed interest in joining. Callihan mistakenly cost Kon his match at No Surrender with a misplaced chair shot. So this past week on Impact, The Design cost Callihan his match against Rhino with a chair shot, as Callihan's sixth stage of initiation into the group.
Eventually, this is leading to Callihan turning and feuding with the group, particularly with Deaner. Wrestling fans' mileage on cult-like stables may vary. Certainly few can touch Kevin Sullivan's in Florida back in the day.
This one also has a long way to go before it is through, so don't be surprised if this isn't blown off until Bound For Glory in October or even later. So far though, there nothing special about it, despite being internally consistent.
Feud Rating: 2 out of 5
---
Future Feud Preditions
Deonna Purrazzo cost Gisele Shaw her title match this past week, as revenge for Shaw beating her at No Surrender. Undoubtably this will pick back soon. Additionally, the trios match this week between Josh Alexander & Frankie Kazarian & Rich Swann and Kenta & Ace Austin & Chris Bey has good chance of setting up future tag title contenders. The Alexander team needs a win heading into Sacrifice, and Kaz and Swann would be a great one-off defense for the young champions.