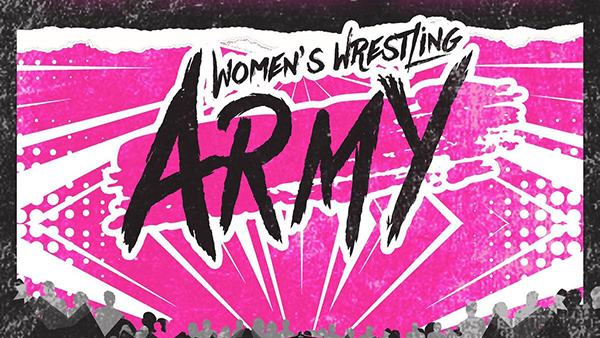 ---
SPOTLIGHTED PODCAST ALERT (YOUR ARTICLE BEGINS A FEW INCHES DOWN)...
---
WWA EPISODE 30: BEAT THE GREATEST
MARCH 8, 2023
AIRED ON PRO WRESTLING TV
REPORT BY HARLEY R. PAGEOT, PWTORCH CONTRIBUTOR
Commentary: Alyssa Marino, Sam Leterna
We opened with a video package on Tasha Steelz, including her promise from last week to issue an open challenge tonight and get herself back on track.
-Opening theme.
-Steelz was out first in the arena. In the ring, she took a mic and said she's been slipping lately. She and Mazzerati lost to The Hex (on the December 21 episode) with her taking the pin. She needs to get the Boricua Badass back. She's a former world champion and two-time tag champion. She needs to be the example. She formally issued her open challenge.
Tootie Lynn Ramsey answered the challenge to silence from the crowd. She made her way to the ring and did a nunchaku performance. Before the referee could call for the bell, Mazzerati made her way out.
Mazzerati addressed Steelz and credited her for mentoring her to success. What will take her to the next level, though, would be to beat her. She made her way into the ring. Commentary assumed we were getting a triple threat as Ramsey was still hanging around. The bell rang.
(1) TASHA STEELZ vs. TOOTIE LYNN RAMSEY vs. MAZZERATI
Mazzerati attacked Ramsey in the corner while Steelz looked on. Ramsey fired back with kicks that sent Mazzerati to the floor. Steelz offered a handshake to Ramsey before they locked up. Mazzerati came back and dispatched Ramsey. She also got the better of Steelz. Ramsey unloaded with a series of kicks to both opponents and dropped them both with a crossbody. Northern lights suplex from Mazzerati to Ramsey. Codebreaker from Steelz to Mazzerati. All three women exchanged blows. Ramsey with a running knee strike to Mazzerati. Steelz took out Ramsey and hit a cutter to Mazzerati. Rings Of Saturn to Mazzerati and she tapped out.
WINNER: Tasha Steelz in 6:16.
(Pageot's Perspective: A surprising finish in that I assumed Ramsey was included here to take the pin. We'd have to imagine the Steelz-Mazzerati feud will continue and it looks like Steelz may be leaning babyface going forward. I'm not sure I see in Mazzerati what others in WWA do. She's received one of the more prominent storylines of anyone on the roster but there are countless others I'd rather see getting this spotlight.)
-Sisters Delmi Exo and Ashley Vox were chatting at the merch table when they were approached by Maria Kanellis-Bennett. She brought up The Hex saying last week that there are no women's tag teams anymore. Team Sea Stars, being one of the few women's tag teams in America, are logical opponents and she's going to book that for next week.
-Sit-down video on Jordan Blade. She spoke about her martial arts background. She's unapologetically her. She'll be taking on her regular opponent Janai Kai and Masha Slamovich in a three-way dance sometime in the future. It's a lot of weight on her shoulders but she's been training hard for this moment.
-Tasha Steelz was ranting to the camera backstage about taking on two women and still winning.
(2) TRISH ADORA vs. MISSA KATE
Adora offered a handshake. Kate spat her gum out into Adora's outstretched hand. Adora threw it back in her face and drove her into the corner. Adora easily outwrestled Kate in the opening minutes. Kate wound up wrapping Adora around the ring post. Bow and arrow lock to Adora. Kate remained in control as things slowed down. Suplex for a two-count. Kate continued to target Adora's lower back. Adora began to fight back at 8:30. Powerbomb for two. Draping neckbreaker. Cattle mutilation but Kate made the rope break. Running knee strike from Kate for two. She tried stealing a pin with her feet on the ropes but couldn't reach. A frustrated Kate went under the ring for a steel chair. The referee grabbed it from her. Kate turned and Adora hit a pump-kick that sent the chair into Kate's face. The referee allowed it and Adora made Kate pass out to a submission.
WINNER: Trish Adora in 14:01 via referee stoppage.
(Pageot's Perspective: Adora's probably my favorite wrestler on the planet right now but this was a snooze. Kate was on offense for the bulk of the match and it was hardly dynamic. I have no idea where we are in this set of tapings but hopefully we're almost at the end. The crowd is awful – thin, silent, and almost exclusively middle-aged white men. Are we still in the Berwyn Eagles Club? Is this all the Shimmer faithful could muster up? WWA might have to start advertising some big matches in advance instead of relying solely on roster announcements.)
-Next week: it's Billie Starkz vs. Max The Impaler, The Hex vs. Team Sea Stars, and Gia Scott vs. Blair Onyx.