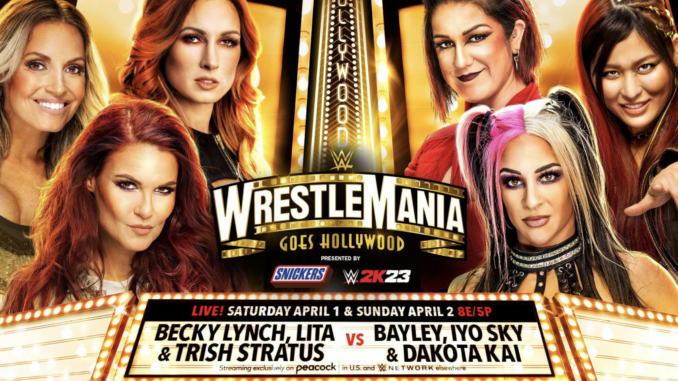 ---
SPOTLIGHTED PODCAST ALERT (YOUR ARTICLE BEGINS A FEW INCHES DOWN)...
---
The following are highlights of Trish Stratus's interview with Forbes…
•Trish on how WWE can continue to build its female viewership
I think what they're doing now [to attract women viewers] is exactly right.
We're giving the women more visibility, and it's not about just a women's match now, it's Match 5. In other words, it doesn't matter what gender is doing this match.
Back in the day, when Lita and I got the main event of Raw, that was a huge thing. It was history-making. It was unprecedented. Now, it's very common. The women are main-eventing all the time. Not only Raw, but they're main-eventing pay-per-views, WrestleMania etc. The things they're doing right now, they're taking the right strides to become better represented and not make it such a male-dominated world.
Coming back 20 years later, I'm seeing the difference. I'm seeing the opportunity. I'm seeing the same attention is given to us as the males, whereas back in the day, it wasn't quite like that. It was definitely an uphill battle back in the day, and it's a nice environment right now. It's a really good time for women that we finally had a voice and I'm proud to know that Lita and I had a hand in it.
•Trish on being inspired by the current generation and her WrestleMania match this year

"It's really special. Think about our match: you have the past with me and Lita, you have the present with Becky and Bayley and you have the future in Iyo and Dakota.
I'm inspired by Becky and Bayley's current work. They were inspired from the very beginning by our work, so to see that all come together, it would be so interesting to see how it plays out.
•Trish on which member of Damage CTRL she's like to have a singles match with
All of them," Stratus said when asked whom she'd like to have a singles match with. I'll have a little something-something with each of them. Maybe I'll go dip into a singles match if they make it unbroken out of this match (laughs).
I'm a fan of all their work, said Stratus of Damage CTRL. Because Bayley—we had a little rivalry going once she was at a live event here in Toronto that I did. It's fun to go back and to dip into these characters that you never thought you'd interact with on that level. And seeing someone like an Iyo Sky, and seeing her work in the past in Japan it's a different style. So how would that play out? I'm excited.
•Trish on whether she would have stuck around longer if the women's division was more like it is now
I think so. I felt very fulfilled at that stage of my career, but I had to also go 'let's look at what I've done so far.' I had the most amount of championships won at the time. I had worked all the women that were available and were working in our company. I had robust storylines with each of them, almost, I felt I had a robust storyline with just about every woman: Jazz, Molly, Victoria, Lita, Mickie you name it; We had our day. I just felt good. I felt really good at that point.
But now, you can just keep going on and on. I haven't worked her, I haven't worked her, there's her, and then there's the tag titles. There's this championship and there's that championship. The world is your oyster if you're a woman in wrestling today.
•Trish on Sami Zayn Losing at Elimination Chamber
My whole country sighed. That's what happened. We all sighed together.
It was such such an exciting, invested, moment. I remember when I saw him (backstage), it was a joke where I said 'oh my god. Congrats, man, on everything. And Kevin Owens was beside him and he goes 'you know he lost, right?' I said 'yeah' (laughs).
The moment was so special, knowing Kevin Owens and [Sami] came up together just being Montreal boys. And knowing where they are in this business and having Sami have his moment? Amazing, how special. I remember I was at the Leafs game the night before, and they were playing the national anthem and I tweeted it and I said 'this is for Sami, all of Canada's got your back!' Luckily, people have their hometowns, but we have our own hometown across the country. We as Canadians are so excited, and so proud.
•Trish on if Vince McMahon has a mustache
I'm reading the same things you're reading. I did not see him. He was, so I hear, he was back there. And so I've heard—I did not see—I hear there was a mustache. I don't know. Can you find out? Let me know, because I'll look into it and let you know. Let's further look into this.
CHECK OUT THE FULL INTERVIEW HERE.