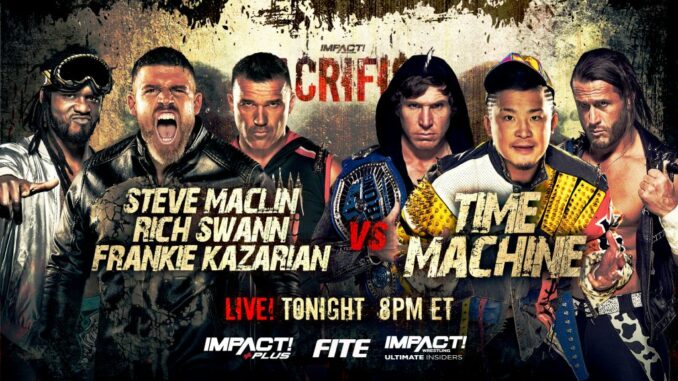 ---
SPOTLIGHTED PODCAST ALERT (YOUR ARTICLE BEGINS A FEW INCHES DOWN)...
---
IMPACT WRESTLING SACRIFICE 2023 REPORT
MARCH 24, 2023
WINDSOR, ON AT ST. CLAIR COLLEGE
AIRED LIVE ON IMPACT PLUS & FITE TV
REPORT BY DARRIN LILLY, PWTORCH CONTRIBUTOR
Commentators: Tom Hannifan, Matthew Rehwoldt
-Intro video featuring the stars of Impact Wrestling.
-They opened with aerial shot of fans waiting to get into the building, then showed excited fans in the crowd.
(1) "SPEEDBALL" MIKE BAILEY vs. JONATHAN GRESHAM
They went move for move and took it to the mat early. Hannifan addressed that Mickie James and Josh Alexander both suffered injuries. Gresham and Bailey had a test of strength that went to the mat and out of the ring. Back inside, Bailey had Gresham in an armlock, but Gresham got Bailey on the mat and into a submission. Gresham backed Bailey into the corner. Gresham put Bailey in a leglock. Bailey reached the bottom rope. Bailey shoved Gresham because he thought Gresham held the hold too long after he was called to break. They exchanged punches and kicks. Gresham left the ring after a series of kicks. Bailey caught Gresham with a moonsault to the outside.
Gresham took Bailey to the mat again and pounded his knee into the mat. Gresham went back to working Bailey's leg and toes. Bailey rebounded and dropkicked Gresham from the top rope. Bailey delivered a series of kicks and a shooting star press for a two count. Bailey gave more kicks, but Gresham came back with a DDT. Gresham dropkicked Bailey in the knee three times. Bailey made a brief comeback but Gresham took him to the mat again. Fans chanted "This is awesome". They traded forearm strikes.
Bailey took Gresham down with kicks. Gresham put Bailey in the figure four leglock. Bailey made it to the ropes. They fought on the apron. Bailey did a flip and landed with both knees on Gresham's face. Gresham pulled Bailey off the ropes and drove his left knee into the apron. They fought on the outside and barely made it back in before the ten count. They traded pin attempts. Bailey missed Ultima Weapon. Gresham put on the figure four leglock, but Bailey reversed it and Gresham tapped immediately.
WINNER: "Speedball" Mike Bailey in 20:00.
(D.L.'s Take: Excellent match.  A good mixture of mat wrestling and high-flying moves.)
-Gia Miller interviewed Brian Myers. Myers bragged about pinning Joe Hendry on Impact TV. Myers talked about his accomplishments. Moose approach and said he would make sure that lightning strikes twice and help Myers beat Hendry. Santino walked in and banned Moose from ringside.
-Video package on the Joe Hendry/Brian Myers feud.
(2) JOE HENDRY (c) vs. BRIAN MYERS — Impact Wrestling Digital Media Title match
Hendry did his pre-match schtick and talked about the royal family. Darren McCarty of the Detroit Red Wings was shown at ringside. The action quickly went to the floor. Hendry slammed Myers on the mats. In the ring, Myers gave Hendry a flatliner. Myers gave Hendry a chop block. Myers clotheslined Hendry and punched him. Myers tripped Hendry to the mat. Myers got a two count, then put on a chinlock. Myers dropkicked Hendry. Myers put on a sleeper. Myers slammed Hendry and got a two count. Hendry fought back with chops and a back elbow. Hendry delivered a series of clotheslines and a fallaway slam. Hendry gave Myers a cutter for a two count. Myers came back with kicks and a DDT for a two count. Myers speared Hendry, but Hendry kicked out of the pin attempt. Hendry caught Myers with a cutter coming off the ropes, followed by a Standing Ovation for the pin.
WINNER: Joe Hendry in 9:00.
(D.L.'s Take: The action was really good. Cool finishing sequence. Both looked good here.)
-Gia Miller had a sit-down interview with Santino and Mickie James. Mickie said she wasn't good and she was disappointed. She said she has a broken rib and can't defend the title tonight. She said that Jordynne Grace had warned her about wrestling so close to their title match. She apologized for not competing tonight or at Multiverse United. She said she hoped she would be back for Rebellion. Santino said Grace would face someone at Multiverse and that person would face Mickie at Rebellion. If Mickie isn't ready for Rebellion, she will give up the title.
-Video package on the Deonna Purrazzo/Gisele Shaw feud.
(3) DEONNA PURRAZZO vs. GISELE SHAW (w/ Savannah Evans & Jai Vidal)
They went back and forth early. Shaw went for an armbar, but Deonna got out. Shaw regrouped on the outside. Deonna slid into Shaw on the outside. Deonna hit Evans. Evans hit Deonna while the referee wasn't looking, to turn the tide in favor of Shaw. Back in the ring, Shaw continued to attack Deonna. Vidal hit Deonna while the referee was distracted. Shaw stomped Deonna and got a two count. Deonna gave Shaw a neckbreaker and came back with punches and kicks. They traded kicks. Deonna put Shaw in a submission. Shaw had Deonna in a full nelson, but Deonna elbowed out. They traded forearm shots. Shaw gave Deonna a backbreaker and faceplant, but only got a two count. Deonna got the armbar on Shaw and turned it into the Venus De Milo. Shaw tapped immediately.
WINNER: Deonna Purrazzo in 10:00.
Evans attacked Deonna from behind after the match. Tasha Steelz's music played and she walked to the ring. Evans turned her attention to Evans. As soon as Evans turned around, Tasha hit her. Tasha fought off Vidal and Evans. Tasha gave Vidal a DDT and a cutter and cleared the ring. Fans cheered.
(D.L's. Take: These two wrestled really well and the fans were into it. I enjoyed the return of Tasha Steelz, which is a nice twist in this feud.)
-Video package on Kenny King and PCO.
(4) PCO vs. KENNY KING (w/Eddie Edwards)
King attacked PCO before the bell. King regrouped with Eddie. Back in the ring, PCO took King to the mat. PCO stomped King. PCO stalked Eddie at ringside. King did a spinning dive on PCO to the outside.  King punched and kicked PCO. PCO threw King over the top rope. PCO "short circuited" and he did a dive to the outside on near the ramp. He regrouped and did a dive to the outside on King. Fans chanted "PCO". Back in the ring, PCO gave King a DDT. PCO clotheslined King and gave him a lungblower.
PCO legdropped King from the ropes. PCO climbed the ropes and kicked Eddie down. King slammed PCO to the apron and to the floor. King gave PCO a DDT and a slam on the exposed floor. PCO beat the ten count and got back in the ring. King suplexed PCO and got a two count. Fans chanted "He's not human". King did a frog splash on PCO, but PCO powered out and "hulked" up. Eddie threw a kendo stick in the ring. While the referee was distracted, King hit PCO with a chair. PCO punched through the chair and hit King and got the pin.
WINNER: PCO in 11:00.
(D.L.'s Take: Hard hitting match. King makes a great heel and there was much PCO wackiness. Fans were really into PCO.)
-Vignette on the "Wild Child" Jody Threat. "Coming Soon" flashed on the screen.
-Backstage promo with Rich Swann, Steve Maclin, and Frankie Kazarian. Maclin said he didn't want Josh Alexander to be injured. Maclin asked what about him. Swann and Kazarian got angry. Kazarian said they need to make this team work tonight. Maclin said it was his chance to go against Kushida to prepare for their match at Rebellion. He said he has stood with people he didn't like before and made it work.
-X Factor graphics for Trey Miguel and Lince Dorado.
(5) TREY MIGUEL (c) vs. LINCE DORADO — Impact Wrestling X Division Title match
After some early back and forth action, Lince dropkicked Trey out of the ring. Trey did a rana on Lince on the floor. In the ring, Trey dropkicked Lince. Trey choked Lince over the middle rope. Trey took Lince to the mat in a submission. Lince made a comeback and kicked Trey off the apron to the floor. Lince did a twisting dive from the top rope to the floor on Trey.
Lince gave Trey a flying crossbody block in the ring and got a two count. Lince powerslammed Trey for another two count. Lince did two moonsaults but missed the third one. Trey kicked Lince. Trey delivered more kicks and got a two count. Lince did a rana on Trey from the top rope. Lince did a spectacular shooting star press, but Trey rolled out afterwards. Trey made a comeback and powerbombed Lince off the top rope. They traded strikes. Trey did a rana and got the pin.
WINNER: Trey Miguel in 11:00.
(D.L.'s Take: Really good X Division action. Lince made a good impression in his return to Impact. Trey was good as always. The finish seemed to come out of nowhere.)
-Gia Miller interviewed TMDK. Bad Dude Tito said that Shane Haste called him and he was happy to come in and face the Bullet Club. They predicted a win tonight.
(6) BULLET CLUB (Chris Bey & Ace Austin)(c) vs. TMDK (Shane Haste & Bad Dude Tito) — Impact Wrestling Tag Team Title match
Bey and Tito started the match. Ace and Haste had an exchange. The Bullet Club double teamed Haste. Bey chopped Haste. Tito gave Ace a Blue Thunder Bomb. Haste gave Bey a belly to back suplex, followed by a dropkick. Tito got a two count on Ace. TMDK tagged in and out to keep the advantage on Ace. Bey got the hot tag and ran wild on TMDK, including a dive on Tito to the outside.
Bey legdropped Haste. Haste suplexed Bey. Tito chopped Ace and kicked him, followed by a powerbomb for a two count. Tito took out Bey on the floor. Tito gave Ace a frog splash, but Bey broke up the pin. Bullet Club double teamed Tito. Bey got a cutter on Tito, followed by Ace getting the Fold on Tito for the pin.
WINNERS: Bullet Club in 12:00.
(D.L.'s Take: Lots of great action. I hadn't seen Tito in action, but he was impressive here.)
-Video package on the Tommy Dreamer/Bully Ray feud.
(7) TOMMY DREAMER vs. BULLY RAY — Busted Open match
This was a first blood match. Bully attacked Dreamer from behind on the floor before the bell. Bully hit Dreamer with a chair and chopped him. Dreamer fought back. They both got in the ring and the bell rang. Dreamer had a replica ECW title belt. They hit each other with chairs. Dreamer hit Bully with the belt. Dreamer hit Bully with a soda can. Bully crotched Dreamer on the railing. Bully threw a beer in Darren McCarty's face and pie faced him. Bully hit Dreamer with the belt. Security held back McCarty. The kept cutting back to McCarty. Bully brought a step ladder in the ring. He made the referee hold it while he did a mock Superfly splash. Dreamer moved.
Dreamer searched for weapons under the ring. He brought out a bag and poured out the dreaded thumb tacks. Bully slammed Dreamer. Bully picked up a cheese grater. Dreamer gave Bully a series of punches and a Bionic elbow. Dreamer knocked down the referee by accident. Dreamer hit Bully with the cheese grater. Fans chanted for tables. Bully was bleeding, but the referee was still down. The Good Hands hit the ring and attacked Dreamer. One of them gave Bully a towel to wipe the blood off. Bully threw tacks into Dreamer's face. Bully pressed Dreamer's face into the tacks. Bully missed an elbow drop and hit the tacks. Bully was still bleeding.
They struggled over the cheese grater. Bully pleaded with Dreamer that his daughters would see this, so Dreamer stopped. Bully gave Dreamer a low blow. Bully smashed Dreamer's arm into the tacks. The Good Hands rolled Dreamer back into the ring. Dreamer was bleeding and the referee miraculously recovered just in time to see it.
WINNER: Bully Ray in 12:00.
Yuya Uemura hit the ring and fought the Good Hands. Bully knocked him out of the ring. Bully was about to put Dreamer through a table. McCarty jumped the rail, but security stopped him. Fans chanted "Let him go". Bully got on the mic and challenged McCarty. Security let him go. McCarty and Bully had a hockey fight. McCarty got the best of it, so the Good Hands jumped him. Bully put McCarty through a table. Fans chanted "Holy shit".
Scott D'Amore's music hit and he came to the stage. He started unbuttoning his cuffs. Bully egged him on. D'Amore brought out Rhino, Heath, Hendry, Gresham, and Bailey. Bully and the Good Hands left the ring. Jason Hotch snuck in the ring, but D'Amore punched him and gave him a Canadian Destroyer. Fans erupted. Bully looked shocked.
(D.L.'s Take: Two of my favorite things: Bully Ray and thumb tacks. The match itself went about 12 minutes too long, but the post-match angle was fun.)
-Hannifan and Rehwoldt plugged upcoming shows.
-Video package previewing the main event.
(8) RICH SWANN & STEVE MACLIN & FRANKIE KAZARIAN vs. TIME MACHINE (Alex Shelley & Chris Sabin & Kushida)
Shelley and Swann started the match. They had a back and forth exchange. Shelley went for a submission early. Sabin and Kazarian faced off next. Sabin took Kazarian to the mat. Sabin tossed Kazarian to the mat. Kushida and Maclin were in next. Kushida took Maclin to the mat. Maclin caught Kushida with a back elbow. Shelley and Kushida double teamed Maclin. Maclin drove Shelley throat-first into the top rope. Kazarian put Shelley in an armlock. Kazarian hip tossed Swann onto Shelley. Swann got a two count.
Swann kicked Shelley. Time Machine triple teamed Swann, due to the referee being distracted by Maclin. Shelley sent Kazarian into the corner and Swann was sent into him. Maclin threw Swann into Time Machine, who ganged up on Swann. Kushida put Swann in a submission. Kushida slid into Swann on the apron. Shelley worked on Swann's wrist and hands. Time Machine tagged in and out to keep the advantage on Swann. Swann made a comeback and got the tag to Kazarian. Kazarian took on all three members of Time Machine. Kazarian hit a legdrop on Kushida.
Sabin took on his opponents by himself. Shelley dropkicked Kazarian, then Sabin gave him a flatliner for a two count. Swann clotheslined Sabin. Swann gave Sabin a rana. Sabin gave Maclin a cutter. Time Machine cleared the ring. Kushida and Maclin mixed it up, with Kushida getting the best of it. Kushida hit Maclin with the palm strike. Kushida kicked Maclin. Kushida tried to get on the Hoverboard Lock but Maclin threw him into the corner and delivered Caught in the Crosshairs. Swann gave Kushida a cutter, then hit the 450 Splash, but Kushida kicked out. Swann missed a splash and Kushida put on an armlock. Time Machine had everyone in submissions. Maclin punched Time Machine. Time Machine triple teamed Maclin. Time Machine triple teamed Swann. Kushida did a moonsault on Kazarian. Shelley gave Swann Sliced Bread. Time Machine triple teamed Maclin. Kushida got the Hoverboard Lock on Maclin and Maclin tapped immediately.
WINNERS: Time Machine in 22:00.
(D.L.'s Take: The high-quality six-man match that I expected. Everyone had a  chance to shine. Great team work from Time Machine. The finish leaves intrigue for the upcoming title match between Kushida and Maclin.)
FINAL THOUGHTS: An action packed show — with one exception and even that had a fun angle at the end. Best matches were Gresham vs. Bailey, Purrazzo vs. Shaw, and the main event. Impact continues its streak of having really entertaining Impact Plus specials.