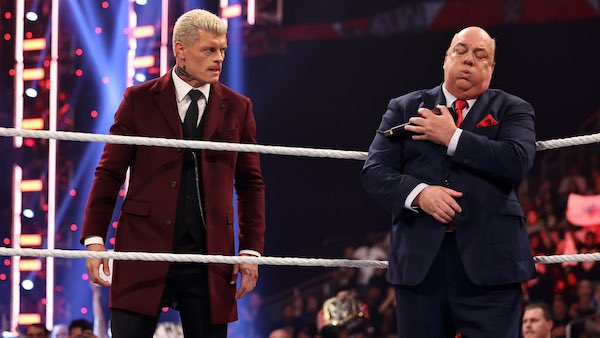 ---
SPOTLIGHTED PODCAST ALERT (YOUR ARTICLE BEGINS A FEW INCHES DOWN)...
---
Opening Segment – HIT: WWE was smart to start off Raw with Kevin Owens and Sami Zayn after they finally hugged it out at the end of last week's Smackdown. WWE has been spacing out this story well. KO and Zayn played their parts well here, as did the Usos when they interrupted. It was interesting that Jimmy Uso initially denied the challenge for a Tag Team Title match at WrestleMania, only to have Jey step up and accept so that they can finally put the KO and Sami problem behind them. That played into the later scenes with Roman Reigns in the back (which were also very strong). The Bloodline story continues going in interesting directions. Now, WWE must to realize that Owens & Zayn vs. The Usos HAS to headline night 1 of WM.
Theory vs. Ford – HIT: Like last week, it was good to see Austin Theory getting a clean win this week on the road to WM, this time in a good match against Montez Ford. I would rather see Ford getting a big singles push than Theory, but it will be interesting to see where WWE goes with The Street Profits after WM.
WrestleMania Showcase Tag Matches – MISS: Awhile back, I could have sworn I saw some supposedly insider news that Triple H wanted more quality and less quantity at this year's WM. That was good news if it were true. Unfortunately, it doesn't appear to be true. I am happy for the 16 wrestlers who will get to be on WM because of these two fatal four way tag matches, but I fear that they will make the shows too long. We don't need two five hour shows. They don't seem to be #1 contender matches, so they don't seem to have a purpose other than to "showcase" some wrestlers who while talented, don't have a reason to be on the show.
Lesnar – Omos Video – HIT: I usually don't give something a Hit based on fan reactions (these are my Hits & Misses after all). The fans seem to be more interested in the Brock Lesnar vs. Omos match at WM than I am based on the big reaction they got last week, plus the YouTube video views of that moment. WWE is smart to follow up on that intrigue with a good video package on the spectacle of Lesnar trying to overcome the huge size difference between him and Omos. I'm still not interested, but WWE is doing their best with the match up at this point.
ImPaulsive TV – HIT: It is quite clear that Logan Paul should have been presented as a heel from the start of his time in WWE. He is a natural at it and did a nice job this week playing into it. He gets a little too repetitive in his improvised taunts towards Seth Rollins. But, overall it was a good performance. The physicality between them worked well with Paul once again getting the better of Rollins with that big right hand knock out punch. Hopefully, Rollins' come back next week is stronger than his come back last week after the first knock out punch.
Mysterio vs. Gargano – MISS: While I want to see some strong clean wins for certain heels like Theory, I don't need to see them from other types of heels like Dominik Mysterio. That isn't the character that he's playing. He is a poser. Posers shouldn't win clean. Johnny Gargano is being taken more seriously on NXT in his feud against Grayson Waller as Shawn Michaels' hand picked surrogate. But, he is a total loser on Raw. I didn't like this outcome. It hurt Gargano's ability to be taken seriously on NXT going into their biggest show of the year.
Rhea Ripley Situation – MISS: Rhea Ripley's promo was ok. I liked parts of it, but it went on too long and dragged. It didn't make me more interested in her upcoming Women's Title match against Charlotte Flair. It wasn't as good as their physical encounter on Smackdown. The bigger issue was Bayley and the rest of Damage CTRL coming out to interrupt to set up a strange heel vs. heel matchup between her and Ripley. Ripley feels like the only hot act among the entire women's roster. While she is solidly a heel and gets heat with Dominik, she has a cool factor and that hot factor that could lead to her getting cheers against the lukewarm at best Charlotte who is miscast as a babyface. So why encourage the fans to cheer for her against Bayley? Why have the babyface trio of Becky Lynch, Lita and Trish Stratus coming to her aid? Obviously it makes sense for them to attack Damage CTRL, but that just shows why this match didn't make sense in the first place. The whole thing was off, unless they are planning a double turn at WM, but where would that leave Dominik and Judgement Day?
Ricochet vs. Gable – HIT: This was a good match as was to be expected. I would have rather seen the entire match focused on Ricochet and Chad Gable, instead of the distraction from Maxine DuPri convincing Otis to come with her to be a hand model or whatever. Luckily, that was kept to a minimum and we mostly just got a good 11 minute match between two very talented wrestlers.
Belair & Asuka vs. Green & Niven – MISS: I was disappointed that Carmella wasn't on to team with Chelsea Green (I guess Carmella is hurt?). I enjoy their team. I wouldn't team her with Piper Niven as Niven and Carmella should be very different types of heels, and Niven doesn't go with Green as naturally as Carmella. I hope this was a one off to fill in for Carmella. The match itself was ok, but I am very tired of this troupe of partners reluctantly teaming a few weeks before a big PLE match. I didn't need to see Bianca Belair and Asuka teaming together. The little bits where they had tension in the match made them look bad. I am glad that they put all that to bed afterwards when Asuka attacked Belair, but the crowd seemed dead quiet which shows that WWE hasn't done a good job of investing the fans into this match.
Reigns – Rhodes – HIT: Raw had a strong ending with this verbal encounter between Roman Reigns and Cody Rhodes. I loved how Rhodes interrupted before Reigns had a chance to speak. Reign's reaction to that was great too. Everyone was buzzing about Reigns' harsh words against Rhodes' tendency to run away, including an unnamed reference to AEW. That was a strong put down from the Tribal Chief. But, Rhodes got in a good response when he painted a picture of what would happen to the Bloodline after he defeats Reigns to become the new WWE Champion at WM. What will April 3 be like? I particularly liked how he refused to let Paul Heyman speak. The encounter between him and Solo Sikoa was also interesting. They continue to click on all cylinders with everything to do with the Bloodline heading into WM.
Jon Mezzera is PWTorch.com's WWE Hits & Misses Specialist, providing his point of view for Raw and Smackdown each week. Email him at jmezz_torch@yahoo.com.
---