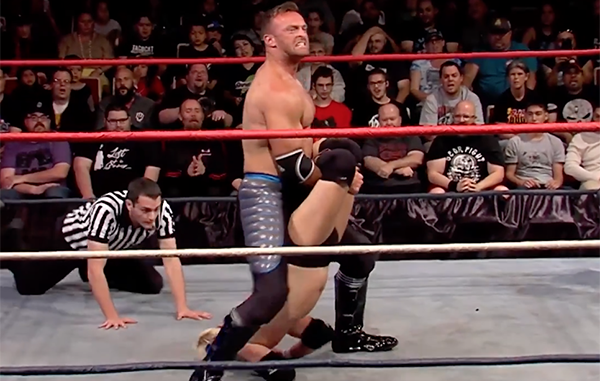 ---
SPOTLIGHTED PODCAST ALERT (YOUR ARTICLE BEGINS A FEW INCHES DOWN)...
---
(1) TIME MACHINE (Alex Shelley & Chris Sabin & Kushida) vs. "SPEEDBALL" MIKE BAILEY & JONATHAN GRESHAM & TREY MIGUEL – HIT
Time Machine was, frankly, a well oiled machine. Even though Alex Shelley and Chris Sabin have been tagging together for seemingly forever, they have integrated Kushida without missing a step. The only reason that the other team survived at all is because they are all extremely good wrestlers. There were a few 'incidental' hits between Sabin and Shelley, which also happened at Rebellion, so that might be leading somewhere. Overall a well wrestled match, and worth checking out.
SANTINO MARELLA BACKSTAGE – MISS
I freely admit, I don't get Santino Marella. Swinger and Zicky Dice? I find them funny.
(2) ALISHA EDWARDS vs. TARA RISING – MINOR HIT
This is probably the best Alisha Edwards match I've seen since the first Wrestle House. When Jodi Threat intervened to save Tara Rising, I was a bit taken aback, but this could lead to a nice little program to get Jodi Threat over. I thought Tara Rising did a decent job, so I hope we see her again.
(3) MOOSE (w/Brian Myers) vs. YUYA UEMURA (w/Bhupinder Gujjar) – MINOR HIT
Yuya Uemura got to show what he could do against Moose. He's a guy like Bhupinder Gujjar that I want to see more of. Brian Meyers did some excellent Managing throughout this match protecting Moose, distracting the refs, and the occasional interference.
NICK ALDIS BACK STAGE INTERVIEW- HIT
Nick Aldis is old school. I mean he is as old school as it gets, and invokes the feelings of heyday of the territories, like something that crawled out of the seventies. That perfect blend of carny and classy. He's following the rules, and doing things by the book, but you just look at him and know that there's something else there.
(4) FRANKIE KAZARIAN vs. THE GOOD HANDS (John Skyler & Jason Hotch) – MISS
This should have been on BTI. John Skyler and Jason Hotch got to show off a little bit of what they could do, but this was a short match and Frankie Kazarian could have been anyone.
THE COVEN VIDEO PACKAGE – MISS
I'm not sure what KiLynn King is trying to do. Is she a hippy witch? Overall, I rather like the two of them working together, and I like a supernatural gimmick, but I'm not sure I like the vignettes. They seem to give a vibe of a slumber party where they are going to watch 'The Craft'.
SAMI CALLAHAN VIDEO PACKAGE – MISS
I love that Sami Callahan did a bunch of little things to tip the hat, but it also seemed like he forgot what the steps were as well.
(5) JOE HENDRY (c) vs. SHELDON JEAN — Impact Wrestling Digital Media Title match – MINOR MISS
A digital media championship match as the main event on TV? Aight, you got me. Sheldon Jean put on a good match against Joe Hendry, and he got to show off a bit. Even then it was a foregone conclusion that Hendry was going to win, even given Jean's relative fame.
STEVE MACLIN'S CHANGING OF THE GUARD CEREMONY – HIT
Maclin had a bunch of things in camo with him. Maclin has a chip on his shoulder the size of the lower 48. Maclin is an old school type of heel, and even threatened to hit a kid. Which means that a rivalry with Nick Aldis will be the old school masterpiece we haven't seen in awhile.
FINAL THOUGHTS: I know this is probably the largest number of 'MISSES' for an episode of Impact in a while. However, it was a rebuild episode and there's a lot of strings lying around, so hopefully Impact will be able to weave some good stories out of what's there.
---
CATCH-UP: WWE announces new world championship