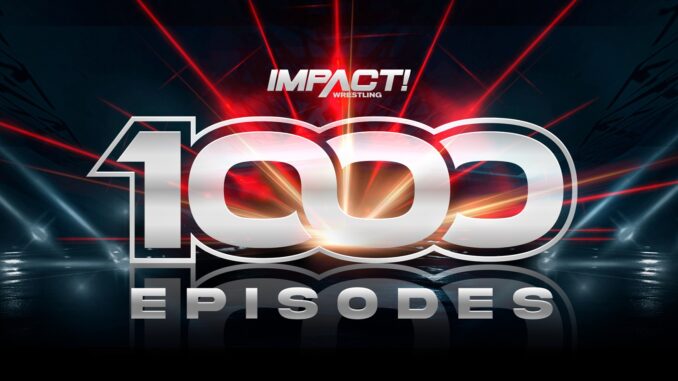 ---
SPOTLIGHTED PODCAST ALERT (YOUR ARTICLE BEGINS A FEW INCHES DOWN)...
---
IMPACT WRESTLING TV REPORT
SEPTEMBER 14, 2023
WHITE PLAINS, NY AT WESTCHESTER COUNTY CENTER
AIRED ON AXS TV
REPORT BY DARRIN LILLY, PWTORCH CONTRIBUTOR
-Commentators: Tom Hannifan, Matthew Rehwoldt
-Video paying tribute to wrestlers and big moments throughout the history of Impact Wrestling. Clips included AJ Styles, Gail Kim, Kurt Angle, Dixie Carter, Ric Flair, Hulk Hogan, Rhino, Sting, America's Most Wanted, MVP, Eli Drake, and ended with the current stars.
-New opening montage.
-Scott D'Amore was in the ring and welcomed us to Impact 1000. The fans were enthusiastic. Scott noted that the first episode featured him and Team Canada in the first match. He said he was proud of Impact Wrestling and the next two weeks would be a celebration of the past, present, and future. He said you can't talk about Impact without talking the Knockouts division and its most influential member, Gail Kim. Gail walked to the ring.
Gail thanked Impact Wrestling and the fans for making the Knockouts division a difference maker. She introduced a video of the greatest Knockouts moments. After it was over, Angelina Love and Velvet Sky, the Beautiful People, did their entrance and walked to the ring. Rehwoldt called it the greatest entrance of all-time. Fans chanted "Welcome back!" Angelina said it was great to see Gail. She questioned if the video featured the best of the Knockouts division because it featured a bunch of ugly people, like Gail in front of them. Velvet said the rest of the Knockouts looked like security footage from Wal-Mart and "before" pictures from a dermatologist office. Gail said they were doing what they do best; being rude and obnoxious. Velvet said Gail was a "before." Angelina said Gail even talks, which they wish she wouldn't. Gail said she could do more than talk and confronted Angelina.
Gisele Shaw walked to the ring with Savannah Evans and Jai Vidal. Shaw apologized to the BP's on behalf of Gail and welcomed them back. Shaw said without the BP's there would be no Gisele Shaw. She said she was honored to have taken their spot and improved. Velvet asked Shaw who is so great from her generation. This brought Jordynne Grace to the ring. Grace talked about every generation having greats, including ODB, Tara, Traci Brooks, and Gail Kim. She said every generation also has annoying bitches. Deonna Purrazzo entered the ring. Grace asked if Deonna was there to represent the annoying bitches. Deonna said she was here to represent her generation. She talked about beating Grace for the Knockouts title. Trinity's music played and she walked to the ring.
Trinity said all the wrestlers paved the way for her but she is blazing the trail for the future. She held up the belt. Deonna said come find her when she's had three reigns. Gail said Deonna could find her when she has seven reigns. This brought out Awesome Kong and Raisha Saeed to a big ovation. [c]
-Raisha asked who would be first to be thrashed by Awesome Kong. Tasha Steelz's music played and she made her return to Impact. She said you can't talk about the history of the Knockouts division without her. She said all the talk didn't mean a thing without Generation Flava. She got in the ring and said she would be the 5th member of Team Beautiful People. She said they all wanted to be the best but they can't be the greatest that beat the greatest. She said that next week she would be the greatest that beat the biggest and walked towards Kong.
At that point, Mickie James walked in to a huge ovation and made her return to Impact. The announcers noted she hasn't been around in months. She said she doesn't have to remind people who she is and what she's done. She thanked Tasha for calling her the greatest. She said Hardcore Country is back and that she is the 5th member of Trinity's team, which she called "Team Over." A "Team Over" chant broke out. Mickie said next week would be the greatest fight in Knockouts history.
-America's Most Wanted and Eric Young talked about the 1000th episode in the dressing room. Santino Marella interrupted. Shark Boy dropped his beer (to make the sound of glass breaking) and entered. Santino asked Shark to become deputy director of authority. [c]
(1) FEAST OR FIRED MATCH
Four briefcases hung on posts in the corners; three cases contained title shots and one contained a paper that says they are fired. Wrestlers included Yuya Uemura, Joe Hendry, PCO, Kevin Knight, Kushida, Moose, Brian Myers, Crazzy Steve, Black Taurus, Johnny Swinger, Sami Callihan, Heath, Steve Maclin, ABC, Alpha Bravo, The Good Hands, Jonathan Gresham, Bhupinder Gujjar, Jai Vidal, and Laredo Kid. Wrestlers started outside and fought to get in the ring and climb the poles in the corner to get a briefcase and make it back to the floor. Chris Bey got case #3. [c]
Steve took case #1. Kevin Knight and Kushida fought PCO. Taurus gave PCO a spinebuster. Yuya and Hendry double teamed Laredo Kid. Yuya pulled down case #4. He and Hendry threw it back and forth to keep it from Sami. Yuya successfully got the case to the floor. PCO fought off a series of wrestlers. PCO chokeslammed Vidal. Sami threw PCO to the apron. Skyler leveled Sami. Kushida kicked Taurus. Knight gave Taurus a rana off the top. Maclin knocked Knight to the floor. Heath and Maclin brawled. Maclin hit Heath with the last case and fought off other wrestlers. Rhino returned and knocked the case out of Maclin's hands, which went right to Moose on the outside. [c]
WINNERS: Chris Bey & Crazzy Steve & Yuya Uemura & Moose in 15:00.
(D.L.'s Take: Fun match, but typical battle royal action. Good to see the return of Rhino. No one stands out as the guy who is going to get "fired.")
-Gia Miller interviewed Chris Sabin. He said he didn't respect how Lio Rush does things. He said he would beat Rush and forge his legacy by being the first ever 10-time X Division champion.
-Rohit Raju and Champagne Singh were in the ring. Rohit asked how could you have a celebration without the Desi Hit Squad. He said to name a tag team that has done more than them. Team 3D's music hit and they came to the stage and to the ring to a big ovation.
(2) TEAM 3D (Bully Ray & Brother Devon) vs. DESI HIT SQUAD (Rohit Raju & Champagne Singh)
Bully and Singh started the match. Fans immediately chanted "We want tables." Devon tagged in and worked Singh's arm. Fans chanted "Welcome back!" Devon double clotheslined the Hit Squad. Team 3D double teamed Singh. Singh threw Bully off the top rope. Bully speared Rohit. Devon got the hot tag and threw punches at Singh, followed by a shoulderblock and neckbreaker. Devon slammed Singh for a two count. Fans chanted "You still got it." Team 3D did the Wazzup on Rohit. Bully and the crowd did the "Devon, got the tables" chant. They set up a table and gave Singh the 3D. Devon pinned Singh. Bully put Rohit through the table after the match.
WINNERS: Team 3D in 6:00.
(D.L.'s Take: What they did was fine and they didn't have to do too much. Crowd was happy to see Team 3D and cheered all the classic spots. Rohit and Singh made perfect foils.)
-Josh Alexander told the Rascalz to clean up the mess they had made in the hallway. They confronted him. Alexander walked off. [c]
-Josh Alexander walked to the ring. He got on the mic and talked about being the longest reigning Impact champion. He said sometimes he still has to pinch himself because he has been an Impact fan like the crowd and the viewers. Fans chanted "Impact Wrestling." He said the 15 year-old version of himself wouldn't believe he was standing there celebrating Impact 1000. He said he never lost the Impact title. Alex Shelley's music played and he walked to the ring.
Shelley said he needs Alexander to know that the title doesn't belong to him anymore. He said if anyone would represent the company at Impact 1000, it would be him. He said "you're welcome" that he put in the hard work so that Alexander could have a place to work, make mortgage payments, and have a retirement fund. Alexander said he was happy to see Shelley win the belt. Shelley asked if Alexander was a fan of his or a mark for him. Alexander said that Shelley had inspired a generation. Alexander said Shelley reminds him of the adage of don't meet your heroes. They continued to go back and forth. Alexander reminded Shelley that he had beaten him. Shelley said he is a different person now. He said he is the main character and Alexander is a side quest. Shelley said he wanted the match so he can prove that he is the best. Alexander said he wanted the match. The Rascalz attacked them from behind. Shelley and Alexander made a comeback, then had a staredown. The Rascalz attacked Alexander. Shelley left the ring. Alexander was left laid out on the mat. [c]
-Shark Boy approached the Rascalz backstage. He said Trey would face Josh Alexander next week. The Rascalz walked off. Santino walked in and shook hands with Shark. Kenny King and Sheldon Jean approached. King yelled at Santino and demanded a rematch with Tommy Dreamer and a match with Heath. Santino said he could face Eric Young next week.
(3) FRANKIE KAZARIAN & TRACI BROOKS vs. EDDIE EDWARDS & ALISHA EDWARDS
Hannifan said it was the first time Brooks had competed in an Impact ring in 12 years. Eddie and Alisha yelled at Kazarian and Traci's son, who was in the front row. Traci and Alisha brawled on the mat. All four wrestlers fought on the outside. Traci slapped Eddie and made the tag to Kazarian. Eddie gave Kazarian a Blue Thunder Bomb. [c]
Kazarian gave Eddie a backstabber. Alisha pulled Traci off the apron, preventing her from making a tag. Alisha gave Kazarian a DDT on the floor while the referee was distracted. Back in the ring, Kazarian chopped Eddie. Eddie recovered and choked Kazarian over the ropes. Alisha choked him too. Kazarian rolled up Eddie and suplexed Alisha at the same time. Traci finally made the tag and shoulderblocked and speared Alisha. Eddie grabbed Traci and was going to give her a backpack stunner put she raked his eyes. Kazarian took out Eddie. Alisha rolled up Traci for a two count, but Traci came back with the Fade to Black and got the pin.
WINNERS: Traci Brooks & Frankie Kazarian in 13:00.
After the match, Kazarian got on the mic and introduced a video package about Traci Brooks with highlights of her career. At the end, the voiceover said she will be inducted into the Impact Hall of Fame this year. Traci cried. They celebrated in the ring with their son. [c]
(D.L.'s Take: Another crowd-pleasing match and a fun end to this feud. A touching moment at the end too.)
-Gia Miller interviewed Lio Rush. He said that Chris Sabin is shook and scared. He said he isn't worried about Sabin and he would give him a shot at greatness. He said he was coming in hot.
-Hannifan and Rehwoldt announced matches for next week including:
*Josh Alexander vs. Trey Miguel
*Eric Young vs. Kenny King
*Jake Something vs. Dirty Dango
*Feast or Fired results
*Ultimate X match
*10-woman tag match
-Clip of Tommy Dreamer winning the Digital Media Title from Victory Road. Dreamer cut a backstage promo. He talked about creating moments. He thanked the fans. He said he would defend the title anywhere. He said he would talk to Santino about a belt extender.
(4) LIO RUSH (c) vs. CHRIS SABIN — Impact Wrestling X Division Title match
Hannifan said the show would go over the top of the hour. Lio kicked Sabin off the apron and followed with a spear to the floor. Sabin was down on the ramp. They got back in the ring. The referee checked on Sabin. Sabin rolled up Rush for a two count. Sabin dropkicked Lio in the knee. Sabin clotheslined Lio. Sabin gave Lio a series of punches. Sabin stretched Lio on the mat. Lio made a comeback. Lio clotheslined Sabin from behind and suplexed him. Sabin dropkicked Lio. Lio did a moonsault from the apron to the floor on Sabin. Lio suplexed Sabin on the mat. Lio caught Sabin with a spinning kick and got a two count. Sabin gave Lio a superplex. Fans chanted "This is awesome." Sabin powerbombed Lio for a two count. Sabin superkicked Lio and put him in the STF. Sabin drove Lio to the mat for another two count. Sabin followed with a clothesline and a Cradle Shock, but Lio kicked out of the pin attempt. Lio gave Sabin a Final Hour, but Sabin kicked out of the pin attempt. They traded punches. Sabin superkicked Lio, gave him a Shell Shock, and a Cradle Shock to get the pin and the title. The locker room came out to celebrate and put Sabin on their shoulders.
WINNER: Chris Sabin in 17:00 to win the X Division title.
(D.L.'s Take: Great main event. This was Impact putting it's best foot forward on a night that they might have additional or first-time viewers. Sabin was in top form and Lio is incredible. The match built really well and was dramatic at the end. Very well done.)
FINAL THOUGHTS: An excellent celebration of Impact Wrestling. I loved the nods to Impact's past and present throughout. The opening segment was lengthy but all kinds of fun. Great crowd pleasing moments included the return of Team 3D and the emotional announcement of Traci Brooks going into the Hall of Fame. The night was capped off with a great Lio Rush vs. Chris Sabin match and title change.