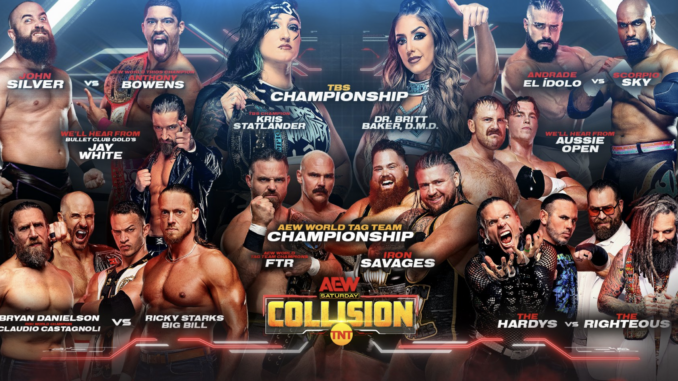 ---
SPOTLIGHTED PODCAST ALERT (YOUR ARTICLE BEGINS A FEW INCHES DOWN)...
---
After a couple of weeks hiatus, the All Elite Assessment is back!
All In at Wembley Stadium (a show I attended and greatly enjoyed) felt like a natural crescendo to my AEW fandom. The conclusion to the event appeared to be an opportune time to step away and as I walked away from Wembley I felt good about the direction that All Elite wrestling was heading. The proceeding couple of weeks have proven that assumption misplaced.
A tumultuous two weeks since All In has seen the firing of the company's biggest star, the apparent loss of arguably AEW's most marketable female talent in Jade Cargill, the announcement of yet another hazily-defined PPV, and attendances plummeting year-on-year in many key cities.
As an optimist, though, I like to look at the successes that AEW has achieved, the moments which reignited my fandom in pro wrestling. One such recent success, from a purely creative point-of-view, has been Collision. Therefore this week's All Elite Assessment will focus on the still relatively new Saturday night show.
What does the once C.M. Punk-centric ship now look like without its captain? How can Collision continue to differentiate itself from its sibling show and how does the fledgling product survive what is sure to be a challenging few months from a competition perspective?
First, despite its existence being at best problematic and at worst unnecessary, it must be acknowledged that Collision has been a largely enjoyable show. The nostalgic opening soundbites to set up the evenings key matches, the catchy Elton John theme, and distinct graphic presentation have all been plus-points. Coupled with a more slowed-down narrative presentation, a focus on previously marginalized stars, and compelling video packages, Collision is a creditable two hours of entertainment.
Punk's departure from what was a show seemingly created to navigate his return is an issue, but not an insurmountable one, if AEW utilizes its strengths. Indeed, entering this turbulent period of competition (and predicted ratings decline) could be an opportunity for AEW creative to experiment.
Collision needs a USP, something to entice causal viewers who have already sated their thirst for wrestling with two hours of Dynamite. Why not utilize Tony Khan's propensity for a tournament? Deliver on the sports-like presentation promised at AEW's inception.
Hear me out as I venture into the details…
A lengthy league based series (akin to NJPW's G1) featured exclusively on Collision. The "Collision Classic." Two groups of six competitors on either side of the ledger encompassing Collision roster talent only. For example, Group 1 could include Jay White, Miro, Ricky Starks, Rush, Luchasaurus, and Scorpio Sky. Group 2 would then feature Bryan Danielson, Powerhouse Hobbs, Andrade, Juice Robinson, Christian Cage, and Keith Lee. Four league matches each week culminating in the top two from each group reaching PPV semi-finals and a final.
This approach has several plus points. It immediately differentiates Collision from Dynamite, it provides compelling weekly matches between upper tier talent, and it compels viewers to tune in on a weekly basis to follow the progress of their favorites.
Matches could be built through video packages or one-on-one interviews with Jim Ross. This would also give talent a focus and reduce the number of vague promo segments which repeat on Collision each week (e.g. The Book of Hobbs, Miro, House of Black, Keith Lee, and Scorpio Sky to name but a few).
Use the vast experience of backstage agents by featuring them as pundits for the tournament. Imagine a panel of Mark Henry, Paul Wight, and Jeff Jarrett with tournament host Renee Paquette. Open the show with the panel discussing the upcoming matches, build anticipation for what's to come, and throw to the pundits at the conclusion of each match as they discuss the result and its implications on the tournament. These segments needn't slow the momentum of the show and could add to the feeling of importance surrounding the tournament.
The ideas above would mean cutting down on the in-ring promo segments for the tournament competitors but provide more bandwidth for the women's and tag team rosters.
Make Collision the home base for the Women's World Title and drive interest in the division by building a compelling narrative exclusively on Collision.
Similarly for the Trios division. This way Collision has a healthy mix of tournament competition, women's, and trios wrestling. The casual viewer will also know which wrestlers to expect to see on a weekly basis, driving program loyalty. Live crowds attending shows will also know whom to expect when buying their ticket and anticipate the experience. Feature highlights of the series on Dynamite each week, showcasing what's happening on a Saturday night to the larger audience.
AEW has been criticized as too heavily reliant on the crutches of the battle royal and predictable tournaments. Define this unique series by the competitors desire to prove who is the best on the roster. The eventual winner can then have a credible shout for an AEW World Title opportunity. Other competitors can point to their winning records in the tournament in regards to future mid-card title shots.
Verdict: The small changes suggested above wouldn't cost AEW a dime, would utilize already-existing talent, and differentiate the show from its more tenured counterpart. A risk in the short-term (especially with network executives keenly following the progress of a newly debuted show), but one AEW can afford to take given stagnating ratings, worrying live attendance, and a general feeling of malaise surrounding the company.
---
RECOMMENDED NEXT: AEW COLLISION RESULTS (9/16): Keller's report on Starks & Big Bill vs. Claudio & Danielson, Statlander vs. Baker for TBS Title, FTR vs. Iron Savages
OR CHECK THIS OUT AT PROWRESTLING.NET: ROH on HonorClub results (9/14): Robinson's review of Claudio Castagnoli vs. Rocky Romero for the ROH Championship, Christopher Daniels vs. Darius Martin, Shane Taylor vs. Lee Johnson