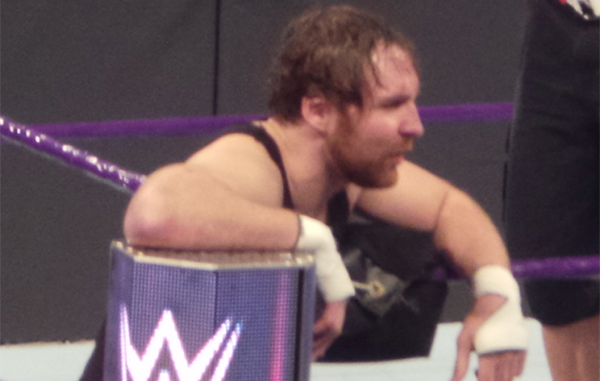 ---
SPOTLIGHTED PODCAST ALERT (YOUR ARTICLE BEGINS A FEW INCHES DOWN)...
---
The following report was originally published right here at PWTorch.com ten years ago this week…
---
WWE Live show results
September 14, 2013
Saginaw, Mich.
Report by Jason Ditz & Roger Bauer, PWTorch readers
The show started at 7:30 p.m. with Josh Mathews introducing the "following contest is scheduled for one fall." Big Show came out… no opponent. Show was then informed by Mathews that per a message from Triple H he won't be wrestling tonight, but will be forced to sit in a chair at ringside and watch the main event. If he interferes, he will be suspended without pay.
(1) WWE tag champions The Shield (Seth Rollins & Roman Reigns) beat The Prime Time Players (Titus O'Neil & Darren Young) to retain the Tag Titles. Excellent match, arguably the best-worked of the night. Good pacing, nice hot tag to Titus setting up a nearfall, and then as the ref lost control, Reigns hit a spear and Rollins got the pin.
(2) Zack Ryder beat Curt Hawkins. Hawkins has theme music – who knew? Hawkins offered a handshake to open the match, Ryder looks at it indecisively, and a little kid in the crowd screamed at Ryder not do accept because it's a trap. Slow match, though, with lots of rest holds. Ryder won with Rough Ryder.
(3) Natalya submitted Brie Bella. There was a live Raw Active poll to decide if this was a match or a dance-off. Since the dance-off got a chorus of boos, I don't believe the 54/46 figure, but it was still a match. Solid Diva fare and Natalya won with the Sharpshooter.
(4) Tyson Kidd beat Jack Swagger (w/Antonio Cesaro). Zeb Colter was listed on WWE's website, but he was not there. Cesaro played the interfering heel at ringside. Swagger dominated early, Kidd went for a sharpshooter, and Cesaro threw in his cape, which apparently is different from throwing in the towel. Cesaro then interfered while the ref retrieved the cape. Swagger Bomb for a two count. Then, in the shocker of the night, Kidd did a springboard roll-up and got a three count for the win.
Post-match, Kidd ran back to the locker room, then Cesaro and Swagger had a quick in-ring confab. After the conversation, Swagger announced that this is the last Saginaw will ever see of the Real Americans.
(5) Rob Van Dam beat Heath Slater. Slater came to the ring first to decent heat. He rabbed the mic and announced that we're going to get the Heath Slater Experience. Rob Van Dam came to the ring to a good pop, but less deafening than last year with TNA in a much smaller arena. Pretty straightforward match, though slow in parts. Van Dam eventually did his whole moveset and won with a Five-Star Frogsplash.
[Intermission. Josh Mathews announced that they're selling RVD autographs at some booth in the outer concourse area. He also said that Bob Backlund was in the building at a "fan booth." Intermission lasted about 10 mins, and the music for the restart hit as people were just starting to file back. It felt like they rushed it a bit.]
Back from intermission, WWE set up Ryback vs. Santino. Ryback came to the ring first and angrily lashed out at Mathews, who announced him at 290 lbs. Ryback insisted that he's 305 lbs. now. Santino then came out and told Ryback that he didn't know you could stack 305 lbs. of crap together.
(6) Ryback beat Santino. Fun comedy match, with Ryback no-selling and Santino trying desperately to get offense. Failed kip-ups, failed bodyslams, and Santino finally went for the Cobra. He hit Ryback square in the mouth, but Ryback bit his hand. I bet Mankind's opponents wished they'd thought of that. Ryback then Shell-Shocked Santino for the easy three count.
(7) The Miz beat Fandango. Miz arguably got the best pop of the night, and what followed was 15 minutes of… something. Miz played to the crowd really well, hit two hip tosses, and suddenly there were "This is Awesome!" chants. Miz seemed happy, but kind of surprised. The match was 90 percent rest holds, and there was actually a brief "Miz Is Awesome!" chant during a rest hold, but it died pretty quick. Miz eventually hit a top-rope Dragon Screw and applied the Figure-Four Leglock for the win.
Next was the Main Event of Dean Ambrose vs. Daniel Bryan for the U.S. Title with Big Show at ringside. Brad Maddox came out and introduced Big Show for his second non-wrestling entrance of the night. He brought a "comfy red chair" for Big Show to sit in, which looked the same as what the crowd was sitting in, except apparently comfy. Maddox reiterated that if Big Show interferes or touches The Shield, he's suspended and he's losing a paycheck. Dean Ambrose then came out to a tepid reaction, and Bryan got a good pop.
(8) Daniel Bryan beat U.S. Champion Dean Ambrose via DQ; Ambrose retained the U.S. Title. Another slow-ish match start, but it picked up quick. Bryan got some good offense in, but only in spurts, and a lot of close kick-outs. Bryan applied the Yes! Lock and… Well, you know what happens here. The rest of Shield interfered, which got Ambrose DQ'ed, but it saved his title.
After the match, Rob Van Dam ran out to try to make the save, but he was pretty quickly overwhelmed. Shield got Bryan up for the triple powerbomb, but Big Show dove into the ring to make the last-second save. Apparently Big Show's not getting paid again. This led to Big Show turning the tables in a big way with a double chokeslam, then Van Dam and Bryan got up and made short work of the retreating Shield.
To close the show, Big Show offered a handshake to Bryan, with RVD mediating. Bryan looked unsure, waited out lots of "Yes!" chants, and he finally gave an emphatic "No!" He and Show then proceed to hug it out to send the crowd home happy. Mathews promised that WWE will be back in Saginaw in the future (this was the first time in four years).
Roger's Final Thoughts: Biggest Pops – RVD, Big Show, and Miz. Most Heat – Heath Slater, The Shield, and Brad Maddox.
Final Thoughts: All in all, an excellent show, though every match they advertised at any point during the two month build-up went unfulfilled. Cena was advertised first, then RVD was supposed to join Show and Mark Henry in a six-man vs. The Shield. Bryan was advertised going against Wade Barrett, who didn't appear. Zeb and A.J. were both listed on the website at different times, too, but no sign of either.
The Dow Event Center, or Saginaw County Event Center, or Wendler Arena, or whatever they're calling it these days, drew a good-sized crowd, but the floor seats were kind of a mess. Since the floor (underneath the ice rink) is flat, there was no natural slope to sit people higher than the people in front of them. If the WWE does return, I think I will sit in the Loge.
---
RECOMMENDED NEXT: 10 YRS AGO – WWE Live Event Report (9-14-2013): Ziggler vs. Alberto for World Title in main event, plus Big E, Wyatt Family, Usos, Kofi, Bo Dallas, A.J. Lee, Sandow, more
OR CHECK THIS OUT AT PROWRESTLING.NET: The Rock was "locked" to face Roman Reigns at WrestleMania 39, open to having the match at WrestleMania 40 (video included)