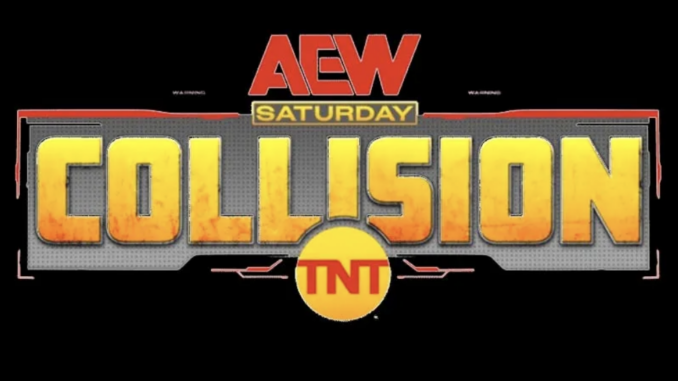 ---
SPOTLIGHTED PODCAST ALERT (YOUR ARTICLE BEGINS A FEW INCHES DOWN)...
---
KELLER'S AEW COLLISION REPORT
SEPTEMBER 16, 2023
STATE COLLEGE, PA. AT BRYCE JORDAN CENTER
AIRED LIVE ON TNT
Commentators: Kevin Kelly, Nigel McGuinness
Ring Announcer: Bobby Cruz
---
[HOUR ONE]
-Soundbites aired with Claudio Castagnoli & Bryan Danielson, Big Bill & Ricky Starks, Kris Statlander, Britt Baker, John Silver & Evil Uno, and The Acclaimed & Billy Gunn. Starks said there's no room on Collision for glory hogs and then said they will prove they're the face of Collision. Baker said they are the first women's Collision main event.
-The Collision opening aired to Elton John's "Saturday Night's Alright for Fighting."
-Kevin Kelly introduced the show as the camera panned the crowd. "What an episode of Collision we have," he said.
(1) RICKY STARKS & BIG BILL vs. BRYAN DANIELSON & CLAUDIO CASTAGNOLI
Starks and Bill came out first. Then Danielson and Claudio. The bell rang six minutes into the show. They showed a close-up of Bill's boots with blood stains from Moxley on them. Kelly hyped Claudio vs. Kingston at Grand Slam and said tickets start at "twenty bucks."
Bill charged at Danielson at 6:00, but Danielson lifted his boot and stopped him. Starks distracted Danielson seconds later, so Bill knocked him to the floor with a running boot. Starks punched away at Danielson on the floor as the ref ordered Claudio out of the ring. They cut to a split-screen break. [c/ss]
Back from the break, Claudio hit Bill with 20 clotheslines in the corner. After the fans counted to 20, Nigel said that means they can graduate from Penn State. Claudio scored a near fall after a TKO. He then set up a Claudio Swing, but Bill broke free and landed a chokeslam for a near fall. Danielson was out at ringside as Claudio had to fend off both Bill and Starks.
Claudio gave Starks his giant swing at 13:00 and scored a two count. Claudio shifted right into a sharpshooter. Bill kicked Claudio in the head to break it up. Danielson returned to the ring with a top rope dropkick to Bill and then he dove through the ropes and speared Bill, although his boots caught the top rope as he leaped.
In the ring Starks countered a Claudio lift-and-drop uppercut into a DDT for a near fall. Claudio caught a charging Starks with an uppercut for a near fall. Danielson got back to his corner and tagged in. Starks ducked a Yes Kick and rolled up Danielson for a two count. Danielson shifted into a LeBell lock, but Ricky quickly slipped free and catapulted Danielson into a Big Bill punch. Starks speared Danielson a second later. Claudio broke up the cover.
Bill knocked Danielson off balance on the top rope. Claudio attacked Bill with a forearm. Bill backdropped Claudio over the ringside barricade. Danielson then went for a back suplex off the top rope, but Starks countered and landed on Danielson's head with his hip leading to a two count. Starks gave Danielson a low-blow, which the ref didn't see. Starks then hit Roshambo for the three count. Kelly said Starks "Bobby Hill's his way to victory."
WINNERS: Starks & Bill in 17:00.
(Keller's Analysis: A good match. Starks getting a win over Danielson, even tainted, sends a message to the audience that he's being pushed and protected.)
-A clip aired from Rampage with Swerve Strickland, Brian Cage, and Prince Nana challenging The Young Bucks and Hangman Page to a match at Grand Slam.
-The Bucks and Hangman answered, telling the Mogul Embassy (Cage & Toa Liona & Bishop Kaun) to put their ROH Six-Man Tag Titles on the line. Nick Jackson said they'll see the dweebs next week. Matt Jackson told Brandon Cutler to cut and hit the red button. (The Brandon cameraman gag never gets old. Never.) [c]
-A vignette aired with Powerhouse Hobbs saying the chapter in the Book of Hobbs he's focused on is Destruction. He talked about administering physical and mental pain. He said it doesn't matter who you are or where you are, no one is safe.
-Miro talked about his wife delivering temptation when he was at his weakest. He said when he tries to step away, she does everything to pull him back. He said any fool who doesn't want to be redeemed will be in a pine box.
(2) FTR (Cash Wheeler & Dax Harwood) vs. THE IRON SAVAGES (Bronson & Boulder w/Jacked Jameson) – AEW World Tag Team Title match
Jameson introduced his team before the match by yelling like Scott Steiner. The bell rang 33 minutes into the hour. FTR slammed Jameson to the mat with Shatter Machine when he got in their face before the bell. Boulder got the better of Dax a couple minutes in. FTR took over a minute later and finished Boulder with a superplex/top rope splash combo for the win.
WINNERS: FTR in 3:30 to retain the AEW Tag Team Titles.
-After the match, the Workhorsemen entered the ring and challenged FTR to a match, answering their open challenge. They showed Aussie Open watching on a monitor backstage.
-Lexi Nair interviewed Keith Lee. A guy off to the side was shown clapping his hands in front of the camera saying, "Cohesion, Take 22." (Huh"?) Lexi began to ask Lee a question when in walked Shane Taylor and Lee Moriarty. Taylor said Moriarty is now part of Shane Taylor Promotions. Lee was unimpressed. Taylor said he doesn't run. Lee said his mistake is not running, but he will be soon.
(Keller's Analysis: Was that "Take 22" thing a bit, or meant to embarrass someone, or just a mistake?)
(3) JOHN SILVER vs. ANTHONY BOWENS
Silver flexed his way to the ring first. The Acclaimed and Billy Gunn came out next. Max Caster made a reference to Penn State beating Illinois. Silver said he looked up scissoring and they're doing it wrong. He revealed the contract fine print banned Caster and Billy from ringside. Fans chanted "Bullshit!" Silver attacked Bowens from behind. The ref ridiculously rewarded Silver by calling for the bell right afterward. The bell rang 42 minutes into the hour. Kelly and Nigel commented on the Grand Slam line-up.
Silver bailed out a minute in to regroup after Bowens dominated early. They cut to a partial split-screen break at 2:30 with Bowens down at ringside. [c/pss]
Bowens made a comeback after the break and played to the crowd. Kelly kept pushing ticket sales to Arthur Ashe Stadium for Grand Slam. Bowens landed a rolling elbow to Silver's head at ringside at 9:00. Evil Uno threw Bowens into the ringpost as the ref was checking on Silver. Silver then hit Bowens with a running knee for the three count.
WINNER: Silver in 10:00.
-A promo aired with Eddie Kingston backstage where he asked what they want him to say. He said he and Claudio go back to 2006, 2007 when he first moved to the U.S. He said Claudio started judging him knowing what he had to go through emotionally and physically. "Claudio decided not to do business, not to respect me," he said. "And don't edit this out, you f—ing idiots. He left potholes in that road that many of us had to clean up." He said Renee told him to fix it and he's been trying. He said Grand Slam will fix it, win or lose. He said Claudio said he can't keep friends, but that's right because he pushes everyone away and then blame them. He said New York is always with him and it's his home. He said he won't let Claudio end this with his shoulders pinned to the mat. "Try to beat me in New York," he said. "We're built different. We're built in the cold. We're built in misery." He said he isn't ready for the misery and he's going to f— him up in New York. He trailed off as he walked away and the camera pointed at the floor.
(Keller's Analysis: Kingston is intense and believable. I'm not sure he's particularly sympathetic if you listen to what he actually says. He blamed Claudio for leaving potholes and repeated that he didn't do business without explaining what he meant, and then went on to concede he can't keep friends because he pushes them away and blames them. So did he do that to Claudio? Where's the reason to root for him, then? The New York angle is fine, but the core of this feels too insider and vague to really resonate. His authenticity might be enough to make up for it.) [c]
-Lexi interviewed Orange Cassidy and Hook backstage. Hook was eating corn chips. Cassidy told Hook they should do a tag match or something. Hook, mouth full, said, "Yeah." Orange suggested Grand Slam. Hook said, "Let's do it." Hook offered Orange a chip. Orange reached in and ate one. Renee said, "Cool."
(Keller's Analysis: I'm intrigued with these two low-key characters in a team playing off of each other.)
(4) AUSSIE OPEN (Mark Davis & Kyle Fletcher) vs. TWO UNNAMED JOBBERS
WINNERS: Aussie Open in under 1:00.
[HOUR TWO]
-Aussie Open bragged about winning their matches quickly. Fletcher said they're calling their shot. He said on Oct. 1, one year to the day since they last wrestled, they want a match against FTR at WrestleDream, "AEW Tag Team Titles on the line or not."
-A segment aired with R.J. City interviewing Toni Storm. She wasn't sure the lighting was right and put up a fuss. R.J. said people have noticed a change in her lately. She said she is the same "lovable, captivating girl" she always was. She said AEW "wouldn't know talent if it slapped their tits off." She said if she's the odd woman out, so be it, because who'd want to linger with them anyway. She said the lamp behind them is hideous. R.J. asked someone off camera if they can do something about the lamp.
-A vignette aired with Scorpio Sky who talked about returning after back to back injuries. He talked about facing Andrade, one of the best in the world. "This time I'm not coming back, I'm here," he said.
(5) SCORPIO SKY vs. ANDRADE EL IDOLO
The bell rang eight minutes into the hour. They cut to a split-screen break at 2:00. [c/ss]
Sky landed a running flip dive onto Andrade at ringside. He clutched his knee afterward. Andrade finished Sky with a Figure-Eight to get the tapout win.
WINNER: Andrade in 8:00.
-Afterward, Bullet Club Gold came out and addressed Andrade from the ramp. Jay White said Andrade appeared to be having a lot of fun watching Bullet Club Gold last week. Jay used the word "cock" for Juice and Colten, but not Austin, which made Austin angry. Jay challenged Andrade to a match next Saturday. He said, "This is the Switchblade era," he said. Andrade invited him to the ring. Jay teased it, as Kelly pushed that the match would be next Saturday.
-A video package aired on Don Callis revealing Kota Ibushi is the next target. A narrator talked about their past in Japan. [c]
-Tony Schiavone interviewed Shibata backstage. He said he'd be defending his ROH Pure Title against Nick Wayne on ROH Honor Club. Shibata held up his iPhone which translated his words to say he's coming to WrestleDream. (What is this, "90 Day Fiancé"?)
(6) MATT & JEFF HARDY vs. THE RIGHTEOUS (Vincent & Dutch)
As the Hardys came out, Kelly talked about their win on Rampage last night and said you can feel the momentum beginning to build. As the Righteous came out, clips aired on the split screen of the battle royal three weeks ago where The Righteous taunted the Hardys after Satnum Singh clotheslined them. The bell rang 28 minutes into the hour. They cut to a partial split screen break at about 2:30. [c/pss]
Matt hit a Side Effect on Vincent, but Dutch knocked Jeff off the top rope before he could land his Swanton. The Righteous then finished Jeff with a double-team move. Nigel exclaimed, "This is a night of upsets like no other."
WINNERS: The Righteous in 8:00.
-Afterward, Dutch held the mic and asked for silence. He said their names. "Two believers who seek the truth in the liars eyes." Vincent said they just beat one of the greatest tag teams in the world. He said people are following false icons and listening to the devil on their shoulder. Vincent said he doesn't believe in the Devil and the truth will kill their egos. He talked about fake love and false friendships. He brought up Adam Cole and MJF having a fake friendship. He said he wants their ROH Tag Team Titles.
-Kelly hyped the Grand Slam line-up for next Wednesday and a two-hour special episode of Rampage on Friday.
-A vignette aired on Claudio vs. Kingston with soundbites from both. Claudio said he'll beat him again and this will be the last time, the final chapter. He said he'll burn down Kingston's title aspirations to ashes.
-Kelly announced RVD would be on Collision next week, plus FTR vs. The Workhorsemen.
-Schiavone interviewed FTR backstage. Cash said their open challenge is about teams stepping up. Dax talked about their willingness to face Aussie Open and he believes they'll still be AEW Tag Champs by WrestleDream.
-Nigel hyped the WrestleDream line-up.
-A vignette aired on Danielson vs. Zack Sabre Jr. [c]
-Schiavone interviewed Starks & Bill. He asked Starks why he's so angry after he won earlier. Starks said they aired a video package on a guy he just beat. "This is the kind of thing I'm talking about," he said. "And I'm exhausted." He challenged Danielson to a Texas Death match next Saturday. He said he'll "put an end to this fiasco known as Bryan Danielson."
(7) KRIS STATLANDER vs. BRITT BAKER – AEW TBS Title match
Jim Ross joined in on commentary. Baker came out first. As Statlander came out, they showed highlights of Statlander beating Jade Cargill on Rampage followed by a handshake and a hug. The bell rang 50 minutes into the hour. Baker rolled to ringside a minute in after a bodyslam. When Statlander favored her knee early, Kelly made a reference to Aaron Rogers's injury. They cut to an early split-screen break. [c/ss]
(Keller's Analysis: When there's a title match at the end of the show which starts with just ten minutes left in the scheduled timeslot, maybe sneak in a commercial break earlier in the show instead of cutting away for a break, even if it is split-screen.)
Baker avoided a Statlander moonsault after the break. Nigel said they're staying with the match as long as it takes. Statlander scored two near falls. Baker came back with a stomp for a two count seconds later at 7:30. Baker pulled out a glove and held it up, then put it on. Statlander rolled her up as she made a big production of her set-up. Baker kicked out and then ducked a Statlander punch. She then slammed Statlander face-first into the mat and set up her Lockjaw finisher. Statlander blocked it. They exchanged strikes mid-ring. Baker landed a side kick as Statlander charged. She hit a second sidekick. Statlander fired back with a lariat. Both were down and slow to get up.
Statlander went for a Canadian Destroyer, but Baker countered with a sunset flip for a two count. Baker countered Statlander and landed Angel's Wings and a stomp for a near fall. Nigel said she was going back to her roots. Baker set up a Panama Sunrise, but Statlander picked her up off the top rope. Baker applied the Lock Jaw while riding Statlander's back. She took Statlander down. Statlander shifted Baker's shoulders down and got a leverage three count.
Statlander helped Baker up afterward and then raised her arm in a show of respect.
WINNER: Statlander in 11:00 to retain the TBS Title.