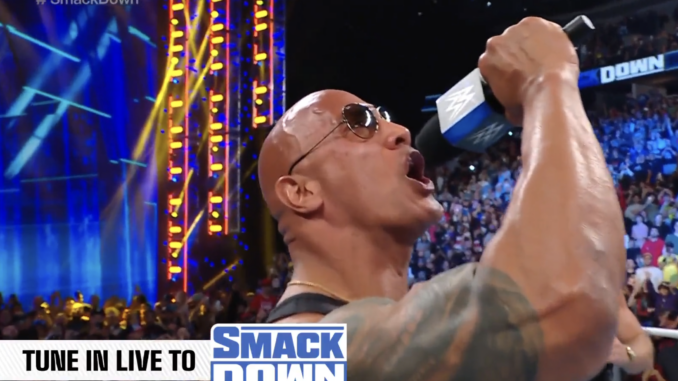 ---
SPOTLIGHTED PODCAST ALERT (YOUR ARTICLE BEGINS A FEW INCHES DOWN)...
---
PWTorch has obtained minute-by-minute ratings for last Friday night's Smackdown that show Rock's impact, plus the impact of social media buzz drawing people on short notice to watching the opening 18 minutes as the Rock segment took place.
The first two minutes of Smackdown drew 2.382 million viewers and 2.490 million viewers. It stayed in the 2.4 million range for two more minutes before a surge to 2.612 million at 8:04 p.m., 2.943 million at 8:07, 3.025 million by 8:11, 3.235 million by 8:17, and a peak of 3.377 million in the final minute of the segment at 8:18.
So in part due to WWE and fans spreading the word through social media, Smackdown gained an extra million viewers over the course of 15 minutes.
By 8:22, the viewership was down to 2.421 million and hovered in the 2.4 to 2.8 million range for most of the rest of the show.
The John Cena segment at the end of the show ranged from 2.492 million at 9:49 p.m. when Grayson Waller introduced him to a peak of 2.869 milion at 9:57 p.m. right as the segment ended.
RECOMMENDED NEXT: WWE Smackdown Ratings Report (9/15): The Rock's unadvertised appearance and Cena's advertised appearance leads to boost in viewership and rating
OR CHECK THIS OUT AT PROWRESTLING.NET: The competition for WWE Raw will be stronger this season
(Wade Keller is the editor, publisher, and founder of Pro Wrestling Torch and PWTorch.com. He has covered pro wrestling since 1987. He studied journalism and economics in college, interned at a major market broadcast news station (KMSP in Minneapolis/St. Paul), worked at KFAN radio for two years in the 1990s, hosted the "Ultimate Insiders" DVD series with international distribution, hosted the "Wade Keller Pro Wrestling Podcast" on Podcast One and now on Spreaker, and has been a guest on the Steve Austin Podcast dozens of times as an analyst (nobody has been a guest with Austin more times). He has broken major pro wrestling stories in five separate decades and has interviewed some of pro wrestling's most influential names in their longest insider interviews including Hulk Hogan, Scott Hall, Lou Thesz, Jesse Ventura, Jon Moxley, Jim Ross, Eric Bischoff, Bill Watts, Paul Heyman, Jim Cornette, Goldberg, Steve Austin, Vince McMahon, The Rock, Kevin Nash, and over 100 others including more than a dozen ex-WWE creative team members. He was inducted into the Tragos/Thesz Pro Wrestling Hall of Fame's Class of 2015 for "Excellence in Wresting on Professional Wrestling" in a class with Beth Phoenix, B.Brian Blair, Greg Wojciechowski, Jim Londos, and Matt Lindland. He continues to cover pro wrestling here at PWTorch.com and on the Wade Keller Pro Wrestling Podcast.)