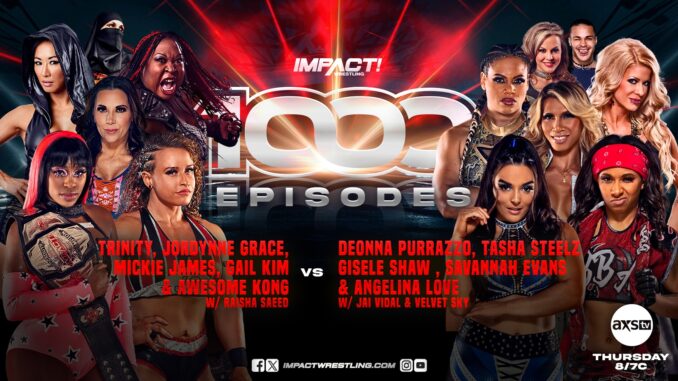 ---
SPOTLIGHTED PODCAST ALERT (YOUR ARTICLE BEGINS A FEW INCHES DOWN)...
---
IMPACT WRESTLING TV REPORT
SEPTEMBER 21, 2023
WHITE PLAINS, NY AT WESTCHESTER COUNTY CENTER
AIRED ON AXS TV
REPORT BY DARRIN LILLY, PWTORCH CONTRIBUTOR
-Commentators: Tom Hannifan, Matthew Rehwoldt
-Highlights from last week.
(1) RICH SWANN vs. SAMURAY DEL SOL  vs. ALAN ANGELS vs. ZACHARY WENTZ vs. "SPEEDBALL" MIKE BAILEY vs. ACE AUSTIN — Ultimate X match
This match determined a new number one contender for the X Division title. The first wrestler to grab the giant X hanging above the ring and brings it to the mat wins the match. Del Sol got some early offense and Wentz did a spinning dive to the floor on Angels. Swann did a dive to the floor as well. Ace did a moonsault to the floor on the pile. Del Sol, Angels, and Bailey did a triple dive off the structure. Wentz gave Swann a cutter from the top rope. Angels and Bailey fought at the top of the structure. Ace dropkicked Del Sol off the cables. Swann gave Wentz a cutter. Wentz used the spray paint on Del Sol and knocked him off the ropes. Wentz sprayed Wentz to knock him off the cables. Bailey kicked Wentz off. Bailey and Angels fell off at the same time. Fans chanted "This is awesome!" Angels climbed back up and grabbed the X. [c]
WINNER: Alan Angels in 9:00.
(D.L.'s Take: Good Ultimate X match with exciting moves, yet they didn't do anything over-the-top too risky for the most part. Angels was a good choice to win and perhaps this will break him out of the pack.)
-Replay of Angels winning the Ultimate X match followed by a promo. He vowed to cash in his title shot against Chris Sabin next week.
(2) JAKE SOMETHING vs. DIRTY DANGO (w/Alpha Bravo)
Chase Stevens (formerly of The Naturals tag team) was shown in the back as a judge. There was a ten minute time limit (with a clock in the corner) because this was contested under "Fox Box Rules", like in the days when Impact aired on FSN.  Dango did mic work before the match and said "Man, do I hate pro wrestling." Dango tried to walk out early but Jake brought him back in the ring. Dango made a comeback. Jake fought back. Jake knocked Dango off the apron. Bravo caused a distraction and Dango attacked Jake from behind. Bravo accidentally hit Dango with a flashlight. Jake got the Into The Void and got the pin.
WINNER: Jake Something in 4:00.
-Steve Maclin promo. He said when he starts something he intends to finish hit. He said except for Rhino, who attacked him last week. Rhino appeared out of nowhere and gave him a Gore into some equipment. [c]
Replay of the attack. Maclin was still down. Santino Marella yelled at Rhino for the attack. Rhino said he didn't care about Maclin.
(3) ERIC YOUNG (w/Scott D'Amore) vs. KENNY KING (w/Sheldon Jean)
Scott came out waving the Canadian flag like in the Team Canada days of Impact. Jean hit Eric from behind just a minute into the match. Shark Boy came out as deputy of authority and made it a tag team match.
WINNER: Eric Young by DQ in 1:00.
(4) ERIC YOUNG & SCOTT D'AMORE vs. KENNY KING & SHELDON JEAN
The match only went a few seconds before Young and Scott were attacked by Deaner and Kon.
WINNERS: No contest.
Shark Boy came back out and made it an 8-man tag team match. He brought out America's Most Wanted to team with Scott and Young. [c]
(5) AMERICA'S MOST WANTED (James Storm & Chris Harris) & TEAM CANADA (Eric Young & Scott D'Amore) vs. KENNY KING & SHELDON JEAN & DEANER & KON
The match started during the commercial break. The team made quick tags. The heels got the heat on Eric. Storm tagged in and fought King and Jean by himself. Eric gave Jean a flying elbow for a two count. King gave Eric a blockbuster. Harris clotheslined King. Kon knocked Scott off the apron. Kon and Harris fought. Storm superkicked Deaner. Scott gave Jean a Sky High. Eric gave Jean a piledriver and got the pin.
WINNERS: AMW and Team Canada in 10:00.
(D.L.'s Take: Fun nostalgia.)
-Clips from Feast or Fired from last week.  Dave LeGreca of Busted Open Radio greeted the briefcase winners backstage. [c]
-Clip of last week. Bully Ray said there was no other place he would have wanted to reunite with Devon than in Impact Wrestling. Devon thanked the fans for welcoming him back after seven years and recovering from back surgery and a stroke.
-LaGreca hosted the reveal of the Feast or Fired briefcases. Moose (w/Brian Myers), Chris Bey (w/Ace Austin), Yuya Uemura (w/Joe Hendry), and Crazzy Steve were there with their briefcases. Each wrestler talked and said what they hope to find. They each revealed their cases. Steve got the Digital Media title shot. He repeatedly said the world was full of dreamers. Moose got the World Title shot. Bey got the Tag Team Title shot. Sad music played as Yuya and Hendry were left. He revealed the Fired case. The screen faded to black as he and Hendry looked dejected.
(6) JOSH ALEXANDER vs. TREY MIGUEL (w/Zachary Wentz)
Alexander suplexed Trey. Trey did a dive on Alexander. [c]
Trey had the advantage on Alexander. Alexander suplexed Trey. Alexander punched Trey and backdropped him. Alexander tossed Trey to the mat and got a two count. Trey kicked Alexander and got a two count. Alexander came back with a clothesline. Alexander climbed to the top with Trey on his back. Trey knocked Alexander off the top followed by a meteora but Alexander turned into an ankle lock before being sent out of the ring. Wentz gave Alexander a knee on the floor. Alex Shelley attacked Wentz on the outside. Alexander gave Trey the C-4 Spike and got the pin.
WINNER: Josh Alexander in 15:00.
Alexander took the mic after the match and thanked Shelley. He said he could have used that last week. Shelley got in the ring. He warned Alexander not to get his signals crossed; he said he wanted to hurt the Rascalz, not help him. Alexander said he was taking the title back at Bound For Glory. They stood toe to toe before Alexander left the ring.
-Hannifan announced that Will Ospreay will face Mike Bailey at Bound For Glory.
-Jonathan Gresham approached Bailey backstage. Gresham said he was checking on Ospreay and wanted to make sure he was 100% at BFG. Gresham said he has been World Champion and knew what it took to get there. He said the only way to do that was to win clean matches. Bailey said he had the perfect opponent for Bailey: himself. Gresham agreed. [c]
-John Skyler approached the Rascalz backstage and asked when the Good Hands would get their tag team title shot. Wentz said it wasn't a good time. Skyler said they had a deal. ABC approached and gloated about their guaranteed title shot. Skyler said ABC was lucky to have the title shot. He asked the Rascalz if he was right. He turned around and they were gone.
-Hannifan and Rehwoldt were shown on camera in front of the enthusiastic crowd. They plugged Bound For Glory.  Matches for next week include:
-Chris Sabin vs. Alan Angels
-Tommy Dreamer & Heath vs. Kenny King & Sheldon Jean
-Jonathan Gresham vs. "Speedball" Mike Bailey
-Yuya Uemura goodbye ceremony
-Awesome Kong (w/Raisha Saeed), Gail Kim, Mickie James, Jordynne Grace, and Trinity (in that order) did their ring entrances for the main event. [c]
(7) AWESOME KONG (w/Raisha Saeed) & GAIL KIM & MICKIE JAMES & JORDYNNE GRACE & TRINITY vs. ANGELINA LOVE (w/Velvet Sky) & GISELE SHAW (w/Jai Vidal) & SAVANNAH EVANS & TASHA STEELZ & DEONNA PURRAZZO
Tasha and The Beautiful People's entrances were shown. Trinity and Love started the match. Love knocked Trinity to the mat and gloated. Trinity slammed Love and gave her the splits. Love gave Trinity a jawbreaker. Fans chanted "Ucey." Love choked Trinity with her boot. Trinity shook her butt in Love's face. Grace and Purrazzo tagged in. Shaw quickly tagged in to face Grace but got punched and slammed. Grace gave Shaw a jackhammer for a two count. Shaw accidentally kicked Evans. James gave Shaw a Thesz Press from the top rope, kicked Shaw, and got a two count. [c]
Gail fought Deonna. Velvet Sky pulled Gail off the apron and she hit the floor hard. Sky and Jai Vidal mocked her and pretended to cry. Tasha attacked Gail and threw her into the apron. Fans chanted "You still got it" and "Let's Go Gail." Tasha put Gail in a Camel Clutch. Fans chanted "We want Kong." Love got a two count on Gail after a backbreaker. Shaw continued the attack. Shaw gave Gail a backbreaker and flatliner. Purrazzo stomped Gail and put her in a chinlock. Gail and Purrazzo collided.
Kong finally tagged in and ran wild on everyone. The fans erupted. Kong clotheslined Evans. Fans chanted "Kong is gonna kill you." The heels sent Kong out of the ring. Trinity and James teamed up to clean house. Trinity did a dive on Love and Purrazzo. Tasha did a dive on the pile. Grace and Gail teamed together. Gail did a dive from the top rope onto the pile at ringside. Shaw backed into Kong. Kong hit her and gave her a spinning backfist and a chokeslam. Kong gave Shaw the Implant Buster and got the pin. Jai and Sky got into it, then Love superkicked Jai. Love and Sky put a paper bag with their faces on Jai's head. Team Over celebrated in the ring.
WINNERS: Awesome Kong & Gail Kim & Mickie James & Jordynne Grace & Trinity in 14:00.
(D.L.'s Take: This was such a fun match. The crowd was into everyone, especially Kong and she hit all the big moves to make them happy.)
FINAL THOUGHTS: Another stellar edition of Impact TV. This week's 1000th episode (part 2) focused more on the current stars but there was some fun nostalgia mixed in as well. They kept an eye on the future with the focus and slow build to Bound For Glory, which was very well done also.